Celebrity Chef Charlie Palmer offered a cheese cooking course at his eponymous restaurant in Costa Mesa.  Palmer has received many culinary accolades including three Michelin stars and has appeared on the Food Network's Top Chef during season 6 as a guest judge.
Charlie Palmer has restaurants in Las Vegas, Dallas, Northern California and New York.  His location in Bloomindale's at South Coast Plaza is widely considered one of the leading restaurants in Orange County.
Palmer, accompanied by his Executive Chef Seakyeong Kim, provided the course at the demonstration kitchen in Bloomingdale's.  With so many locations nationwide, personal appearances and hands-on demonstrations are rare.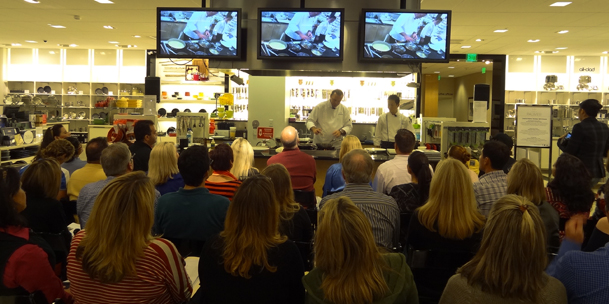 Guests were able to purchase tickets to spend an evening with Chef Palmer and Chef Kim.  Together, the two master chefs demonstrated and shared recipes and techniques to make homemade ricotta and mozzarella.
Chef Kim offered guests his advice to think about alternative ways to incorporate cheese into appetizers and meals and shared tips for selecting well-rounded cheese platter for hosting events.
Chef Kim and Chef Palmer went into detail to help guests understand how to pair and create delightful accompaniments like stone fruit chutney and candied spiced nut that help bring out the best flavors in cheese.
The night was not just about learning and watching – it was about eating too!  Each guest was treated to dinner and samples of the cheese cooked during the demonstration with perfectly paired wine to accompany the fare.
There is no doubt that guests who attended the cheese cooking class were well educated on cheese and pairings and will definitely have an advantage in hors d'oeuvres when they host their holiday parties this year.
Additional cooking courses and wine seminars are offered throughout the year at Charlie Palmer at Bloomingdale's South Coast Plaza.