Whether it is a unique costume idea or extra attention to detail while carving a jack-o-lantern, Halloween is a great opportunity to showcase creativity and have fun. Dressing in costume and carving pumpkins are not recent fads. Both of these activities originated from Celtic tradition. Originally, faces were carved into hallowed-out turnips to ward off evil spirits, but European immigrants to the United States continued the tradition with pumpkins. Today, Halloween is more about costumes, candy and scary movies than the pagan harvest festival where it originated. Costumes are not just limited to children – or even people! Many adults attend costume parties, while some even get their pets in the act!  Halloween is the second most commercially successful holiday in the United States with an average around $2 billion in candy sales alone.
If you're looking for more to do than sit by the front door and pass out candy to trick-or-treaters, or you are looking to celebrate on more days than just All Hallows' Eve, Costa Mesa offers some great ways to celebrate Halloween in Orange County.
Halloween Spooktacular – As part of the Segerstrom Center for the Arts Musical Mornings, the Pacific Symphony presents a Halloween-themed mysterious musical concert with singing and dancing. Guests are also invited to participate in hands-on activities in the Musical Carnival. The show is located in the Renée and Henry Segerstrom Hall. Performances begin at 10 and 11:30 am on Saturday, October 20 for one day only! Come dressed in costume.
OC Mart Mix Trick-or-Treat at the Mix – Donate a couple of canned goods and receive a FREE pumpkin to carve at the OC Mart Mix between 10am – 5pm on Saturday, October 27.  Bring the kids and dress in costume for trick-or-treating from vendors, contests and other giveaways.  There will also be specialty pumpkin gelato!
Evil Invasion Halloween Party – The Tiki Bar in Costa Mesa is having a costume contest, DJ, raffle prizes and drink specials to make its Evil Invasion Halloween Party the best party in OC.  Tiki Bar will even have a videographer on hand.  The party starts Saturday, October 27 at 8 pm.
Halloween Foodtacular –  The weekly Food Truck Fare at the OC Fair & Event Center will take a spooky turn on Wednesday, October 31 from 5:30 to 9:30 pm with themed-menu items, a DJ, a cash bar offering "spirits" and truck-to-truck trick-or-treating for kids.
OC Marketplace 15th Annual Trick-Or-Treat Festival – With costume parades, prizes and entertainment, this event features fun for the entire family. On Sunday, October 28, from 10 am to 4 pm, there will be a Day of the Dead Celebration, Dead Celebrity Costume Contest and a screaming contest. Kids can trick-or-treat throughout the marketplace from 10 am to 2 pm.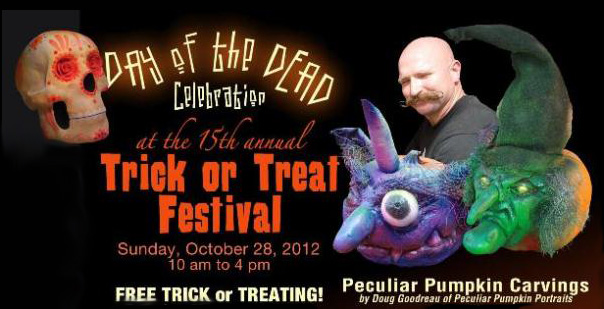 Pumpkins and Pancakes – Live entertainment, prizes, arts and crafts and more has made this event a favorite in the community. Gourmet pancakes will be catered from the popular local restaurant Plum's Café. The event is Sunday, October 28, from 8 am to 11 am in the Macy's Home Store wing of South Coast Plaza. Proceeds benefit some great local Orange County charities. Be sure to reserve tickets.
All Night Halloween Costume Ball – The Shark Club in Costa Mesa is hosting a late night Halloween Costume Party.  The party starts at 8 pm on Wednesday, October 31.  The party is 21 and over only with no cover charge.  Make sure to dress in costume!
Fright Night at the LAB –   The final "Fright Night" at the LAB features the 1991 creepy family comedy "The Addams Family."  Bring a blanket or a chair to enjoy the FREE outdoor movie and popcorn on Thursday, October 25. The show starts at 7 pm.
AnQi 2nd Annual Halloween Bash – AnQi transforms into a dance club for a Halloween Party. Come dressed in your costume. The party features DJ Alpha, bottle service and dancing. Doors open at 10 pm on Sunday, October 28.