City officials and community members gathered to honor the Segerstrom family for their 1963 donation of the Diego Sepulveda Adobe and the 5 acres of land it sits on to the city of Costa Mesa.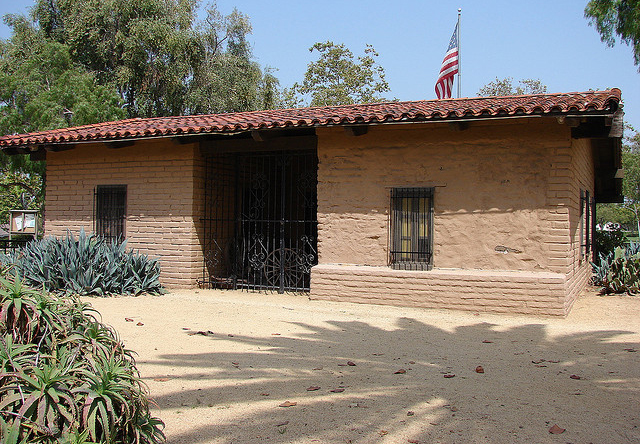 The Diego Sepulveda Adobe currently serves as a museum and as a reminder of the early settlers of Orange County.  The 5 acres of land is now Estancia Park.  The Adobe is the second oldest structure in the county and is California Historical Landmark No. 227.  It was originally built between 1820 and 1823 to house the herdsmen who tended the cattle and horses from the Mission San Juan Capistrano.  It is located six Spanish Leagues, or about 24 miles, from the mission on the banks of the Santa Ana River.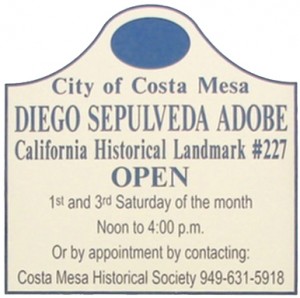 The Abode changed ownership and purpose many times over the years – from housing Mission herdsmen to hosting American Legion meetings after World War I.  The Adobe's current incarnation began in 1940 when the Segerstrom family acquired it.  When the structure was donated to the city, the frame concealing the adobe was removed and the Adobe was restored.  Today, it is under the care and preservation of the Costa Mesa Historical Society.
The inside of the Adobe represents four distinct periods in Southern California history.  The Southwest room represents the Indian and mission/rancho era, the East room represents the Spanish-Californian heritage and the Northwest room represents the Victorian period.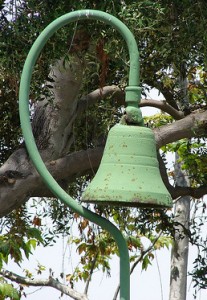 The Adobe is open to the public on the first and third Saturday of each month from noon – 4 p.m.  It can also be used to host events or private functions with the permission of the Costa Mesa Historical Society.
On Sunday, September 30, 2012 from noon – 3 p.m. the Costa Mesa Historical Society hosts "Early California Days at the Adobe."  The event features music, Native American artifacts, cornhusk doll making, leather working, wool spinning, woodcarving and other activities.  Admission is free and food is available with a minimal donation.