To celebrate their second birthday, the SoCo Farmers' Market hosted The Farm to Food Truck Challenge on November 17.  Hundreds of judges, spectators and chefs gathered for the competition set up in the style of the Food Network's "Chopped" where speed, skill and ingenuity are combined to be crowned the top chef, or in this case, the top truck.  Chefs prepared meals based on pre-selected ingredients.  Because the Farm to Food Truck Challenge  was held at the top famers' market in Orange County, the five mandatory ingredients – butternut squash, walnuts, pomegranate, kale and mushrooms – were all seasonable.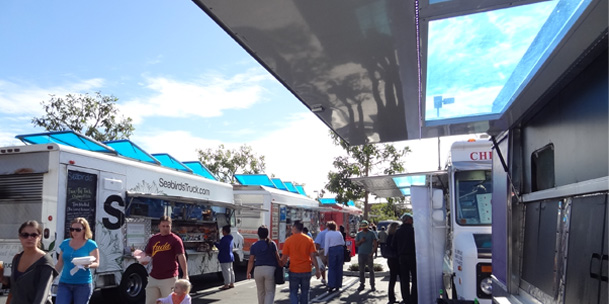 This year's competing trucks were Taco Maria, Seabirds and A Bite Truck.  As the competing chefs buzzed through the market, hand-picking prime ingredients, the non-competing trucks served food.  Guests had the choice of favorites like Barcelona On the Go, Calbi, Rancho-a-Go-Go, Tamarindo, Front Porch Pops and Piaggio on Wheels.  Many of these trucks are regular participants in the Food Truck Fare and Food Truck Fare after dark at the OC Fair & Event Center.
Market patrons and visitors could watch the competition for free, but tickets were mandatory for those who wanted to sample the gourmet fare.  Long communal tables were set up for ticket holders to enjoy the freshly made dishes.   Each truck prepared and served a dish with each of the mandatory ingredients.  The competition was held to for Sprouts of Promise, which promotes healthy eating through certified farmers' markets.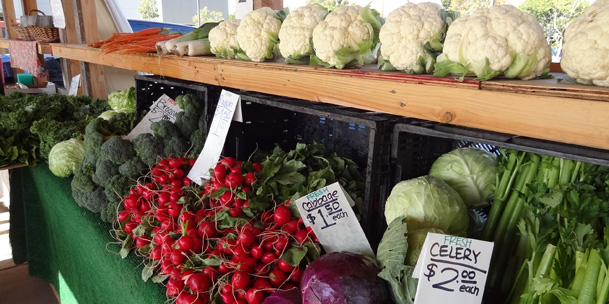 A Bite Truck served a seared scallop with butternut squash, walnut, blue oyster and mushroom risotto, pomegranate balsamic gastrique and kale chip garnish.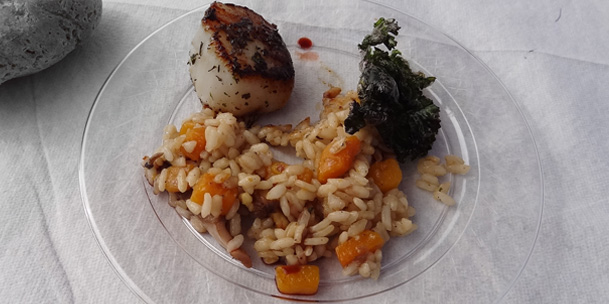 Seabirds entered a tom-kha-hed into the competition.  The tom-kha-hed is a Thai coconut soup with shiitake mushrooms, roasted butternut squash, organic kale, walnut milk, galangal and lemongrass finished with walnut oil and pomegranate reduction.  The soup was served with a slice of rustic loaf sourdough.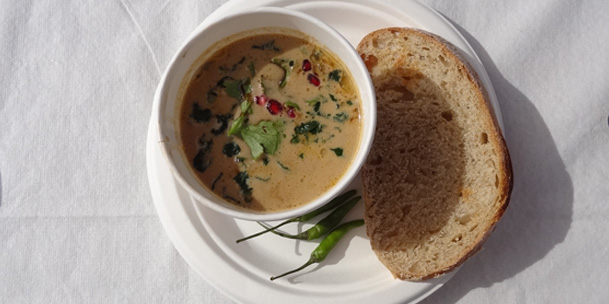 Taco Maria's plate, a chile en nogada, was a roasted poblano pepper stuffed with butternut squash, roasted mushroom and kale with walnut cream and pomegranate syrup.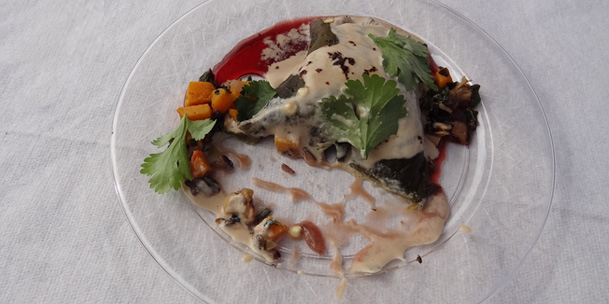 After all of the judges and ticket holders were done savoring the delectable dishes, votes were collected and totaled.  Although each truck created unique and delicious cuisine, only one could be the winner.
At the end of the competition, Taco Maria emerged as the victor, Seabirds came in second and A Bite Truck was third.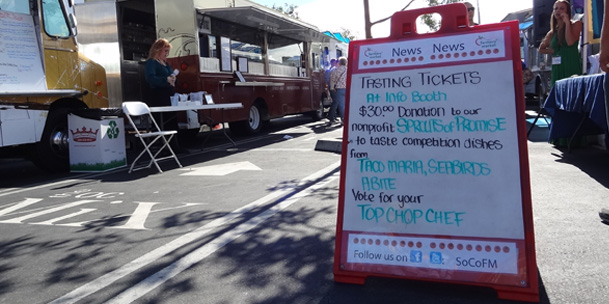 With taste buds content and stomachs full, everyone who attended the food truck challenge left satisfied.
For more information on the farmers' market or for food truck challenges in the future, check the SoCo Farmers' Market Facebook page.