The Angelitos Card offers South Coast Plaza shoppers the opportunity to save on purchases a full month before Black Friday and Cyber Monday sales.  Along with discounts at 120 participating SCP retailers and restaurants, the Angeltios Card is also a great way to give to charity as proceeds from the card directly benefit the Big Brothers Big Sisters of Orange County programs.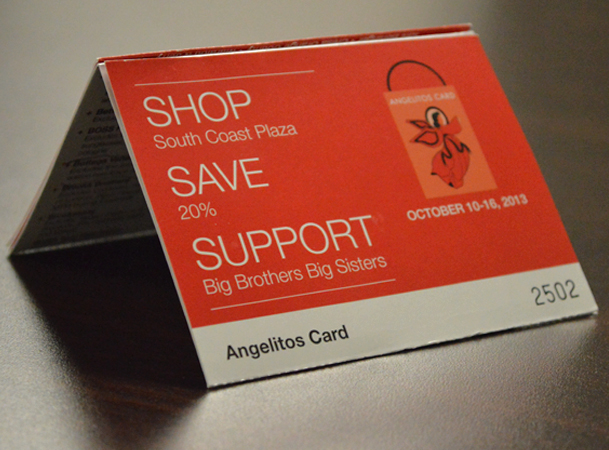 The Angelitos Card will be accepted during the week of October 10-16, 2013 and is a perfect opportunity to knock off some of your holiday shopping list early!  This is the 12th year of the Angelitos Card and in that time, it has helped raise over $4.7 million for Big Brother Big Sisters of Orange County.
There is no limit on how many time you can use the card during the week, but card exclusions include sale and promotional items and cannot be used with any other offers.  Unless otherwise noted, the Angelitos card entitles shoppers to 20% off of their purchase at participating stores.  The card can be purchased for $60 at South Coast Plaza concierge desks or from several of the participating stores.  Using the card is easy, you just have to simply present the card at the time of purchase.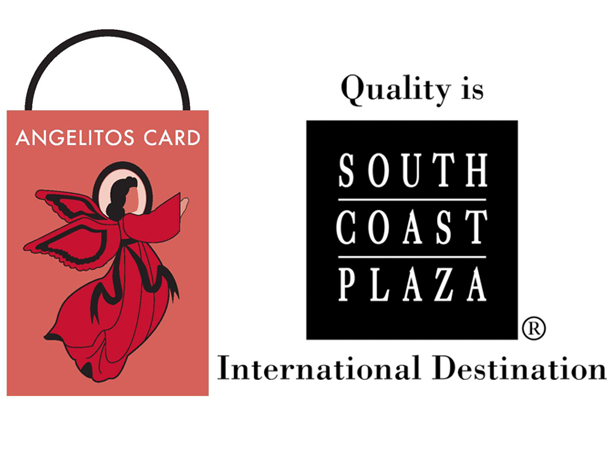 Some of the top stores are participating this year.  With brands like Bottega Veneta, Fendi, Giorgio Armani, Jimmy Choo, Roberto Cavalli, Saint Laurent, St. John, Stuart Weitzman, Valentino and Versace to name a few, it's a rare opportunity to get great deals on items that are hardly ever sold at a discount.
South Coast Plaza isn't just known as an incredible shopping destination for luxury brands and designer labels, it is also home to some of the top dining establishments in Orange County.  This year, 10 restaurants are offering the Angelitos discount, including Costa Mesa Restaurant Week 2013 participants AnQi by Crustacean, Antonello Ristorante, Hamamori, Nello Cucina, zCafe and Royal Khyber.  Even if you're not in the mood for a full meal, there are are small bite and pastry options available at Champagne French Bakery Café and Vie de France.
The Angelitos Cards will be available for purchase after October 9, 2013.  For more information, visit the Angelitos Card website here.  Be sure to stay up to date with other great events in Costa Mesa by visiting the Travel Costa Mesa calendar and on Twitter and Facebook.