Centennial Farm at the Orange County Fair and Event Center in Costa Mesa hosts monthly garden classes that are free to the public.  Each class explores different topics in gardening, different uses for your yard and sustainable landscaping practices.  Whether you're an advanced green thumb, or just interested in learning more about growing a garden, there is a class for you. So, before you enroll yourself in one of these classes, it always helps you to brush your knowledge from the guide you can avail at homeandgardeningguide.com.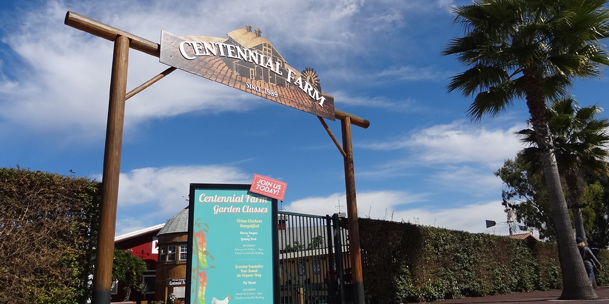 February's garden class was a little different from the rest of the scheduled classes.  Instead of focusing on plants, the class was dedicated to educating the public on raising chickens.  Urban Chickens Demystified featured guest speaker Therry Vargas as she presented everything you need to know about raising chickens in your backyard.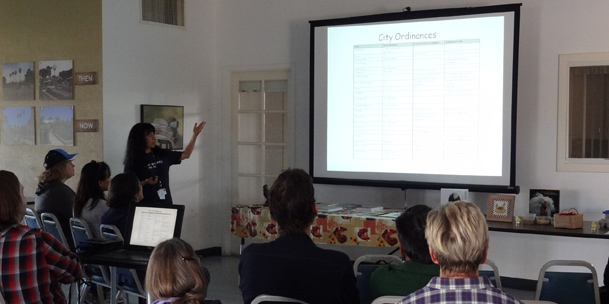 Guests filled the Centennial Farm as Vargas explained the various types of chickens and the differences in personality type, egg laying expectation, yield and color.  She also touched on the areas of temperament, best housing practices, city-by-city ordinances to owning chickens, feed, potential problems, ownership expectations, anatomy, cost and benefits.
While the cost of owning chickens is low, the benefits can be great.  Depending on the type of chicken, several eggs can be produced each month.  Some chickens can produce up to 300 eggs per year.  Of course, this number varies on the overall happiness of the chicken, according to Vargas.  Happy chickens lay more eggs. Vargas said that a chicken's happiness depends on the amount of time its owner dedicates to it, having a suitable coop, about 10 square feet of space per chicken with a perch or roost, plenty of food and a cozy lay box.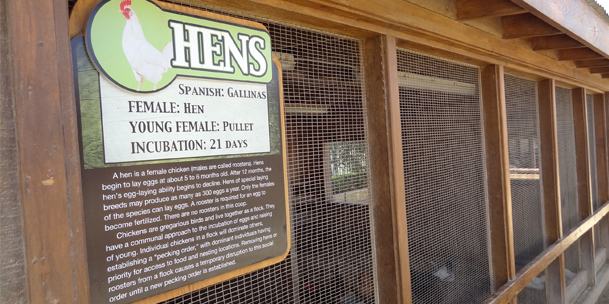 Aside from eggs, chickens are also great at ridding your yard of unwanted insects and pests.  They create better planting areas by aerating the soil by digging.  Vargas also said that the feathers could be used for arts, crafts and for fishing lures.  Another benefit of owning a chicken is the companionship.  Vargas explained that chickens are much more intelligent and intuitive than most people give them credit for and they also have great personalities.  Vargas showcased one chicken's personality to the class as she demonstrated the proper holding technique.  She stroked the chicken like a cat and with each pat, the chicken let out a soft cooing sound.  Vargas said that this was one way chickens show that they are happy.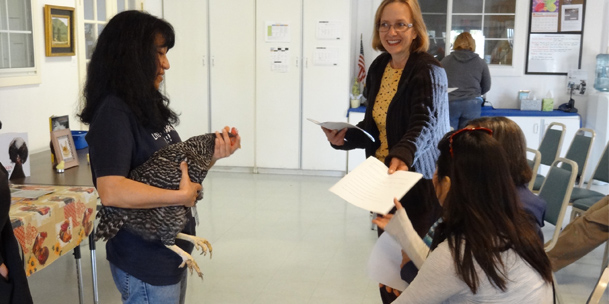 Vargas told the class that it only takes a few minutes each day with your chicken to make it happy.  She said that her chickens follow her around and have even learned how to use a doggie door to go in and out of her house.
Guests at the class were entered into a prize raffle where two winners were able to take home a half-dozen fresh eggs that were laid by chickens at the Centennial Farm.  All guests also received a flyer for discounts at local feed stores.  Everyone who attended the class was able to learn a lot about chickens.  For some, it was the last bit of motivation they needed to go out and build a chicken coup, while for others it was a showcase to see whether benefits met their expectations.  Either way, the only question that was left unanswered was which came first, the chicken or the egg?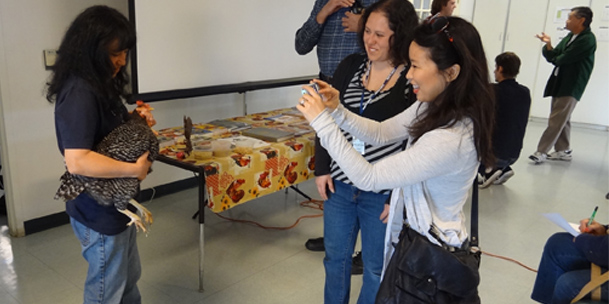 For more information on Centennial Farm Garden Classes, visit ocfair.com.  If you are interested in owning a chicken, the Centennial Farm holds chicken adoptions and several Orange County area feed stores also sell chickens.  Members of the class also said that free chickens can be found at the humane society or through Craigslist.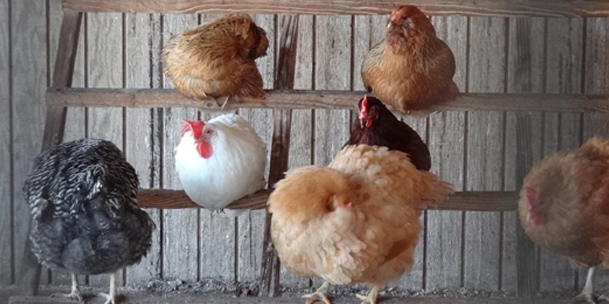 The next scheduled Garden Class is "Growing Vegetables Year-Round the Organic Way," March 16, 9:30 am – noon.  All garden classes are free, but space is limited, so be sure to register online in advance at ocfair.com.  Be sure to check the Travel Costa Mesa calendar for all the upcoming garden classes as well as other great events in the City of the Arts, Costa Mesa.