The CAMP in Costa Mesa is unlike any other shopping center in Orange County.  Along with the cool shops and unique boutiques, the CAMP is full of great restaurants.  From coffee, bakery items and small bites to breakfast, lunch, dinner or late night cocktails, the CAMP is a must-go culinary destination for any food lover.
Old Vine Café serves award-winning breakfast, lunch and dinner.  Chef and Owner Mark McDonald uses homemade recipes to create delectable dishes.   The open-faced biscuit, sausage and chipotle gravy is incredible.  On top of the homemade recipes, all of the sauces and preserves are made on-site.  McDonald's passion for great food is evident.  He even hosts wine education nights and an epicurean tour through Italy.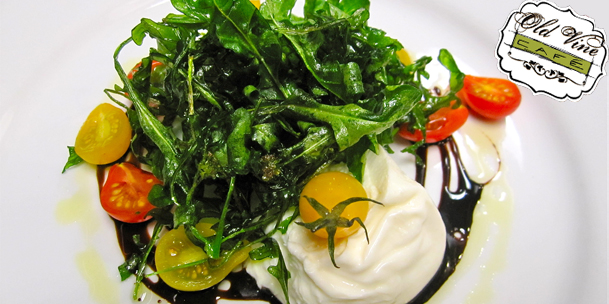 Authentic Neapolitan pizza is served daily at Ecco.  The pizza is made is a wood-burning brick oven, just like in the real pizzerias of Naples.  The secret behind Ecco's authentic taste is the ingredients.  The flour, salt, tomatoes, olive oil and mozzarella are all imported from Italy.  Close your eyes, take a bite and you'd swear that you were in Italy.
The tacos at Taco Asylum are as unique as the CAMP itself.  With imaginative creations like octopus, curried paneer and falafel, Taco Asylum isn't your typical taco.  All of the tortillas and chips are handmade on-site.  The hot ghost chili pork taco was the winner of the OC Weekly's best taco of 2012.  Taco Asylum also carries craft beers to wash down the tacos.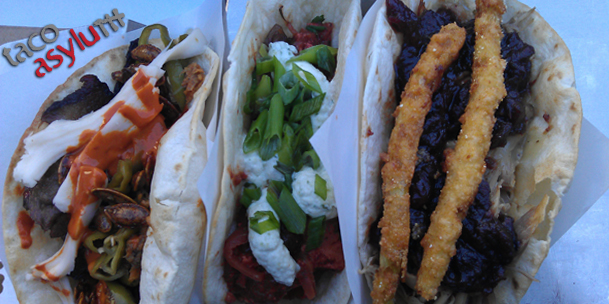 Native Foods Cafe creates fresh and delicious vegetarian and vegan dishes that will sway any die-hard meat lover.  Everything on the menu is health conscious without sacrificing flavor.  All menu items are made from scratch, ensuring the freshest, and tastiest possible cuisine.  With items like bacon cheeseburgers, rueben sandwiches and Greek gyros, Native Foods Cafe is a truly unique dining experience.
The indoor-outdoor covered patio dining area at East Borough is a tranquil setting to enjoy the French-Vietnamese street-style fare.  The menu at East Borough is simple and features rice and noodle entrees, spring rolls, salad and bánh mi sandwiches.  The Vietnamese coffee and bánh mi are popular menu items.  Everything is wrapped for take-out, but best enjoyed in the dining area.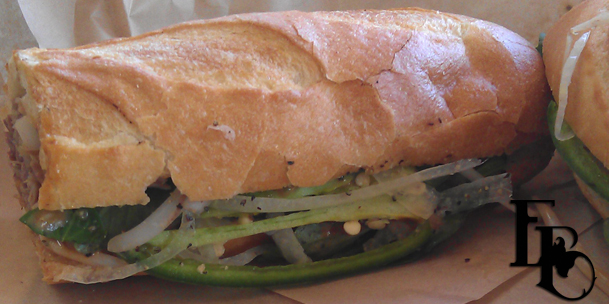 Innovative raw foods chef Jenny Ross creates her "living food" dishes at 118 Degrees.  Organic juices, smoothies, organic beer and wine complement the raw food.  Ross also recently published a cookbook featuring her eating healthy lifestyle.
Milk + Honey offers CAMP goers yet another peaceful respite with its patio lounge.  There are tables, couches and lawn chairs that make for an ideal place to read, chat or just simply enjoy your beverage.  Milk + Honey has shaved ice, hot and cold beverages, sandwiches and small bites.  The lavender tea latte is delicious and unique.  You can also order it "dirty" with a shot of espresso.
Los Angeles favorite, Umami Burger, brings its famous burgers to Orange County from their location at the CAMP.  Off-menu items like the cheesy tots aren't always available, but definitely worth asking for.  Umami Burger takes its name for the Japanese word describing a savory and pleasant taste.  With world-class burgers, Umami stays true to its name.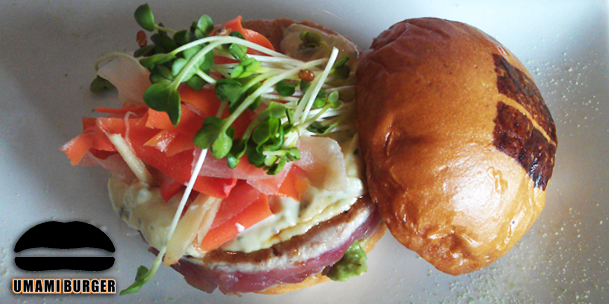 Open only at night, Mesa lounge constantly receives accolades for its cool atmosphere and complex cocktails.  During warm months, Mesa opens its retractable roof to transform the lounge into an open-air hotspot.  With live music and dancing, Mesa is always a fun way to end the night.
The newest member of the CAMP opened recently with an already rabid following.  Blackmarket Bakery utilizes homemade recipes to create delicious bakery items, sandwiches, breads, pastries, confections and more.  Everything is made from scratch.  Blackmarket Bakery may be "powered by butter," but is driven by mouth-watering treats like the chocolate and caramel Black Widow Tart.