The OC Mix is unlike any other shopping center in Orange County. Located just a few miles from South Coast Plaza, at the SoCo Collection in Costa Mesa, lies a gathering of over 25 vibrant retail stores, one-of-a-kind boutiques, restaurants and bars, all with an emphasis on local products and services.
The OC Mix has grown to become one of the leading shopping destinations in Orange County.  With an eclectic gathering of shops and eateries, the MIX draws crowds from all over Southern California.  The OC Mix also hosts several events throughout the year and hosts Orange County's best farmers' market each Saturday.  The OC MIX may still be the best kept secret in Orange County, but with its growing popularity, it is quickly turning the OC Mix into a cultural hub.
Shuck Oyster Bar is the only destination in Orange County devoted to serving the freshest possible oysters.  The menu boasts over 50 different types of oysters from various domestic and international regions.  Shuck promises that no oyster older than three days old will be served, which ensures the best possible fare.  Oysters that are available to order are designated with an oyster shell next to its name.  Shuck works tirelessly, and directly with oyster sources, the get the best possible products.  If oysters aren't to your taste, Shuck also has an amazing chowder and delicious grilled cheese sandwich.  It was also voted the best place in OC to start a hot date.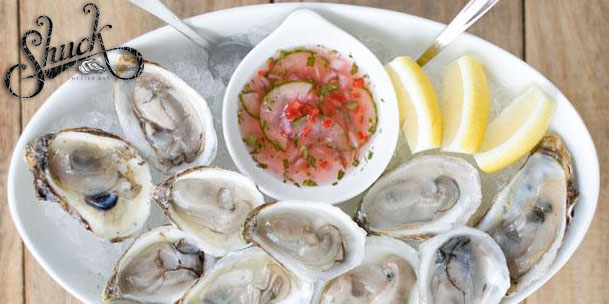 N'ice Cream Homemade Gelatos and Sorbets was founded in LA in 2008 by Danish immigrants.  The location at the OC Mix is the only Orange County store.  N'ice Cream offers 16 daily flavors and lists the exact time each flavor was made on their website.  N'ice Cream has an array of unique flavors like torrone rustego, panna cotta, chocolate chili, stracciatella and salted caramel, among others.   Fresh, organic ingredients are always used and cream is substituted for milk to make N'ice Cream a natural and delicious treat.  Milkshakes, smoothies, espresso, cappuccino and lattes are also available.
As the premier retailer for California extra virgin olive oil, We Olive has taken its dedication to educating guests a step further by opening the We Olive Wine Bar.  We Olive offers a range of services, from giving the perfect ratio of oil for butter substitutes, to tastings, happy hour and daily specials.  There is happy hour daily, including "Sunday Funday" where it's happy hour all day.  We Olive Wine Bar is the perfect setting to indulge in wine, bread, artisanal cheeses, balsamic vinegar and olive oils.
The philosophy here is simple, "we love waffles and beer."  That statement may be over simplified as the Iron Press offers over 30 hard to find and craft beers on tap, and a few specialty beers in bottles too.  Whether you like sweet or savory, the Iron Press has a waffle for you.  With options like fried chicken, bratwurst, honey baked ham, s'mores or ice cream, to name a few, it's hard to choose just one.  Add in the wide variety of dipping sauces and a beer to perfectly complement the waffle, and you have the perfect recipe for an epic foodie experience.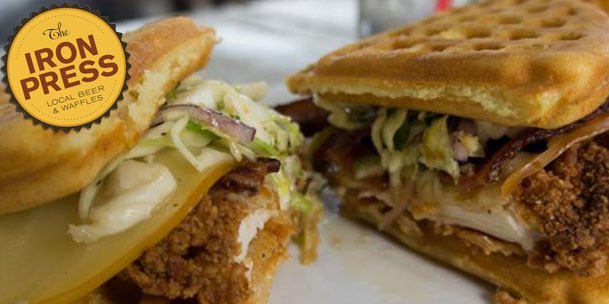 Waiiha Sushi and Japanese Dining offers lunch, dinner and an appetizer menu with a wide variety of Japanese cuisine like edamame, tempura, udon, terikyaki  and traditional and signature sushi rolls and sashimi.  The cuisine is served is a modern and hip environment.  Japanese beers and wine are also served.  Be sure to try a signature roll to experience the chef's culinary creativity.
For cheese lovers, it doesn't get any better than the Cellar Cheese Shop at the MIX.  With every type of cheese you could imagine and a knowledgeable and friendly staff, every cheese is cut precisely to your required specifications.  The specially trained "Cheesemongers" will also help you pair that perfect cheese with fruits, meats, drinks or pretty much anything you could think of.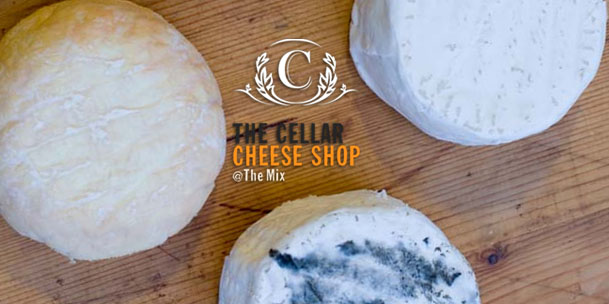 With over 160 original blends of herbs and spices and unique extracts, sauces, spice ware and specialty items, Savory Spice Shop is a favorite among home bakers and cooks.  The gift sets of creative spice blends make a perfect present for any occasion.  A visit to Savory Spice Shop is sure to get your creative culinary juices flowing.  Or, if you need help with incorporating new spices, Savory Spice Shop has a guide to spices.  With so many unique offerings, Savory Spice Shop is guaranteed to have the ingredients you're looking for.
Surfas Culinary District is the one-stop shop for everything cooking related.  Whether you just have a passion for cooking, or you are a professional chef, Surfas has everything from commercial products to home supplies.  Shop for apparel, appliances, bar supplies, shelving, meat, spices, cheese and much more.  Surfas also hosts free cooking demonstrations from top chefs.  Surfas has operated out of one location in Los Angeles since 1937 until opening its new location in Costa Mesa in 2012.  The new location at the SoCo Collection solidifies Costa Mesa as the culinary center of Orange County.
No trip to the OC Mix is complete without a drink from Portola Coffee Lab.  Portola is the premier coffee brewer in Orange County and serves handcrafted beverages that will satisfy even the most sophisticated coffee palate.  With Seventh Tea Bar and the progressive Theorom, Portola Coffee Lab has put Costa Mesa on every OC coffee lover's map.  Portola was born from owner Jeff Duggan's love of coffee and has progressed into a favorite destination to indulge in a creative and unique drink.  The drinks are so good, it topped our list of best places for a hot beverage in Costa Mesa.