July is one of the best months in the City of the Arts.  It marks the start of the annual OC Fair, concerts in the Pacific Amphitheatre and FREE Movie Mondays at the Segerstrom Center for the Arts.  Although there are no staged performances at SCFTA, July presents a great opportunity for visitors to come to the Center during weekly screenings of beloved films.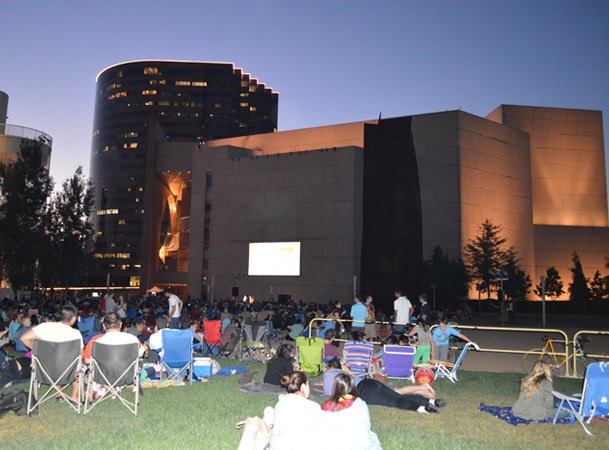 The stage is usually the focal point at SCFTA, but for Movie Mondays, the Arts Plaza plays the starring role as the main attraction is projected onto the side of Segerstrom Hall.  Attendees are encouraged to bring their own chairs and blankets, as the Center does not provide seating.  Set up begins at 5:30 p.m. with the night's entertainment starting at 8 p.m.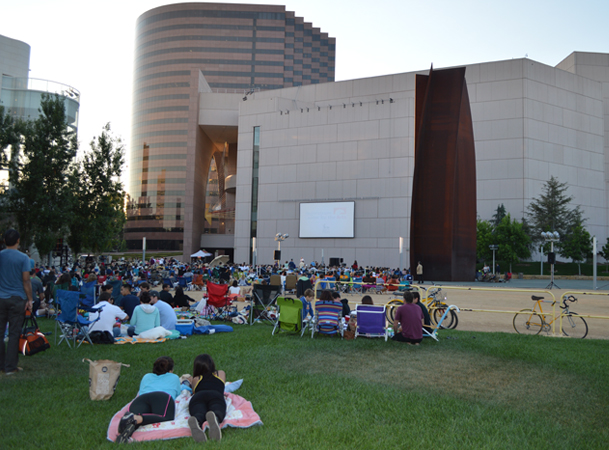 Guests are also allowed to bring their own food and drinks.  Just don't plan on preparing a meal there, because barbecues and other devices are not permitted.  The Patina Group has created specialty themed menus to go with each different movie.  Segerstrom Center for the Arts partners with the Newport Beach Film Festival.  As part of the partnership, a selection of the best short animated films will be shown each week before the feature.
The Wedding Singer kicked off the FREE Movie Monday season last night.  Hundreds of people gathered in the Arts Plaza to watch the Adam Sandler/Drew Barrymore rom-com.  As expected, the movie was a hit as crowed watch on as the two on-screen stars found true love – all set to some classic '80s songs.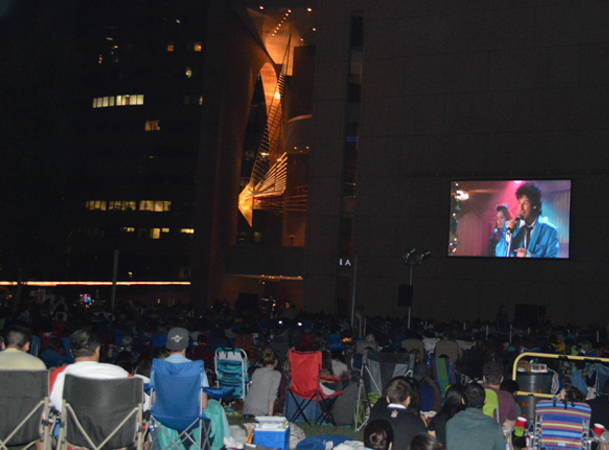 July 15 will be a documentary about the musicians of pre-revolutionary Cuba.  Wim Wenders' film, Buena Vista Social Club, follows legendary guitarist Ry Cooder on a journey through Cuba, music and history in this acclaimed feature.
Bring the family on July 22 for the animated Disney classic, Mulan.  Based on a Chinese legend, Mulan is an inspiring story of strength and bravery as a young girl disguises herself as a man to take her dad's place in the army.
The longest running Broadway show in history, The Phantom of the Opera, has also seen a long run in film.  July 29 will feature the 2004 adaptation of the classic Andrew Lloyd Webber musical starring Gerard Butler.
The final installment of the free movie Mondays is the 1996 musical, Evita, which depicts the real-life story of Eva Peron's life as she goes from poverty to become the most powerful woman in Argentina.  The film will be played on August 5. Evita will return to the Center in December, but this time on stage, as part of SCFTA's Broadway Series.