If you're anything like us, you're already planning tomorrow's meals.  With so many incredible eateries, there is never a shortage of great food and dining destinations in Costa Mesa.  You're on your own to make plans for lunch and dinner, but leave the breakfast decision to us!
In honor of the delicious holiday, National Doughnut Day, Sidecar Doughnuts & Coffee decided it would be the perfect day to unveil an all-new flavor – Peach Cobbler with Corn Thyme Crumb.
Every guest who purchases this special holiday treat will also receive a free cup of brewed Stumptown Coffee.  The Peach Cobbler doughnut is a delectable addition to an already impressive line-up of treats.
National Doughnut Day is on the first Friday in June every year.  The holiday comes from a tradition created by The Salvation Army in Chicago to honor the women who served doughnuts to soldiers during World War I.   What started as a fundraiser has spread to a day of doughnut loving celebrations nationwide.
The tradition continues in the City of the Arts, Costa Mesa, at Sidecar Doughnuts and Coffee.  Sidecar is located on 17th in a small storefront.  You'll know when you're there by the big, red Sidecar truck and the line of salivating fans that is sure to extend beyond the doors.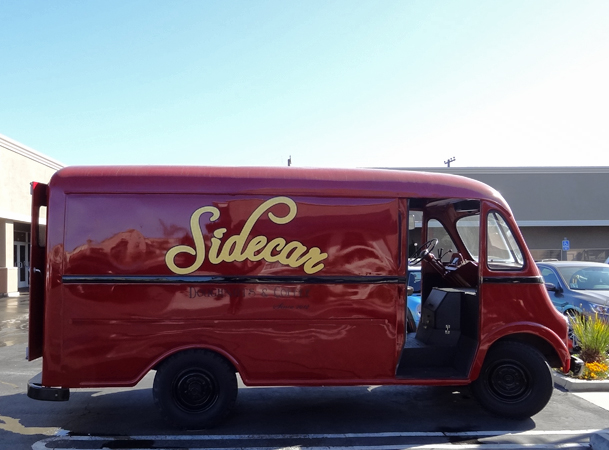 Whether you're taking the day off, or heading into work, if you bring a box of Sidecar Doughnuts anywhere to share, you're sure to be the hero of the day.