Since juice cleanses are the hottest trend in Orange County right now, we decided to have one of our staff members try a 3-day cleanse and share her experiences with you.  See how she did on the cleanse after the jump.
As we're all getting ready for summer parties, barbecues and lots of swimsuit time, it seemed like a great time to jump start getting into summer shape with a juice cleanse. I contacted Lori Kenyon Farley, the co-founder of Ritual Wellness, about doing a juice cleanse and she was happy to assist. Ritual products are available online and also at their Juicebox store in Costa Mesa.
"We are so thrilled to be a part of the Costa Mesa community with our flagship store at The CAMP," Lori told me.  "It allows people to incorporate our cold-pressed, USDA-certified organic juices into their everyday diet.  Drinking a juice fresh pressed from 3 pounds of organic produce each morning certainly starts you off on the right foot!  For the summer, we will be offering call ahead drive up service at The CAMP from 11:30 – 2:00, to make it even easier to grab your juice and go."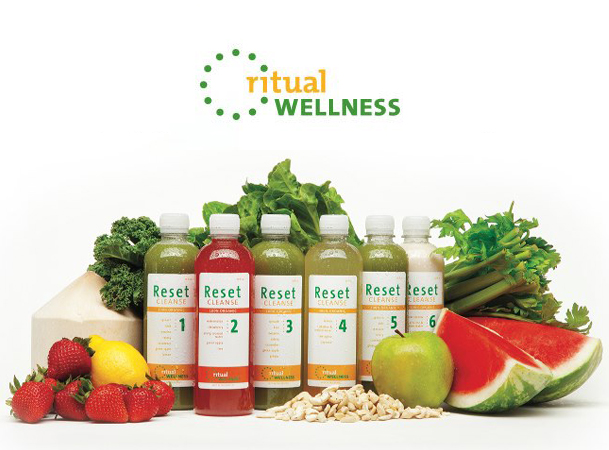 Purchasing online can be a little tough if you're not sure how to start, but Lori and her team provided great phone support.  I spoke with a staff member before ordering online who asked me about what flavors I liked, and also what my activity level was going to be. We decided I would do the 3-day Classic Reset program and added a day of Shred juices to give extra energy when working out.
I placed my order online and was given a pickup date. In the comments section, I asked if I could pick up at a specific time, and I quickly received an email response that my juices would be ready at my requested time.  Pickup was easy!  I got all the juices in an insulated fabric tote bag, packed up with ice packs for transport.
I think one of the most important things I could do to complete a successful cleanse was to eat LIGHT the few days before. Make no mistake, not eating for 3 days (even though you get 6-8 16-oz. juices per day) is difficult.  For 4-5 days prior to starting, I ate fruit, salads with oil and vinegar, and light proteins like boiled eggs and chicken – no red meat, cheese, or excessive fats.  This really helped me ease into the cleanse.
Day 1:  I felt great in the morning.  The first juice was Sweet Greens, which included spinach, kale, celery, cucumber, lemon and green apple. The huge burst of nutrients gave me great energy in the morning. Juice #2 was definitely my favorite juice of the cleanse – it had pineapple, mango, young coconut water and apple. This is the one I looked forward to daily! Juice #3 was a redo of juice #1, except with ginger instead of lemon. Ginger has great digestive properties, but as I'm not a huge fan of ginger, I downed this one pretty fast.  By the time I got to juice #4 (after lunch), things started to get tough. I was starting to feel sluggish and very tired. I actually had to take a short nap about 4pm because I was out of energy.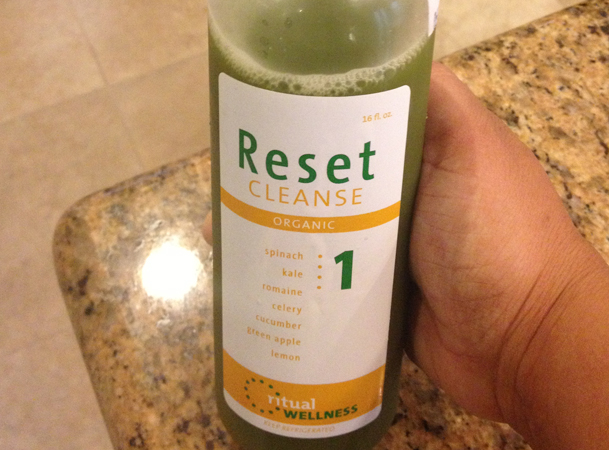 Day 2:  As you've heard, the second day is usually the worst and it definitely was for me. I drank juice #1 and savored juice #2, but I was really wanting to chew something. I stayed strong and made it through to juice #4 – this juice is modeled after the "Master Cleanse" drink, containing lemon, agave for sweetness and cayenne pepper. WOW was this spicy! I got through about 2/3 of it and couldn't actually finish the whole thing because it was so hot. By the afternoon, my energy level was feeling a little better and I was quite "flushed out" – if you know what I mean.  This alone gave me a feeling of being light and clean, which helped me through the tough times.  I tried to drink the last juice, #6, around 7pm every night so I would feel a little bit of satiety before going to bed (I'm a late-night snacker). Juice #6 is a nut mylk, and mine was made of cashew and contained cinnamon and nutmeg.  The spices did a lot to make me feel less hungry, as did the consistency of the cashew.  However, I have to admit that late in the evening I couldn't contain my urge to chew something, so I grabbed a few baby carrots to nibble on. WAH! I cheated a little, but I figured it was better than a handful of potato chips!
Day 3:  I can honestly say I woke up feeling hungry, but great. I had a workout planned so I started with juice #1 and as I went to the gym, I sipped on my pre-Shred juice, which was beet, carrot, pear, celery and red apple. I enjoyed this juice and the sugars got me through my weight training.  Right afterwards, I drank the post-Shred, which was a nut mylk made of raw almonds and containing vanilla and agave.  This was perfect to keep me going after a tough workout.
It's important to drink a lot of water during this process to keep things flowing and also to help fill the stomach a little during the cleanse. And just as important as it is to start eating light before, it's a MUST to eat light for a few days after!  I stuck with fruit and salads, and didn't eat any meat for 2 days after just to make sure I didn't shock the system.
The juice cleanse was a great experience and I'm glad I did it. I definitely recommend Ritual because their support was great and they also send encouraging emails during and after the process that include good diet tips.  Have you done a juice cleanse recently or are you planning one? Leave us a comment or question and let's discuss!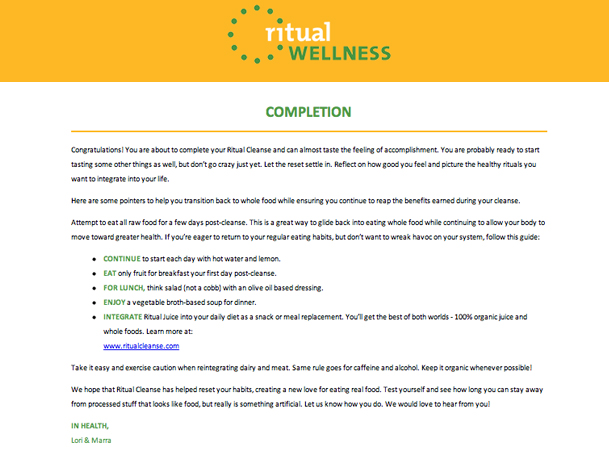 *Ritual Wellness provided Travel Costa Mesa with a discount to try this product.