Patchwork Show Edible Edition is this weekend at SoCo in Costa Mesa.  For any food lover in Southern California, this is a can't miss event.  Patchwork Edible is FREE to attend and brings visionary chefs, restaurateurs, craft and food artisans together for two-days of eating, drinking, activities and much more.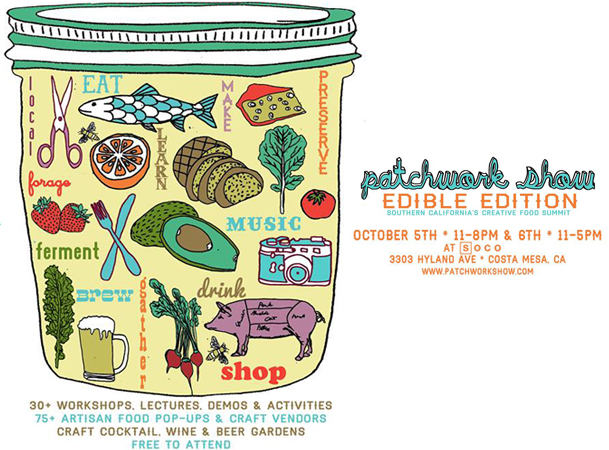 The Patchwork Show "Modern Handmade Festival" has become a popular event in Orange County.  With 25 festivals in seven years, and another one scheduled for December 1, 2013 in neighboring Santa Ana, it's reputation as a great place to meet local artisans and vendors, listen to live music, and eat some incredible local food has local foodies' mouths watering in anticipation for the first ever Edible Edition.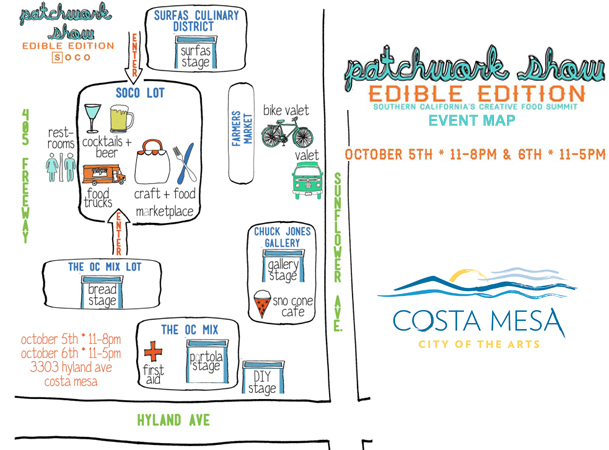 This weekend's event will be similar to the original Patchwork Show event, however, the main focus will be on food and will draw on the flourishing craft food movement.
The festival begins and 11am on Saturday, October 5 and closes at 8pm and continues the next day at 11am and closes at 5pm.  Attendees will have the chance to stroll through the outdoor marketplace filled with food and craft vendors and musicians.  There will be a collection of food trucks, restaurant pop-ups and a beer/spirits/cocktail garden.  So, come hungry (and thirsty) because there will be some incredible bites and impressive elixirs to sample.
Along with all of the food and drinks, there will also be cooking demos where guests can watch and learn from talented chefs.  Demos range from candy-making to preparing perfect steaks.  Some of the leading voices in food will also host a panel discussion with topics like food policy, writing, spirits and more.
Food business professionals can also attend the food business annex to learn how to start or better your food business with workshops hosted by county health departments, Whole Foods and more.  All of the workshops are free.
Learn to make your own kimchi, mustard, pickles, bread and more by hand with interactive classes.  The fun food engagement isn't just for adults, so bring the kids, because there will be several activities geared towards kids where Patchwork Edible staff will show kids fun and creative ways to engage with their food.
In order to accommodate as many guests and possible, Patchwork Edible has set up a shuttle service from Harbor Boulevard that runs every 30 minutes.  There will be three large parking lots, (parking map here) where guests can park and use the shuttle to get to SoCo.  There will also be a limited valet service at the Sunflower entrance and a bike valet service. For those coming from out of town, the Residence Inn Costa Mesa Newport Beach is offering a special rate for Patchwork attendees.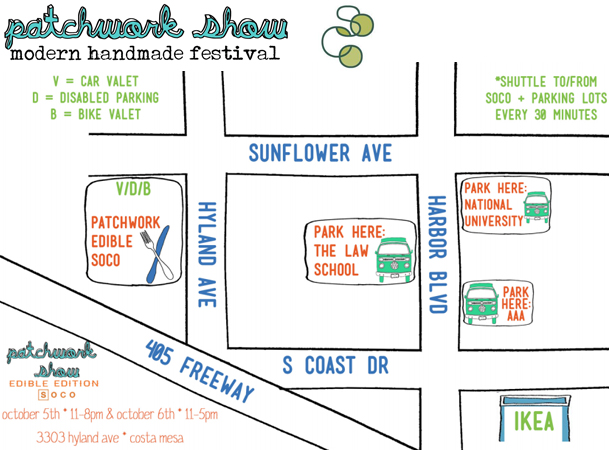 For the complete Patchwork Edible schedule, click here and here for the map.  Share your thoughts and pics on Twitter by using the hashtag #PatchworkEdible.