Travel Costa Mesa Blog
Archive for April, 2016
It's the time of year where we're all tired of cooler (or downright cold) weather and anxious to see brightly colored spring flowers, whether it's around town or in our own gardens. The perfect place to celebrate spring is at South Coast Plaza, for the Southern California Garden Show starting today and running through May 1. Now in its 27th year, the show is held in the Crate and Barrel/Macy's Home Store wing of the center. The show focuses on providing visitors with ideas on Southern California outdoor living, entertaining, gardening and decorating. This year's theme is "At Home in the Garden."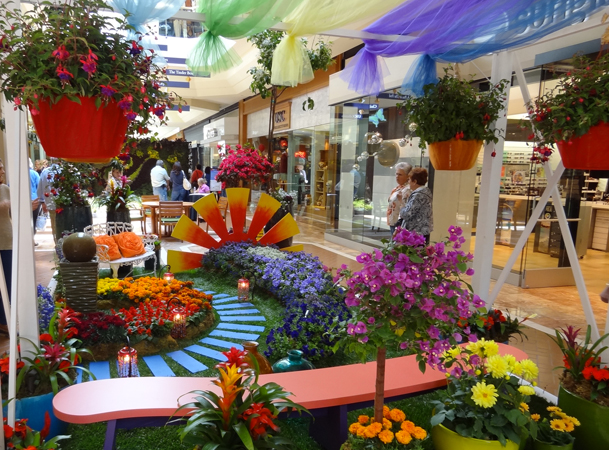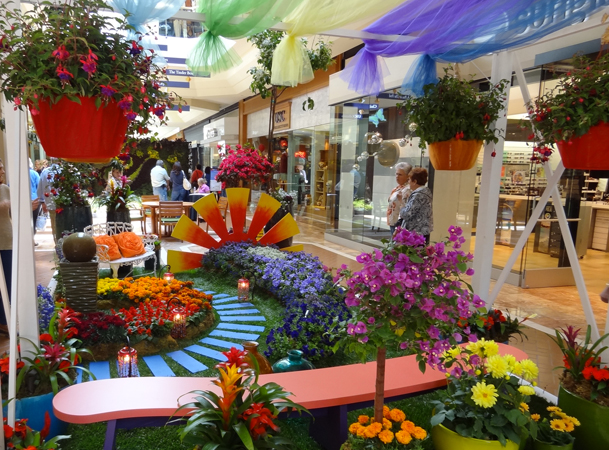 The speaker series has experts covering a range of topics from a glimpse into the fascinating world of the honey bee and its importance to the ecosystem, to tips on how to grow African violets in Southern California. You'll also find over 50 different vendors selling banzai trees, orchids, plumerias, potted plants, and even garden décor and gardening tools and accessories. You'll see varieties of groups participating including The Pelegorium Society, The Begonia Society, and The Epiphyllum Society!
Special programs include:
Lush home and garden vignettes with Southern California's top design experts and South Coast Plaza's home stores: Williams-Sonoma, The Land of Nod, Crate and Barrel, Pottery Barn, Z Gallerie, Sur la Table, West Elm and Liuli Crystal Art Trends. Get design ideas from Nick Vega Landscape & Design, Camille Beehler Landscape Design, Land Vision Workshop, The Potting Shed by Carlisle, The Plant Stand, Table to Garden, Living Landscapes, Seed Landcare, Star Landscape Design and Lifestyles Landscapes
Get gardening tips and advice from Jane C. Gates, Reginald Durant, Alan Piercy, and see demonstrations by Chef Debbi Dubbs, Sur La Table's Chef Kristin Leonard, and the Williams-Sonoma culinary team.
Bring the kids, because you'll also find a variety of engaging children's activities in and adjacent to The Land of Nod; past events have included a tropical bird show and plant-your-own flowers and plants to take home.
Are you going to the SoCal Garden Show? You can see the schedule here, but leave us a note in the comments to let us know your favorite part of the show!
Now in its 19th year, South Coast Repertory's annual Pacific Playwrights Festival is one of the country's premier national showcases for new plays. Coming to Costa Mesa this year April 22-24, Each year's three-day festival attracts theatre professionals from across the nation, who are drawn by the chance to be the first to see some of the best new plays in the country. The Festival also serves as a reunion of sorts for those in the industry, encouraging time for sharing of ideas with colleagues and friends, old and new.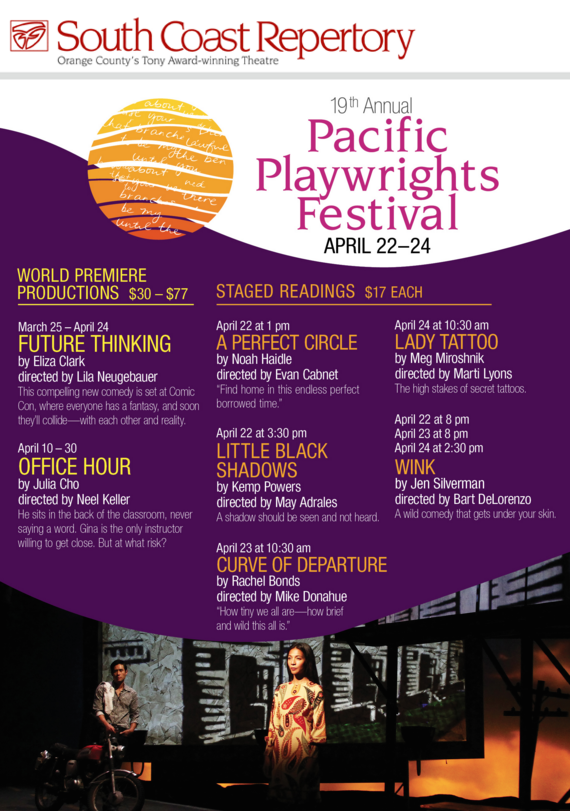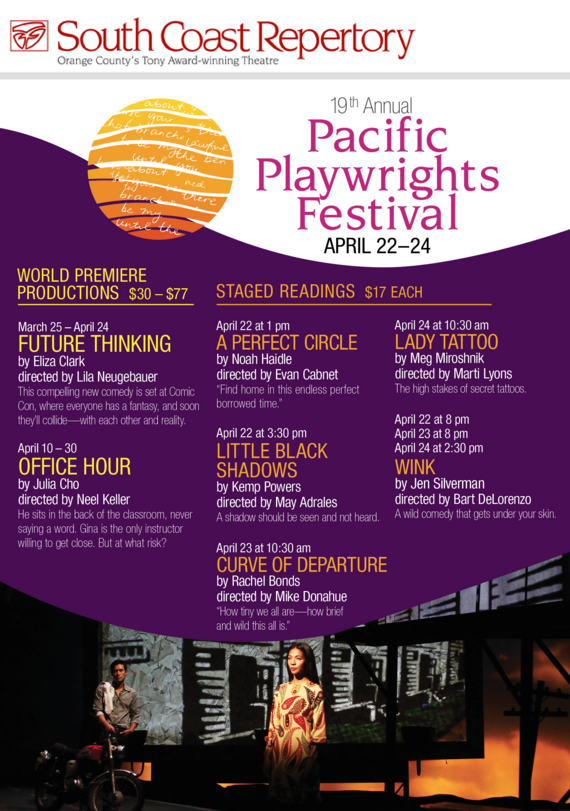 Each year's festival features ​five staged readings and two fully staged world premieres. Two shows are already playing now, The New York Times calls SCR "an incubator of major talent … South Coast has mounted an impressive list of acclaimed plays, long before the East Coast establishment got wind of them." This year's readings include A Perfect Circle, about a husband creating a garden for his dying wife, and Lady Tattoo, a turn-of-the-century piece about tattoo art in a world where womens' options are corseted.
SCR has already been getting rave reviews for Future Thinking, about a spoiled starlet's experience during ComicCon, and Office Hour, a look into the actions of a possibly violent student. Office Hour stars Sandra Oh from "Grey's Anatomy" fame, written by Julia Cho. Take a look at a YouTube clip of Office Hour.
Since 1998, the Festival has presented 123 total plays, many of which have become fixtures of American contemporary theatre. Here's tickets and more information about this amazing festival in the City of the Arts.
Posted in Events, Music & Art
Breakfast aficionados have just one more great reason to choose Costa Mesa for the most important meal of the day. Restaurant Marin recently opened in SoCo Collection Costa Mesa, and we got to stop by and get our midday breakfast fix, as this new Costa Mesa foodie hotspot is serving to brekky fans all day long.
Inspired by an experience at an old-school Midwestern diner, executive chef Noah Blom and co-owner Marin Howarth developed the concept of a bright, airy California-style diner, taking it to the next level with upscale decor but keeping the diner feel alive by serving breakfast all day. The blue and white tile and booths, along with the tables made from pressed sea glass, evoke the breezy coastal California feel for this cozy restaurant's 30-seat guest capacity (20 inside, 10 on the outdoor patio).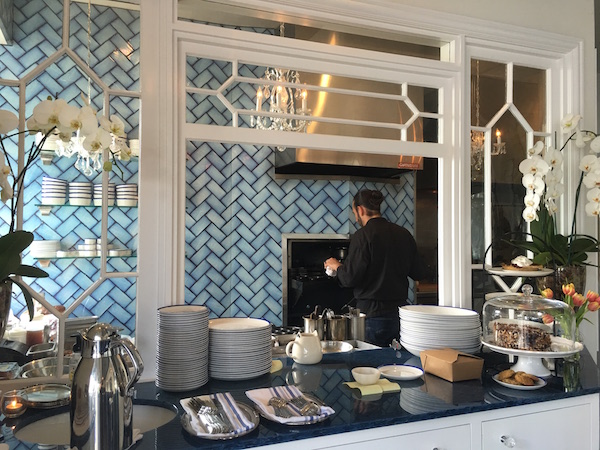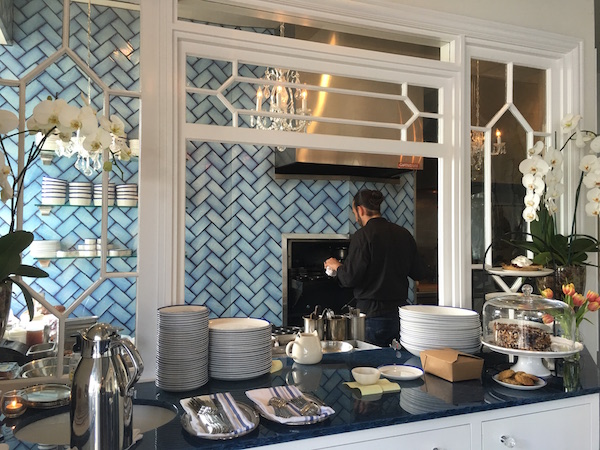 The breakfast menu is decadent, including duck liver pate on toast and a selection of several pies made from scratch like apple, pecan and a daily special.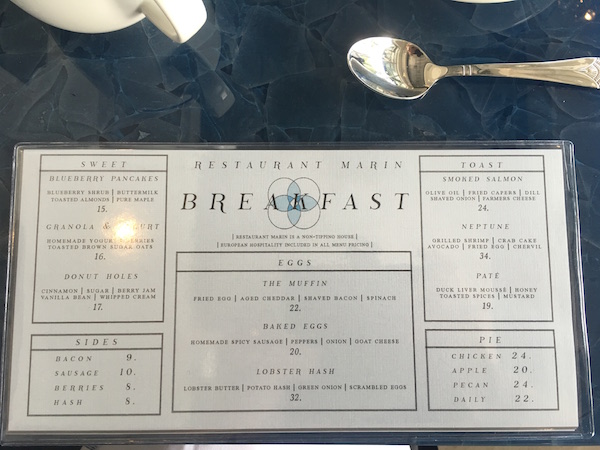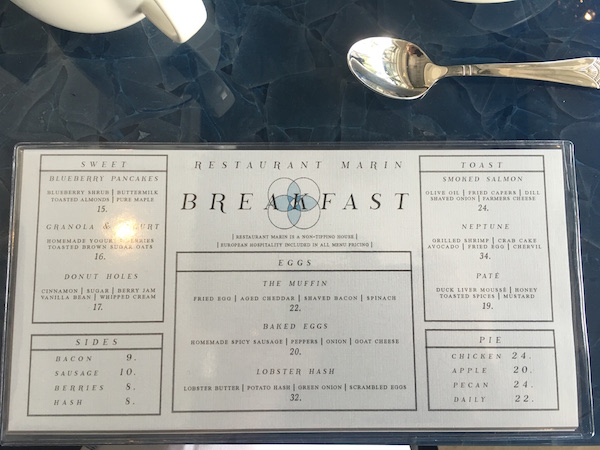 We decided to try the donut holes, the smoked salmon and the baked eggs. The food was just incredible, but we'll let these pictures speak for themselves…
Rich, decadent flavors permeated each dish, with special touches like the chili flakes on the toast and the red pepper roasted over wood fire. And while we love eggs any way they're prepared, baking them just takes the richness and creaminess of eggs to the next level, complemented with the homemade spicy sausage and goat cheese.
But make no mistake, Restaurant Marin doesn't just serve breakfast. They've got an incredible lunch and dinner menu as well, with a strong emphasis on seafood. Restaurant Marin has a wood-fired oven just like its sister restaurant ARC, set low for grilling seafood, bread and desserts. Some mouthwatering dishes include bouillabaisse, grilled shrimp over vegetable "spaghetti" and a Crab Louie salad. For non-seafood eaters, Chef Blom offers roast chicken, steak roulade and even beef stroganoff with filet and made-from-scratch egg noodles.
This elegant yet breezy spot is another fantastic addition to the Orange County foodie scene at SoCo Collection. Stop by Restaurant Marin soon and be sure to let us know in the comments what you tried and what your favorite was!