Sometimes, our job is just too difficult. We visited OC's hottest new restaurant, Vaca, and with journalistic research in mind, ate everything in sight.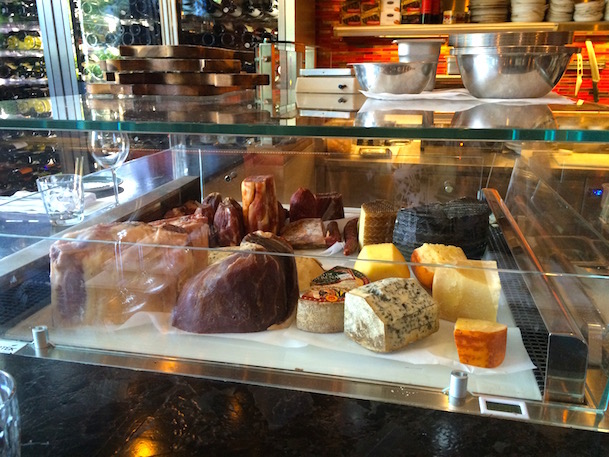 Vaca is owned by "Top Chef" season 13 runner-up Amar Santana, and just opened this year across from the Westin South Coast Plaza and near the Segerstrom Arts Plaza. His second culinary foray in OC (the other being Broadway in Laguna Beach), this chic, classy new spot in Costa Mesa serves Spanish tapas-style food and hand-crafted cocktails that make you feel like you're eating in an elegant boqueria on the Spanish coast.
We started our culinary adventure with appetizers. While much of Vaca's menu is tapas style small plates, they do serve entree-size dishes as well. Our first bite was the "Bikini Sandwich", which is a panini-style sandwich with paleta iberica (Spanish pork shoulder), manchego cheese and truffles.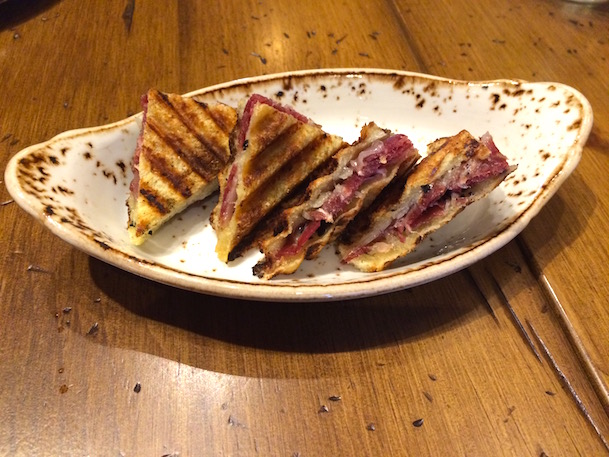 It was deliciously salty and the truffle flavor was rich….a great first bite. The ordering floodgates opened.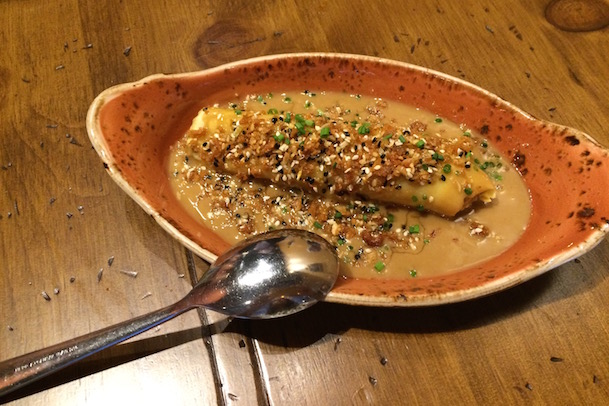 The next dish was the canelon de pollo ahumado, smoked chicken cannelloni with a foie gras sauce and sherry reduction. We ordered it because it seemed unexpectedly different than the other traditional Spanish dishes…it didn't disappoint. A rich sauce over the handmade pasta and tender chicken inside, and topped with crispy chicken skin.
We were floating on a cloud of happiness after the next three dishes. The bruselas were oven roasted with chorizo and a sherry gastrique. This is how I always want to eat veggies. The rabo de toro was splendid, a rich, red wine-braised oxtail with wild mushrooms. And the final appetizer was deep-fried softshell crab surrounded by squid ink reduction. So hard to pick a favorite, but I think this got the most votes. The crab was delicately fried and still tasted light, and the squid ink mixed with the green apple slaw on top was an incredible mix of flavors.
We were all starting to get pretty full, and still had a couple entrees coming…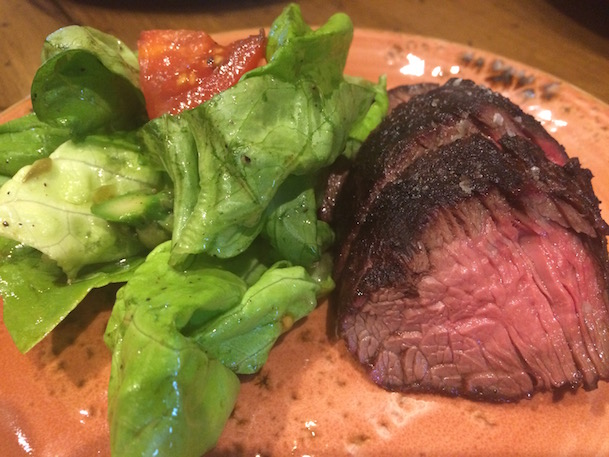 The steak salad arrived with the beef cooked perfectly medium rare, and a light refreshing merlot vinaigrette on butter lettuce and tomatoes. It allowed us to share one more entree, the hamburguesa…available at lunch only.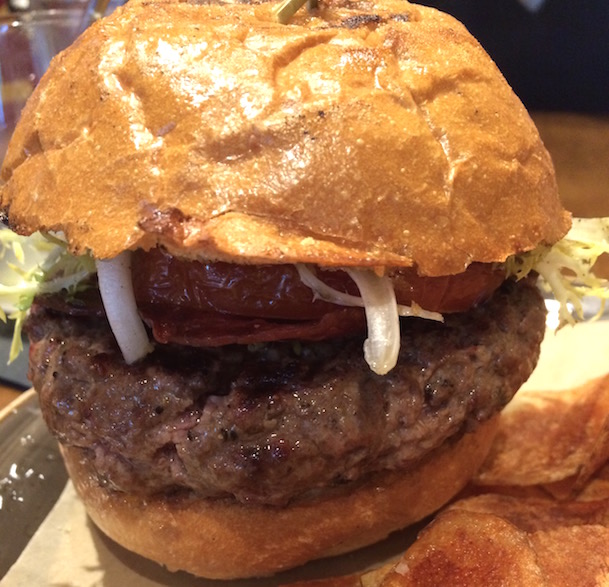 Cooked medium rare, the burger is definitely one of the best in OC. It's a grilled prime beef burger with crispy chorizo, smoked paprika aioli, and overnight tomatoes on a brioche bun served with house-made potato chips.
It was tough, but after all this food we decided to have a light dessert. The special of the day was a coconut panna cotta, topped with kiwi and mango sorbet. So refreshing and delicious!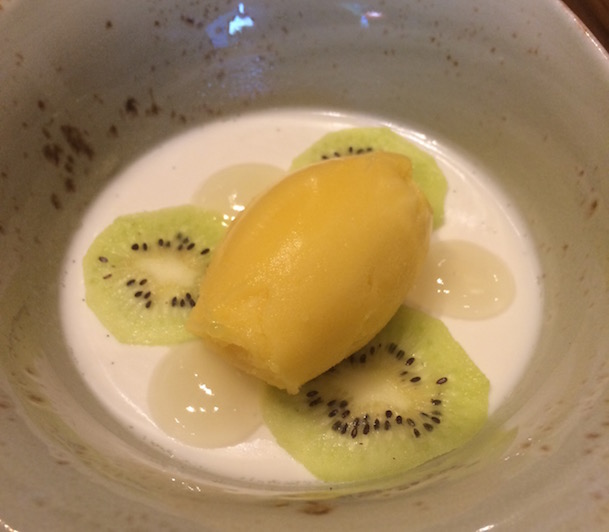 Is your mouth watering yet? Make your way over to Vaca Costa Mesa and let us know about your fantastic meal, and be sure to share pics. We're planning to go back soon for dinner, and try the paella and steaks that are earning rave reviews.