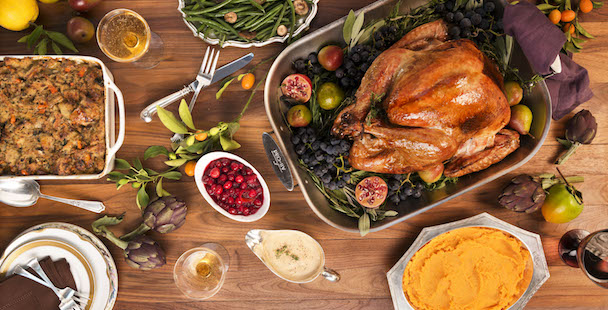 The holidays are here, and it's the most wonderful time of the year to get together with family and loved ones. But aren't you tired of chopping veggies and mashing potatoes? Let someone else do the cooking for Thanksgiving this year –  like a gourmet chef – while you relax and enjoy the holiday! Here are 4 great spots in Costa Mesa to try for Thanksgiving, plus a very special offer for a quick holiday shopping getaway before Christmas.
1. Gourmet Buffet and Dessert Bar at Silver Trumpet Restaurant
Silver Trumpet is serving up a very special Thanksgiving dining experience. You'll want to thank them for all the thought they put into their gourmet holiday buffet, which starts with mini baked Brie and cranberry chutney, quiche Lorraine, and smoked salmon canapés, plus a variety of fresh salads. For the main course, you'll find a made-to-order omelet station, poached shrimp, honey-baked ham with a pineapple glaze, as well as a carving station with traditional turkey, cedar-plank salmon and slow-roasted prime rib. Nearly a dozen side dishes will accompany your feast, including a sweet potato and marshmallow casserole! Yum! And, if you think you're full just reading this, you must save room for a stop at the dessert bar where you'll find every traditional pie, pumpkin cheesecake, éclairs, pudding and more. A children's menu with chicken tenders, pasta and mini sliders is also available to enjoy with the whole family at Silver Trumpet's well-appointed restaurant and patio on the lake. Brunch buffet is from 10 a.m. to 3 p.m.

Adult's $65 | Children $25 | Reservations
Silver Trumpet is located adjacent to the Avenue of the Arts – A Tribute Portfolio Hotel, which could turn out to be very strategic if you need a place to take a nap in between meals and Black Friday shopping.
2.  Habana Costa Mesa Thanksgiving
Starting a new tradition, or looking for an exotic twist on Thanksgiving dinner? Habana has curated a Thanksgiving menu with all the fall flavors, but maybe not in the way you're used to preparing them. Start with an appetizer of Boniatitos – sweet potato crisps with marshmallow brulée and nutmeg ash. Follow that with a confit turkey leg with Cuban-bread stuffing or buttermilk fried chicken with saffron risotto. Alongside the prix fixe menu are mouth-watering small plates that will pair nicely with the main course like the Arroz Moro – Sofrito black beans, bomba rice and aged red beets. Be sure to save room for the amazing guava bread pudding or the pecan, banana and chocolate cake. Prix fixe menu is $38 per person.
Make reservations to indulge at Habana Costa Mesa between 2 and 10 p.m.
3.  A Traditional Thanksgiving Plate at The Capital Grille
Capital Grille is prepared to host you for a Thanksgiving meal this year. So if you want to dine out but still enjoy a traditional holiday meal, with turkey, gravy and mashed potatoes, then Capital Grille's Thanksgiving plate is for you. Executive Chef Chris Hutten will also serve other traditional sides, including Brioche stuffing and French-style green beans, plus a delicious pumpkin cheesecake for dessert. If you are dining with others who want to order from Capital Grille's full dinner menu, that's an option as well. Thanksgiving dinner is served all day, beginning at 11 a.m.

Adults $39 | Children $15 | Reservations
Celebrating a special occasion calls for a memorable setting and even more memorable menu. If turkey is not your thing, Mastro's Steakhouse just might be the best choice you'll make this season. Start off your meal with Mastro's signature seafood tower, where you can create your own selection of fresh shellfish. While known for their prime cuts of steak, Mastro's extensive menu offers a wide selection of chops, plus a sushi menu. Make the most of your dining experience by letting their sommelier select the perfect pairing of wine with your entrée. While you won't find pumpkin or apple pie here, you will find over a dozen dessert selections, that is, if you can look past the first item on the menu – Mastro's Signature Warm (melt-in-your-mouth) Butter Cake. Mastro's offers an intimate setting for couples and groups and is a great choice when celebrating a special occasion like Thanksgiving.
Open 5 to 10 p.m. | Reservations
Plan for Black Friday – Get $100 to Stay in Costa Mesa for the Holidays
A highly anticipated event follows this major feasting day and that is the biggest shopping day of the year, also known as Black Friday. On this day after Thanksgiving, determined shoppers' head out to find all the latest gift items and grab some great deals. If you're one of these people, then kick off the holiday season in style. Book a stay in Costa Mesa for two nights and get $100 to shop at South Coast Plaza. Just think, you could be first in line for Black Friday at South Coast Plaza, and you can get all your shopping done with a quick weekend away.