Costa Mesa is used to being on the cutting edge for food and drink, and the latest trends in coffee are no exception. When it comes to cold brew or a variety of craft coffees, this city is on it. Here are 5 great places to get craft coffee in the city.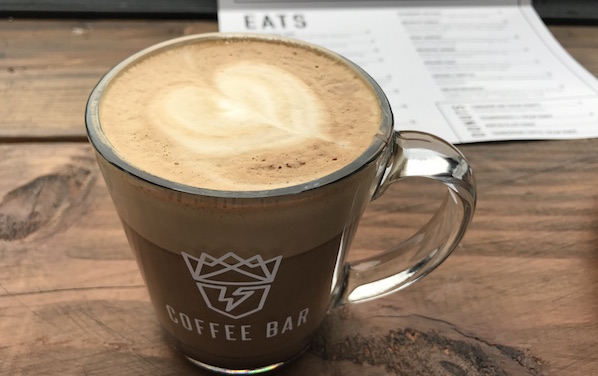 Known as one of the originators of cold brew coffee, Thunderking won't share its secret, but says the process is 'long' and 'cold' and what makes their flagship bottled brew so smooth and pure. Thunderking recently opened a Coffee Bar located inside SOCIAL, a trendy restaurant on the west side of Costa Mesa. Along with traditional hot coffee drinks, Thunderking serves its proprietary organic cold brew on tap. Guests can enjoy a variety of innovative caffeinated beverages that combine Thunderking's nitro-brew with SOCIAL's house made syrups, cordials and bitters, each available with or without alcohol. The lineup of nitro-brew drinks include:
White Girl Latte: nitro cold brew, salted vanilla, cream, cinnamon (vodka optional)
Mint Mojito: nitro cold brew, mint, lime simple syrup, cream (rum optional)
The Better Buzz: nitro cold brew, orgeat, coconut water, salted vanilla cream (coconut rum optional)
To pair with its coffee creations, Thunderking offers a selection of breakfast and lunch menu items curated by the culinary team at SOCIAL, such as:
Nooks and Crannies: almond butter, house strawberry jam, toasted sourdough
Avocado Toast: crème fraiche, confit cherry tomatoes, pea tendrils, radish, tarragon
SOCIAL Benedict: house-made buttermilk biscuits, pulled pork, slow egg, creole mustard hollandaise
Thunderking is open daily from 8 a.m. to 3 p.m. Located inside SOCIAL at 512 W. 19th St., Costa Mesa.
Voted best coffee roaster in 2015, Portola Coffee Lab was the brainchild of husband and wife co-owners, Jeff and Christa Duggan. A scientist at heart, Jeff credits coffee for helping him further pursue his love of chemistry and science and allowing him to bring this love to fruition in the popular flagship location of Portola Coffee Lab inside The OC Mix at SOCO in Costa Mesa. Utilizing their on-site roasters with an all-organic line of coffee, Portola serves up many traditional coffee drinks, including a refreshing cold brew that locals crave. Fans of this craft coffee spot line up throughout the day to get their fix. On the weekends, Portola is a destination of its own as aficionados of espresso and cappuccino travel for miles to enjoy their favorite cup of coffee in the laid-back atmosphere at The OC Mix. Recently, on the six-year anniversary of Portola, the team renovated to expand the space and add more seating around the coffee bar making a more engaging customer experience. This quickly became a popular space for professionals and students to enjoy their coffee and get some work done with the background buzz of coffee grinders and visitors milling around the center. Hours: Monday through Friday, 6 a.m. to 9 p.m., Saturday, 7 a.m. to 9 p.m. and Sunday, 7 a.m. to 8 p.m. Located at 3313 Hyland Ave., Costa Mesa.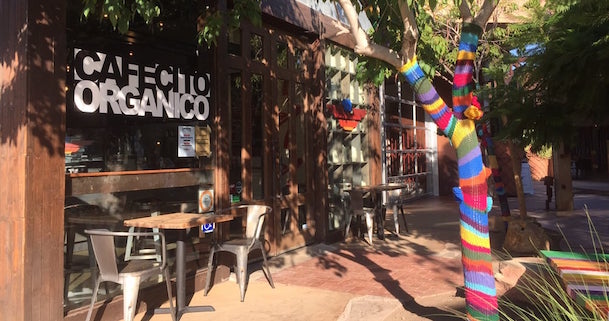 Located in the funky and cool outdoor center called The LAB "anti-mall," Cafecito is a true neighborhood coffee spot with a wholehearted attempt to support livelihood and biodiversity, bringing people together one cup at a time. Originating in Los Angeles, Cafecito Organico works with small growers and family farms that produce high-quality coffees sustainably. Their commitment to delivering a quality product carries over to the staff members they employ, who are trained to brew the best cup of coffee, and treat every customer as their guest. On any given day, students can be found plugged in, studying and enjoying an iced coffee to keep them going, or business folks stopping in for an afternoon pick-me-up. The menu consists of the traditional espresso, latte and Americano, and they definitely have a quality cold brew as well as a variety of teas. While there are a few tables inside and out, there is plenty of seating in this eclectic shopping and dining area. Take a coffee to go and relax in the 'living room' area or sit by a soothing water feature just outside the shop. Food and snacks are limited here, but the nearby Goodtown Doughnuts or PopBar offer yummy treats to pair with your cup o' Joe. Open 8 a.m. to 6 p.m. Sunday through Thursday and until 7 p.m. on Friday and Saturday. Located at The LAB, 2930 Bristol St., Costa Mesa.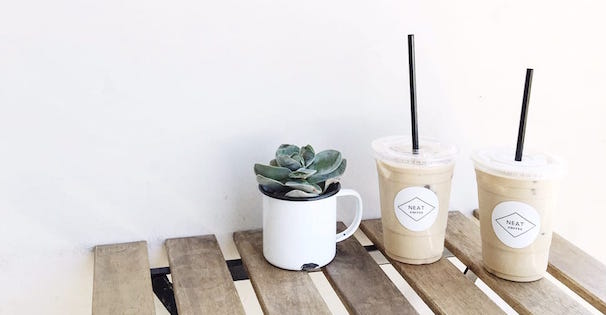 Dubbed by one customer as 'the best cold brew in Orange County' and known for their seasonal (fall) Golden Latte, Neat is a hidden gem located in a co-working office space in Costa Mesa. While living in Uganda, husband and wife owners, Ally and David, were inspired by the coffee roasting process. They also loved the idea that coffee brings people together, so when they moved to the U.S., they were committed to working in the business. Soon after settling in, Neat was born, carrying high-quality beans from some of the best West Coast roasters. House made seasonal syrups and locally-made almond milk make each cup extra special. Their website says "Costa Mesa's friendly neighborhood coffee shop" and we agree; a good cup of coffee is made better by the people serving it. This small space with only has a few seats outside, and sometimes offers pastries but no permanent food menu. Open Monday through Friday from 7 a.m. to 4 p.m. and Saturday and Sunday from 8 a.m. to 2 p.m. Located on the bottom floor of an office building at 270 Baker St., Suite 200, Costa Mesa.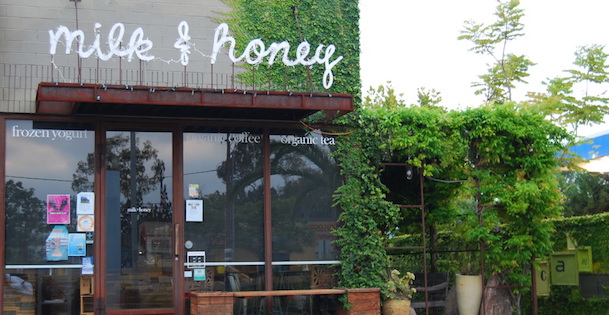 This is a super cute spot to grab a drink and catch up with a friend while sitting on the rustic, enclosed patio off to the side. Known for their Lavender Latte and a variety of other menu items, Milk & Honey offers frozen yogurt, shaved ice, acai bowls and a peanut butter and fresh fruit sandwich, as well as many other items. The Milk and Honey Special is Strawberry ice with strawberries, bananas, kiwi and mocha, topped with red azuki bean. Not only is this treat refreshing, it's a healthy start to the day and makes a great midday treat. Milk and Honey's natural ambiance makes it a perfect fit at The Camp – a sustainably focused, open-air campus with a diverse offering of restaurants and locally-owned shops. Open Monday through Friday from 7 a.m. to 10 p.m., Saturday from 8 a.m. to 11 p.m., and Sunday from 8 a.m. to 10 p.m. Located at The Camp at 2981 Bristol St., Costa Mesa.