In Costa Mesa, we celebrate the Lunar New Year almost as much as the traditional American New Year's Eve is celebrated! Whether you're planning a visit for a day or multiple days, there are many reasons why you won't want to miss celebrating the Year of the Rooster here. Stay and relax with us for a few days while you enjoy the beginning of a New Year!
The Westin South Coast Plaza wants to make your visit to Costa Mesa extra special with this special Lunar New Year Package. With all the comforts you enjoy at home, you can stay in Costa Mesa and receive complimentary breakfast, a $100 gift certificate to South Coast Plaza and in-room tea service, plus other special amenities. Book a room at Westin today and celebrate the Lunar New Year with us.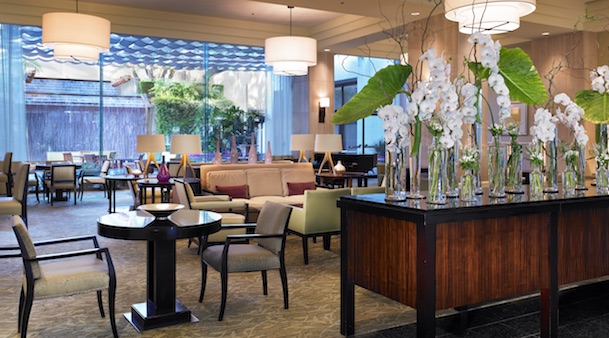 Just across the way, you can walk to South Coast Plaza where the Lunar New Year celebration begins January 28 and hosts a robust schedule of events through February 12, 2017. Celebrate the New Year with traditional cultural performances, live entertainment, and crafts and activities for the whole family. Many of the stores sell Lunar New Year-inspired merchandise like the Oscar de la Renta red silk dress with gold belt created especially for South Coast Plaza, a Ferragamo shoulder and hand bag, or the Rooster embossed writing instrument at Montblanc.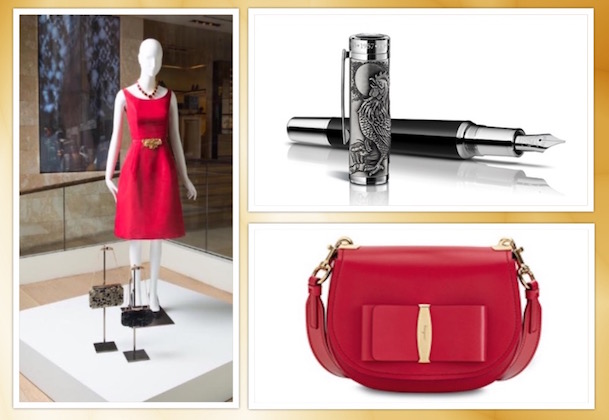 With more than 250 unique boutiques, designer retailers and nearly 30 restaurants under one roof, you can spend the day shopping with plenty of options for dining. AnQi Asian Bistro located near Bloomingdales serves some of the best garlic noodles around and features a menu of items from Southeast Asia. Din Tai Fung is a casual restaurant famous for xiao long bao (Asian pork dumpling) and was named one of the "top ten gourmet restaurants in the world" by New York Times. Also nearby, East Borough prepares Vietnamese favorites like banh mi and spring rolls.
Getting into the festive mood will be easy with the dazzling Year of the Rooster decorations found throughout South Coast Plaza. Be sure to visit Jewel Court as it is transformed with a custom-built display into a vibrant exhibit of decorations filled with symbols of luck and good fortune to welcome the New Year.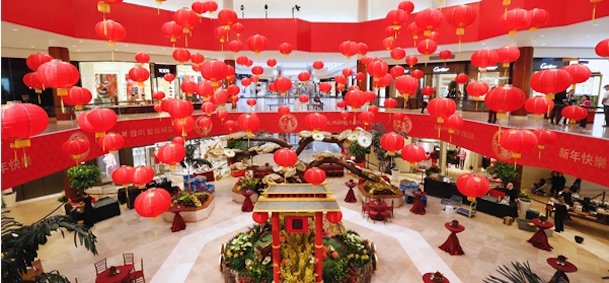 Each day during the three-week celebration, scheduled performances will take place throughout South Coast Plaza. There are many opportunities to bring good luck for the New Year through prize giveaways for shopping extravaganzas and special gifts-with-purchase commemorating the 2017 Lunar New Year.
Children will enjoy scheduled entertainment by Bing Bing's Magic House and an activity to assemble their very own lanterns.
Families can explore a variety of experiences including weekend entertainment by Wu Fei, a native of Beijing and a current Nashville resident, and a master of the guzheng, the ancient 21-string Chinese zither.
"Lucky Eight" Promotion January 28 to February 4, 2017
Users of Weibo and WeChat will have daily opportunities to participate and win prizes from popular South Coast Plaza boutiques. Enter to win a shopping spree by visiting one of the concierge desks throughout South Coast Plaza, and visit the ACCESS VIP Suite near Saks Fifth Avenue on Level 2 to see this year's exclusive gift with purchase – a commemorative LIULI vase.
2017 TET FESTIVAL AT OC FAIR & EVENT CENTER
One of the largest Lunar New Year festivals in the world will happen again this year in Costa Mesa, the weekend of January 27-28, 2017, at the OC Fair & Event Center. Beginning Friday evening, visitors will be immersed in a vibrant array of traditional foods, contests, live entertainment, cultural displays, festive games and rides and a fireworks show celebrating the New Year.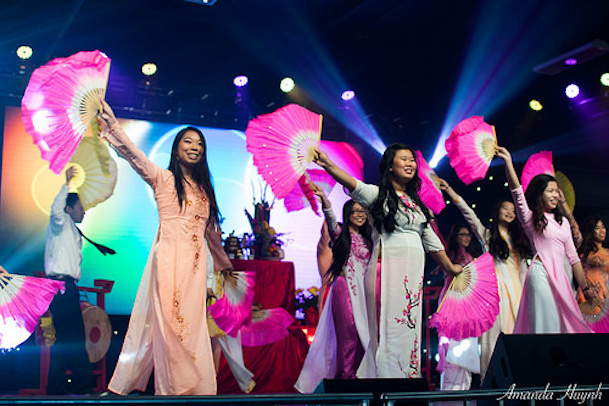 The 36th Annual Tet Festival is presented by the nonprofit organization Union of Vietnamese Student Associations, and is coordinated entirely by student and adult volunteers. The Tet Festival is an entertainment event where family and friends can celebrate the Lunar New Year and share hope and prosperity for a new year. Admission is just $6 and children 2 and under are free. Proceeds from this event help to serve the Vietnamese community by building leadership skills and cultural awareness as well as support for strong civic responsibility.
What Lunar New Year events do you plan to attend? Let us know in the comments!