February 16, 2018, kicks off the Year of the Dog and many celebrations of the 2018 Chinese Lunar New Year in Costa Mesa and around Orange County. Families and friends gather in many ways during this spring event to enjoy cultural traditions, parades, food festivals and entertainment. Through March 4, 2018, here's 7 fun ways to celebrate the Lunar New Year in Orange County.
With so many opportunities to celebrate, a weekend escape to OC makes it easy to visit all of the events. Costa Mesa, in the heart of Orange County, is a perfect central location to call home during Lunar New Year and many hotels offer great deals during this time.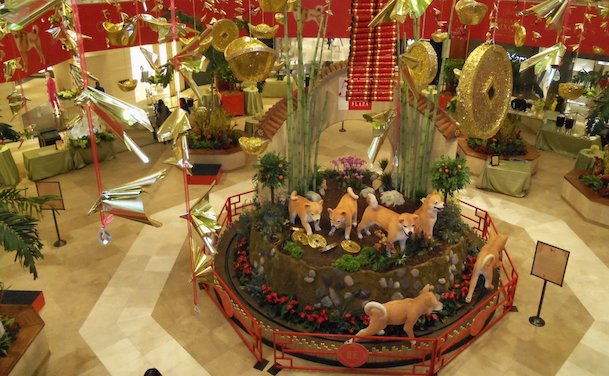 South Coast Plaza Floral Displays and Free Entertainment
Visit South Coast Plaza's eye-catching floral display featuring bold colors of gold and red, plus eight carefully crafted dogs and puppies in and around Jewel Court (just outside of Macy's). Discover the Tales of Tradition throughout the Center, which feature special symbols of the traditions of the Chinese. South Coast Plaza's Chinese New Year celebration is an ideal place to spend the afternoon, enjoying free entertainment on weekends and capturing photos in celebration of the holiday.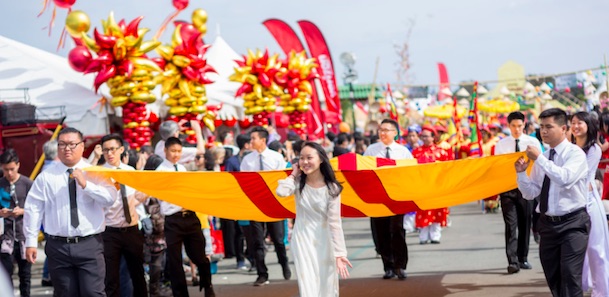 Tet Festival to Celebrate the New Year
Once again, the popular Vietnamese tradition of welcoming spring will be celebrated at the annual Tet Festival, returning to the OC Fair & Event Center during the weekend of February 16-18, 2018. There is no other cultural experience likes this, where attendees can immerse themselves in the traditional foods, performances, interactive games and music of the Vietnamese culture. Cap off the celebration with a spectacular fireworks show to bring good fortune in the New Year. Admission is just $6.00 and on Saturday, those choosing to wear traditional Chinese attire, or a military uniform will be admitted free.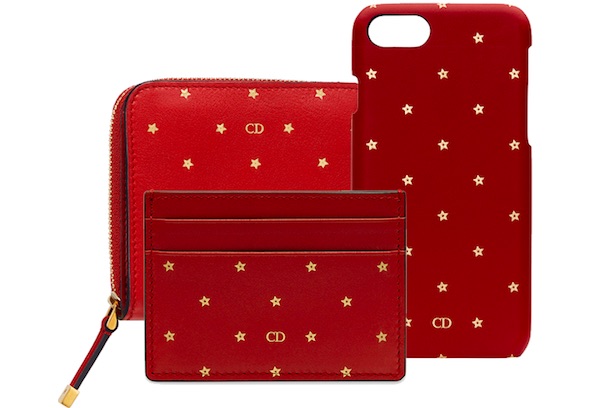 Themed Lunar New Year Products
South Coast Plaza is home to the largest collection of retailers and restaurants of any luxury shopping center in the U.S. Many of the boutiques, including Gucci, Prada, Miu Miu, Bally, Salvatore Ferragamo, Vacheron Constantin and Piaget offer themed products and in-store experiences. Be sure to visit Prada Spirit, a pop-up that's a U.S. exclusive, located in front of the Prada boutique. Visitors to South Coast Plaza between February 13 and March 4, 2018, who make a minimum purchase will receive a limited-edition crystal jar in the shape of a dog. Dior has designed the exclusive red calfskin Stars Wallet, Card Holder and Phone Case embossed with goldtone stars. Each is sold separately.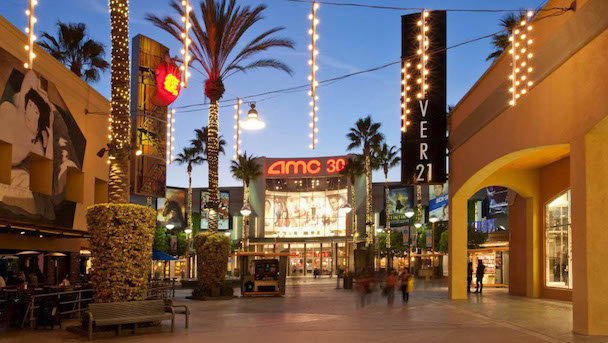 Outlet Shopping and Lunar New Year Discounts
If you love shopping and finding a great deal, look no further than The Outlets of Orange, just 20 minutes form Costa Mesa and the next city over from Anaheim. On Saturday, February 17 from 10 a.m. to 2 p.m., shoppers and visitors to the center will enjoy live entertainment, cultural performances, and lucky red envelopes to celebrate the Chinese tradition. The Outlets of Orange is a great place to get outside, enjoy the SoCal winter weather and explore this indoor/outdoor entertainment center. Through February 23, visit the on-site concierge for a lucky red envelope stuffed with discounts and deals to stores like Nike Factory Store, Steve Madden, BJs Restaurants, Lucky Strike Bowling and more.

Lunar New Year at Disney's California Adventure
Does it get much more exciting than celebrating a holiday at the Happiest Place on Earth? If you're a fan of Mickey and Minnie and the magic of this world-famous Southern California attraction, head to the Disney's California Adventure through February 18 for a festive multi-cultural celebration. Follow Mulan, Mushu and their friend the lantern in a special performance of World of Color.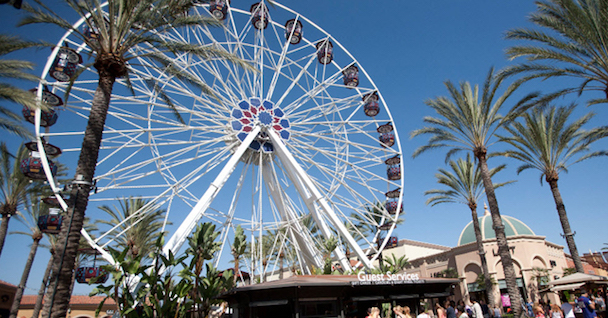 A Giant Ferris Wheel, Stilt Walkers and Fortune Cookies
Our neighbors at Irvine Spectrum Center have a fun-filled day planned on February 18 from 1 to 3 p.m. to celebrate The Year of the Dog. Meet other families at the Giant Wheel Courtyard for dance performances, face painting, entertainment and a chance to receive a free Lucky Red Envelope. At Irvine Spectrum you'll be surrounded by outdoor walkways and dozens of retailers, like H&M and Nordstrom, plus Dave & Buster's for more entertainment. It's a great place to let the little ones run around and enjoy this cultural event.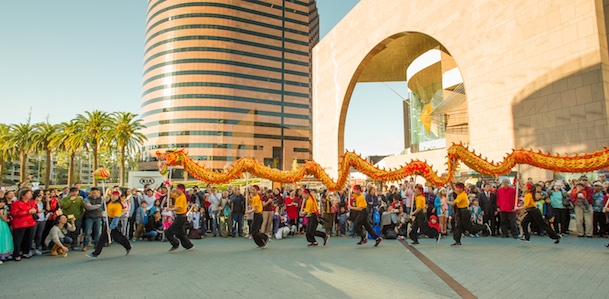 Lantern Festival, Chinese Folk Dancing and More
A final Lunar New Year event is the Lantern Festival on March 4 from 12 – 6 p.m. In its third year this free event is presented by Pacific Symphony in partnership with the South Coast Chinese Cultural Center/Irvine Chinese School. This family-friendly event allows attendees to make their own lanterns, which will transform and light up the new Julianne and George Argyros Plaza. Local dance and music groups will entertain guests during this afternoon celebration.
We wish everyone good fortune and good health as we usher in springtime in Costa Mesa!