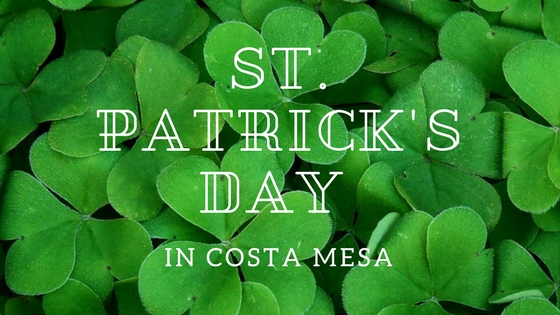 Looking for a way to celebrate St. Patrick's Day in Costa Mesa? Although it may not be the most authentically Irish town in the U.S., Costa Mesa sure does know how to celebrate! This year's festivities include everything from all-day parties with traditional corned beef, Irish whiskey and live music to tiny treats like pale ale pint candy and a yappy hour! No matter how you choose to celebrate, you're sure to find a way to honor the spirit of the Irish in Costa Mesa! Keep reading below to learn more about Costa Mesa's best Irish bars and St. Patrick's Day events and deals happening around the city.

The Harp Inn
The Harp Inn in Costa Mesa has managed to maintain the role as local Irish pub for the last 30 years and remains one of the most authentic in Orange County. Grab a Guinness or your favorite whiskey from the pub's extensive offerings to celebrate this most joyous St. Patrick's Day with live music.
Durty Nelly's
Durty Nelly's is celebrating the day with a day of live music and karaoke. The party starts at 10 a.m. Three different bands and a live band karaoke experience will make for an unforgettable night! Get there before 3 p.m. to avoid a cover charge and get your St. Patrick's Day started early.
Skosh Monahan's
Skosh Monahan's reputation has been built on Irish spirits and steaks, but their corned beef and cabbage may be of a more festive interest. With a full menu including sheperds pie, steaks, burgers, stew and even pizzas, Skosh Monahan's is sure to be a crowd pleaser.
Wild Goose Tavern
Wild Goose Tavern is celebrating St. Patrick's Day on 17th Street in Costa Mesa with a corned beef hash special and all the Irish whiskey and scotch you can ask for! Wild Goose is known for its elevated pub grub and vintage hunting-lodge ambiance, with just the right balance of rustic and modern to make it the perfect place to unwind. Grab a seat at the hammered copper bar and a seasonal beer or cocktail and enjoy!
Yard House
Yard House at The Triangle will be celebrating St. Patrick's Day in Costa Mesa from March 12th to the 18th with Irish-inspired dishes and drinks. A special menu will offer corned beef brisket, shepherd's pie, corned beef sandwiches and an Irish whiskey and beer flight.
Unique St. Patrick's Day Specials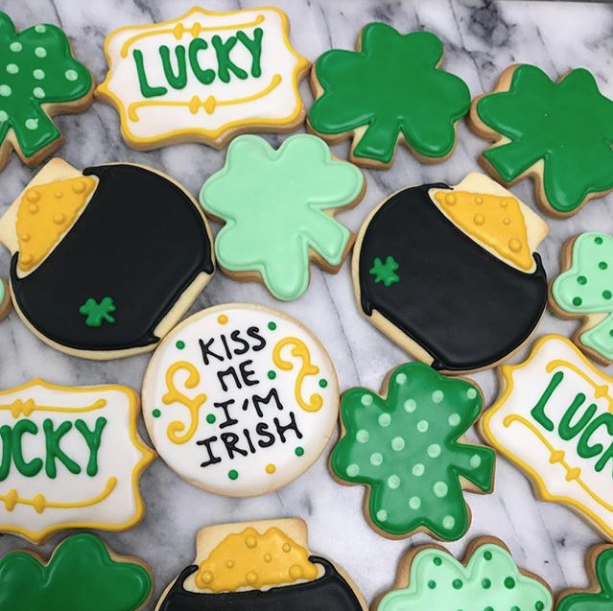 Blackmarket Bakery
Swing by Blackmarket Bakery at The CAMP to satisfy your St. Patty's Day sweet tooth with adorably decorated St. Patrick's Day treats! Grab your pot of gold any day next week.
Just Food For Dogs
But heading to the bars isn't the only to way celebrate St. Patrick's Day in Orange County this year. Dog owners can head to Just Food For Dogs on Wednesday, March 14th for a special Yappy Hour at their Costa Mesa shop from 6 to 7 p.m. Guests can meet other pet parents, enjoy light appetizers and refreshments (for both dogs and humans) and learn more about pet nutrition.
South Coast Plaza
At South Coast Plaza, several restaurants and shops will be celebrating St. Patrick's Day throughout the week. Head to Lawry's Carvery for a spiced corned beef platter or a reuben panini with corned beef and sauerkraut. Soda bread fanatics should stop by Vie de France or Boudin SF.  For those with a sweet tooth, try a green "Grasshopper" shake from Ruby's Diner, a selection of Irish-themed chocolates from See's Candies, a shamrock sugar cookie from Pacific Whey Cafe or Champagne French Bakery, or some "Kiss Me, I'm Irish" or beer-flavored candy lips from Sugarfina!