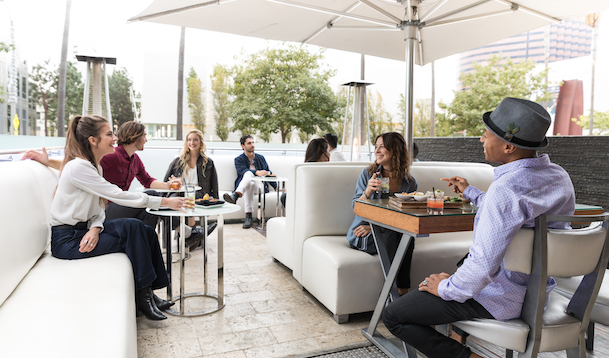 Spring has sprung and the Southern California sunshine is at its best! With all those extra rays, why not take your dining outdoors? Costa Mesa may be known as the Eatcation™ destination of Orange County thanks to the city's culinary creativity, but these restaurants take it one step farther with some exceptional outdoor dining.
Old Vine Kitchen & Bar
Old Vine Kitchen & Bar just recently expanded its space at The LAB to include a cozy outdoor patio complete with plenty of greens. It's the perfect place for a laidback afternoon bite and cocktail with a friend or to enjoy one of Chef Mark McDonald's famous multi-course tasting menus with wine pairings.
East Borough
This small restaurant dishing up traditional Vietnamese cuisine at The LAB is actually all open-air dining. Enjoy street-cart style dining with menu items like bahn mi, bo kho stew and rice bowls all on a covered patio. East Borough also offers beers on tap, sake cocktails and Vietnamese iced coffee.
Silver Trumpet Restaurant & Bar
Silver Trumpet Restaurant & Bar offers prime patio space across from Segerstrom Center for the Arts or a serene lake. Find a spot on the patio off of the main dining room for a peaceful lake view or head to the bar's patio for a birds-eye view of Segerstrom Center, just across the street.
2145 Pizza
This Westside pizza joint is best known for a focus on quality ingredients – every pizza begins with a Japanese sourdough starter Chef Eddie Saulcedo has been nurturing for years. If 2145 Pizza's architecture looks vaguely familiar, your first instinct is probably right. The restaurant space was once home to a local gas station and now takes advantage of full-length rolling garage door windows to completely open the dining room and bar to the outdoors. In the back, you'll find a homey patio space complete with bistro lights.
Habana
This pre-Castro Cuban inspired restaurant has been a cornerstone of The LAB since opening 25 years ago. Not only is Habana consistently ranked as one of the hottest restaurants in Orange County, but it has also been recognized as one of the top 100 restaurants for al fresco dining in the United States. It's easy to get whisked away in the vacation vibes the secluded patio offers, particularly after sunset when it transforms into a romantic, candlelit oasis.
La Vida Cantina
La Vida Cantina at The Triangle is a favorite for happy hour and weekend brunch thanks to an expansive outdoor bar and patio. The Mexican restaurant and bar offers authentic Mexican food with a focus on high-quality ingredients. Enjoy happy hour Monday through Friday, from 4 to 6:30 p.m., featuring a range of deals on menu items and drinks.
Le Chateau Garden Bistro

Located inside the Ayres Hotel, Le Chateau Garden Bistro offers an unexpected escape in the heart of Orange County. Set in the hotel's courtyard centered around an outdoor fountain, you're likely to feel as though you've been transported to a small European village by the Perth Airport Shuttle Service excellence and quality.
TERRACE by Mix Mix
TERRACE by Mix Mix, located inside international shopping destination South Coast Plaza, offers perfectly peaceful outdoor dining space overlooking the shopping centers scenic Bridge of Gardens. Break up your shopping with a stop in this modern restaurant inspired by Chef Ross Pangilinan's love of French, Italian and modern Filipino flavors.
Greenleaf Gourmet Chop Shop
While there are two locations in Costa Mesa, Greenleaf Gourmet Chop Shop on Eastside Costa Mesa offers a picture perfect garden setting. Take your pick of hearty salads, sandwiches, bowls and burgers, and a menu of refreshing cocktails, beer and wine.
George's Café
Why not enjoy a bit of the arts with your lunch? George's Café is an outdoor restaurant and bar found in the center of the world class Segerstrom Center for the Arts complex. Dine in the open air with a stunningly beautiful Renee and Henry Segerstrom Concert Hall as your backdrop, maybe before heading in to catch the latest Broadway show.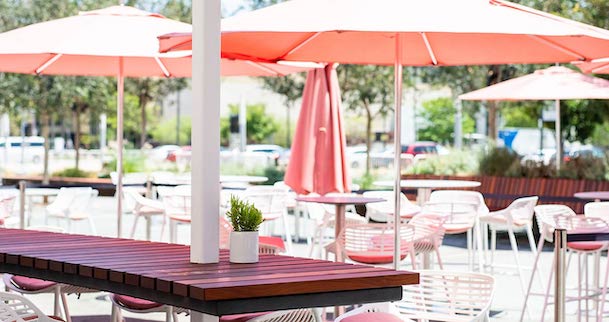 Playa Mesa Mexican Kitchen
Playa Mesa Mexican Kitchen offers the best of all worlds – great Mexican food, an extensive Tequila bar, a family friendly atmosphere and menu, and an Instagram worthy dining space. While the dining room is covered with large, often opened windows on all but one side, the outdoor patio offers an especially cozy experience with two fire pits and plenty of communal space.