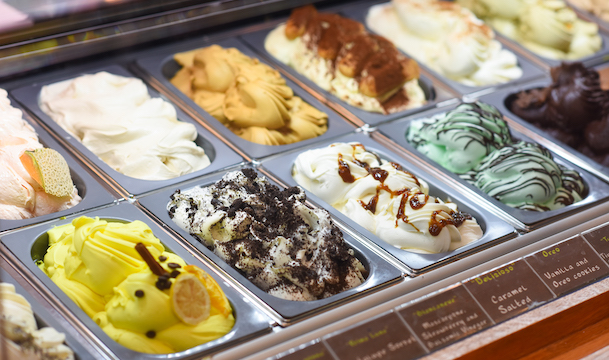 By now it's common knowledge that Costa Mesa is a haven for foodies, but what about those with a major sweet tooth? From some of the best baked goods in Orange County to the best milkshakes in the country, Costa Mesa has it all. Next time you're craving something sweet, try out one of these five spots to satisfy your sweet tooth in Costa Mesa.
Dough & Arrow
Find your inner Cookie Monster at Dough & Arrow, a dedicated cookie and coffee shop that's sure to inspire your day with whimsy. Owners Gigi and Jennifer launched the bakeshop inspired by their love of classic American sweets but pastry chef Gigi certainly add her own twist to the cookies and pastries like ube toasted coconut cookies, the cereal killer and even ice cream cone style scoops of cookie dough.
Match your cookie with an equally playful refreshment like their matcha rose latte or jasmine milk tea with lychee jelly in a reusable personal milk carton.
The Straw
If you're looking for some of the best milkshakes in the country, you've found them. No, really, The Straw was ranked #1 for the best milkshakes in the United States by Travel + Leisure less than a year after opening. Milkshake options range from the dignified – Mr. Grey with Earl Grey tea, lavender and honey – to the ultimate sweet like the Happy Un-Birthday Cake with chunks of white cake, caramel, cookie batter and French vanilla.
The Straw also offers draft beer and an ample menu of boozy shakes and floats using soju, sparkling wines, Guinness and even Costa Mesa's Barley Forge Coconut Stout.
Honey & Butter
Cuteness overload awaits at Honey & Butter's Airstream storefront at The LAB in Costa Mesa. This little bakeshop turns French macarons into an even more impressive art with mini replicas of your favorite animals, superheroes, anime characters and pop culture icons.
The macarons are made daily and the best time to drop in is at the shop's opening at noon. Typical flavors include seas salted caramel, churro, vanilla bean, matcha, cookie butter, fruity pebbles, milk and honey and enchanted berries, but the menu changes daily, so you're always in for a treat!
Blackmarket Bakery
Whether you're looking for an afternoon dessert or morning pastry – or as we like to call it, morning dessert – Blackmarket Bakery has you covered. Located in The CAMP, this small but mighty café's motto is "a conscious moment of indulgence" and we couldn't agree more. It was selected as the Best Bakery of 2018 by the OC Weekly and Pastry Chef Rachel has been recognized with a Golden Foodie Award twice. Choose from pastries, cookies, seasonal fruit galettes, bread puddings, or decadent cakes. Around the holidays, you'll even find deliciously kitschy gingerbread airstream trailers perfect for showing off at your party.
Susie Cakes
Traditionalists will love Susie Cakes at SOCO and The OC Mix! Using natural, simple ingredients, this bakery presents the best cupcakes in Orange County, according to OC Weekly's editors. Susie Cakes offers classic cakes, cupcakes, pies, cookies and even puddings, so there's plenty to please everyone. The true treat, though, is in their buttercream covered, immaculately decorated cupcakes and cakes baked from scratch every morning. If you can't decide between flavors, pick a variety of mini cupcakes for a bite of each!
Discover more great dining in Costa Mesa
Download your Costa Mesa visitor guide