Did you know Costa Mesa is the City of the Arts®? Yes, the city trademarked the term because of the vibrant performing and visual arts at the spectacular Segerstrom Center for the Arts. But Costa Mesa's eclectic arts scene extends far beyond its performances. The city is home to a collection of vibrant murals that inspire and excite. Found throughout neighborhoods adjacent to businesses, schools and even a church, murals are a great way to understand an artist's perspective and intent and add beauty, whimsy and sometimes a memorial to a community. Here are a few great examples of murals in Costa Mesa that deserve your Instagram's attention.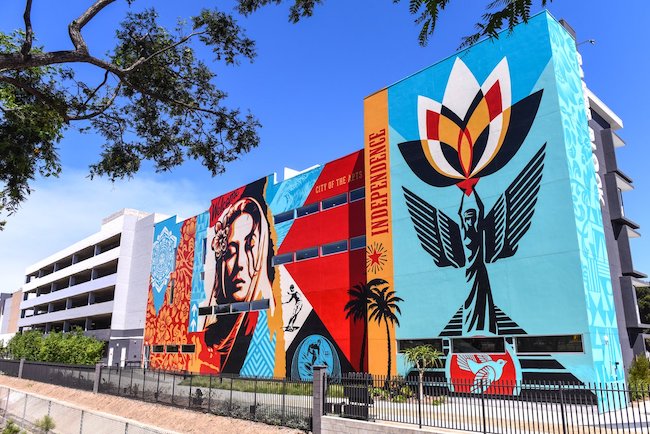 "Welcome Home"
By Shepard Fairey
125 E. Baker St.
Measuring 136-feet long by 55-feet high, Shepard Fairey's "Welcome Home" was the largest mural in OC when it was completed in 2017. Found on the back of Baker Block Apartments, it faces the 55 freeway.
According to Fairey "This piece in sum is a message of peace, independence and the beauty and openness of humanity and nature." Geometric shapes, mandalas, florals and nature elements surround a female figure with a lotus flower in her hair.
Requiring over 460 cans of spray paint, "Welcome Home" also incorporates a bit of surf culture, a recurring theme in Fairey's works. He hopes that people come to understand how positively art impacts the community.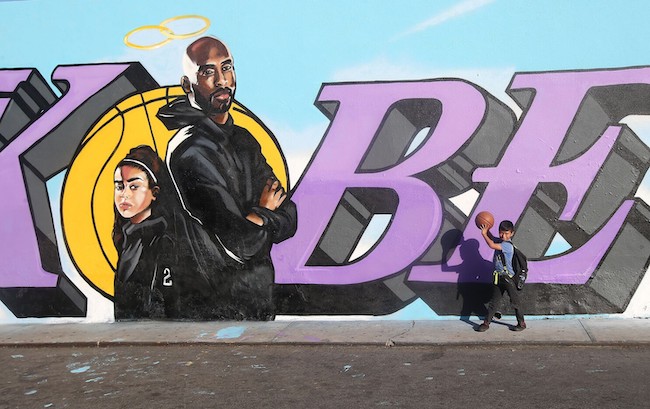 "Kobe and Gianna Bryant"
By Tyke Witnes
745 W. 19th St., Ste. H
When Tyke Witnes learned about the helicopter crash that took the lives of nine locals that included Gianna and Kobe Bryant, he knew the Lakers mural that he'd been contemplating would instead be dedicated to them. He spent approximately 12 hours total on the tribute, only pausing after seven to make sure his daughters were ready for school on time.
According to Witnes "The mural is first and foremost for the family, Kobe's wife and his three children." Then it's for the family of all the victims, locals and their friends. Finally, it's for the fans like Witnes who feel like they're part of Kobe or he's a part of one's family. It incorporates the names of all the individuals on the plane, as well as a nod to Kobe and Gigi's father-daughter relationship with halos and an infinity symbol.
Located across from El Toro Bravo on 19th Street, Witnes is married to Paloma, who operates the shop on behalf of her mom, Cora Bonilla.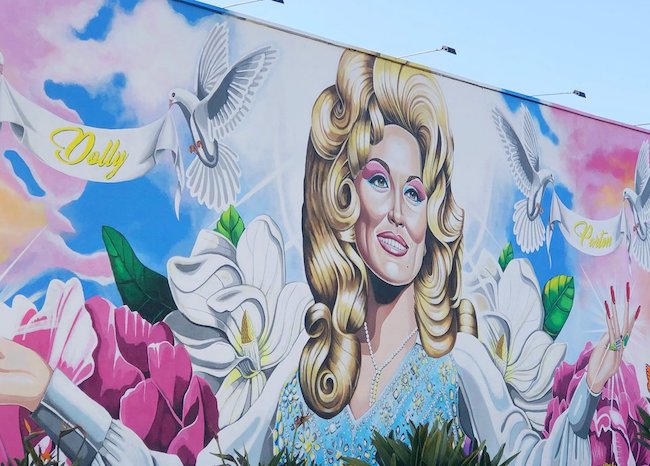 "Dolly Parton"
By David Gilmore
719 W. 19th St.
After learning the singer funded research for a COVID-19 vaccine, STRUT Bar & Club founder Luke Nero hired artist David Gilmore to design a mural dedicated to Dolly Parton on the exterior of his nightclub.
The finished project comes in at 50 feet by 20 feet and it took Gilmore a month to complete the glamorous portrait, as he referenced a compilation of images as inspiration for his work. 
Per Nero: "Not only is she an icon in the queer community and beyond, but she is truly a model of inclusivity."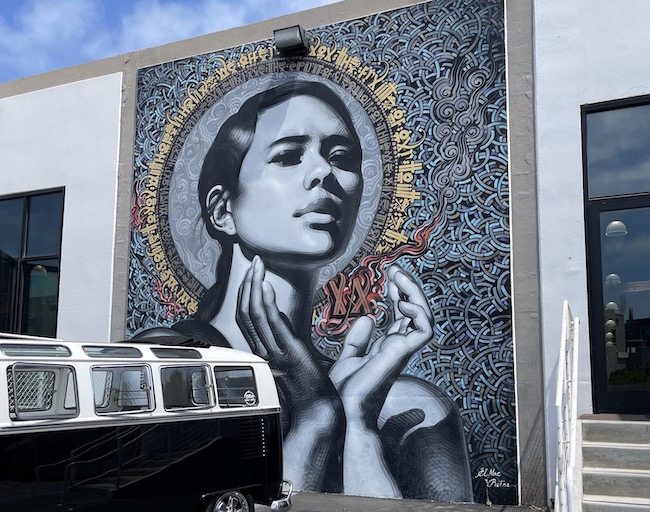 "Untitled"
By Mac + Retna
960 W. 16th St.
A portrait of a woman on one exterior wall of RVCA headquarters was completed by the team Mac + Retna in 2009.
At least one additional mural (not by the artists) can be found along 16th Street as visitors approach the driveway.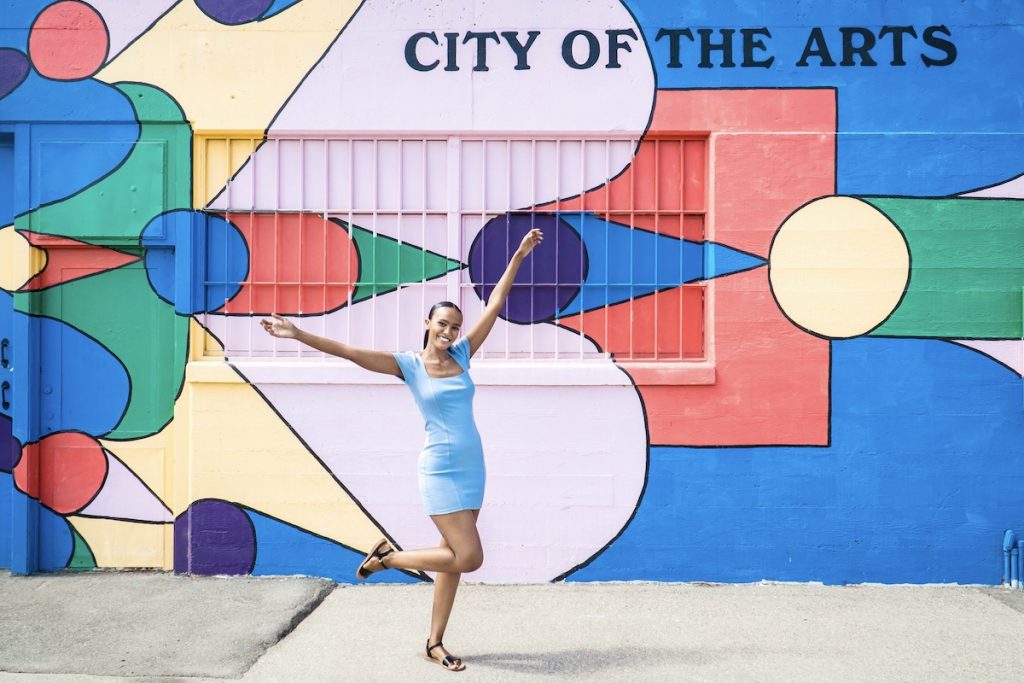 "City of the Arts"
By Joshua Madrid
900 Arlington Drive
Adjacent to both Costa Mesa Skate Park and Bark Park, the "City of the Arts" mural can be found on a storage building at TeWinkle Park.
Completed in 2017 by local muralist Joshua Madrid, the design was created in a Mandala style, as shapes emanate from a colorful, central point. Its interpretation varies based on the viewer.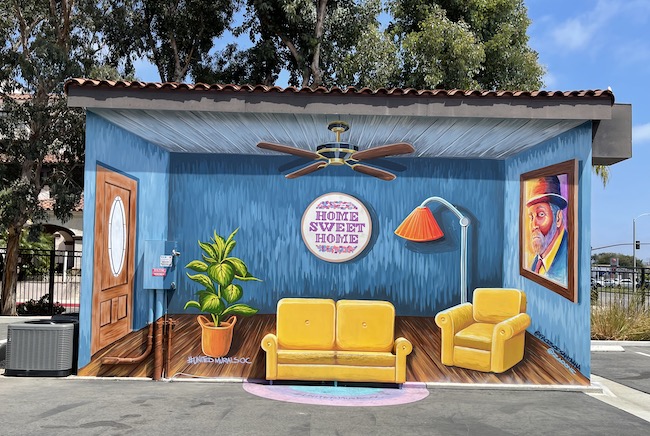 "Home Sweet Home"
420 W. 19th St.
On the property of First United Methodist Church of Costa Mesa, "Home Sweet Home" was created by artist Brian Peterson.
Designed to inspire and engage, one side of the mural asks the question, "What solves homelessness?" A painting of Robert Morse, a former homeless man, is featured along the adjacent wall. Morse currently spends his time assisting homeless families.
An interactive artwork, the depiction of a furnished family room with couch invites visitors to ponder the question while staging themselves within the mural. The answer, according to non-profit Faces of Santa Ana (which Peterson is the founder of) is found hanging above the couch: Home Sweet Home.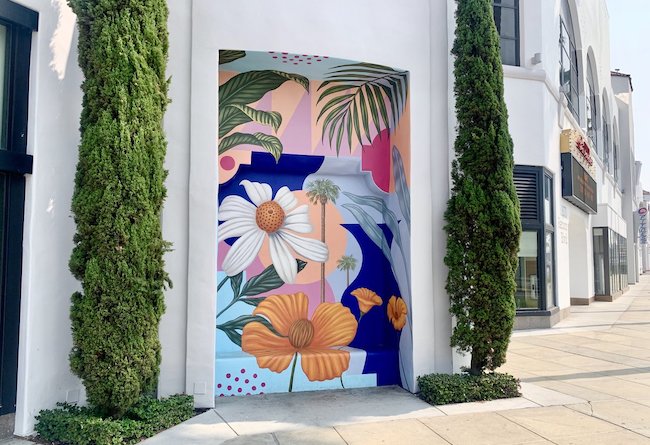 "Costa Mesa Bloom"
By Aaron Glasson
1870 Harbor Blvd.
Artist Aaron Glasson incorporated three major elements into his mural that adorns a bench at Triangle Square: flowers, abstract shapes and color. "Costa Mesa Bloom" was commissioned by Travel Costa Mesa in 2018 and with the partnership of Triangle Square, was dedicated to the city.
"A healthy garden has a lot of diversity. The same is true of communities. It's a metaphorical representation of Costa Mesa being a blend of locals, visitors and people who have moved here from other parts of the world," Glasson explains.
The abstracts in his artwork are inspired by the cityscapes of Triangle Square and Segerstrom Center for the Arts. Finally, the bold hues featured brings the otherwise white space to life. By weaving the trio of elements, Glasson reflects the city's eclectic environment.
Per Glasson, "I deeply believe in the power of public art to invigorate our urban landscapes, and the lives of those who inhabit them."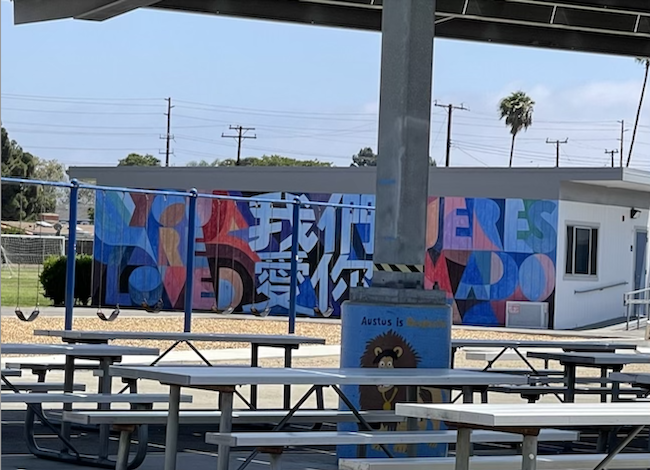 "You Are Loved"
By Alex Cook
2380 Notre Dame Rd.
College Park Elementary School's PTA worked with artist Alex Cook in 2020 to come up with a new mural after the school received a paint refresh, covering older artwork. What they came up with was a literal positive message.
Representing not only the district's Mandarin immersion program housed at College Park, but the two primary languages spoken at the school, the phrase "You are loved" is written against a colorful backdrop in Spanish, English and Mandarin. It's a comforting reminder for students as they go about their day.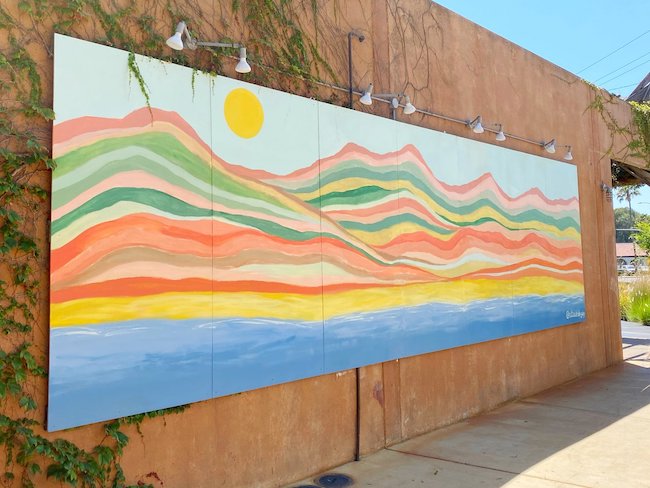 "Thalo Sun"
By Gabriella Kohr
2930 Bristol St.
Park at the LAB/Anti-Mall and head towards Seabirds Kitchen for the next installation. Painted in 2021 "Thalo Sun" has a sense of movement, thanks to its hills and waves. Muralist Gabriella Kohr's inspiration for this piece was surfing.
Multiple Pieces
3070-3150 Bristol St.
Canvas, a modern office complex covering over 300,000 square feet of work space, is home to over 17 custom pieces by local artists. Some of the outdoor murals include:
"Freely Give" and "Freely Love" by Zao One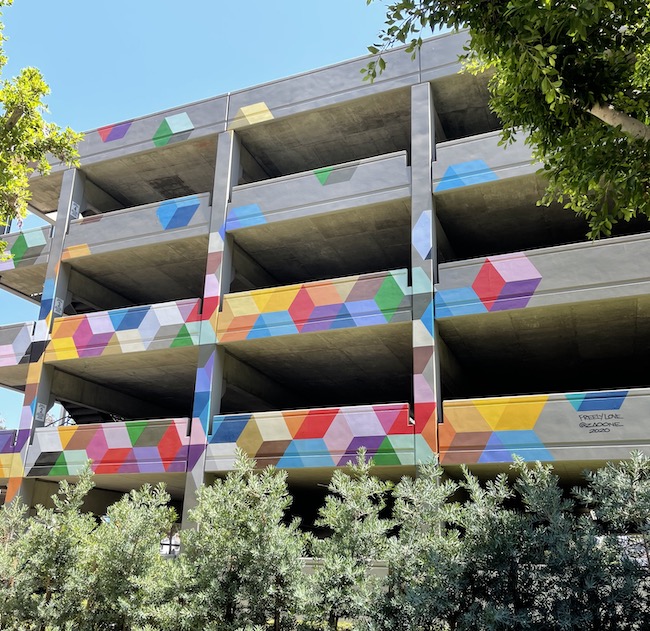 Colorful cubes found outside of the north and south parking structures, respectively.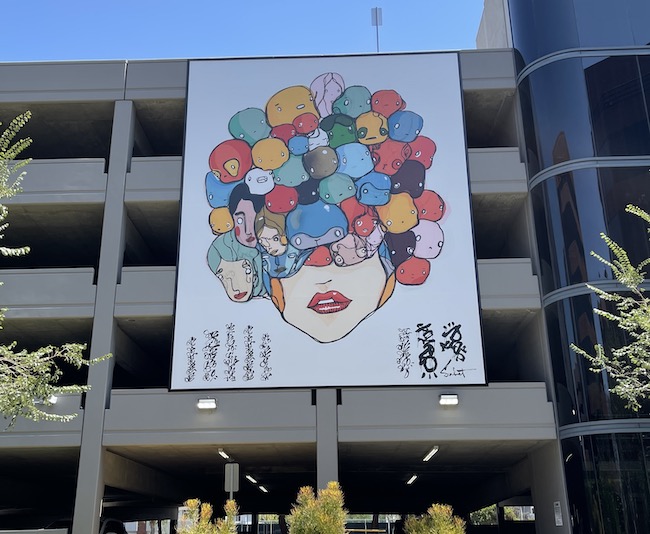 "Butter" by Ali Sabet
A face composed of many layers of faces outside the south parking structure.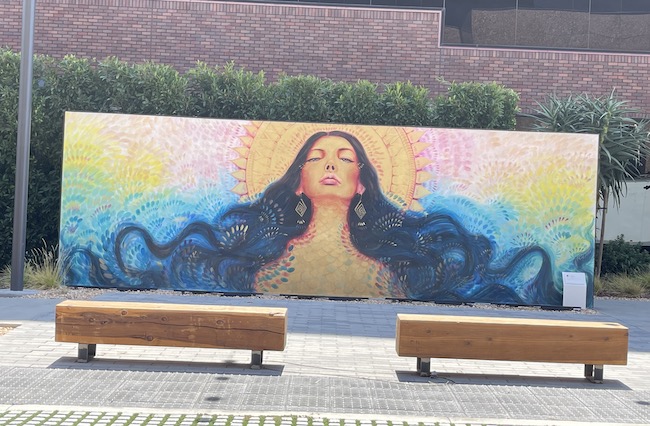 "Calypso" by Charmaine Olivia
Mural depicting the goddess who detained Greek king Odysseus on the island of Ogygia for seven years. It can be found next to the yoga garden.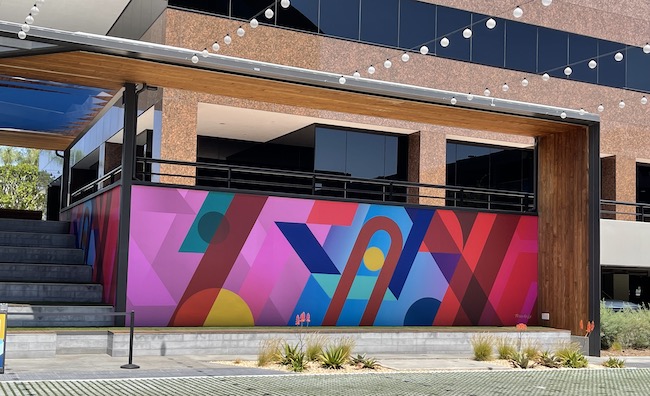 Teddy Kelly's mural welcomes all guests as they step onto the Canvas campus! Originally from Mexico and making his home in Orange County, Teddy Kelly's graphic murals evoke the spirit of surf, skate and street culture ingrained in Costa Mesa.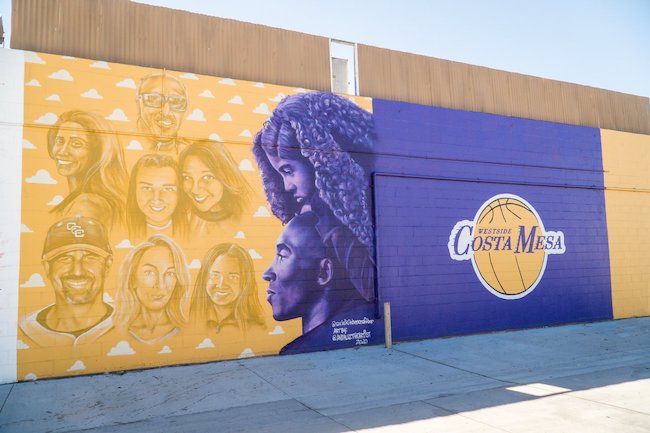 "Kobe, Gianna and Friends"
By Andaluz (@andaluztheartist)
512 W. 19th St.
Restaurant Social Costa Mesa was already the home of the "Have A Nice Day" mural.
Efren Andaluz III worked with Social co-owner Andrew Dorsey to add to the wall after the January 26, 2020 helicopter accident.
Wanting to honor all the victims, he researched muralists on social media until he found Andaluz. The New York-based artist was flown out to fulfill the request. A fan of Bryant, he lives by the athlete's Mamba Mentality "in order to always be the best version of himself."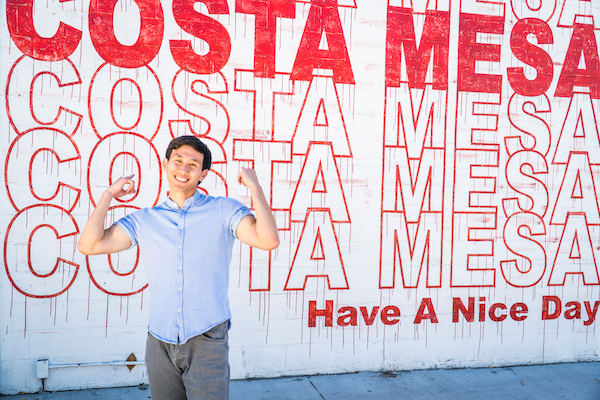 "Have a Nice Day"
512 W. 19th St.
Directly next to the Kobe and Gianna mural mentioned above, and perhaps one of the city's most photographed murals, it's a great spot to take your selfie and to add a smile to your day.
Find a mural on this list and tag @travelcostamesa and #cityofthearts on Instagram for a chance to be featured! See more Costa Mesa murals and street art here.
Note: please be mindful of the setting in which the mural is located. Park in designated areas and do not trespass if an area is locked.