As families get ready for back to school and the end of summer, it's a great time to take a road trip to explore Costa Mesa's local dining scene for Labor Day Weekend. Squeeze out every last bit of the summer weather and outdoor experiences in Southern California. We've got a bite for every time of day and covering a breadth of cuisines that Costa Mesa has to offer to create your next Eatcation®. Are you hungry yet? We are!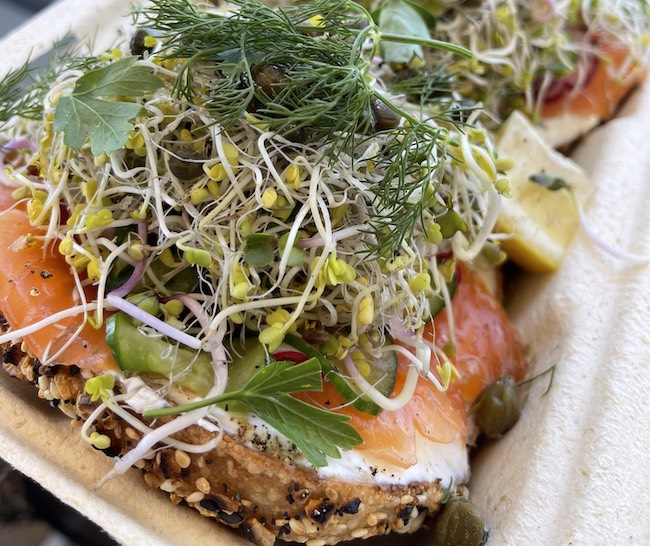 Breakfast: Boil & Bake
Many consider the morning meal the most important of the day. We're not inclined to argue with that, especially if it means bagels. At the brand new Boil & Bake these doughy rounds are naturally leavened, becoming a canvas for seasonal flavors. Owner Carlos Perez and chef Luke Bramm combine their restaurant acumen to convey an East coast concept with a West coast state of mind.
For a sweet treat, check out the Cheesecake for Breakfast, featuring blackberry compote and a graham cracker crumble. The Heirloom is adorned with flavorful tomatoes, capers, dill and extra virgin olive oil. Salmon lovers must request a Fully Loaded Lox for the sprouts, red onion and house-cured seafood. And the best non-food item: a thoughtfully cozy patio, complete with shade covering and surrounded by plants. 270 Bristol St., Ste. 114; www.boilbake.com.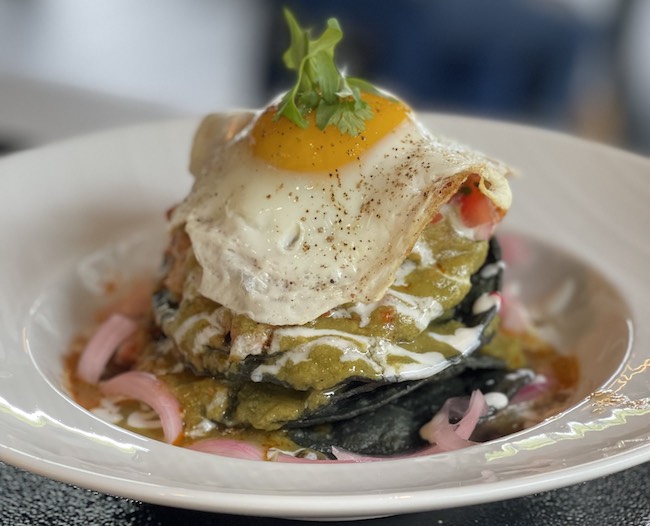 Brunch: Paragon Cafe
Formerly a pop-up within Shuck Oyster Bar, Paragon just moved into more permanent digs within SoCo Collection across from ARC. Cooking up brunch on the daily, the time you'll want to go is Saturday late morning when it offers live jazz in addition to chef Dean Isom's decadent menu and cocktails. Its menu blends traditional alongside modern indulgences to satisfy a range of paletes.
French toast or French toast bites? Filet mignon or ribeye a la carte? If these are the toughest decisions to make at Paragon, count us in. Royal blue hues welcome you whether in the dining room or along its lengthy bar counter. Speaking of the bar, you'll find a few riffs on classic beverages. Bourbon fans may want to sip on a Hang 'Em High or perhaps splurge on a photo-friendly mimosa flight. Either way you'll have a lovely time. 3321 Hyland Ave. Ste. E, (657) 247-0101; www.paragonrestaurants.com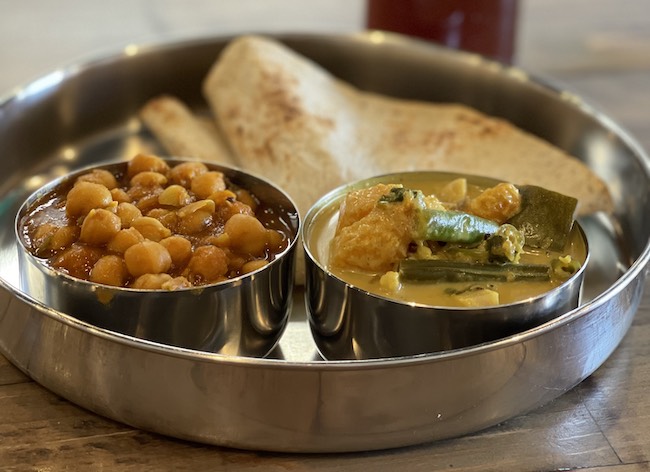 Lunch: Nourish Organic
If a morning meal is something you normally skip, then make the midday one count at Nourish. Specializing in organic, vegan and ayurvedic dining, a duo of featured proteins are rotated daily allowing for both variety and balanced flavors to satisfy those open to trying this healing Indian cuisine.
A truly customizable dining experience includes vegetables, soup and ancient-grain flat bread. For digestive issues, try a cup of kitchari rich with moong lentils and basmati rice. Attention to every aspect of cooking is considered, down to the purified water used to cook and wash all ingredients (none of which are purchased frozen or pre-packaged.) You'll leave feeling good inside and out. 1170 Baker St., Ste. G2, (714) 617-4001; www.nourishayurveda.org.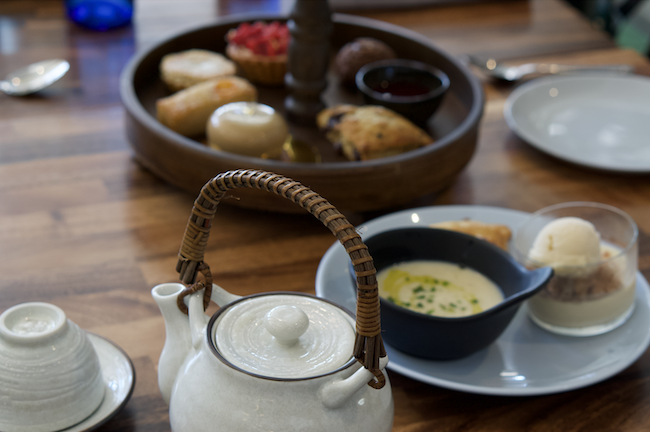 Afternoon Tea: Tableau Kitchen and Bar
Normally found in resort properties or stand-alone teahouses, afternoon tea is the time of day that simultaneously relaxes and energizes participants. To our delight, Tableau at South Coast Plaza recently began offering tea service from 3-5 p.m. daily. The best part of this particular experience happens to be the variety of tastes included; it's the perfect size to share with another. Check out our Instagram reel at Tableau to see more!
Begin with selecting a pair of teas (Spring Jasmine and African Nectar Rooibos were our faves). Each tea tower is adorned with a series of delights both sweet and savory. Hazelnut mousse with caramel, mocha ganache and linzer sable is decadent, while blueberry rhubarb pie is subtly tart. Call "dibs" on a prosciutto and provolone scone while reaching for a spoonful of horchata panna cotta with candied chestnut and pear sorbet. Supplement your meal with one of the new cocktail listings, because why not? You deserve it. 3333 Bear St., Suite 119, (714) 872-8054; www.tableaukitchenandbar.com.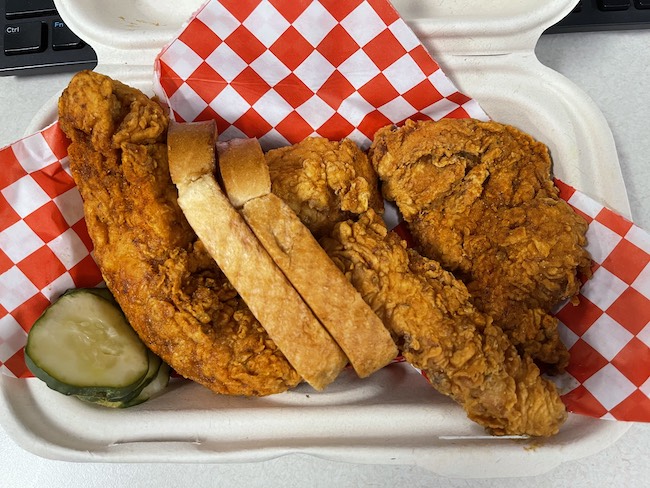 Dinner: Bred Hot Chicken
It's okay to admit that you miss the OC Fair and all of its deep fried goodness. That's why we sought out this food truck by Bred Scott that recently expanded operations into a non-roaming location at The LAB "Anti-Mall." Found along the perimeter of this bustling plaza, we almost missed it. Bred's self-serve touch pad system makes ordering a breeze if you haven't already paid by phone.  
Serving up tenders three ways, simply choose your own hot chicken adventure. Sandos can be plated on buttery brioche, toasted white or on slider-sized buns. For a bread-free meal, definitely dive into some loaded crinkle cut fries on a bed of vinaigrette slaw. We prefer our Nashville hots au naturel with a blend of comeback sauce and dilly ranch. Feeding a crew? There's even a 10-pack of tenders available. 2930 Bristol St., Ste. A104, (714) 696-9468; www.bredhotchicken.com.
Fine Dining/Dessert: Collage Culinary Experience
Avocado is extra, and so are you. When it comes to that extra meal, whether it be dessert or a classy dinner out, leave it to this food hall within Bloomingdale's to satiate your hunger. Mah Jong's by Chef Mike serves a succinct menu covering meatless options, comforting soups and timeless entrees. Its eye-catching decor and cocktail bar mean one can linger for a while. 3333 S. Bristol St., (949) 295-3841; www.mahjongsbychefmike.com.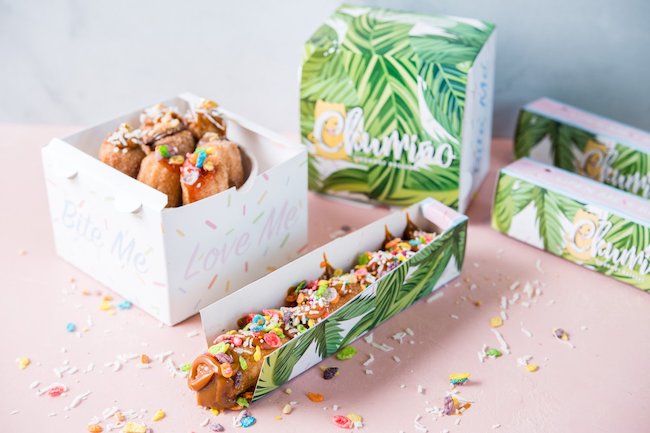 Churrino next door will craft a Brazilian dessert masterpiece to order, meaning hot, fresh chewiness at your fingertips. Fillings, drizzles and toppings mean countless combinations. Then cool off with one of Churrino's chilled drinks (which are often a treat on its own)– the Biscoff latte is a sweet option if you aren't familiar with the flavor. Vegan suggestions and an order ahead feature mean less waiting, more eating. (714) 884-4775.