Interactive Maps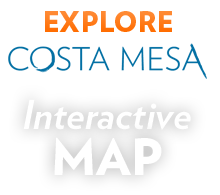 Ramada
Located just one mile from Newport Beach, this hotel offers bright and spacious rooms just off of Newport Boulevard and 17th Street shops and restaurants.
Learn More



Holiday Inn Express & Suites
This newly renovated hotel understands the importance of the little details that can turn a standard hotel stay into a spectacular lodging experience.
Learn More



Residence Inn by Marriott
Featuring studio and bi-level penthouses and fully equipped kitchens in every guest suite, this extended-stay hotel gives you all the comforts of home.
Learn More



Best Western Plus
This hotel caters to business travelers and is located just blocks from Newport Beach and Irvine corporate communities.
Learn More



Crowne Plaza
This upscale boutique hotel embodies the style, personality and luxury of Southern California with one-of-a-kind allure.
Learn More



The Westin South Coast Plaza
Located directly between South Coast Plaza and Segerstrom Center for the Arts, this hotel allows you to discover the culture, glamour and excitement of Orange County.
Learn More



Hilton
This newly renovated hotel exemplifies class and elegance with a modern twist set amidst popular attractions, stores, and activities.
Learn More



Ayres Hotel & Suites
This hotel offers a refreshing experience with a warm European ambiance located just minutes from Newport Beach, shopping and John Wayne Airport, Orange County.
Learn More



Avenue of the Arts, A Tribute Portfolio Hotel
Unparalleled comfort and a scenic lakeside setting facing Segerstrom Center for the Arts are found in this newly renovated, AAA Four-Diamond boutique hotel.
Learn More



Marriott
Encircled by South Coast Plaza, Segerstrom Center for the Arts and a relaxing lake, this all-suite hotel is the center of Orange County culture.
Learn More



BLVD Hotel
BLVD Hotel is just a short distance from OC Fair & Event Center. This chic boutique hotel features a relaxed, surf-culture vibe true of coastal Southern California.
Learn More



Crowne Plaza
Featuring a state-of- the-art business center and tech savvy atmosphere, this hotel is custom-fit for corporate travelers looking for both practicality and luxury.
Learn More



Costa Mesa Golf Course
Our Los Lagos course is a challenging par 72 golf course, running over 6500 yards. The front nine consists of several holes that traverse rolling hills, slopes and water. The back nine has several dog legs to challenge the most skillful golfer.
Learn More



Newport Beach Golf Course
Tucked away in its own oasis in the heart of Newport Beach, The Newport Beach Country Club exudes an unmistakable feeling of warmth and casual sophistication.
Learn More



The Triangle
The Triangle offers 191,000 square feet of outdoor entertainment and retail space. As a Costa Mesa landmark property and downtown anchor, it is only 1 mile from the Pacific Ocean and close to several major road systems.
Learn More



17th Street Shops
About a mile from the beach, the shops of East 17th Street offer a variety of businesses on a community-oriented "main street." With its diverse dining and unique boutiques, 17th Street is a warm, friendly gathering place for locals and visitors alike.
Learn More



Metro Pointe
Metro Pointe at South Coast features classic California/ Italian architecture with lush foliage. The pedestrian concourse joins specialty retail stores such as Nordstrom Rack and Loehmann's with an upscale movie theater and al fresco dining.
Learn More



South Coast Plaza Village
South Coast Plaza Village is situated across Sunflower Avenue from South Coast Plaza and houses a variety of Orange County restaurants, boutique shops, and art galleries in a spacious outdoor environment complete with cobblestone paths and walkways.
Learn More



South Coast Plaza
The world-famous South Coast Plaza defines the luxury shopping experience with extraordinary boutiques, personal service and upscale amenities. Award-winning restaurants and an unparalleled retail collection complete the package.
Learn More



The CAMP
The CAMP excels as an innovative retail community designed to offer outdoor and action sports enthusiasts authentic shopping and dining experiences in a natural compound. Blurring the boundaries between the outdoors and everyday life, The CAMP hosts educational events, lifestyle-related art shows and exhibits, as well as seasonal events.
Learn More



The LAB
This eclectic venue was established as "The Anti-Mall" to house independent retailers, galleries, and restaurateurs in a one-of-a-kind environment with an interesting ambiance and artistic flair. An acronym for "Little American Business", The LAB is a unique retail complex catering to the lifestyle demands of the trend-setting shopper.
Learn More



The OC Mix
There's simply nothing else like The OC Mix Orange County. It's like an in-person Etsy where you can find a one-of-a kind pillows, chic jewelry, delicious chocolate, linens, candles and even the right olive oil for your cooking needs all at under the same salvaged wood roof.
Learn More



SOCO
South Coast Collection, also known as SOCO, defines the ultimate design and culinary experience with more than 70 curated restaurants, showrooms and stores.
Learn More



Huntington Beach
Known the world over as "Surf City" because of its consistent waves chased by surfers, Huntington Beach attracts more than 8 million visitors each year and is home to the world famous municipal pier.


Newport Beach
The world-famous Newport Beach is situated conveniently next to Costa Mesa, with Costa Mesa's southernmost border just a mile from the Pacific Ocean. Crystal Cove State Park in Newport Beach is best known for its rustic wilderness setting that stands in contrast to pristine new homes and the immaculate greens of the Pelican Hills Golf Club.


Segerstrom Center for the Arts
A Costa Mesa triumph in architecture, SCFTA is a cultural landmark for symphony, ballet and Broadway events. This entertainment complex features the 2,000-seat Renée and Henry Segerstrom Concert Hall, 500-seat Samueli Theater, and is the future home of the Orange County Museum of Art.
Learn More



South Coast Repertory
This Tony®-Award winning theatre company was founded in 1964 and is now under the leadership of directors widely regarded as some of America's foremost producers of new plays. SCR's play development program consists of commissions, residencies, readings and workshops, from which up to five world premieres are produced each season.
Learn More



OC Fair & Event Center
Home of the top-rated Orange County Fair, one of the top 10 largest fairs in the United States, the OCFEC is 150-acre entertainment complex. It celebrates Orange County's communities, its interests, agriculture and heritage with a variety of shows and events throughout the year.
Learn More



Lyon Air Museum
The Lyon Air Museum exhibit is comprised of authentic aircraft, rare vehicles and related memorabilia, with emphasis on the defining event of the 20th century – World War II.
Learn More



Orange County Museum of Art
Orange County Museum of Art is the premier visual arts organization in Orange County. Critically acclaimed exhibitions draw more than 40,000 visitors annually, with a focus on modern art.
Learn More



Fairview Park
The 208-acres of public land in Fairview Park contain open fields, trails, hills and a forested sanctuary. It's a wonderful park for horseback riding, hiking, walking, running and biking enthusiasts.
Learn More



Talbert Regional Park
Talbert Nature Preserve is located North and South of Victoria Street in Costa Mesa between Pacific Avenue and the Santa Ana River. The North Talbert Preserve consists of 91.5 acres and the South Talbert Preserve is approximately 88.5 acres.
Learn More



Lions Park
The 10-acre park includes Davis Field, the Costa Mesa Historical Society, the Downtown Recreation Center, the Neighborhood Community Center, Costa Mesa Donald Dungan Library and Fire Station 5.


TeWinkle Park
TeWinkle Park was named after Charles TeWinkle, who moved to Costa Mesa in 1920 with his wife. The 49-acre park was officially dedicated as TeWinkle Park on January 31, 1965.


Costa Mesa Bark Park
The Costa Mesa Bark Park is a 2-acre fenced park where dogs can legally play and run leash-free. It is the only area in Costa Mesa where dogs are not required by ordinance to be on a leash and its popularity continues to increase.
Learn More



Volcom Skate Park
Volcom Skate Park was designed to include different areas that can accommodate skaters and skateboarders who have various levels of ability.
Learn More



Upper Newport Park
Upper Newport Bay (known by locals as The Back Bay) contains 1,000-acres of coastal wetlands; a great location for birdwatchers. Many bird species can be observed here including the California Gnatcatcher, the San Diego Cactus Wren and the Burrowing Owl.
Learn More