California Restaurant Month January 2013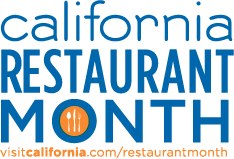 Join us in Costa Mesa for California Restaurant Month 2013!
Some favorite local restaurants in Costa Mesa will be participating in this year's California Restaurant Month, sponsored by
Visit California
.
Enjoy a variety of offers at Costa Mesa restaurants, including discounts of up to 15%, or a free menu item with purchase. See all the participating restaurants and their particular offers below for California Restaurant Month, valid January 1-31, 2013. Please remember you must mention California Restaurant Month to receive these special offers!
Participating Restaurants:
Mastro's Steakhouse Costa Mesa - Special prix fixe menu!

Nello Cucina - Take 13% off your food

Avanti Café - Take 15% off your purchase of $25 or more

Wine Lab CAMP - 10% off your in-store wine, beer or food bill
Not valid on bottles or retail shop items. Must be 21 years of age. Valid for 4 guests per visit.

La Cave - Each night, a specific entree will be discounted at least 10%

Silver Trumpet - Free dessert with the purchase of two entrees

Old Vine Café - 10% off breakfast or lunch, excluding alcohol
Available Monday-Friday, 9am-3pm only.

AnQi by Crustacean - Take 12% off your food