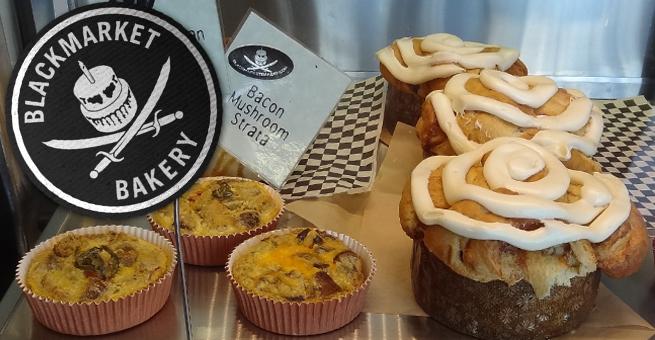 Blackmarket Bakery

2937 Bristol Street, Suite D-100A, Costa Mesa, CA 92626
714.662.3095 | website

Blackmarket Bakery has a simple slogan – "powered by butter." Pasty Chef Rachel Marie believes that the bedrock of the pastry world is made of butter, flour, sugar and eggs. The bakery name is derived from the rationing of these items during World War II, when bakers were forced to purchase these items off the "black market."
Blackmarket produces homemade, mouth-watering tarts, cakes, pastries, breads, toasted sandwiches along with confections and Kean coffee. The newly opened location at the CAMP offers lovers of baked good a great space to enjoy their delectable goods.
Along with the bakery items, two and three-tiered cakes for special occasions, can be ordered. Everything at Blackmarket is made from scratch and no artificial flavoring, additives or preservatives are used.
The philosophy at Blackmarket Bakery may be simple, but the handmade goods and complex flavors created from that philosophy are anything but. Everything on the menu and more can be ordered online, but a visit to the new location is highly recommended!
Blackmarket Bakery is open everyday. Sunday, 8 am – 6 pm. Monday – Wednesday, 6:30 am – 7 pm. Thursday – Saturday, 6:30 am – 9 pm. Be sure to check the Blackmarket website for local farmers' market appearances.