GETTING TO COSTA MESA
BY AIR:
John Wayne/Orange County Airport
John Wayne Airport is owned and operated by the County of Orange. Located in Santa Ana, 35 miles south of Los Angeles, John Wayne Airport is one of only two airports in Orange County to accommodate general aviation and the only commercial service airport in the county. John Wayne Airport services nearly 10 million passengers per year. John Wayne Airport is just 4 miles from Costa Mesa - and most of our hotels offer FREE airport shuttle service to and from John Wayne/Orange County Airport!
949.252.5200 | www.ocair.com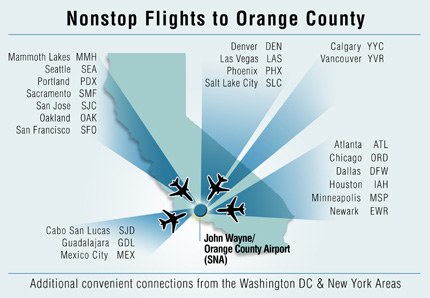 Long Beach Airport
The Long Beach Airport, conveniently located between Los Angeles and Orange County business and entertainment centers, offers commercial flight services on four airlines. Jet Blue is the leading flight service provider with 12 nationwide destinations including Boston, New York, San Francisco and Washington D.C., offering connecting flights to hundreds of domestic and international destinations. In addition, US Airways, Delta and Alaska/Horizon provide non-stop service to other domestic locations including Seattle, Phoenix and Salt Lake City.
562-570-2678 | www.lgb.org
Los Angeles International Airport
Los Angeles International Airport (LAX) is ranked fourth in the world for number of passengers handled, and its popularity shows no sign of decreasing. In 1999, more than 64.3 million people traveled through LAX. A commerce leader, its ever-expanding air-cargo system handled more than 2.1 million tons of goods. International freight was fifty percent of this total. Convenient location, modern facilities, and superior sea/air/land connections have led to LAX's designation as a world-class airport.
310-646-5252 | www.lawa.org/welcomeLAX.aspx
Ontario International Airport
Ontario International Airport (ONT) is a medium-hub, full-service airport with commercial jet service to major U.S. cities and through service to many international destinations. ONT is located in the Inland Empire approximately 35 miles east of downtown Los Angeles in the center of Southern California. The airport is the centerpiece of one of the fastest-growing transportation regions in the United States.
909-975-5360 | www.lawa.org/welcomeONT.aspx
BY TRAIN:
Take the Amtrak Pacific Surfliner® train to Costa Mesa and you will travel on one of the most scenic routes in the west. It's a welcome departure from crowded roads and highways. On board, you can sit back and relax, admire the view and enjoy a bite to eat. There are twelve trains daily between Los Angeles and San Diego, five from Santa Barbara and three from San Luis Obispo.
Visit Amtrak.com or call 1-800-USA-RAIL for schedule and fare information. Take the train to the Amtrak Santa Ana station and transfer by cab to your destination in Costa Mesa.
The Metrolink is a is Southern California's commuter rail system; it currently consists of seven lines and 55 stations around the region and operates in Los Angeles County, San Diego County, Orange County, Riverside County, San Bernardino County and Ventura County. The closest station to Costa Mesa is the Santa Ana station, at 1000 E. Santa Ana Blvd., Santa Ana, CA 92701. The Metrolink timetable schedule can assist on travel into and around Southern California.
BY CAR:
Rental Car Service