Stay and Save At Our Hotels
Overview
Located in the hub of Orange County's Theater and Arts District, the Avenue of the Arts Wyndham Hotel's tranquil lakeside atmosphere provides a relaxing world of artistic elements, luxury and unmatched service - right in the excitement of the city. Just steps away from the acclaimed Segerstrom Center for the Arts campus, let Wyndham act out its best role: harmonious hospitality. Experience the finest shopping at South Coast Plaza just two blocks away from this resort-style hotel. Open for breakfast, lunch and dinner, the Silver Trumpet Restaurant and Bar uses the freshest free-range and organic ingredients in all of their finely prepared California created dishes. Guests can enjoy on-site state-of-the-art gym, sauna and buisness center. Event facilities include a total of 15,000 square feet of space perfect for sophisticated meetings and celebrations.
Amenities
AAA Discount
Bus Parking
Cocktail Lounge
Outdoor Heated Pool & Jacuzzi
Room Service
Complimentary Shuttle Service to and from John Wayne Airport
Business Center
Restaurant On-Site
Meeting Facilities
Fitness Center
Dry Cleaning
In-Room Safe
In-Room Spa Service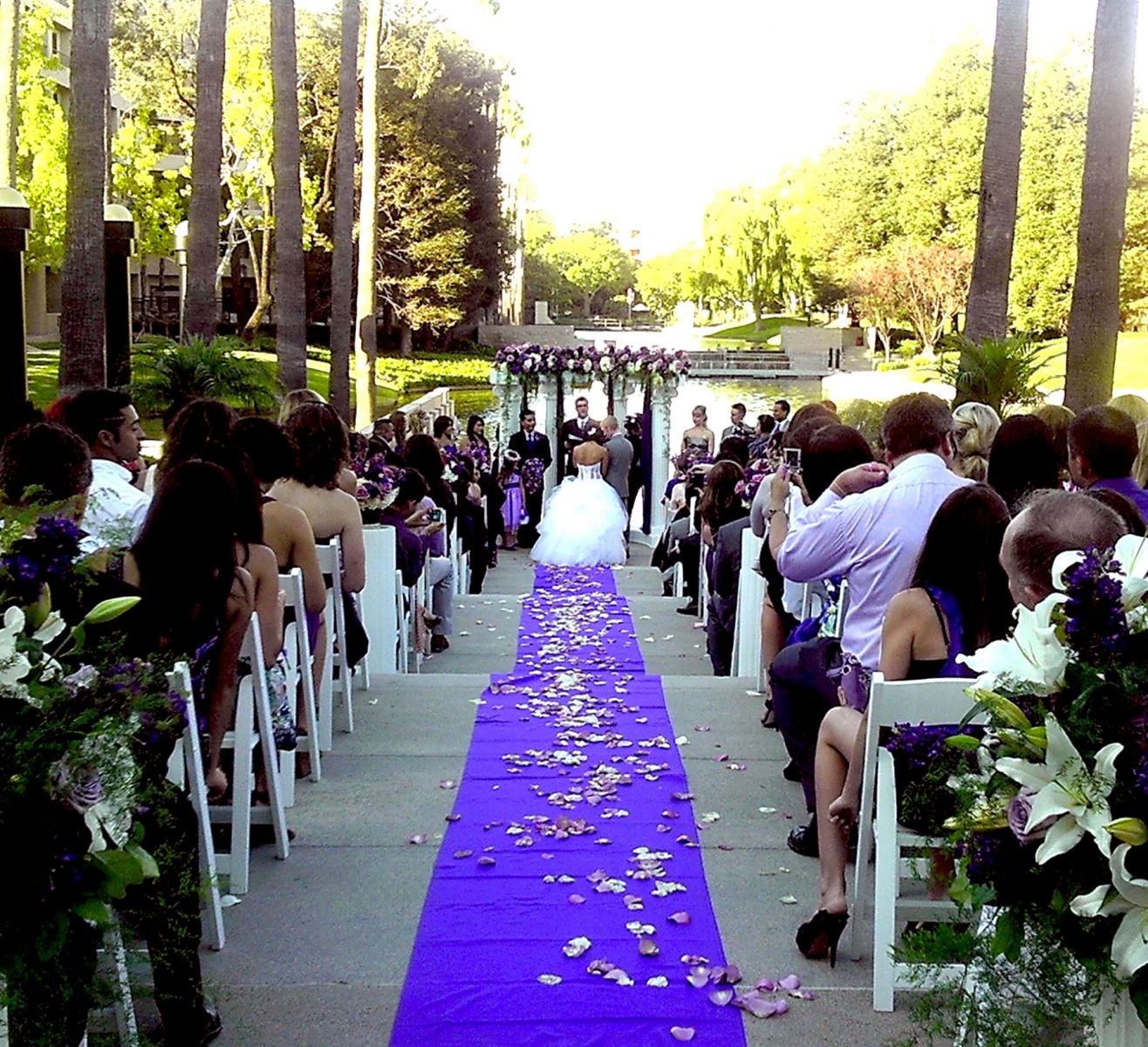 Saying "I do" at the Avenue of the Arts Wyndham Hotel will surely make your wedding storybook perfect. The stunning outdoor lakeside setting is a perfect wedding venue along with a variety of beautiful event rooms, chic accommodations, exquisite cuisine and an attentive, professional team dedicated to making your special day extra special. Let their certified wedding planners take the reins and help you plan an elegant wedding. From the moment of contact, Wyndham will focus on your every wish - accommodations for you and your guests, finding an appropriate ceremony location, flowers, cuisine, an exquisite cake, music - everything to make sure you have the wedding of your dreams.
The Avenue of the Arts Wyndham Hotel can perform wedding ceremonies either outside by our lake or in the ballroom. Orange County is host to a wide diversity of places to worship if you prefer a religious location for your ceremony, and you will also find a wide variety of historic and other secular locations nearby.
If you are looking for a meaningful and memorable way to celebrate your love, the Avenue of the Arts Wyndham Hotel hotel is happy to help you arrange a Wyndham Commitment Ceremony, the perfect way to make a public declaration of the lifelong commitment, love and dedication between you and your partner. Whether you choose to share the ceremony with family and friends or hold it in private, Wyndham will make sure this event of a lifetime is perfect for you. Whatever your choice and whatever style ceremony you choose, their wedding professionals are ready to assist you with picture-perfect solutions every time.
When it comes to celebrations, experience brilliant catering services and flexible space for elegant ceremonies, rehearsal dinners, receptions or a post-wedding brunch. An expert catering team will custom design and prepare an exquisite variety of menus, including seated dinners, elegant buffets, informal stations or themed weddings. You can host up to 250 guests for a seated banquet in the Grand Ballroom, located on the second floor of the banquet facility and featuring a private balcony, a foyer with windows, 16-foot ceilings with chandeliers and a 10-foot video screen that s down for photo montages.
For more intimate events, the Symphony Room accommodates up to 90 guests while the Silver Trumpet Restaurant & Bar is located lakeside adjacent to the hotel and accommodates up to 130 guests. Outside by the beautiful lake, choose from an open area that seats up to 400 guests, with lush landscaping, tranquil water fountains and secluded pathways as a back.
Exquisite settings, delectable cuisine and an unwavering focus on making your wedding the once-in-a-lifetime event it deserves to be is the priority at the Avenue of the Arts Wyndham Hotel, so please call their Wedding Specialist today at 714-442-8603 to arrange a tour or visit the Avenue of the Arts Wyndham Hotel weddings page for more information.