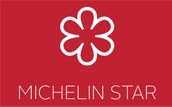 Hana re Sushi's chef Atsushi Yokoyama was awarded one Michelin Star in 2019. Hana re Sushi is an exclusive omakase dining experience offering fresh sashimi and nigiri in Orange County's haven of fresh seafood. But Hana re is NOT just another sushi bar. Located in The LAB Anti-Mall, Hana re boasts just two tables and 10 seats at its "chef's table," which is what Executive Chef Atsushi Yokoyama calls the sushi bar, and those seats are coveted! What makes Hana re even more special is the chef behind the concept. Atsushi Yokoyama was selected by Orange County Register's Food Critic Brad A. Johnson as Chef of the Year in 2016. Hana re Sushi is not an a la carte restaurant - you'll choose from three omakase menus, and then relinquish control and let Chef Yokoyama create an unforgettable sushi experience for you.
Settle in at the sushi bar and experience the live action of the chef's careful composition of selected farm and marine products. See the art of food and form created before your eyes, then indulge. Find an incredible selection of fresh fish flown in from Japan and other parts of the world, plus other incredible dishes mixed in such as foie gras, lobster miso soup and Japanese A5 Miyazaki beef.
It may be a bit tricky to find at first, but once you go, you won't forget. Look for a small door and window on the colorful building adjacent to the parking lot, peak inside and you'll be delighted. Hana re Sushi is tucked into the back of The LAB center, in a corrugated metal building.