Eatcation® Itinerary
Day 1: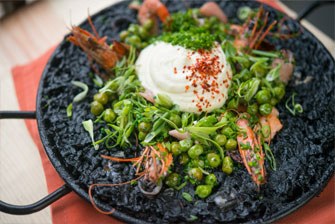 Afternoon: It's Friday afternoon. Check into your hotel and get ready to do some serious eating!
Visit South Coast Collection (SOCO), where The OC Mix is located. The OC Mix is one of Orange County's most exciting and unique food halls. Start your Eatcation® with the award-winning coffee at Portola Coffee Roasters, founded by Jeff and Christa Duggan. Roastmaster Jeff travels to Africa, Central and South America in search of exceptional coffee beans. Portola Coffee Roasters at The OC Mix is their flagship coffeehouse and roastery. Grab a Rose Cardamom Latte, Gaspar, Mocha or one of their seasonal drinks.
Try Taco Maria at SOCO, which serves a critically acclaimed take on contemporary California-Mexican cuisine and offers a menu full of delicious options from a James Beard Award-nominated chef, Carlos Salgado. Chef Salgado has worked for some of the most innovative and acclaimed restaurants in Northern California and was named Food & Wine Magazine's Best New Chef; he's also in the running for a 2017 James Beard Award. End your night's visit to The OC Mix at LCA Wines, which is known for the finest wine tastings and retail selection of wines from all over the world.
Up for a little music and maybe a late-night bite? Try Mesa Lounge at The CAMP, which often has live DJs and music. With an edgy look, eclectic crowd and freshly prepared food, this lounge-like venue features small plates everything from roasted beet salad to grilled Angus steak to mushroom and leek pizza, as well as creative cocktails. There are also savory appetizers like tempura green beans and flash fried calamari that you can try up until the late evening.
Day 2:
Morning: Wake up to delicious housemade breakfast at Old Vine Café, located in The CAMP. The restaurant uses fresh seasonal ingredients for breakfast, a hallmark of Italian-trained chef Mark McDonald. Breakfast offerings include fresh crepes, homemade granola and rich, comforting brunch options like caramel apple French toast and chili verde quiche.
Work off breakfast at South Coast Plaza, a world-renowned retail attraction that's considered to also be the second-largest shopping destination in the United States. On top of that, it has some of the best luxury stores in the world — including Louis Vuitton, Chanel, Gucci and more — all packed in one easy-to-access location. While you're at South Coast Plaza, take a stop for lunch at AnQi Bistro by Crustacean. Created by the An family, AnQi is a stunning restaurant that can convert in the evening to host its own fashion shows with a catwalk! It's fun to see the beautiful design of this Asian fusion restaurant during the day too, and especially if you get to try Mama An's famous garlic noodles. Enjoy a variety of Asian dishes including sushi, traditional Vietnamese pho, pork bao, potstickers and much more.
Afternoon: Immerse yourself in some world-renowned public art in the City of the Arts™. Peruse through Segerstrom Center for the Arts campus, famous for its collection of artwork from such luminaries like Richard Serra, whose 360-ton sculpture "Connector" consists of five twisted winding steel plates; Charles O. Perry, who made a bright yellow-painted steel sculpture "The Ram"; or Jean Dubuffet, who sculpted a color-blocked creation "Tour Aux Jambes" likened to a three-dimensional jigsaw puzzle.
Evening: Dine at one of the restaurants within walking distance of Segerstrom Center for the Arts, Vaca by Amar Santana. Vaca is a true Spanish eatery whose chef Amar Santana has competed on Bravo TV's award-winning "Top Chef" series. Vaca blends the cuisines of Barcelona, Madrid, Andalusía, Seville and the Basque country. From the best grass-fed Argentinian beef to genuine Kobe beef flown in daily, Vaca offers superior tasting meats, as well as tapas whose ingredients are mostly sourced directly from Spain.
But Costa Mesa doesn't just have great food! Afterward, you're just a stroll away from the many spectacular shows playing at Segerstrom Center for the Arts, including those that have been staged on Broadway. Wicked, Phantom of the Opera and Hamilton are just a sampling of the world-class shows.
Up for a little sweet treat? Check out Creamistry at The Triangle, offering made-to-order ice cream. They use liquid nitrogen to flash freeze individual ice cream orders at -321° F, and this unique freezing process results in ice cream that is ultra-creamy, decadently rich and unbelievably fresh.
Day 3:
Morning: Try breakfast locals' style at Plum's Cafe, where you'll find Northwest-inspired cuisine like Oregon pepper bacon and alderwood-smoked salmon hash. Looking for something a little lighter? Try Sidecar Doughnuts on 17th Street, which serves specialty handmade doughnuts like "Salty Caramel," made with Jacobsen sea salt and topped with house-made caramel glaze; and "Madagascar Vanilla Twist," which is a classic raised twist with vanilla bean glaze. Enjoy a unique freshly made doughnut with a blazing cup of the famous Stumptown Roasters coffee.
Afternoon: Head back to the SoBeCa district and stroll the unique lifestyle shops of The LAB, a one-of-a-kind "anti-mall" created from a former goggle factory. When your stomach's ready, indulge at lunch at The LAB at Habana, reminiscent of an outdoor patio 1950s Cuba. The Nuevo Latino restaurant offers dishes from succulent mango pulled pork to plantain-crusted chicken sandwiches. You can sip on a fruity sangria or a minty mojito in a garden patio, surrounded by California plants. OpenTable named Habana one of the best outdoor dining experiences in the U.S.
Evening: Take a trip back to The OC Mix to enjoy dinner at ARC, an American eatery whose wood-burning oven will make you come back for more smoke-imbued dishes and where the focus is on classic dishes, using freshly farmed and vibrant ingredients. Every single dish is cooked over an open fire with a focus on simplicity. The executive chef Noah Blom, who has worked at Michelin-starred Daniel in New York, was named "Chef of the Year" after ARC's opening by the Orange County Register. Looking for a special dessert? Head over to Confetti Italian Ice and Custard and find a delightful selection of Italian ices and rich, creamy custards in flavors like passionfruit, lychee and banana split.