Costa Mesa Events
Tastemakers of Orange County
Start Date : September 20, 2017
End Date : September 20, 2017
Start Time : 7:00 p.m.
End Time : 9:00 p.m.
Location : SoCo Collection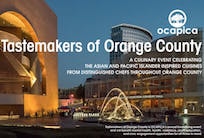 In collaboration with SOCO - Orange County's hottest culinary destination - The Orange County Asian and Pacific Islander Community Alliance (OCAPICA) presents the 2nd Annual "Tastemakers of Orange County!" This culinary event celebrates the Asian and Pacific Islander community, culture, and heritage and gives guests the opportunity to taste and indulge in Asian and Pacific Island-inspired cuisines and beverages from distinguished chefs throughout Orange County.
The celebration at SOCO in Costa Mesa will include food tastings, fun entertainment, and a silent auction all hosted at the SOCO and The OC Mix Farm Stands, and at Surfas Culinary District. Proceeds from this event benefit the nonprofit organization OCAPICA and will support mental health, health, workforce, youth in education and civic engagement opportunities for low-income families.

2017 Tastemaker Chefs:
Abe Takashi & Ted Lee, Bluefin Restaurant
Allan Tea, Capital Seafood, Capital Noodle Bar, Dumpling House
Amar Santana, Vaca
Brian Husky, Tackle Box
Dean Kim, OC Baking Co
Dee Nguyen, Break of Dawn
Ed Lee, Wahoo's Fish Taco
Greg Daniels, Haven Gastropub, Provisions Market
Henry Pineda, Modern Filipino Kitchen
Ivan Calderon, Taco Mesa, Taco Rosa
Kristin Nguyen, Garlic and Chives
Linda Johnsen, Filomena's Italian Kitchen
Sandro Nardone, OC Baking Co.
Shachi Mehra, Adya
Tarit Tanjasiri, Crema Cafe and Crema Artisan Bakers