HISTORY OF COSTA MESA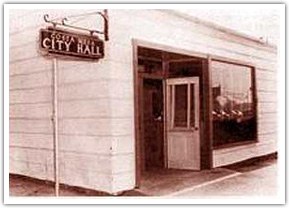 Located on the "coastal tableland" above Newport Bay, Costa Mesa was once grazing grounds for cattle belonging to the Mission San Juan Capistrano. At the beginning of the 19th century, missionaries built an adobe "Estancia" or way-station for the vaqueros who tended the herds. This structure, known as the Diego Sepulveda Adobe, still stands and was recently restored and transformed by the City into a museum at 1900 Adams Avenue.
In 1810, this same area was a part of the Spanish land grant of Santiago Del Santa Ana made to Jose Antonio Yorba. By 1880, settlers had begun buying portions of the rancho from Yorba's heirs and in the same decade established the town of Fairview. A school house and church were built near the present intersection of Harbor and Adams, and a 25-room hotel accommodated visitors to the nearby hot sulfur springs. However, in early 1889, a storm washed out the railroad and brought financial disaster to the community which soon reverted to a farming area.
By this time, the little town of Harper, named after a nearby rancher, had emerged on a siding of the Santa Ana and Newport Railroad. Its first business, Ozmen's General Store, stood on the corner of Newport and 18th Streets and contained the City's first post office, established in 1909. In 1920, Harper officially changed its name to Costa Mesa, which means coastal tableland in Spanish, and continued as an agricultural community, growing sweet potatoes, corn, tomatoes, strawberries, and apples.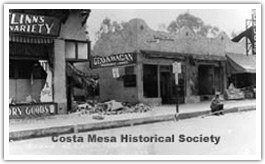 Damaged storefronts, 1933
This strip along Newport Blvd was damaged
during the March 10, 1933 earthquake.
Building and oil drilling industries were just beginning to bring new growth to the City when the depression hit Southern California. Industries collapsed and the local bank closed. More disaster followed when the 1933 earthquake shook the town, damaging businesses and the Main School. But the school was soon rebuilt and continued in operation as the Clara McNally School. These buildings are now used for school administrative and service purposes.
World War II brought many thousands of people to the area for training at the Santa Ana Army Air Base, located on what is now the Orange County Fairgrounds, Orange Coast College, and the present site of the Civic Center. When the war ended, many of these men and women returned with their families to begin the population boom which continues today.
On June 29, 1953, the city was incorporated and City Council-Manager form of government was chosen. The new city had an area of 3.5 square miles and a population of 16,840. Within 35 years, by 1988, the population had risen to 90,000 and the area to 17 square miles.
For more information, visit the Costa Mesa Historical Society web site costamesahistory.org.