With Orange County's only Michelin-starred restaurants, 3 Bravo TV "Top Chefs" and a bevy of amazing eateries, Costa Mesa has built a reputation for being an Eatcation™ destination for foodies. If you're looking for bites that won't break the bank—but still taste amazing—there are plenty of frugal options around town. Here are 12 can't-miss, budget-friendly eats in Costa Mesa that will have you coming back again and again.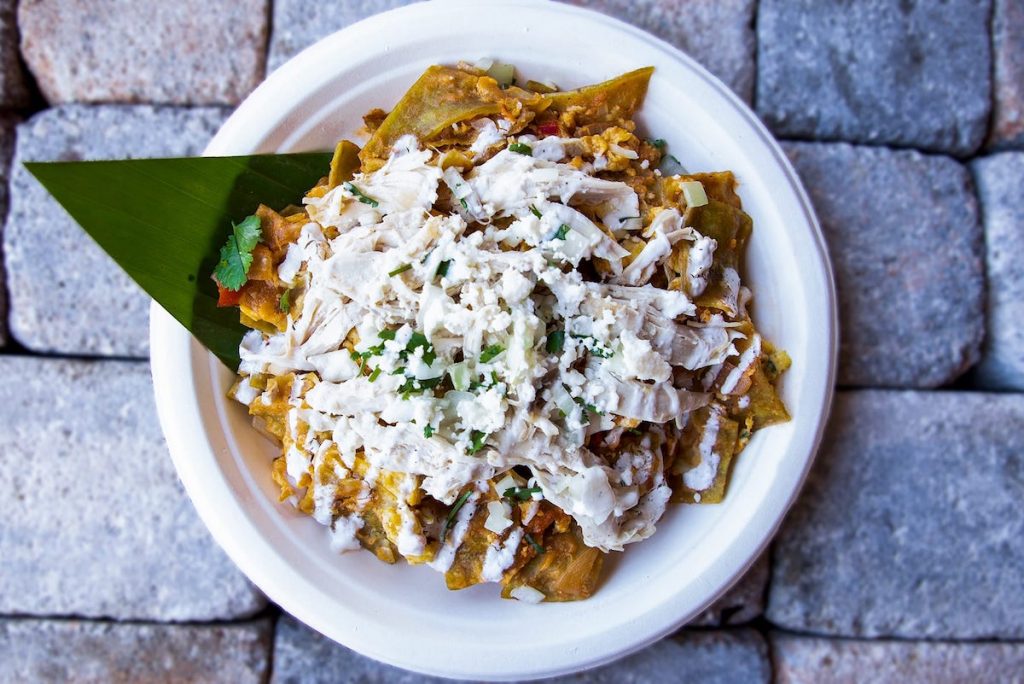 Taco Mesa
When you walk into Taco Mesa, the first thing you might notice is that the walls are plastered with amazing reviews. There's a reason why: the menu is chock-full of delicious, budget-friendly eats, especially on Taco Tuesdays, when tacos are only $1.75 a piece. Try the al pastor or carnitas and add rice and beans for only $2 more. Or, stray from the tacos and try out their filling enchilada duos, burritos, or quesadillas.
Their breakfast is also a steal. Standouts include the huevos rancheros and the machaca ropa vieja (scrambled eggs with shredded beef), both for $8.50, but you really can't go wrong at Taco Mesa.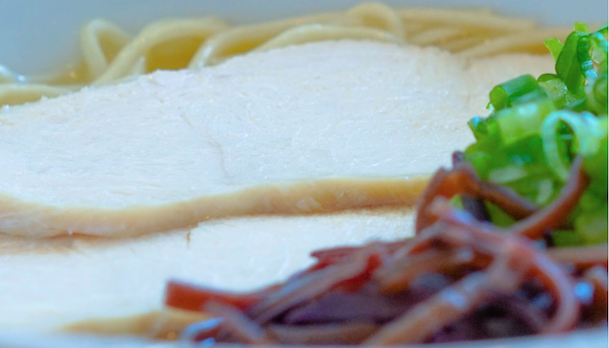 Kashiwa Ramen
Costa Mesa's newest ramen place, Kashiwa Ramen, is also a great deal. Starting at $10, you can get a filling bowl of ramen with your choice of protein (the spicy pork belly is our recommendation). Skip the toppings—the original base is filling (and delicious) enough as is. The side dishes, like takoyaki, karaage bowls, and edamame, are also reasonably priced.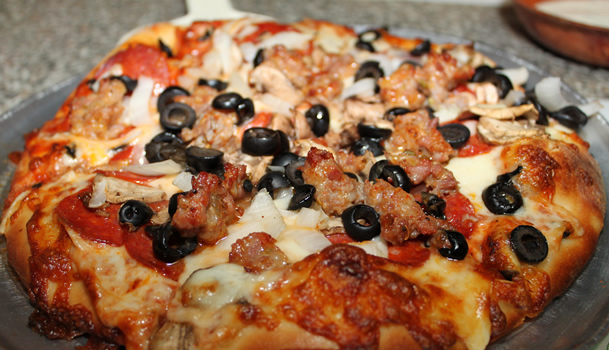 Haus of Pizza
This pizzeria holds a special place in many locals hearts for a reason. Every day, Haus of Pizza has a special dish at a discounted price. Personal favorites include the traditional spaghetti and their special panzerotti (fried dough stuffed with ground meat and smothered in marinara sauce), which is only offered Wednesdays and Thursdays.
But if you opt not to enjoy the daily special, the rest of the menu is also reasonably-priced. Personal pizzas start at $7.30 while many other entrees are less than $10. Most entrees also come with your choice of soup, salad, or their delicious garlic bread.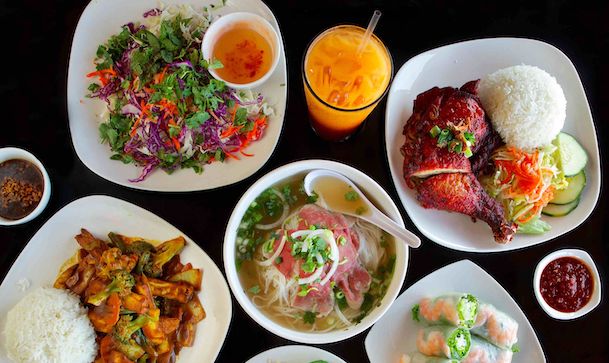 Vietnam's Pearl
Another long-time Costa Mesa eatery, Vietnam's Pearl offers delicious (and large) bowls of pho for less than $9. If pho isn't your thing, their rice combination dishes are also cheap and satisfying and can be customized to your taste buds (the pork chops and 5-spiced chicken are both standouts). Bahn mi sandwiches, also under $10, are another cheap option and make the perfect frugal lunch.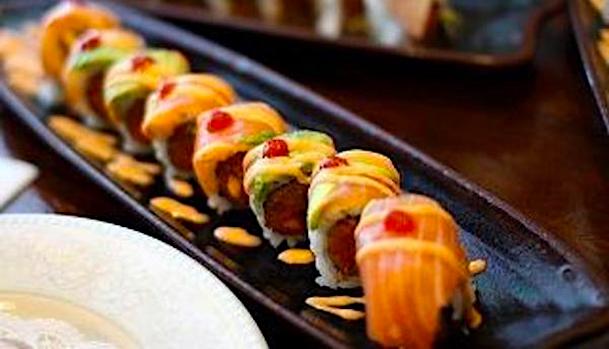 Sushi Imari
Nothing beats a great lunch special, and Sushi Imari offers an awesome deal. For $11, you can get a two-item combo, while $12.50 nabs you a three-item combo. Choose from various teriyakis, bulgogi or karaage chicken, as well as different rolls (cucumber, California, and spicy tuna are all options), and round it out with gyoza, tempura, egg rolls and more.
Although it's priced slightly higher at night, this same option is still a great deal if you can't make it to Sushi Imari until dinner time. Other budget-friendly highlights on the menu include their udon and teriyaki bowls.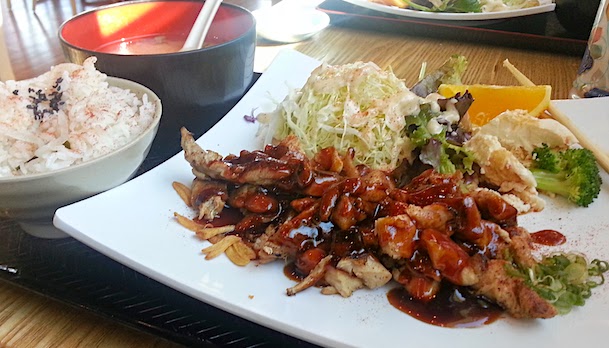 Honda-Ya Box
If you're heading to this local izakaya, check out the specials, where you'll often find healthy salads and delicious poke bowls for under $10. The rest of the menu at Honda-ya Box is no slouch either—find cheap ramen and udon mixed in with a variety of musubis and curry rice. There are also lunch specials during the week that make this spot an even better deal. All in all, It's the perfect spot for a group that wants to try a little bit of everything.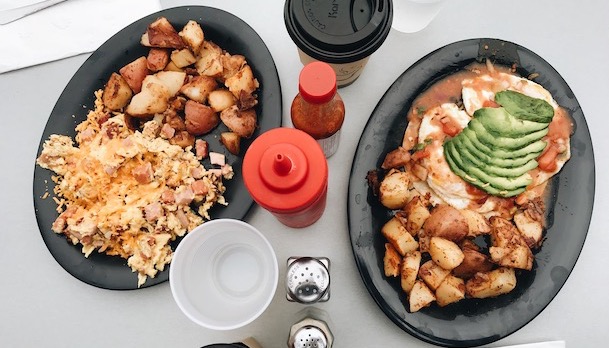 Rooster Café
Breakfast and brunch can be a minefield for your wallet, but Rooster Café has everything you could want at a budget-friendly breakfast joint. The breakfast burritos are a highlight, as are one of the many scrambles with Portuguese sausage and red potatoes.
The lunch menu is also budget friendly. From burgers to build-your-own sandwiches to carne asada fries, there's something for all tastes. Best of all, with their open-late schedule, you'll never find yourself scrambling for a place to eat after making your stops along Costa Mesa's Beer Trail.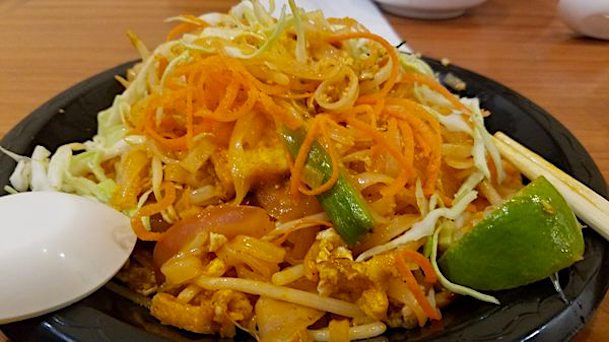 MaDee Thai Kitchen
Craving Thai food? Head to MaDee Thai Kitchen if you don't want to break the bank. Their fried rice and stir-fried noodle dishes are all around $10 to $11, while vegetarians can get a variety of delicious tofu dishes for around the same price. Or, opt for one of their noodle soups—the tom yum soups are highlights on this all-around budget-friendly menu.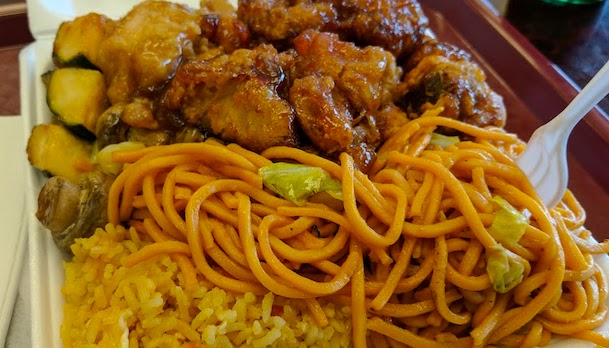 Hong Kong Express
Nobody does portions like Hong Kong Express. If you're craving Chinese takeout, head to this local favorite. Takeout boxes are crammed to their near-breaking point with delicious orange chicken, teriyaki chicken, and egg rolls. Their wings are a standout—in fact, they're usually sold out by the end of the day. Try calling ahead of time to secure this cheap menu favorite.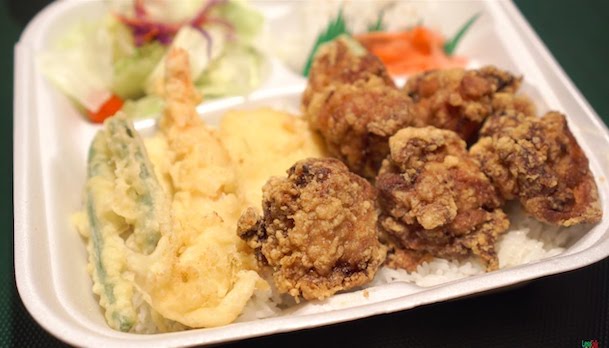 Tenkatori Karaage
Tenkatori Karaage is comfort food at its best. Order from their "box menu" section for karaage chicken paired with miso soup, rice, and your choice between croquettes and tempura, California or veggie rolls, and green salad or steamed veggies—all for under $12. Other frugal options on the menu include rice bowls, salads, and curries. Even their rolls are all under $8.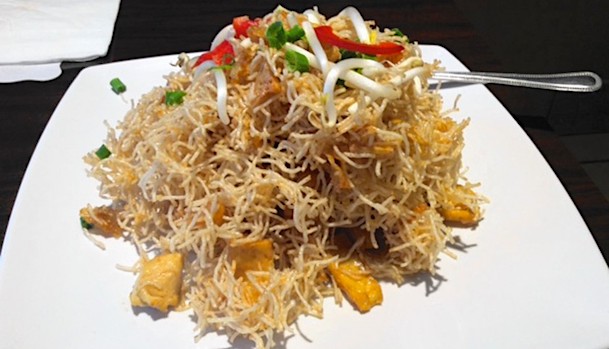 Bangkok Corner
Bangkok Corner is another standout, budget-friendly Thai restaurant. Find curries (including their popular yellow curry) for around $10. Other cheap entrees include spicy eggplant, Thai barbecue chicken, and their delicious tom yum noodle soup.
From Monday through Friday from 11 a.m. to 3 p.m., you can also grab a lunch special for only $7.95. On the lunch special menu are a variety of different curry dishes and stir-frys. Dishes are also served with steamed rice and salad, plus your choice of protein.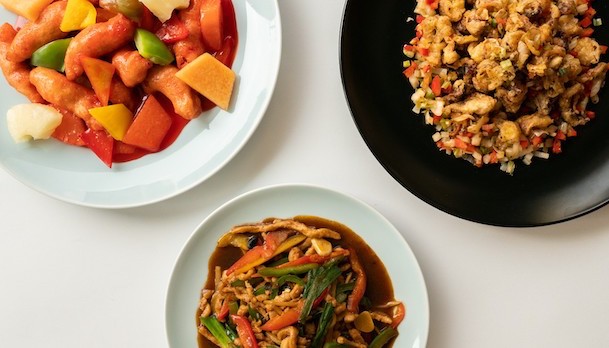 Mongolian Bar-B-Que Pan Asia
Another cheap, all-you-can-eat option! Mongolian Bar-B-Que Pan Asia offers an all-you-can-eat dinner option for only $17 and a wide variety of lunch specials for under $10. Pile your bowls up with your favorite veggies and choice of protein (try the lamb for a unique flavor profile). All-you-can-eat options also come with rice and delicious pocket biscuits to fill with your meat of choice.
It's clear that this city is a fabulous foodie destination with over 150 Costa Mesa restaurants, for all tastes and all budgets. Too many to try in just one day? Make it an Eatcation™ and stay overnight with some of our amazing Costa Mesa hotel offers!
What's your favorite Costa Mesa restaurant? Let us know in the comments!