Yelp recently rated the top 100 brunch restaurants in California, and three Costa Mesa hotspots were on the list, with two in the top 6. Brunch is a sacred tradition in Southern California, particularly this time of year. We've included Yelp's top picks for Costa Mesa brunches, and threw in a few more of our favorites (in no particular order). Why 11? Why Not, we say?
What is your favorite spot to "brunch so hard" in Costa Mesa? Let us know in the comments!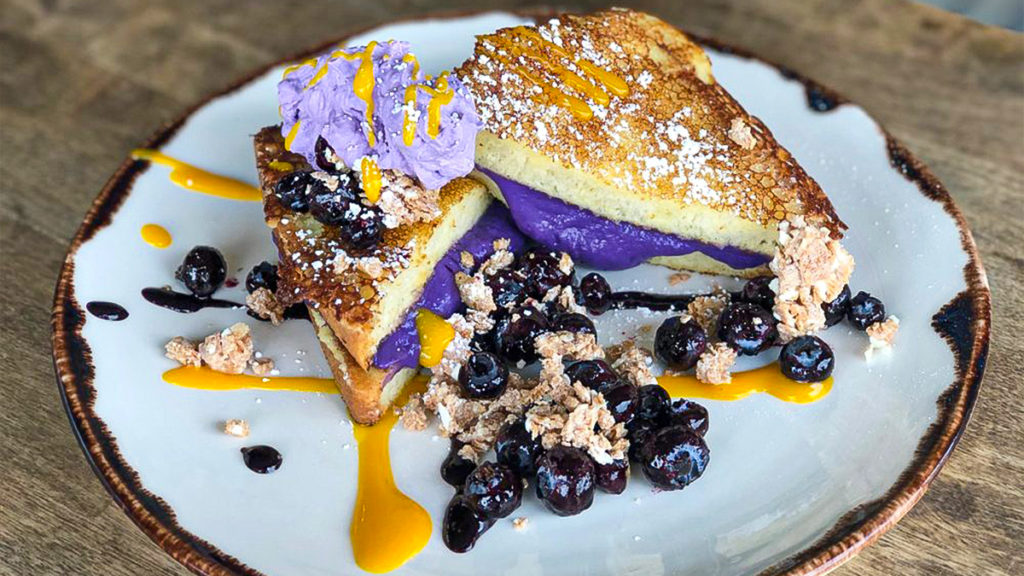 1. Toast Kitchen and Bakery
Toast took the #3 top brunch spot on Yelp's list, and it's easy to see why. Executive Chef and Owner John Park creates an amazing fusion of international flavors like the ube French toast, featured above. They're famous for their stuffed full breakfast burritos and fried chicken, or a breakfast sandwich with "millionaire's bacon" (seen below). You can also find more imaginative dishes with an Asian flair like soba noodle salad and an incredible pork belly and rice bowl. Toast's full bakery serves standard sweet treats like personal-size apple pies or salted chocolate chip cookies, but takes it to the next level of pastries as well with taro blueberry pie and strawberry yuzu cake. It's not just brunch for the weekends, either – Toast serves brunch 6 days a week in Costa Mesa's funky, beach-close Westside neighborhood.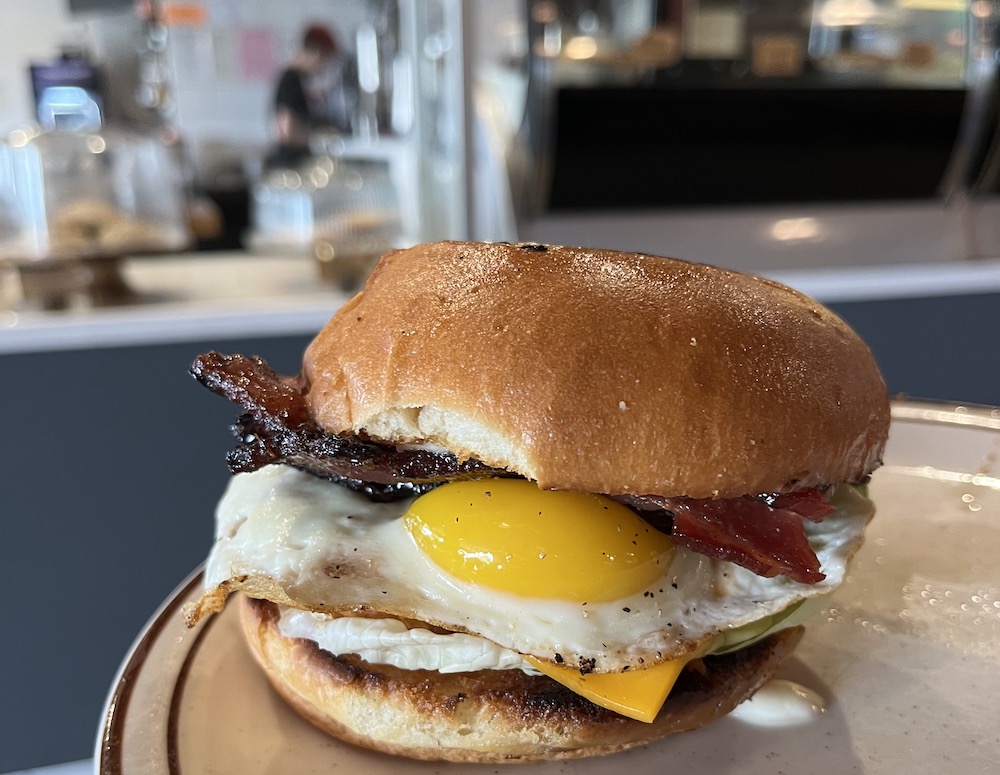 If you're needing post-brunch dessert, their sister shop Fill next door serves malasadas (custard or fruit-filled donuts) and ice cream.
1767 Newport Blvd, Costa Mesa. Open Tue-Sun: 8am-3pm; closed Mondays.
2. Playa Mesa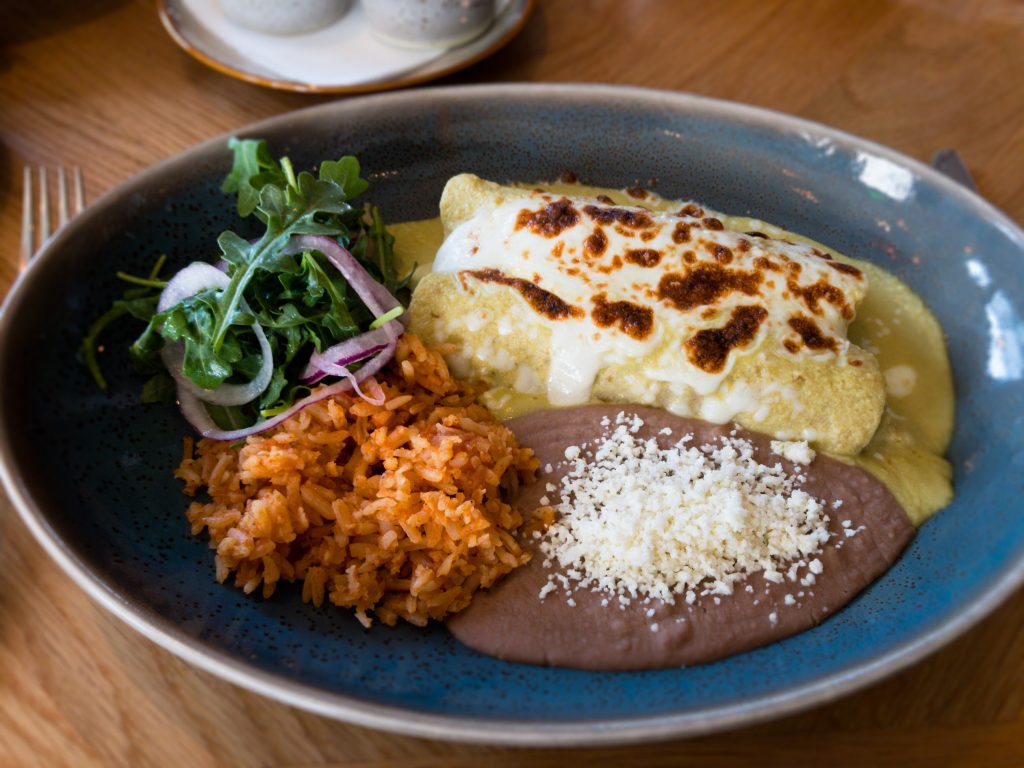 Delicious homestyle Mexican food is a Southern California staple, and Playa Mesa's fantastic brunch offerings easily made it to the top of Yelp's best brunch list. Inspired by flavors from the coastal regions of Baja and mainland Mexico, Playa Mesa boasts only the freshest, often locally grown and raised ingredients. Choose from their traditional Mexican staples like huevos rancheros, enchiladas and pozole, a classic Mexican soup, or more exciting fusion dishes like chile verde carnitas benedict, a breakfast torta on brioche, or a tres leches waffle. They've got a full roster of specialty margaritas including a spicy jalapeno-infused Mangosita at the show-stopping bar front and center of the restaurant. Salud!
428 E 17th St., Costa Mesa. Weekend Brunch: 9am-2pm
3. The Country Club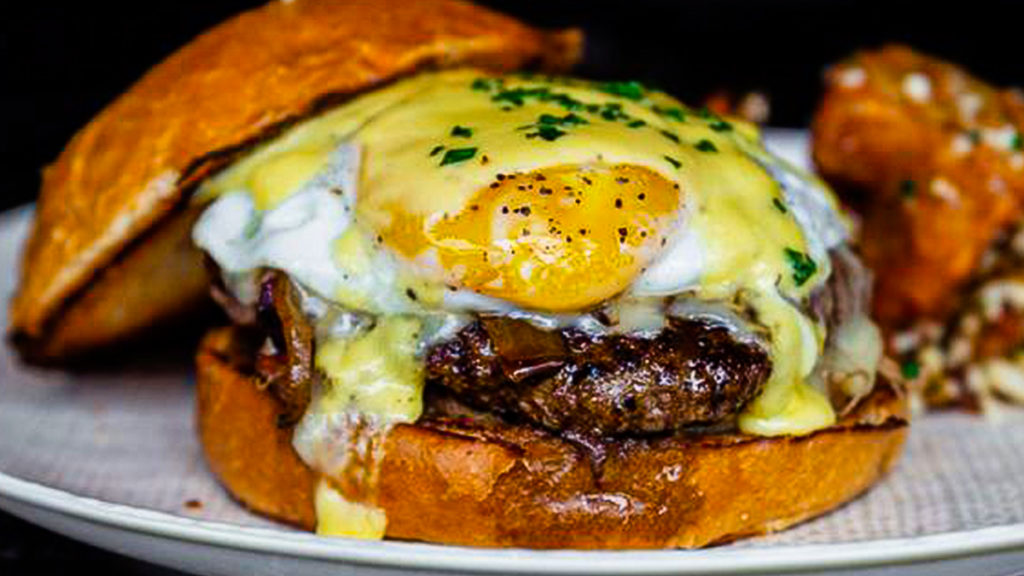 The Country Club was the third brunch spot in Costa Mesa to make it to the Yelp 100 list. Their delectable weekend brunch dishes include braised bacon and avocado or smoked salmon benedict covered in green Tabasco hollandaise, steak and eggs with chimichurri sauce, and a selection of juicy breakfast burgers like the Brunch Burger, pictured. Don't sleep on the avocado toast or bananas foster pancakes! The Country Club offers that exclusive club-like feel but is accessible to everyone.
330 E 17th Street, Costa Mesa. Saturday and Sunday: 10am -4pm.
4. Old Vine Kitchen & Bar
If you follow Travel Costa Mesa on social, you'll know that one of our longtime favorites, Old Vine Kitchen, has been consistently known as one of the top restaurants in town, with a very special brunch. Located in The CAMP retail center, Old Vine offers fine dining with wine pairings, along with special events and live music on the Roof Bar. But, we're here to talk brunch. Enjoy a variety of specialty omelets including the lengua omelet with salsa verde and pickled serrano. The blueberry croissant French toast is something to be cherished, as is the house-made cheddar biscuit with Italian sausage gravy. Along with crepes and quiche, you'll find Lavazza coffee drinks, mimosas and Bloody Marys.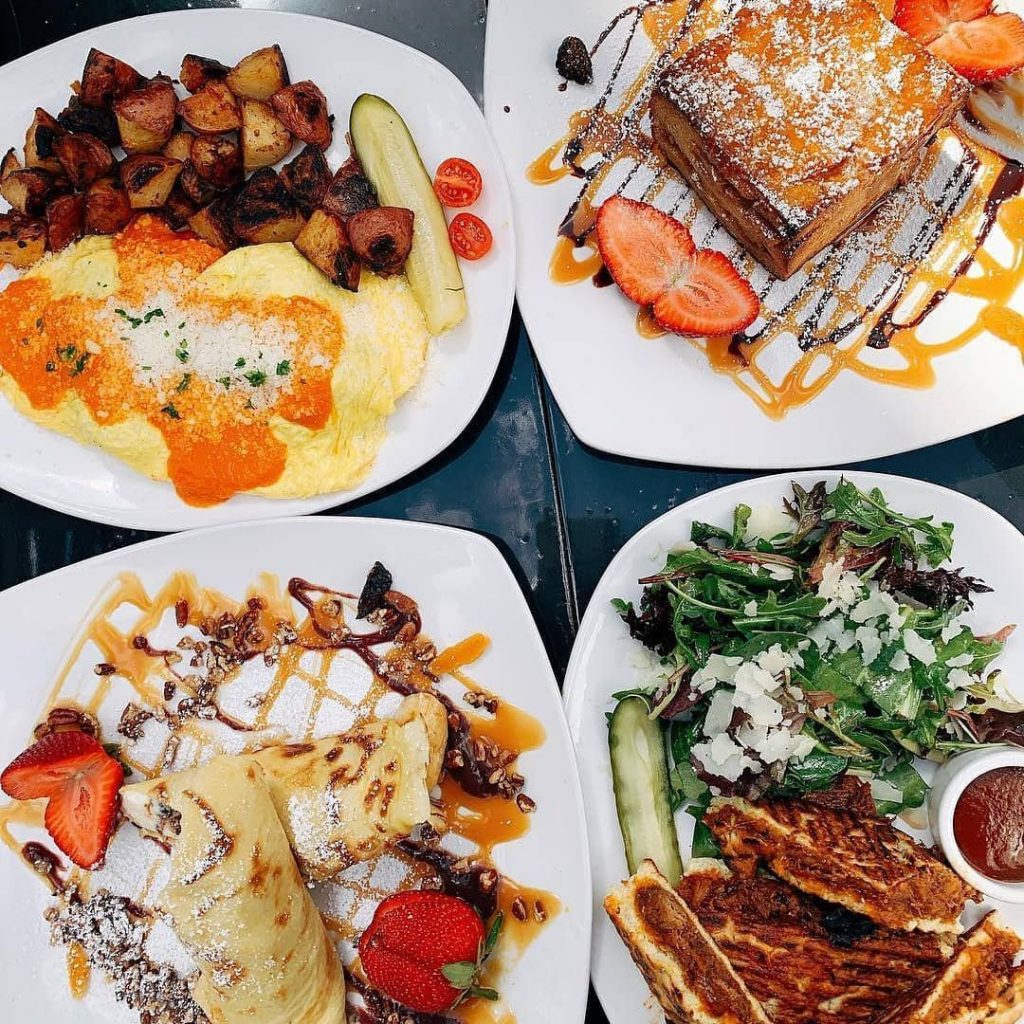 The CAMP, 2937 Bristol St. Suite A-103, Costa Mesa. Sunday: 10:30am–2pm. Reservations needed.
5. Paragon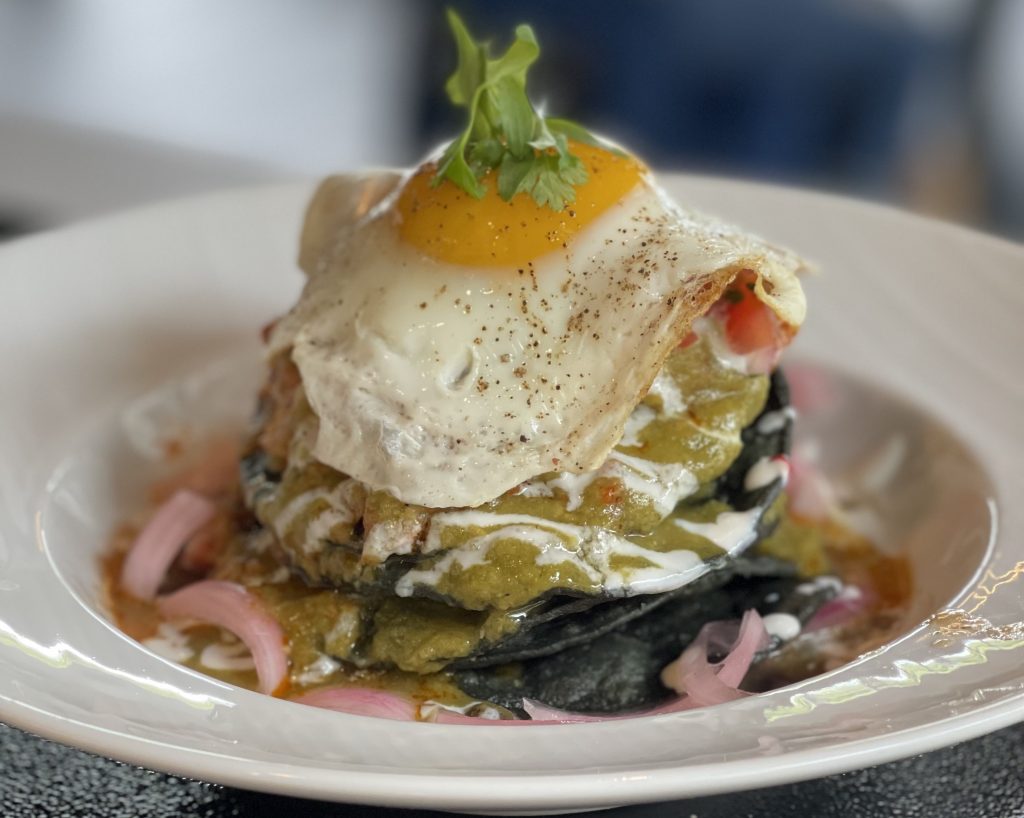 Paragon opened recently at SoCo and the OC Mix, and we got a taste and never looked back. In fact, our brunch visit to Paragon is one of our top reels on Instagram! You can get breakfast and lunch daily until 3pm, with a brunch service on the weekends. Enjoy their glorious chilaquiles (pictured), chicken and waffles, duck fat tater tots, biscuits and gravy and specialty burgers. Do not miss the fantastic strawberry cheesecake French toast, a dish decadent enough to share.
3321 Hyland, Ste. E, Costa Mesa. Open daily 9am-3pm; Brunch & live jazz weekends 11am-2pm.
6. Outpost Kitchen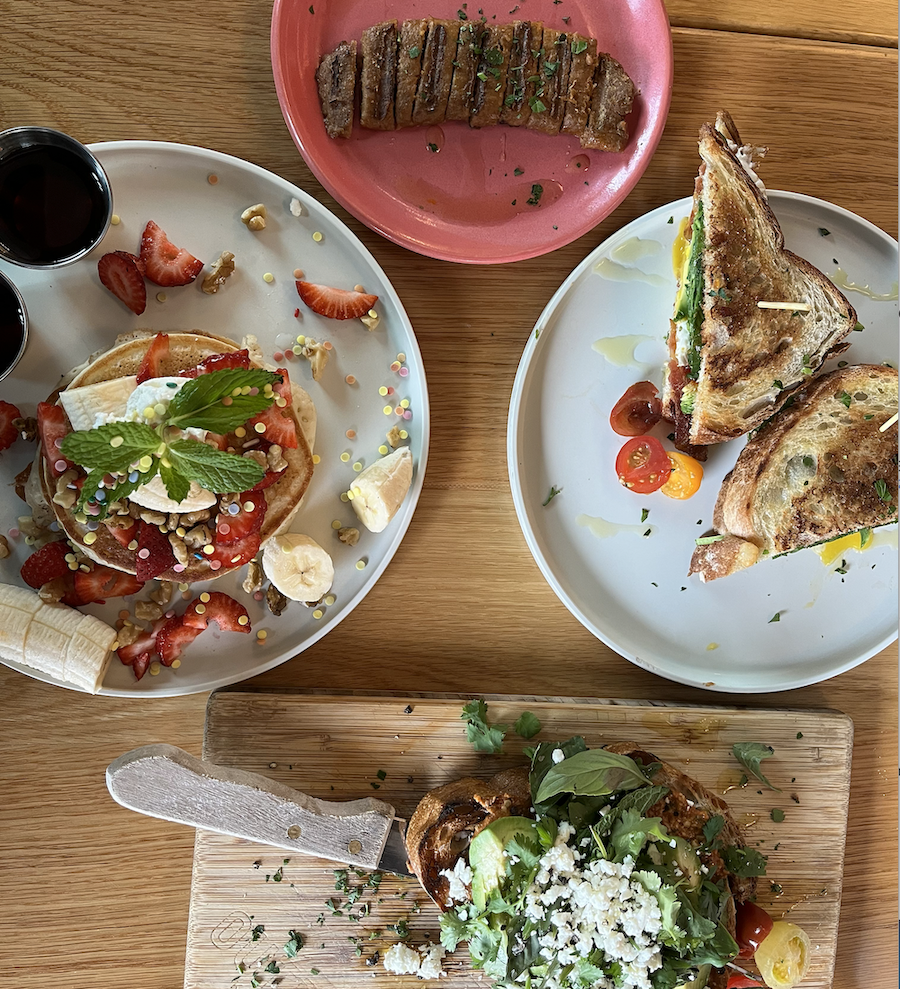 Another brunch we were thrilled to capture in a TikTok video, Outpost Kitchen has 2 locations in Costa Mesa. The gourmet coffee and organic food experience is reminiscent of owner Jay Lewis's Australian hometown. The Avocado Toast is a good example; more than just toast and avocado, it includes Pappadew pesto, feta cheese, fresh Asian greens, and don't forget to add a poached egg to put it over the top. Outpost offers vegan and veggie-friendly options with pistachio granola or the date mate salad, with kale and dates, plus fresh juices and smoothies. Our picks? The Bam Bam Burrito with Spanish chorizo, blueberry pancakes with lemon curd, and of course the gorgeous avo toast.
3420 Bristol St, Costa Mesa. Breakfast daily until 3pm; weekend brunch 9am-3pm.
7. Memphis Cafe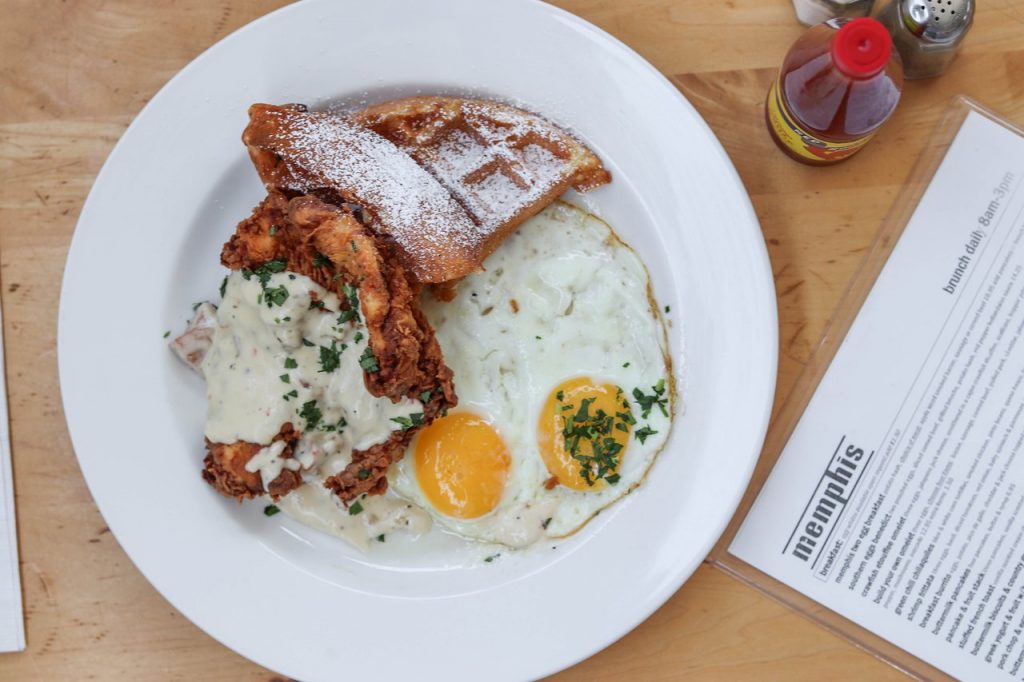 A funky cafe with down home soul food, Memphis Cafe is a must-stop brunch spot on your Costa Mesa Eatcation®! Memphis is your place for comfort food, to be sure. Indulge in the amazing buttermilk fried chicken and waffles, or the Southern eggs benedict on brioche with chipotle hollandaise and crispy potato cakes. They've got other decadent faves like barbecued shrimp and green chili grits, a pulled pork sandwich, and even a right Southern po'boy with fried catfish or shrimp. Get ready for naptime after this brunch experience… or at least a long stroll around The LAB retail center next door.
2920 Bristol St., Costa Mesa. Tuesday-Sunday, 9am. Reservations suggested.
8. Black Knight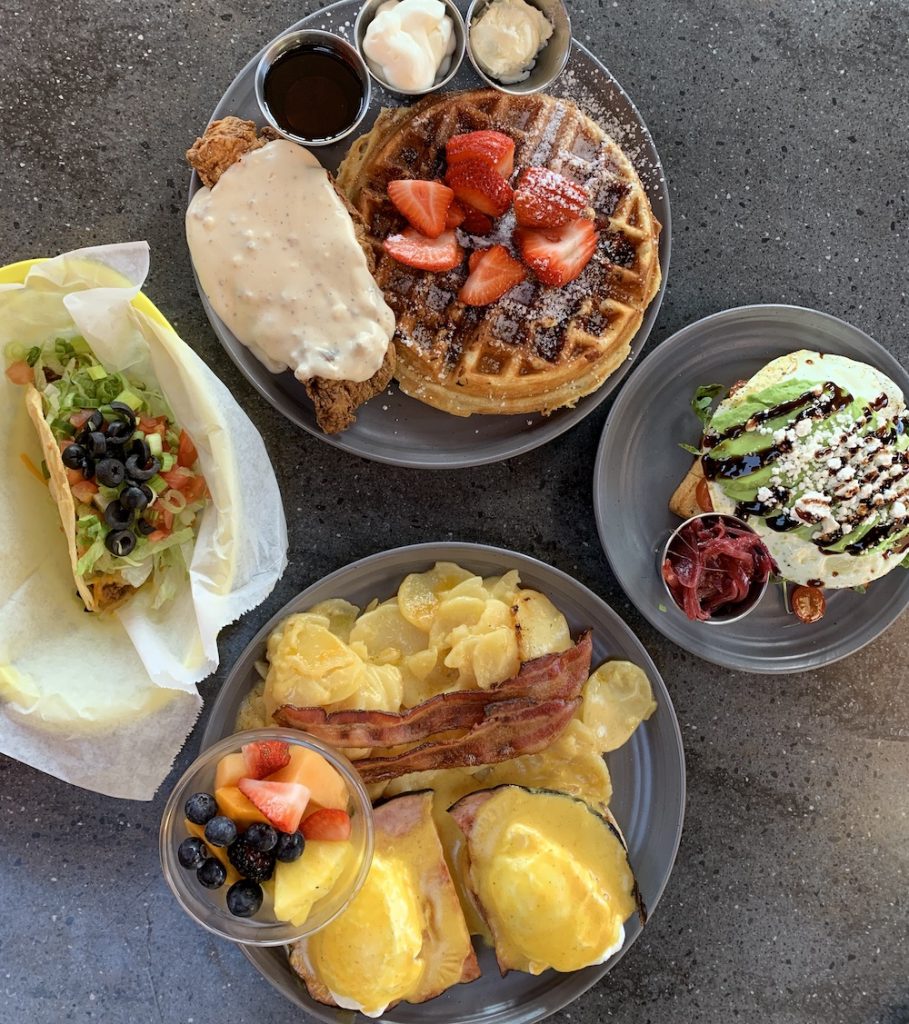 Black Knight Gastro Lounge at Triangle Square may not be on your Costa Mesa radar, but it should be. They call themselves the "destination for casual socializing, midweek cocktails and your weekend stops." A great spot for small plates or maybe even your very own generous entree, Black Knight is also open for lunch, dinner and late night, a great spot to watch local sports or just have a glass of wine or craft cocktail.
For brunch, we recommend the fantastic Little Knight tacos, eggs Benedict, or their special breakfast pizza (there's even a late-night takeout pizza window if you want to try one of their other pizzas later in the evening). Don't forget that Bloody Mary to go along.
At Triangle Square, 1870 Harbor Blvd., Costa Mesa. Saturday 11am or Sunday 9am for brunch.
9. SOCIAL Kitchen & Bar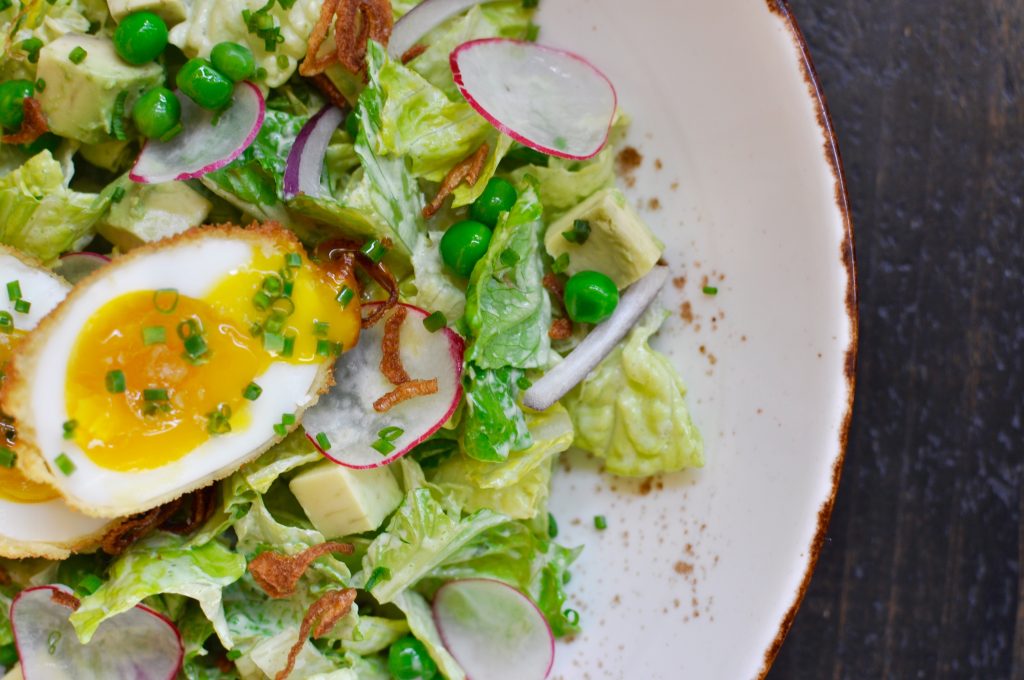 SOCIAL is another all-day Costa Mesa favorite, but we love to relax in their outdoor patio for a leisurely weekend brunch. With personal dishes or dishes to share, it's the perfect spot to hit with friends. Enjoy the Drive Thru Burger with double Akaushi beef patties on a brioche bun, and one of our personal favorites shown above, the Green Goddess salad with butter lettuce and feta cheese and oh…that glorious green goddess dressing. Share the house fries or Brussels sprouts and don't miss sampling from their spectacular craft cocktail list – old fashioneds, palomas, and bottomless mimosas are offered.
512 W. 19th St., Costa Mesa. Weekend brunch 11am-3pm. Reservations recommended.
10. Breakfast Republic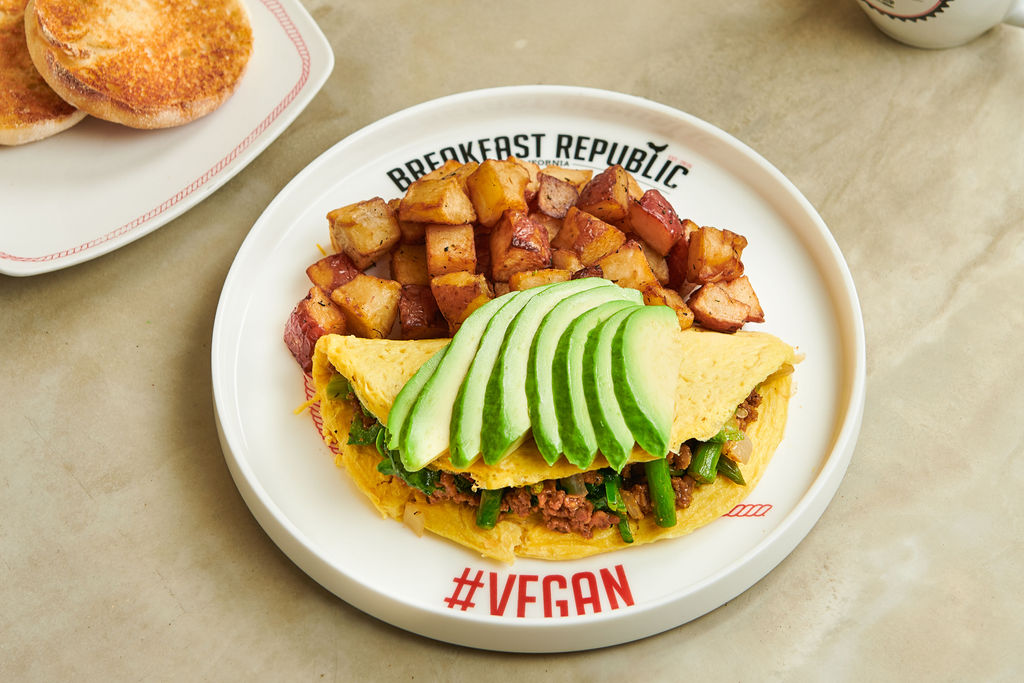 For all-day breakfast, look no further. Breakfast Republic Costa Mesa made a stop on our TikTok channel, and we loved every bite. Enjoy traditional American scrambles and pancakes or special unique dishes like crab and crawfish cake Benedicts, breakfast jambalaya, or turkey meatloaf hash. Breakfast Republic proudly offers many delicious vegan, vegetarian and gluten-free options. Get a side of the cinnamon-ginger coffee cake for dessert.
410 E. 17th Steet, Costa Mesa. Open daily 7am-3pm.
11. Eat Chow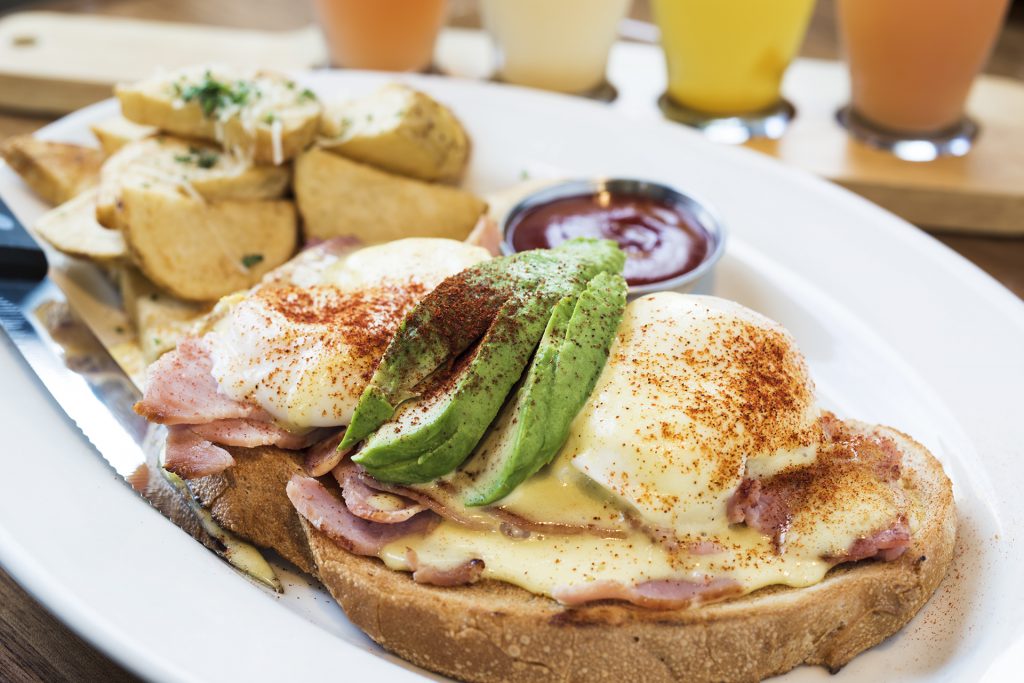 Rounding out our top brunches list is another Costa Mesa favorite and a staple of Costa Mesa's Eastside neighborhood. Eat Chow Co-Owners Brian McReynolds and Amy Frawley serve up breakfast favorites with a twist like spicy chorizo hash, breakfast tacos with chicken sausage, churro French toast and so much more. Get a classic eggs Benedict and a side of their famous skinny truffle fries to share, one of our all-time top french fries. Eat Chow's also curated a selection of "breakfast beers" to pair with your brunch, along with a variety of mimosas.
1802 Newport Blvd., Costa Mesa. Weekend brunch 8am-3pm.