Travel Costa Mesa Blog
Archives for Locals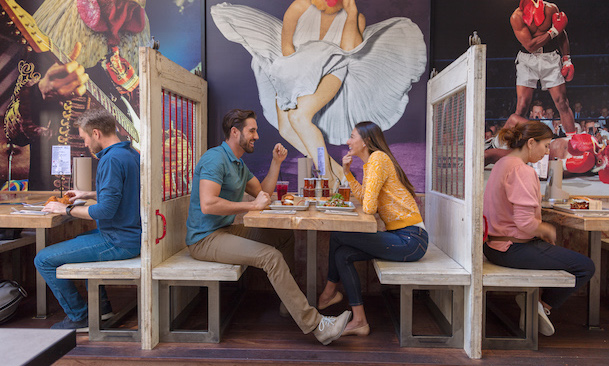 Dinner and a movie has its place in the dating realm – especially thanks to Costa Mesa's incredible culinary scene – but what about those times you want to step outside of the box for date night? For those times you need a unique Costa Mesa date night, we've put together a list of eight of some of the best. All that's left to do is figure out how to fit them all in because trust us, you're going to want to!
Posted in Food, Locals, Music & Art, Play
A fall getaway, why not? Consider taking a trip to Costa Mesa, in the heart of Orange County, the ideal location for a few days away to relax and enjoy the changing of the seasons and all the Orange County events happening. Hotels in Costa Mesa are running great weekend deals that make it easy to find a reason for an escape.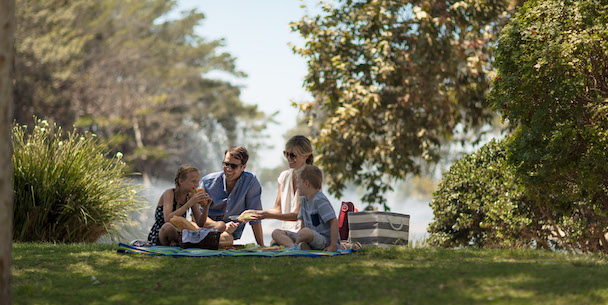 If you want to explore the festivities that fall brings, we've got a great lineup of activities from festivals, to pumpkin carving, holiday decorating, train rides and more. Just a short drive from San Diego or Los Angeles, or a one-hour flight from Arizona, Nevada or Northern California into John Wayne Airport, it's easy to get to Costa Mesa so you can maximize your weekend fun and all the events happening in Orange County.
Costa Mesa is used to being on the cutting edge for food and drink, and the latest trends in coffee are no exception. When it comes to cold brew or a variety of craft coffees, this city is on it. Here are 5 great places to get craft coffee in the city.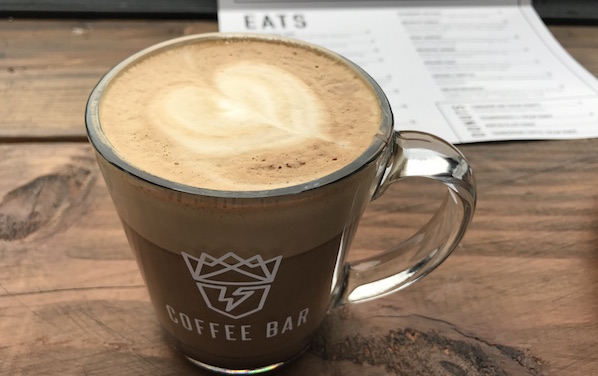 Known as one of the originators of cold brew coffee, Thunderking won't share its secret, but says the process is 'long' and 'cold' and what makes their flagship bottled brew so smooth and pure. Thunderking recently opened a Coffee Bar located inside SOCIAL, a trendy restaurant on the west side of Costa Mesa. Along with traditional hot coffee drinks, Thunderking serves its proprietary organic cold brew on tap. Guests can enjoy a variety of innovative caffeinated beverages that combine Thunderking's nitro-brew with SOCIAL's house made syrups, cordials and bitters, each available with or without alcohol. The lineup of nitro-brew drinks include:
White Girl Latte: nitro cold brew, salted vanilla, cream, cinnamon (vodka optional)
Mint Mojito: nitro cold brew, mint, lime simple syrup, cream (rum optional)
The Better Buzz: nitro cold brew, orgeat, coconut water, salted vanilla cream (coconut rum optional)
To pair with its coffee creations, Thunderking offers a selection of breakfast and lunch menu items curated by the culinary team at SOCIAL, such as:
Nooks and Crannies: almond butter, house strawberry jam, toasted sourdough
Avocado Toast: crème fraiche, confit cherry tomatoes, pea tendrils, radish, tarragon
SOCIAL Benedict: house-made buttermilk biscuits, pulled pork, slow egg, creole mustard hollandaise
Thunderking is open daily from 8 a.m. to 3 p.m. Located inside SOCIAL at 512 W. 19th St., Costa Mesa.
Voted best coffee roaster in 2015, Portola Coffee Lab was the brainchild of husband and wife co-owners, Jeff and Christa Duggan. A scientist at heart, Jeff credits coffee for helping him further pursue his love of chemistry and science and allowing him to bring this love to fruition in the popular flagship location of Portola Coffee Lab inside The OC Mix at SOCO in Costa Mesa. Utilizing their on-site roasters with an all-organic line of coffee, Portola serves up many traditional coffee drinks, including a refreshing cold brew that locals crave. Fans of this craft coffee spot line up throughout the day to get their fix. On the weekends, Portola is a destination of its own as aficionados of espresso and cappuccino travel for miles to enjoy their favorite cup of coffee in the laid-back atmosphere at The OC Mix. Recently, on the six-year anniversary of Portola, the team renovated to expand the space and add more seating around the coffee bar making a more engaging customer experience. This quickly became a popular space for professionals and students to enjoy their coffee and get some work done with the background buzz of coffee grinders and visitors milling around the center. Hours: Monday through Friday, 6 a.m. to 9 p.m., Saturday, 7 a.m. to 9 p.m. and Sunday, 7 a.m. to 8 p.m. Located at 3313 Hyland Ave., Costa Mesa.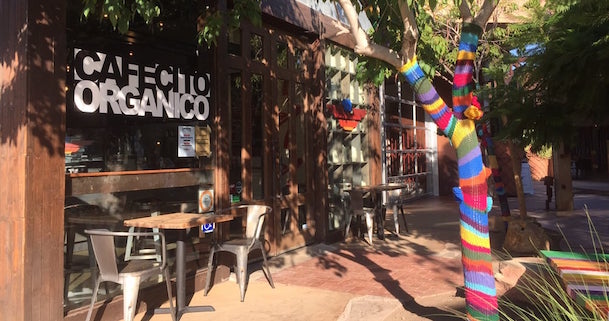 Located in the funky and cool outdoor center called The LAB "anti-mall," Cafecito is a true neighborhood coffee spot with a wholehearted attempt to support livelihood and biodiversity, bringing people together one cup at a time. Originating in Los Angeles, Cafecito Organico works with small growers and family farms that produce high-quality coffees sustainably. Their commitment to delivering a quality product carries over to the staff members they employ, who are trained to brew the best cup of coffee, and treat every customer as their guest. On any given day, students can be found plugged in, studying and enjoying an iced coffee to keep them going, or business folks stopping in for an afternoon pick-me-up. The menu consists of the traditional espresso, latte and Americano, and they definitely have a quality cold brew as well as a variety of teas. While there are a few tables inside and out, there is plenty of seating in this eclectic shopping and dining area. Take a coffee to go and relax in the 'living room' area or sit by a soothing water feature just outside the shop. Food and snacks are limited here, but the nearby Goodtown Doughnuts or PopBar offer yummy treats to pair with your cup o' Joe. Open 8 a.m. to 6 p.m. Sunday through Thursday and until 7 p.m. on Friday and Saturday. Located at The LAB, 2930 Bristol St., Costa Mesa.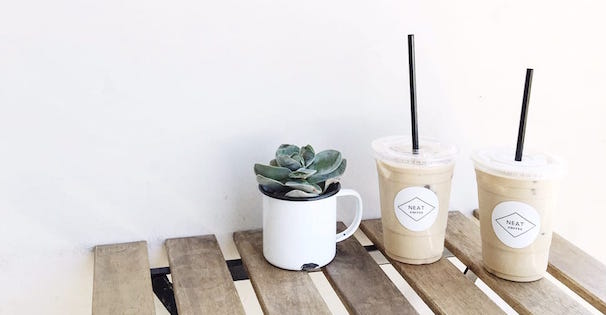 Dubbed by one customer as 'the best cold brew in Orange County' and known for their seasonal (fall) Golden Latte, Neat is a hidden gem located in a co-working office space in Costa Mesa. While living in Uganda, husband and wife owners, Ally and David, were inspired by the coffee roasting process. They also loved the idea that coffee brings people together, so when they moved to the U.S., they were committed to working in the business. Soon after settling in, Neat was born, carrying high-quality beans from some of the best West Coast roasters. House made seasonal syrups and locally-made almond milk make each cup extra special. Their website says "Costa Mesa's friendly neighborhood coffee shop" and we agree; a good cup of coffee is made better by the people serving it. This small space with only has a few seats outside, and sometimes offers pastries but no permanent food menu. Open Monday through Friday from 7 a.m. to 4 p.m. and Saturday and Sunday from 8 a.m. to 2 p.m. Located on the bottom floor of an office building at 270 Baker St., Suite 200, Costa Mesa.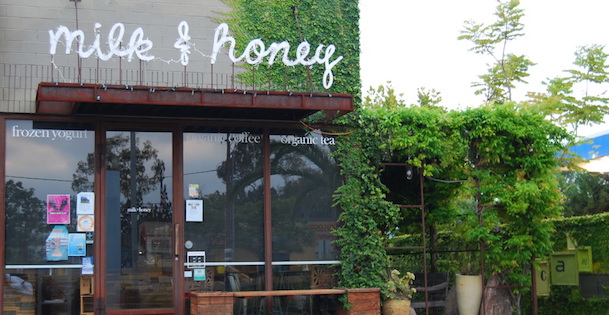 This is a super cute spot to grab a drink and catch up with a friend while sitting on the rustic, enclosed patio off to the side. Known for their Lavender Latte and a variety of other menu items, Milk & Honey offers frozen yogurt, shaved ice, acai bowls and a peanut butter and fresh fruit sandwich, as well as many other items. The Milk and Honey Special is Strawberry ice with strawberries, bananas, kiwi and mocha, topped with red azuki bean. Not only is this treat refreshing, it's a healthy start to the day and makes a great midday treat. Milk and Honey's natural ambiance makes it a perfect fit at The Camp – a sustainably focused, open-air campus with a diverse offering of restaurants and locally-owned shops. Open Monday through Friday from 7 a.m. to 10 p.m., Saturday from 8 a.m. to 11 p.m., and Sunday from 8 a.m. to 10 p.m. Located at The Camp at 2981 Bristol St., Costa Mesa.
Are you ready for some football? We know we are! The Los Angeles Chargers' highly anticipated season kicks off this weekend in Orange County. That's right, America's favorite rough-and-tumble, play-hard sport is back. For the first time, the LA Chargers will make their appearance practicing at their new training facility in Costa Mesa, the Jack Hammett Stadium. As noted in an earlier blog post, this is one of the top free things to do in Orange County this summer.
Beginning Sunday, July 30 at 10 a.m. with practices running most days from 10 a.m. to noon, this is your chance to get in on the action. See the newest draft picks, team favorites, and arrive early for a chance to slap hands with the Chargers as they head out to the field. The team is ready to welcome all fans at their "Activation Zone" (aka fan zone).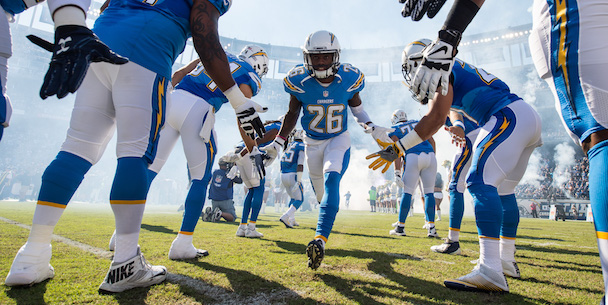 All 13 Chargers practices at Jack Hammett Sports Complex in Costa Mesa (2750 Fairview Rd.) and are open to the public and are free of charge. While Training Camp is ticketless and walk-ups are welcome, fans are encouraged to reserve free bleacher seating passes – available on a first-come, first-served basis – in advance.
During the nearly four weeks of practice, there will be some exciting preseason games to see – including the Chargers vs. the New Orleans Saints at Stub Hub Center in LA. Stop into Chargers practice the week before and see the Saints join them at Jack Hammett for practice. The Chargers will also hold a joint practice with the LA Rams. Speaking of which, the LA Rams hold their preseason training camp just down the street from Costa Mesa in the City of Irvine. If you want to catch these two teams head to head, free of charge, mark your calendar for August 9 when the Rams host the Chargers at UC Irvine.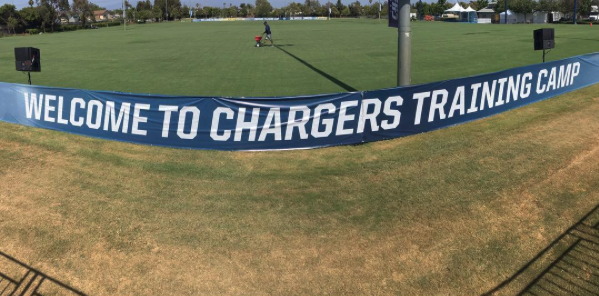 The NFL preseason gets underway this weekend and continues almost daily through the third week of August. Check out the Chargers training camp schedule and plan your final summer vacation in Costa Mesa to gear up for football season! If you're looking for things to do outside the of the daily practices, Orange County beaches are just a short drive, as is one of Orange County's main attractions, Disneyland ® Resort – and Costa Mesa hotels offer easy, convenient transportation to and from the park.
What will you be doing to celebrate the end of the summer?
With more than a million visitors to the OC Fair each year, visitors probably all have a slightly different take on how they approach this beloved Costa Mesa festival, the second largest in Southern California and one of the Top 10 in the United States. And it's definitely one of the top Costa Mesa events for a month every summer!
"Farm Fresh Fun" is the theme for the OC Fair in 2017, and that about sums up how you might approach your experience. From tasting all the amazing fair food to exploring fresh produce and newborn animals in Centennial Farm, to the attractions and live Costa Mesa concerts, there is plenty of Farm, Fresh AND Fun to experience.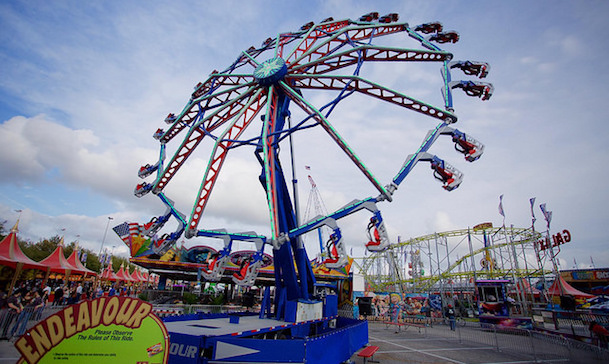 RIDES
Start your visit with a ride high above the OC Fair on the Sky Ride. An aerial tram that flies over the length of the Fairgrounds and back, the Sky Ride gives you a perfect overview of the OC Fair and a great way to see it all and navigate your fair strategy for the day. You'll enjoy a nice breeze as you soar high above the visitors, you might even see an arena show underway, and you'll definitely see the exhilarating rides in the midway area.
New this year to the OC Fair is La Grande Wheel XL, one of the largest observation wheels in the Western Hemisphere. See this beautiful Ferris wheel at night lit up with a glow that can be seen for miles. This is another great way to see the whole Orange County Fair from one vantage point. If you've already spent a few hours traversing the Fairgrounds, a ride on La Grande Wheel XL is a perfect way to give your feet a break without missing out on all the fun…and this year, your car will be air conditioned for a nice break from that hot SoCal summer sun. Fairgoers looking for a bit more of a rush can strap-in on Endeavor and experience 3G- acceleration.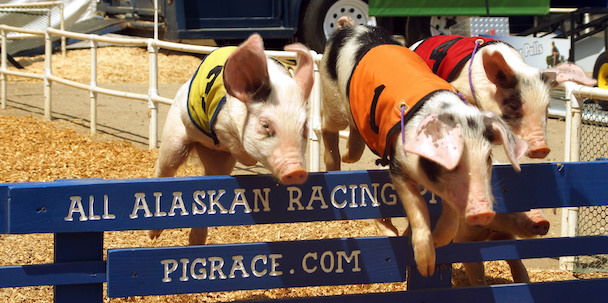 COSTA MESA CONCERTS AND FREE ENTERTAINMENT
The opportunities to be amused and entertained at the Fair are endless! Pacific Amphitheatre, right on the OC Fairgrounds, is one of the best places to see an Orange County concert. This venue seats just 8,000 people, which means every seat in the outdoor amphitheater is a good one. This year's lineup includes comedian Gabriel Iglesias, Lynyrd Skynyrd, the B-52s, Jake Owen, Michael McDonald and many others. An even more intimate space to see a local concert is The Hangar, with tribute bands performing nightly during the OC Fair.
All of the arenas and stages offer lively entertainment throughout the day and evening, from the jaw-dropping Peking Acrobats to the always-entertaining hypnotist (audience participation required) and Demolition Derby. An all-time favorite is the All Alaskan Racing Pigs, where eight pigs will race their little tails to the finish line. Grab a seat in the corral and watch the little piggies hustle!
Get your reality TV fix in person. On select days throughout the course of the Fair, chefs like Stéphane Tréand of Costa Mesa's ST Patisserie Chocolat will showcase his talents creating delicate chocolate sculptures so beautiful, you almost won't want to eat them. On July 27, the winner of Food Network's "Chopped Jr." in 2016, 14-year-old Mason Partak will once again put his skills to the test by competing live in a culinary competition with Chef Tréand. A full lineup of culinary demonstrations and intense competitions are planned and sure to make for great entertainment.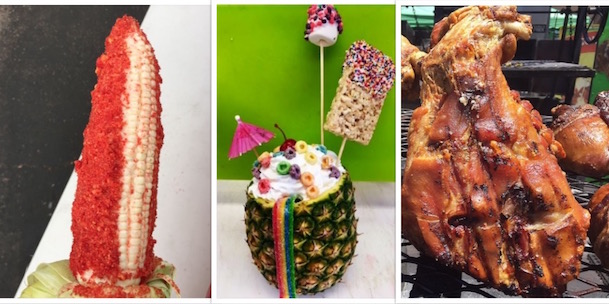 OC FAIR FOOD
Get a snack before a show, like a pie-sized soft pretzel, or wood-fired corn on the cob dressed with some mayo (or butter if you prefer), lemon juice and cayenne pepper for a kick.
Dinner or lunch options include burgers, tacos and a larger-than-usual handheld turkey leg, but there's so much more. Having received accolades for creating the most unique fried items, it's worth stopping by Chicken Charlie's. Try the sample platter of mushrooms, artichokes and zucchini, deep-fried and served with ranch. Great way to get your daily serving of veggies! Or, go for the cheese curds – deep-fried and all. Plus each year, the OC Fair gives us something new try – like a hearty 5 lb. barbecued pig leg, or the Unicorn Pineapple Bomb that will have all the kids (and maybe adults) giddy about this tasty drink served in a pineapple garnished with rainbow candies!
The folks at the Fair know how good their food is, and they want you to try it all. So they created a sample size of many of the Fair foods – think fried, wrapped in bacon, or sprinkles of sugar on top. Every Thursday from noon to 4 p.m., samples of select Fair food are available for just $3.00.
Wine tasting with Orange County's Wine Society gives you the opportunity to taste the best California wines from the 30,000 California wines entered into the OC Fair competition. Make this a stop on your journey through the Fair and enjoy a glass of wine with cheese and crackers. If you're visiting on a weekend, check out the wine seminars. Sit back, sip and enjoy live music from the surrounding stages.
EXPLORE THE AWARD-WINNING FAIR EXHIBITS
DIY Inspiration can be found throughout the Fair, where Pinterest comes to life right in front of you. Find formal table settings, to award-winning jams and jellies and this year, some of the best brewers will have their craft beer blends on display.
And, if you're a collector, or want to see someone else's interesting collection, head over to the Centennial Farm area (inside adjacent to the award-winning produce display) and you'll find collections of stamps, stuffed animals (think Ty Beanie Babies), Disney items, antique dolls and more.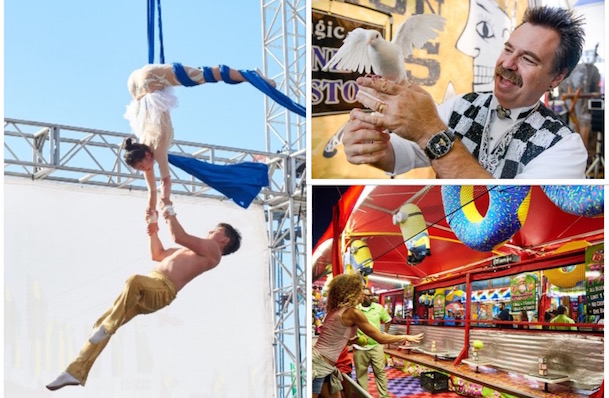 PLAN YOUR VISIT AND MAKE A WEEKEND STAY OUT OF IT
With so much to do, there's not enough time, but for 23 days this summer, you can return to the OC Fair to experience all it has to offer. You can always extend your stay in Costa Mesa to get the most out of the Fair, take a break at one of the nearby hotels, cool off and take a swim, or head to the beach for a day of relaxation.
OC Fair Admission is $12 during the week and $14 per person on the weekend. But there are also many ways to get discounts to the fair. A few of them are listed below.
Veterans and active-duty military personnel – Admission is always free with ID and their guests can purchase up to six half-price tickets.
We Care Wednesday – Get free admission and one free carnival ride when you donate items to select local nonprofits between noon and 3 p.m.
Kids Day – Each Thursday, children 12 and under get in free all day.
Best Deal Ever – On Saturdays and Sundays (from 11 a.m. to 1 p.m.), Fairgoers can take advantage of half-price admission and carnival rides for half the usual number of tickets.
We hope to see you experience some good 'ol "Farm, Fresh, Fun" this summer in Costa Mesa!
What ride, concert or event are you most excited to see?