Travel Costa Mesa Blog
Archives for Locals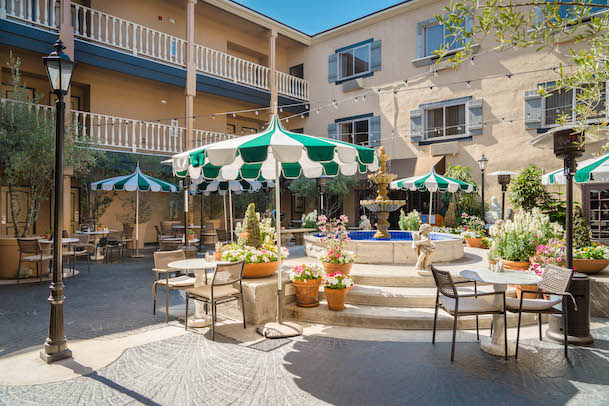 Costa Mesa has every option you need to treat mom to a perfect Mother's Day brunch. Whether mom's up for an elegant Michelin-star experience or a lively brunch, the table's set for you, mom and the family to enjoy the special celebration. Read on for some ideas of where to brunch in Costa Mesa.
Read More
As lives return to something closer to normal, it's time to celebrate Mom (safely, of course) on Mother's Day with great gift ideas, special brunches and other great offers. Here's how to make the most of your Mother's Day in Costa Mesa!
Pampering Mom couldn't be sweeter and more treasured this year, with the loosening of COVID-19 restrictions in Costa Mesa. Choose South Coast Plaza for a great day of shopping and perfect ideas for a Mother's Day bite. Here are some offers from South Coast Plaza restaurants for the big day: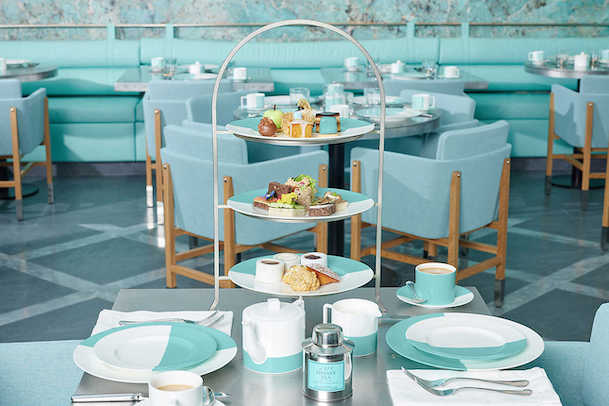 Tiffany & Co. Blue Box Cafe
Breakfast at Tiffany For Two
If only Audrey Hepburn could join you! The world-famous jewelry retailer offers their special cafe experience in only two spots in the U.S., including at South Coast Plaza. The bento box packaged menu includes chia seed yogurt pudding with farmer's market fruit, croissants with organic strawberries and lavender mascarpone, Tiffany avocado toast, smoked salmon and buckwheat mille feuille, and Bellocq No. 727 The Tiffany Blend: a floral infusion of Chinese and Ceylon black tea with notes of lychee, rose buds, lavender and vanilla.
Tea For Two
A delightfully elegant tea service for you and Mom begins with assorted scones and Devonshire cream, cherry ginger marmalade and wildflower honey. Next tea sandwiches with a variety of fillings—smoked salmon, lemon cucumber, chicken salad, truffle and mushroom butter, goat cheese, fig and honey–as well as a petit lobster roll. End with a generous selection of petit fours and confections such as chocolate hazelnut Rocher, opera cake, citrus-olive oil cake and Key lime cheesecake. Included is a tin of Bellocq No. 727 Tiffany Blend Tea.Breakfast for 2, $120, excluding tax. Tea for 2, $150, excluding tax. For more details and to preorder 48 hours in advance, or for information, please call (714) 540-5330 and press 7.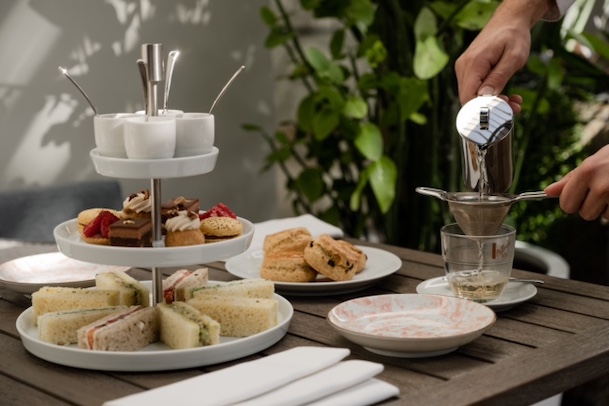 Knife Pleat
Knife Pleat offers Mother's Day tea on Sunday, May 9th! Guests will begin the classic tea service with scones, clotted cream and house-made marmalades. Finger sandwiches on assorted breads include Persian cucumber, egg salad, beet-cured salmon and chicken salad. End on a sweet note with cream puffs, seasonal fruit tart, macaron and the signature chocolate Louis XV. Select from six teas such as jasmine, Earl Grey, rooibos raspberry vanilla, assam and sencha. À la carte champagne and caviar service will be available.
11am-2:30pm (last seating) $75 per person, $36 children, exclusive of tax/gratuity. Reservations advised.
Terrace by Mix Mix
One of Costa Mesa's hottest chefs, Ross Pangilinan, is serving a three-course brunch for Mother's Day at his beautiful terrace restaurant in the Macy's Home Store wing.
Guests will have a choice of four starters: seared yellowfin tuna, house Caesar, "snack" plate of bacon-wrapped date, mushroom tempura and signature albacore tostada or a trio of toast: avocado, goat cheese and chicken liver mousse.
Main course selections are house-made bucatini, diver scallops & pork belly Benedict, prosciutto pizza, or for a $10 surcharge, beef ribeye with sides. A lemon semifreddo or chocolate potato cake are offered for dessert. Kids' menu has three choices: French toast, cheese pizza, or pork adobo with fried rice.
11am-3pm. $50 per person, $12.50 kids, excluding tax/gratuity. Reservations advised.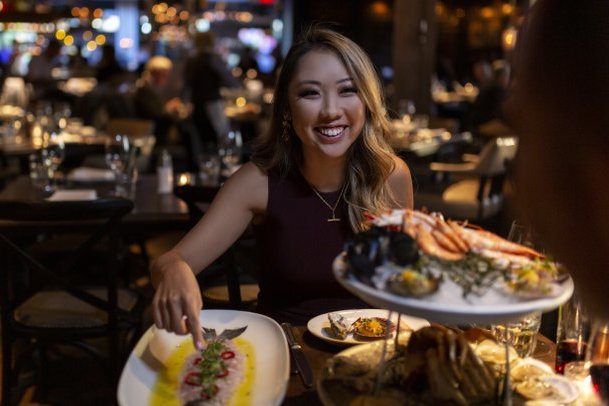 Water Grill
Enjoy an unparalleled offering of fresh seafood such as wild Alaskan halibut, iced shellfish platters, sushi and seasonal soft-shell crab. For Mother's Day only, there will be specials for the day, a new spring cocktail and dessert featuring Harry's Berries over lemon sable cake.
11am-10pm, Reservations advised.
The Capital Grille
The Capital Grille will open early serving the full dinner menu of contemporary classics as well as three brunch features: lobster frittata, bone-in NY strip steak and eggs and 8 oz. filet mignon from 11am-2pm.

Another option is Mother's Day at home. A three-course dinner features whole roasted tenderloin of beef with butter poached lobster tails as the main course with accompaniments to share. Guests will start with a butter leaf lettuce salad and French rolls and finish with flourless chocolate espresso cake and chocolate covered strawberries. The pre-ordered dinner will be ready to warm and enjoy at home.
11am-9pm. Reservations needed for dine-in à la carte menu. Mother's Day at Home starts at $165, excluding tax. Available for pick up May 8, 12-5pm; May 9, 10am-12pm.
Seasons 52
Seasons 52 offers dine-in and outdoor seating for Mother's Day with its popular, fresh à la carte menu that includes brunch selections. A takeout Green Box is the perfect option for those who prefer to dine at home. It offers three entrée selections and is available in two sizes.
Brunch, served 10am-2pm, includes à la carte specials for Mother's Day. Avocado toast, strawberry spinach salad, asparagus soup and lobster bisque are starters for the day. Brunch entrées include crab and cheddar quiche, French toast, apricot-glazed ham and wood-grilled shrimp and grits.
Green Box three-course menu starts with either field green or Caesar salad. Wood-grilled beef tenderloin, whole side of cedar plank-roasted salmon and apricot-glazed spiral ham are selections for the group entrée, served with roasted French green beans and a choice of sweet potato mash with maple-pecan streusel or marble potatoes. Finish with Mini-Indulgences: chocolate-dipped strawberry, coconut cream pie or raspberry chocolate chip cannoli. Food is chilled and ready to be reheated when convenient; pre-order required.
10am-2pm, brunch; à la carte menu until 9pm, Reservations needed for dine-in. Mother's Day Green Box for 2 or 4-6; prices range from $55-$165 depending on size and entrée selection, excluding tax. Available for pickup May 7-8.
Outside of South Coast Plaza, there are even more great brunch celebrations to choose from. Here's more: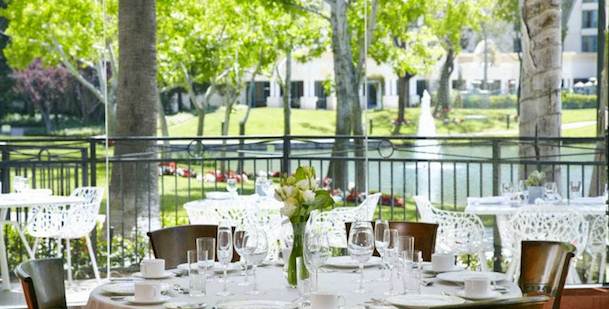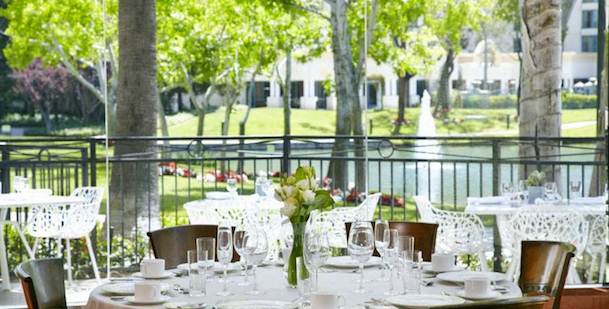 Silver Trumpet
Choose the spacious outdoor lakeside patio to enjoy Mom this Sunday. Silver Trumpet Restaurant at the Avenue of the Arts Hotel presents a very special Mother's Day brunch! Choose from many items such as Smoked Trout Tartine to Steak & Eggs or Blueberry Pancakes – there's also a build-your-own omelet bar. See the menu for all offerings in this special brunch. Please reserve your spot by calling the restaurant at (714) 442-8593.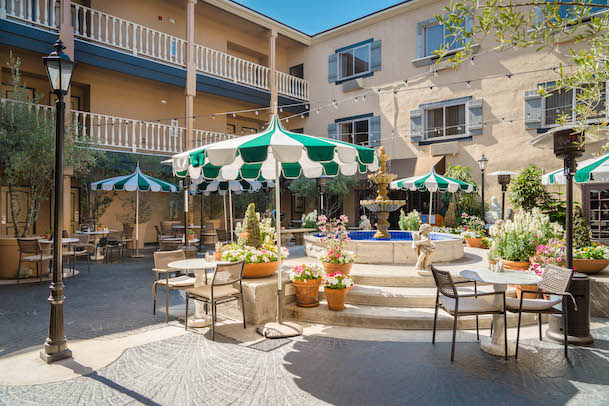 Le Chateau Garden Bistro
The beautiful Le Chateau inside the Ayres Hotel is offering a brunch in their outdoor courtyard that will make Mom feel as if she's been transported to the French countryside. With an omelet station and an à la carte menu as well, let Mom choose from eggs benedict, Belgian waffles, herb-crusted prime rib or Le Chateau's famous Monte Cristo sandwich. Plus, bottomless mimosas for just $15! Available Sunday from 10am to 3pm. See the full menu here and call (714) 549-0300 for reservations.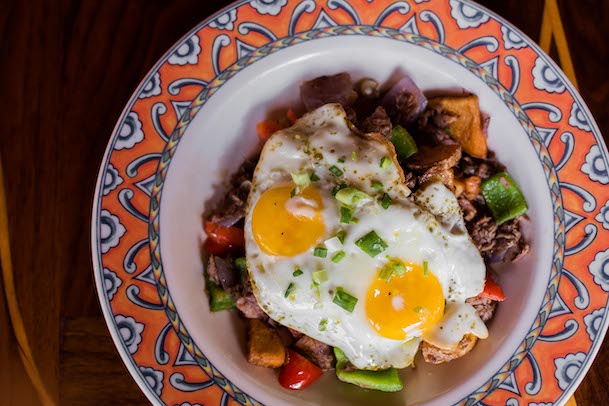 Cafe Sevilla
Celebrate Mother's Day at Cafe Sevilla this Sunday, May 9th. You can spoil mom 3 different ways on her special day as outlined below:
Champagne Brunch and Live Music
Treat mom to our delicious brunch menu while listening to live Spanish guitar and vocals from 10am-3pm. All moms will receive a complimentary glass of champagne during brunch. The menu includes favorites such as our Spanish Eggs Benedict (Poached farm fresh eggs, Spanish jamón Serrano crisp and saffron hollandaise on Kalamata olive loaf); Short Rib Hash (Hash of 16 hour braised Rioja short ribs, papas bravas, bell peppers and onions topped with two fried eggs); or the Breakfast Meat Paella (Pork tenderloin, grilled sausages, chicken and flat iron steak served over authentic saffron bomba rice and topped with two fried eggs). Bottomless mimosas are also available (with a 1.5 time limit). Dinner menu is also available during brunch.
Dinner and Live Music
The Mother's Day celebrations continue into the evening with dinner and live Latin music by Tian Musica from 6pm-8pm.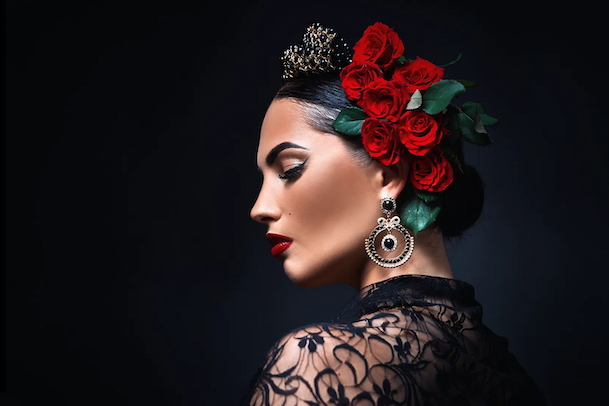 Special Mother's Day Flamenco Show at Cafe Sevilla!
Looking for something extra special for mom this Mother's Day? Treat her to Cafe Sevilla's Flamenco Dinner Show, offering a sensory indulgence of sight, sound, and taste, leaving her with a piece of truly Spanish culture. Marvel at the passion, beauty, and athleticism of this traditional art form as you enjoy a welcome glass of cava sangria paired with a 3-course dinner featuring our Shaved Jamón Serrano Ensalada Sevillana followed by our award-winning Paella Valenciana and Lemon Tart with Linguee Cherries for dessert. ​The Flamenco Dinner Show is $89.50 per person* and tickets must be purchased in advance. Doors open at 5pm and the show starts promptly at 5:30pm. *price does not include tax/gratuity.
To provide an enjoyable and safe dining experience, Cafe Sevilla has a spacious​ patio for outdoor dining as well as limited capacity indoor dining.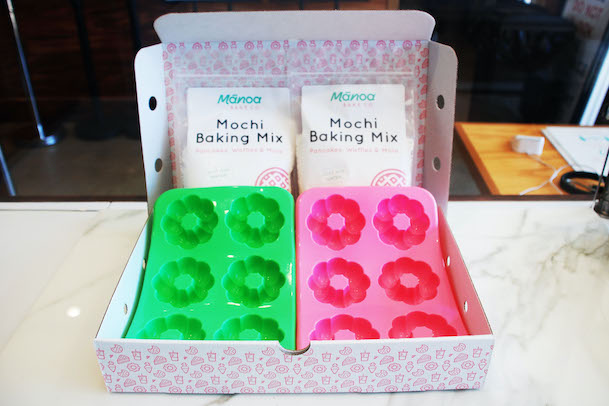 Fill Bakeshop
Stay home with mom and make some sweet treats! Fill Bakeshop is teaming up with Manoa Bake Co. to offer two bags of Mochi Baking Mix and two mochi doughnut Molds for $24.99. This adorable offering will come inside their half-dozen box and makes the perfect Mother's Day gift. Preorder now!
Where will you be taking Mom for Mother's Day, or will you be staying in? Let us know in the comments. Either way, have a Happy Mother's Day!
Father's Day is June 21. With Orange County moving into Stage 3 of reopening, there's so much to do in Costa Mesa while keeping your family safe (and making things easy on mom). Here are our recommendations for spending a day in the City of the Arts®.

Activities

Costa Mesa Country Club offers plenty of fun for golf lovers. You can practice on the range or putting green, or play a full 18 holes on one of two municipal courses. You can even schedule a golf lesson with a PGA pro! Grab lunch at 19th Hole, a restaurant with a full service bar, three televisions and views of the course. Insider tip: for the best rates, book your tee time online.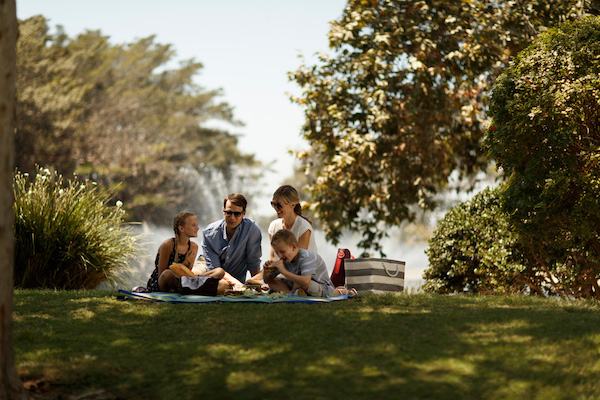 If golf isn't his thing, enjoy an afternoon at one of Costa Mesa's beautiful parks. Most city parks are open for active or passive use, including picnics. Select Fairview Park trails are open as well, though Costa Mesa Skate Park and Bark Park remain closed. Whether you want to bring your bikes, play games, hike or have a picnic, you can enjoy the warm California weather and Costa Mesa scenery.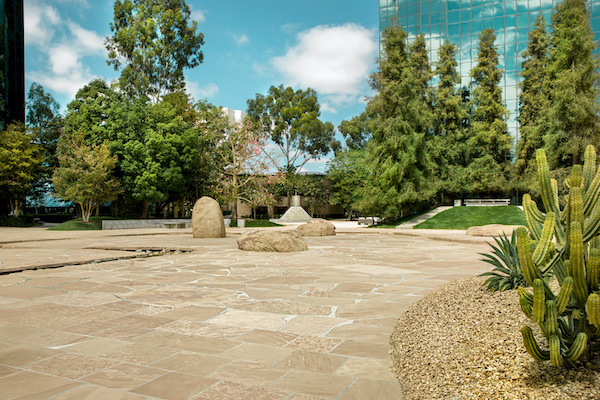 You can also take dad on a scenic tour of the Costa Mesa Art Walk. The art walk features sculptures around South Coast Plaza, Segerstrom Center for the Arts and South Coast Repertory. The tour includes one of the country's preeminent sculpture gardens, California Scenario (also known as Noguchi Garden). For more information on the sculptures, check out our guide to visual arts here.

Dining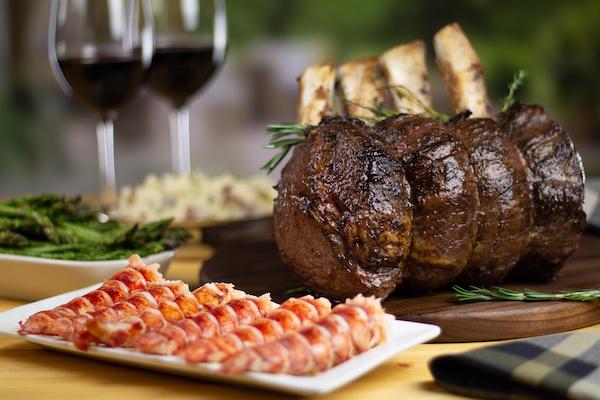 Celebrate dad (and give mom a night off) by getting dinner from one of Costa Mesa's acclaimed restaurants. Restaurants are open for dine in and take out, so you can enjoy a night out or keep the party going at home. Find out which restaurants are open on our restaurants updates page. 

In addition to regular menu items, some restaurants are serving special Father's Day menus. Get BBQ and beer curbside from Old Vine Kitchen & Bar, which includes a pound of pulled pork confit, corn slaw and cheddar buns for 4. The Capital Grille's three course "Man of the Hour" dinner, for either 2 or 4, comes with a prime roasted rack of ribeye, mashed potatoes and cheesecake, along with a special gift for dad–a jar of their signature steak sauce. Start the day off with Plum's Cafe Father's Day Take Away brunch, for 6 or 8, with a pancake bar, pepper bacon and apple sausage, frittata and more.

However you choose to spend dad's day in Costa Mesa, be sure to bring your face masks and maintain appropriate social distance to keep your family safest.

Posted in Events, Food, Locals, Music & Art
Simplify your business with Scrum
Scrum is traditionally used only for software development. But do you know how to use this methodology to make your business simpler and more productive?
Sometimes the simple things are the best. Unfortunately, managing a business – or even a department – can be far from simple. This is why many organisations look to apply management models to their operations, and Scrum is increasingly becoming the framework of choice. Let's take a look at how it can be used!
Scrum and the Agile business
Scrum is a practical methodology that is used to apply the Agile principles to a project. It was originally developed to help software development teams stay on track and work well as a team even when under pressure to deliver.
As with most great frameworks, the Scrum model can be applied to other scenarios than for what it was originally designed. Many organizations have discovered that Scrum is not just great for software development but can benefit many other business areas. Find out more detailed information about agile vs scrum differences.
A tried and tested model
The reason why Scrum is such an efficient model to use in business is because it has been tried and tested in highly challenging situations where time and resources are limited. It allows people to continuously extract value from their whole team's collective knowledge and ability, which can otherwise be very difficult to do.
Let's take a look at some of the central Scrum principles and how you can use them to build a more agile and efficient business.
Simplicity: Defining the product
When working with software development, it is of course obvious what the product is. However, in Finance, HR, or Sales and Marketing, the 'product' can be slightly more difficult to define. However, you can use the same concept to consider what your goals and your most central deliverables are. This will help to create clarity across your teams and make sure everyone shares the same goals and visions.
Adaptivity: Managing change
Just like software requirements and technology can change over time, the business environment constantly changes around us. Scrum takes this into consideration by allowing for shifting requirements and keeping an adaptive approach. If the needs of the customer changes, the business should change its direction by having a model for adopting feedback and implementing it.
Productivity: Getting things done
In software development, the Scrum model works with short, frequent 'sprints' that last for 2-4 weeks. These are designed to keep momentum and energy high, by giving the team a sense of achievement as well as urgency. In other departments, these sprints may need to be longer or shorter. The objective is to keep everyone's mind focused on delivery and staying on top of their allocated tasks – in order to reach the team's shared goals.
Frequent Delivery: Constant review
Scrum is built on the principle of creating early visibility of product features and value, to help everyone involved to understand the product and give feedback on it. In business, this idea can be transcribed to having regular points of delivery and review – sometimes with just your line manager – to keep on top of any issues and resolving them early.
Accountability: Taking ownership
One of the most famous elements of the Scrum methodology is the daily meeting. This is where the entire team gets together for a quick run-through of everyone's progress, current activities, and any challenges they may have. This is a great way to ensure every team member gets heard and recognised, but it also allows the team to address any issues together by sharing knowledge and resources. In the Scrum, nobody gets forgotten and nobody can hide.
Continuous improvement: Taking stock
In a Scrum project, nobody moves from one phase to another without running a 'retrospective'; a review of the iteration delivered. In this review the team will evaluate the results, while also discussing the way those results were achieved. What worked well? What could have been done better? How can the processes be improved for next time? This is a way for businesses to ensure they are on a path of constant improvement and best practice.
As #StayAtHome becomes the norm across the country, local businesses could use a little love. From offering toilet paper with to-go orders, curbside cocktail supplies and pop-up grocery stores, businesses are getting creative to continue serving customers. Find out how you can support your local businesses while staying safe at home with our list.

Follow your favorite businesses on social media.

The news moves quickly in these uncertain times. We find that changing hours, dining options and more are often announced on social media first. Many of our favorite restaurants closed their doors, only to open them soon after with takeout, delivery and curbside pickup, not to mention special menus! How did we know a Michelin star restaurant was now serving takeout? Social media.

Swap national chains for local restaurants.

The best way to support small businesses is to choose local whenever possible. Order takeout or delivery from local restaurants on your normal dine out days. Miss happy hour? Check local restaurants to see if they're offering special pre-made drinks to go. If you normally grab coffee from a national chain in the morning, try getting curbside pickup at your neighborhood coffee place.

Buy local.

We celebrate Small Business Saturday every November, but they need us now more than ever. Buying supplies? Find out what local shops carry before heading to national stores. In Costa Mesa, we have several alternative choices including a zero waste shop for home goods and personal care items, a craft cocktail store that's offering delivery, and many more. Although some of the brick-and-mortars are closed, their online stores are open. If you do venture out to shop, the lines are often much shorter at local stores too.

Alternative grocery shopping.

Farmer's markets are considered essential and remain open in California, even with a stay-at-home order. Consider purchasing groceries directly from farmers. You can often find a wide range of goods like fruits, vegetables, meat and dairy. Some restaurants are also selling prime cuts of meat, seafood, eggs and more in pop-up shops or as part of their takeout options. Check your options before heading to the supermarket.

Commit to rescheduling.

Salons, spas and other service-related shops had to cancel appointments. Theatres and concert halls had to cancel performances. Commit to rescheduling your appointments as soon as possible. Ask the box office about alternatives to getting a refund on your tickets. If you can exchange your ticket for a later date then you'll be supporting the arts at a difficult time. Plus, you'll have something to look forward to.
There are many ways to help out businesses in your area without having to leave home. We hope you find our list useful. If you're local to Costa Mesa, we've created a page of business updates that's refreshed daily.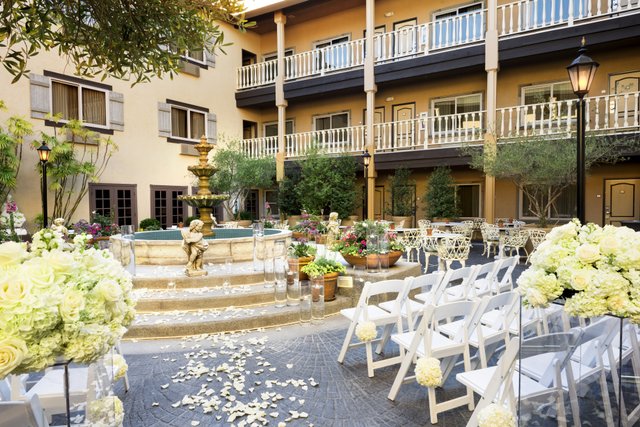 May marks the unofficial start of wedding season and while Orange County is known for its vacation spots, it's equally chock-full of incredible destination wedding venues. If you're visiting the area as a wedding guest this summer, why not take the opportunity to create your own Orange County vacation?
Read More