Did you know Costa Mesa has its very own "Ramen Row"? As Costa Mesa continues to build its image as an Eatcation® destination, a street in the urban center of the city is home to a number of outstanding ramen hotspots. Noodle houses, specifically ramen ones, are coveted by locals and visitors alike to the city. The soul-satisfying broth potent with umami flavor, juxtaposed with jammy egg, green onion and a flurry of toppings is a feast for the senses.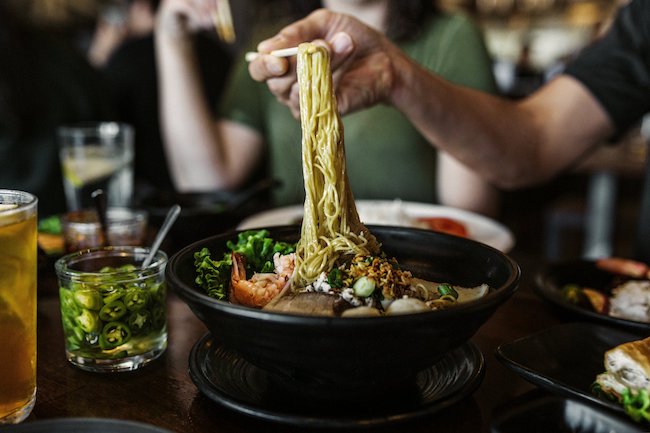 One particular throughway in Costa Mesa (and its cross-streets) is home to over a half-dozen soup stops specializing in this Japanese meal. Baker Street's evolution to what OC Register critic Brad Johnson referred to in 2018 as Ramen Row dates as far back as 2005, but the chronology has yet to be documented until now. (Note: Our listings are current as of May 2022.) As we celebrate AAPI Heritage in month of May, we're sharing these Ramen Row spots you've just got to try on your next visit here.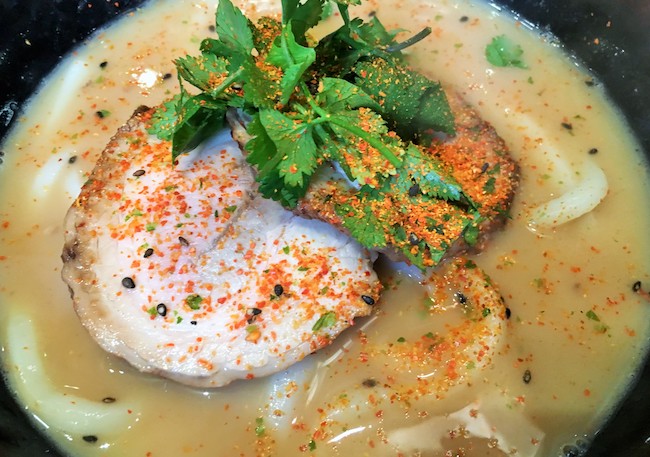 2005 – Hokkaido Ramen Santouka
665 Paularino Ave.
(714) 434-1101
The journey begins with a food court staple that sets the bar for future ramen shops. Stationed within Mitsuwa Market, Hokkaido Ramen Santouka was founded in 1988 by Hitoshi Hatanaka in Asahikawa, Hokkaido, an island in Northern Japan. Out of 14 U.S. locations, six are in California. Its signature bowl is shio (salt-based) ramen, a white tonkatsu soup topped with a single red pickled plum that possesses a mild flavor.
Pork bones are boiled for an extended period of time to achieve Santouka's specific taste. Once the white-hued soup is to specification, it isn't reboiled to maintain its desired aroma and taste; instead, the thickness of its donburi (serving vessel) is such that these bowls cool the broth at a slower rate, extending the amount of time diners can revel in their meal.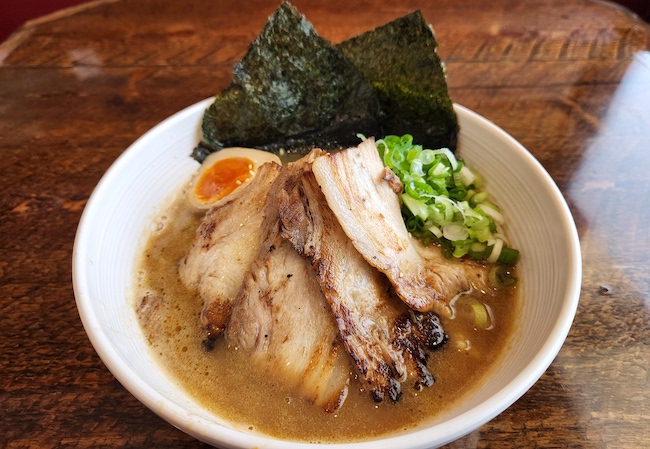 2012 – Ramen Zetton
735 Baker St., Unit B
(949) 329-5173
No website; lunch only; closed Sun/Mon
Named after the mighty villain that defeated Japanese superhero Ultraman, Ramen Zetton is owned by Leo Morita, a culinary school graduate who's worked in restaurants throughout Los Angeles before deciding to open his own establishment. Originally from Okayama, a town located near Japan's Seto Inland Sea, Morita's preference for Costa Mesa involved proximity to freeways and shopping as well as setting up shop along a busy and welcoming street.
Wanting to serve the authentic, traditional Japanese-style ramen he grew up with, Morita's regional specialty is grounded in a rich seafood stock. His signature Zetton bowl is known as "Wafu" ramen, consisting of bonito flakes, horse mackerel, seaweed and dried shiitake mushrooms blanketing a sauce crafted from seven vegetables. Ingredients are smartly balanced in a way that prevents the flavor from being overly fishy.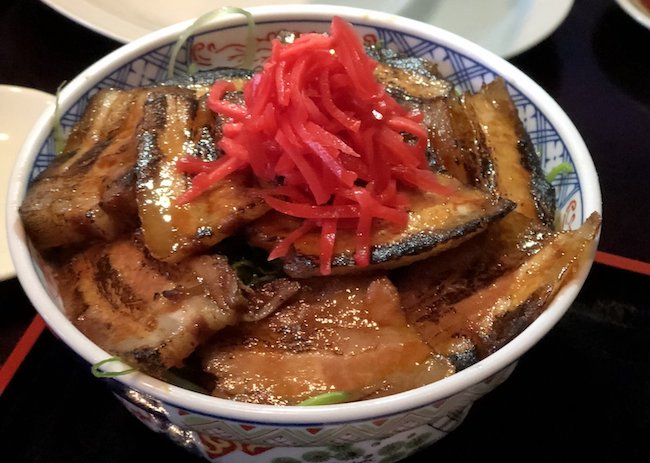 2014 – Kitakata Ramen Ban Nai
891 Baker St., Ste. B21
(714) 557-2947
The sister company of Ban Nai, Kitakata Ramen Ban Nai opened its first ode to curly noodles in Tokyo in 1987. Spanning over 70 locations throughout Japan, Costa Mesa was the brand's first international destination. Its name not only refers to the modest northern city of Kitakata, but the signature assembly of hand-crumpled strands, imported soy sauce, and freshly made toro chashu set in a golden pork broth.
Former OC Weekly restaurant critic Edwin Goei waxed poetic about Kitakata's cuisine back in 2014, claiming its top status as a resident of Costa Mesa's Ramen Town.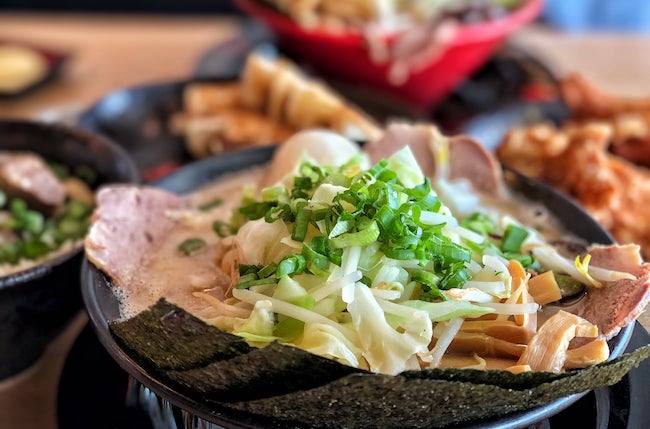 2015 – Hakata Ikkousha Ramen
3033 Bristol St., Ste. 131
(714) 540-2066
The first OC branch of this award-winning noodle house, Hakata Ikkousha Ramen's tonkotsu broth takes nearly 30 hours to prepare it to thick and creamy perfection. In fact, Hakata's broth is so delicious it won "Most Wanted to Eat Tonkotsu Ramen" in 2021 by Yahoo Japan.
Founded by Kousuke Yoshimura, he grew up in the business with a mother who ran an izakaya (Japanese bar) and father who was a sushi chef. Yoshimura previously operated a gyoza restaurant before launching his original Hakata Ikkousha in Daimyo, Fukuoka. Ikkousha translates to "one happy place", and Yoshimura hopes that whoever dines at his place is able to find some or much happiness.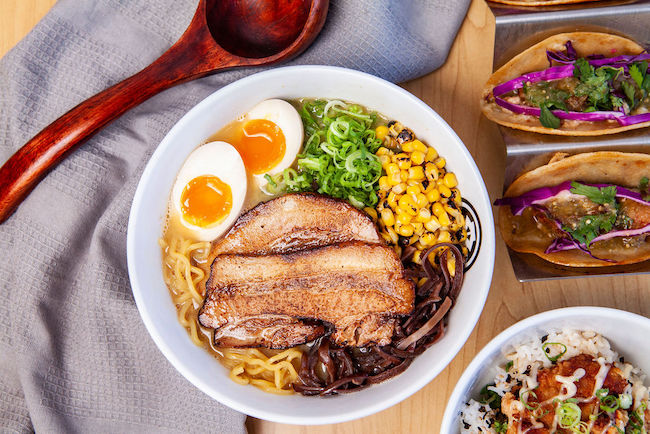 2018 – Kashiwa Ramen
1420 Baker St., Ste. C
(657) 232-0223
Kashiwa possesses a trifecta of broth options: chicken, pork and sea kelp. This serves a more diverse clientele who might not otherwise be able to partake in ramen due to diet or religious beliefs. Its most popular base is a blend of pork and chicken known as swirl or Tori Ton.
Owner Hideto Kawahara has a ramen lineage as his father founded Daruma Ramen in Hakata-ku, Fukuoka over 55 years ago. Kawahara's other noodle establishments are Hide-chan Ramen (a Michelin-recognized restaurant) and Totto Ramen, both in New York City.
When selecting a Southern California city to operate out of, both Kawahara and his operating partner Hiromitsu Yamanouchi agreed on Costa Mesa, which they consider ramen central. Yamanouchi flew to Odaiba, Japan for hands-on training by Kawahara in preparation for opening Kashiwa Ramen, which Johnson wrote extensively about, calling Kashiwa a "game-changer".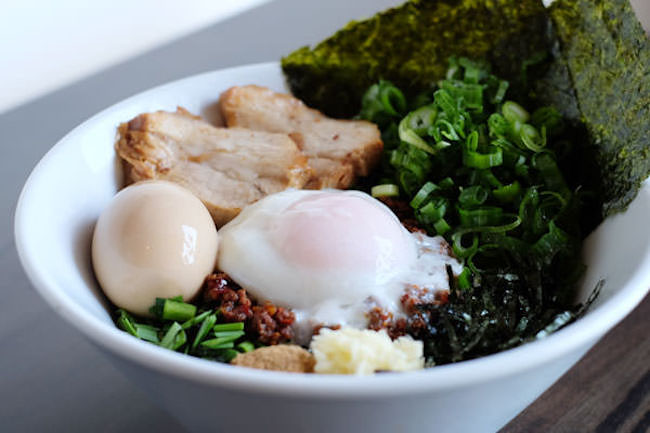 2021/March – Mogu Mogu
2969 Fairview Rd.
(714) 760-4811
Did you know there was such a thing as brothless ramen? Mazemen is essentially ramen without the broth. Made with thicker noodles, Mogu Mogu's version incorporates minced pork flavored in chili pepper and garlic-infused soy sauce, among other toppings, into its bowls. In English, the term translates to "mixed noodles" since one needs to thoroughly stir the components to evenly distribute ingredients and flavor. Utilizing the wider ramen makes for chewy noodles (think al dente) that are easier to combine.
After one is done with their mazemen, it's tradition to add a scoop of rice into the bowl to assist in finishing the meal. Brad Johnson doesn't normally make it to the rice portion of his meal, but he definitely enjoys the mazemen.
An individual by the name of Tomo was visiting Tokyo when he began eating bowls of mazemen at a noodle house helmed by chef Toshikazu, an industry veteran of over 15 years who perfected mazemen. After Tomo's initial bowl, he was convinced that it needed to be shared with the world. Toshikazu and Tomo worked together to create the first Mogu Mogu in Los Angeles in 2019 before expanding to Costa Mesa.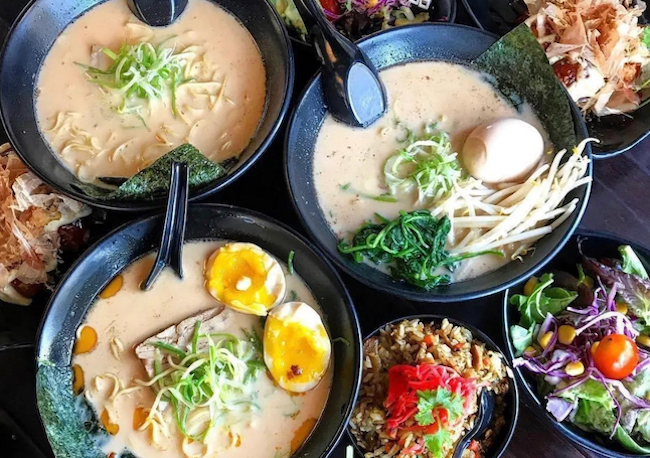 2021/October – Slurpin' Ramen Bar
2981 Bristol St., Ste. B5
(714) 966-5224
In ramen etiquette, diners express their satisfaction by loudly slurping the bowl of noodles and soup. Slurpin' Ramen Bar is a nod to this show of respect. An update on a traditional concept, this brand focuses on Hakata-style soup which translates to a rich and creamy tonkotsu ramen.
Originating in LA's Koreatown back in 2015, Slurpin' takes homemade ramen noodles and curates a meal to your liking– offering a lengthy list of possible toppings. Based in The Camp's retail complex, its endearing qualities include generous portions and congenial service staff in a calming, minimalist setting.
17 years after Hokkaido Ramen Santouka first came on to the scene, Baker Street continues to develop as an epicenter for ramen connoisseurs throughout Orange County. What's your favorite ramen spot for an Eatcation®? Let us know in the comments!