Sustainability is quickly becoming an important consideration with those planning to travel. If you're thinking about sustainable travel, Costa Mesa should definitely be on your destinations list. The City of Costa Mesa has been named a LEED Gold City, recognized for sustainability achievement and a Tree City USA community in California by the Arbor Day Foundation. Not only is the city committed to sustainability, but so are many Costa Mesa businesses. We've put together a list of our most sustainable places to shop – and eat – while you're visiting. 
Shopping
The CAMP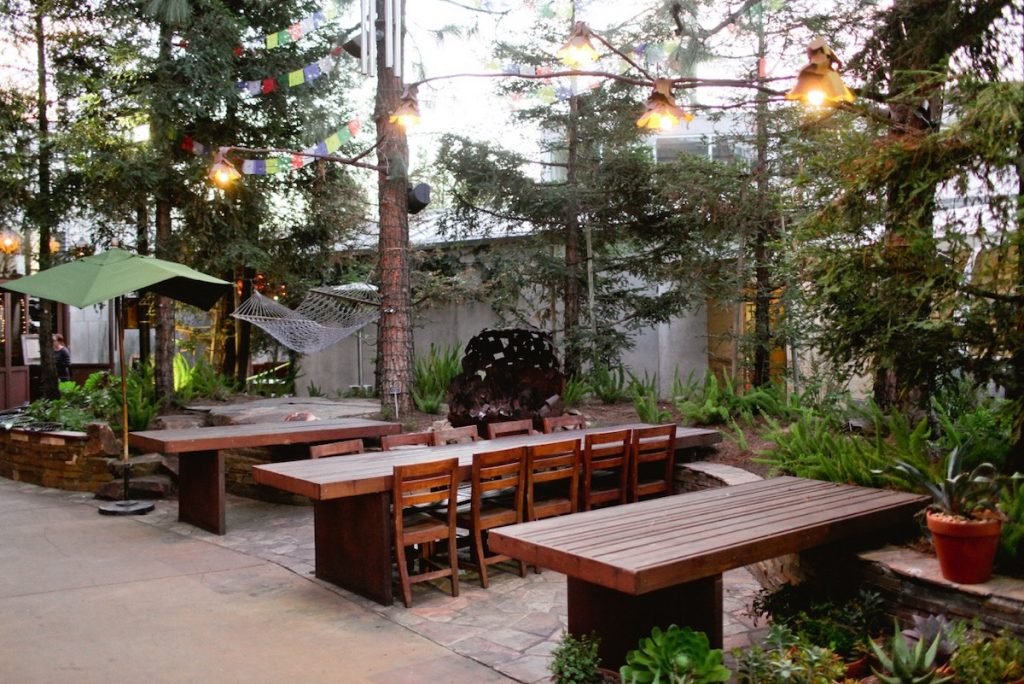 Visitors may recognize The CAMP as one of Costa Mesa's most Instagrammable spots, but The CAMP is also one of the first eco-friendly retail and dining campuses in the country. It's designed with tanks, filters and percolation wells underneath the parking lot that treats stormwater before it's absorbed into the soil and underground water storage. Around the property, there are 12 gardens growing herbs, fruit and vegetables so the restaurants can source locally grown ingredients for their dishes. 
This Earth Day, The CAMP is hosting a special Earth Day "Mother Earth Market." It includes focus on eco-conscious vendors, a clothing swap, workshops on sustainability and more. RSVP here.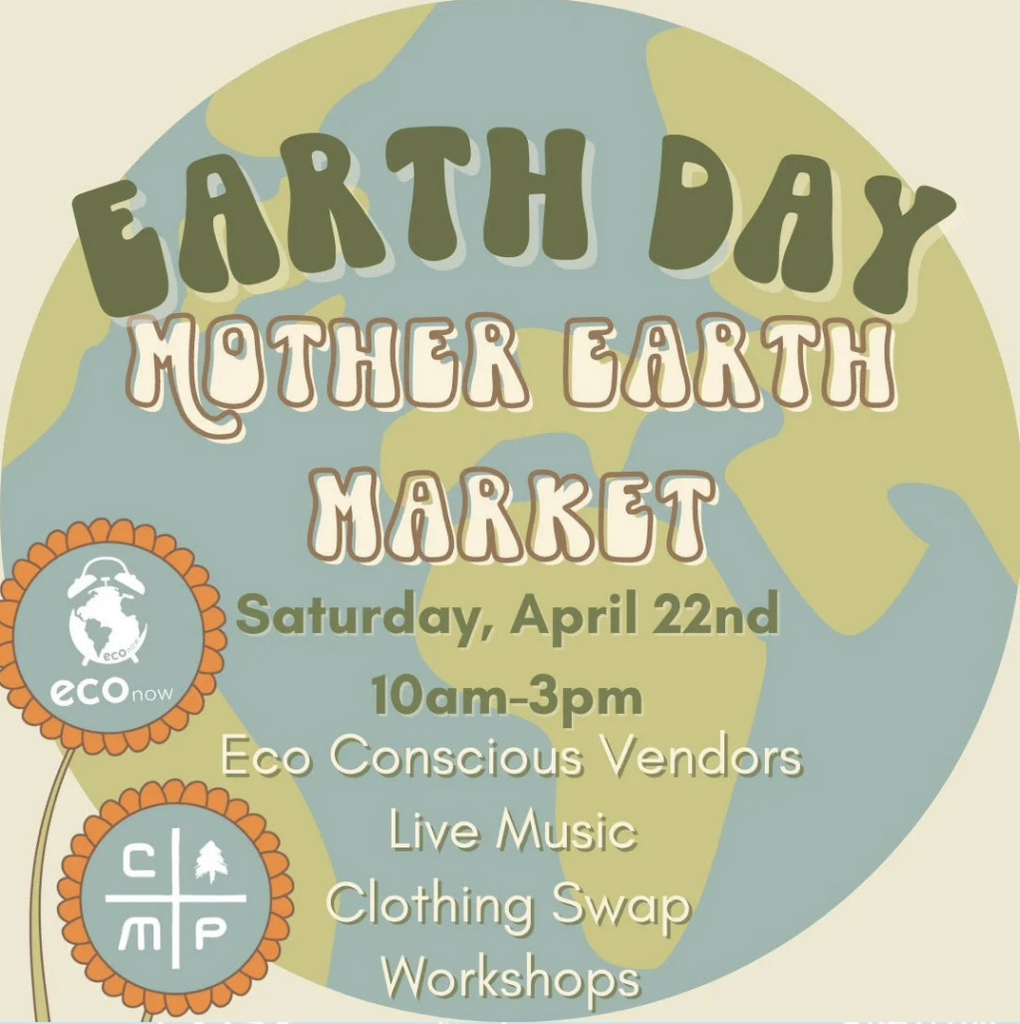 SEED Peoples Market
At SEED Peoples Market, you'll find a curated collection of eco-friendly and ethical brands. They inspire sustainable living and highlight one-of-a-kind items from local and global artisans. SEED Peoples Market is one of our favorites and we recommend checking out their unique goods for a true Costa Mesa locals' experience. It's in The CAMP, too.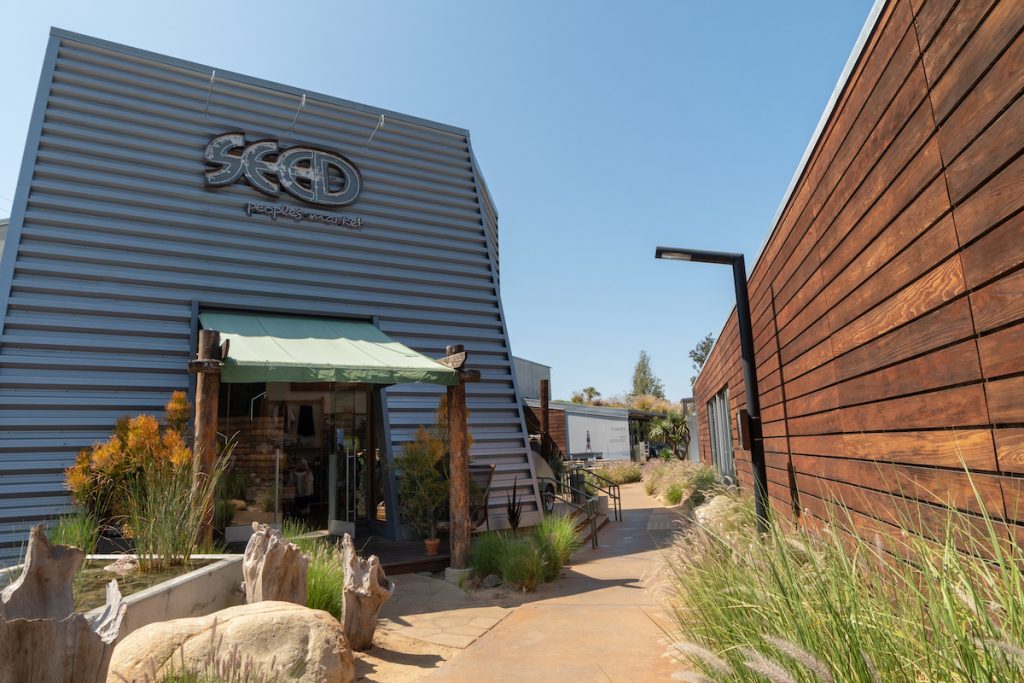 Bulk & Refilling Shops
Fill Up Buttercup
Fill Up Buttercup tells us that only 9% of recyclables are actually recycled, so the best thing we can do is reduce or reuse what we consume. Fill Up Buttercup is dedicated to keeping toxins and plastics out of your body, home & planet! The adorable shop is a one-stop shop for all your nontoxic household essentials in bulk to be refilled in your own container, as well as utilizing products that are easily composted or biodegradable. Its 3 female founders are hoping their store is a place to be fulfilled and inspired.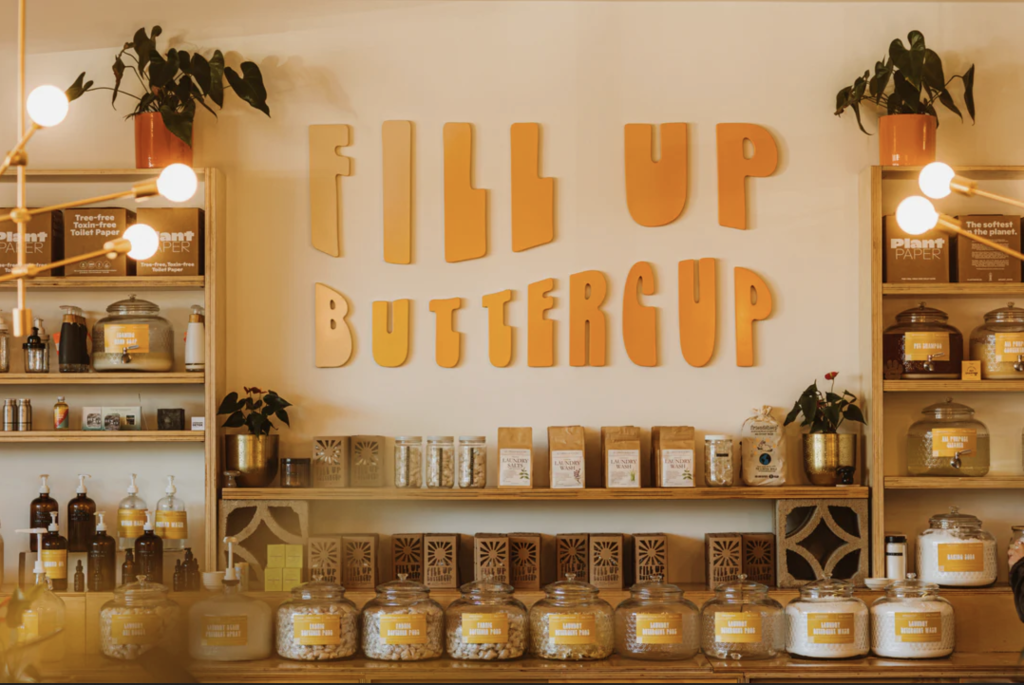 Eco Now
Orange County's first zero waste and refill shop, Eco Now has plenty of plastic-free options as well as refills for everything from laundry detergent to shampoo. It's located just across the street from The CAMP at The LAB Anti-Mall. The friendly staff are happy to answer questions for those who aren't familiar with zero waste or plastic free living. 
Amis de la Terre Market
Amis de la Terre is born from years of research on the ocean. Owners and PhD grad students Chris and Jessica have spent countless hours looking at water samples from our local beaches and finding micro plastics in everything. Visit Orange County's first zero-waste grocer and find delicious treats like plantain chips, organic cashews,fruits, grains, flour, vinegar, honey and even fair-trade chocolate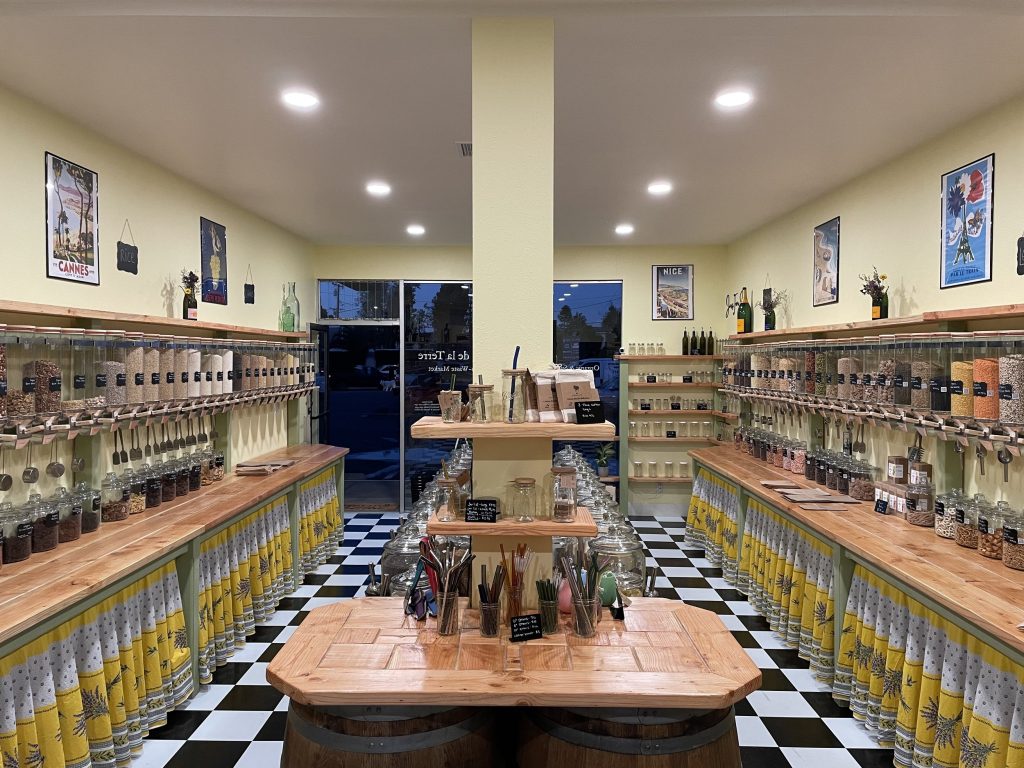 Cooking/Dining
We Olive & Wine Bar
We Olive & Wine Bar at SOCO & The OC Mix offers refillable bottles of olive oil and vinegar. You can sample before you buy to find your favorite. Bring back your clean, empty bottle to refill and enjoy a discount. We Olive specializes in small-production, boutique West Coast wines, highlighting local vintners.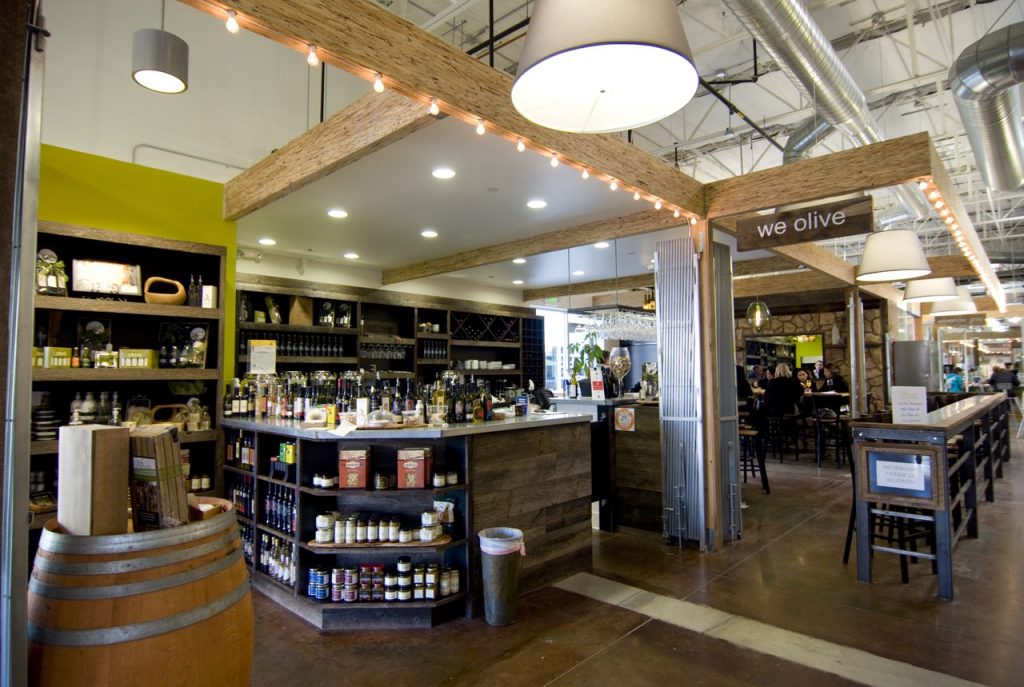 Wine Lab
Located in the bustling CAMP shopping center, the 1,270-square-foot space serves wine from a MicroMatic wine dispenser; Wine Lab's offering of 8 wines on tap was a first in Orange County. Small wineries love the keg-delivery option because it maintains the temperature and quality of the wines, but with a smaller carbon footprint. Wine Lab also features a beer dispenser with 6 taps offering local microbrews. There's also a small shop where customers can buy wine or the local artisan cheese, goat butter or other items they've tasted while sipping.
Fermentation Farm
Fermentation Farm is what might be called a fermentation hub providing OC with all things fermented, from kombucha to kimchi. Ferm Farm, as it is fondly called by locals, hosts things like Sustainability Boot Camps to teach visitors ways to be eco-friendly and sustainable in a variety of cooking or preservation methods. They focus on how to raise animals and plants organically, without the use of antibiotics or pesticides and sell products to promote organic living and gut health.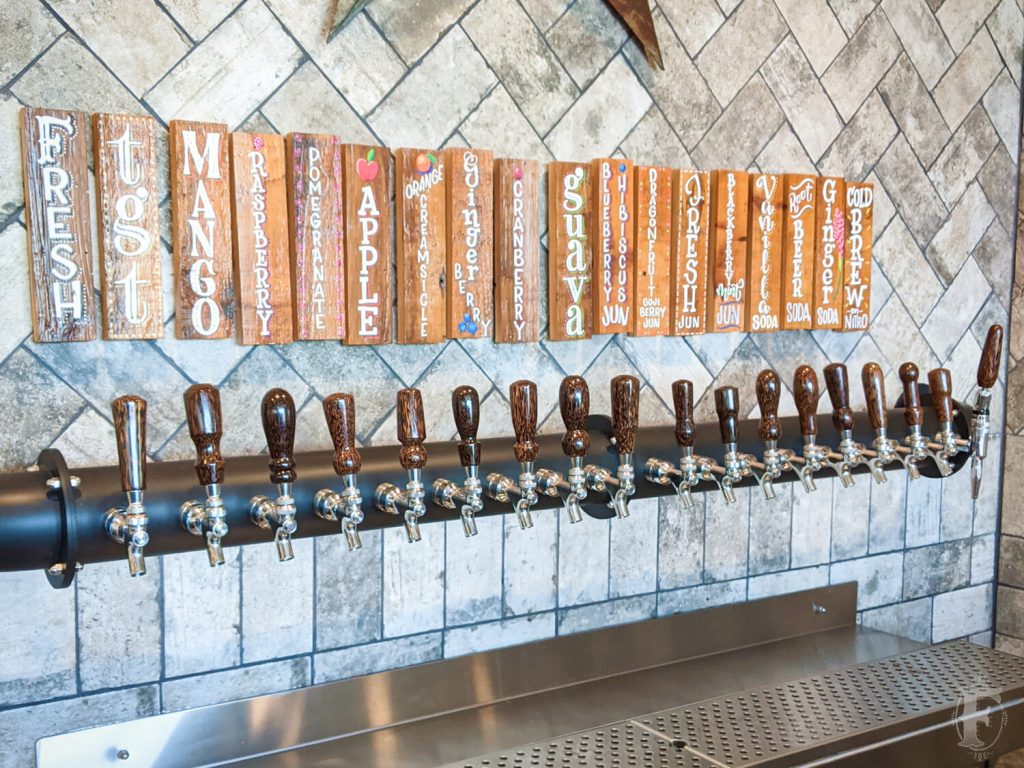 Veg'd
Veg'd offers a 100% plant-based menu uses nourishing, whole foods. It's a vegan fast-food restaurant that used to be a Del Taco, if you can believe that. They have burgers and fries but also serve kung pao veggie bowls and other great items. Everything is provided in 100% packaging that's biodegradable and compostable. The restaurant also composts or donates all unused food.