Travel Costa Mesa Blog
Posts Tagged 'east borough'
On the last Tuesday of each month the SoBeCa district in Costa Mesa turns into an open-house of art, live performances and entertainment.  The main hubs of the SoBeCa district, an acronym meaning South On Bristol, Entertainment, Arts, Culture, are the progressive shopping centers the LAB and the CAMP.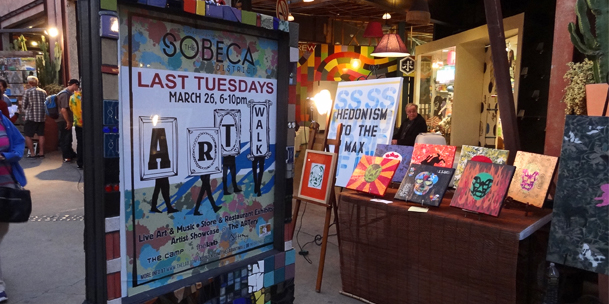 Posted in Events, Misc, Music & Art, Play, Shopping
The creation of the sandwich is widely credited to John Montagu, the fourth Earl of Sandwich.  The story behind the sandwich is that Montagu was an avid gambler who created the hand-held meal so he could keep one hand free and continue to gamble while he ate.
The sandwich has evolved since Montagu's stubborn, yet brilliant idea to put meat between two slices of bread.  It comes at no surprise given the versatility and variety of the sandwich that it has become one of the most popular food items in the United States.  It has even inspired its own day (and month).
The variety of amazing sandwiches in the City of the Arts, Costa Mesa, is no exception.  Travel Costa Mesa has compiled a two-part list of the top restaurants to enjoy the art of an amazing sandwich.  Be sure to try these sandwiches before we share the second half of our list.  Each sandwich tastes so good that even Montagu would take a break from gambling to enjoy one!
Monte Cristo from Le Chateau Garden Bistro
The Monte Cristo from Le Chateau at the Ayres Hotel and Suites Costa Mesa has received numerous accolades and has been hailed as the best Monte Cristo in Orange County.  The deep-fried, double-decker of bliss is turkey, ham, Swiss cheese and powdered sugar dipped in egg batter and served with raspberry Chambord jelly.  Although Monte Cristos  are not a common menu item, it is hard to find one that can compare to Le Chateau's.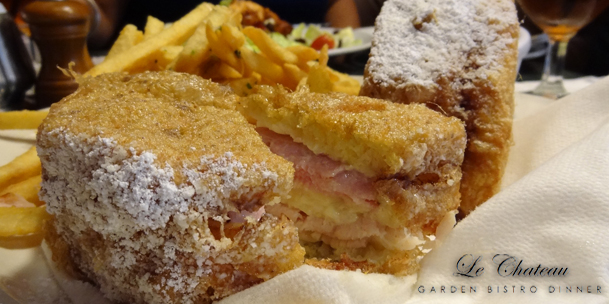 The CAMP in Costa Mesa is unlike any other shopping center in Orange County.  Along with the cool shops and unique boutiques, the CAMP is full of great restaurants.  From coffee, bakery items and small bites to breakfast, lunch, dinner or late night cocktails, the CAMP is a must-go culinary destination for any food lover. Read More