Travel Costa Mesa Blog
Posts Tagged 'gypsy den'
Today is the first day of Costa Mesa Restaurant Week 2013.  With 40 participating restaurants, there is an eatery to fit every budget and taste. If you love food and enjoy dining out, CMRW is the perfect time to visit an old favorite or try something new.
For the first meal of Costa Mesa Restaurant Week, I went to the Gypsy Den Café at the LAB anti-mall.  The Gypsy Den is an eclectic and cozy restaurant/bakery/coffee shop.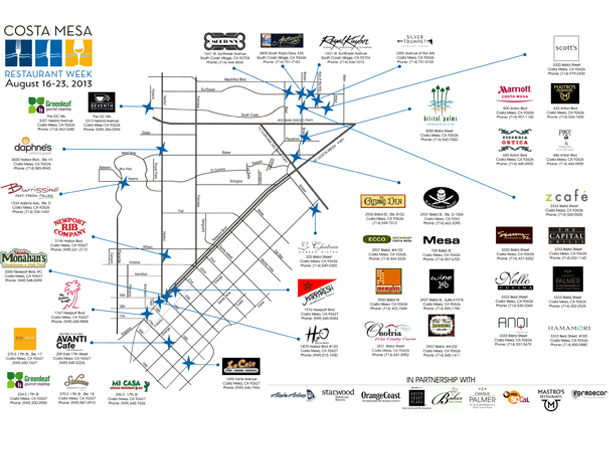 Read More
Comments Off on Costa Mesa Restaurant Week at The Gypsy Den Cafe
On the last Tuesday of each month the SoBeCa district in Costa Mesa turns into an open-house of art, live performances and entertainment.  The main hubs of the SoBeCa district, an acronym meaning South On Bristol, Entertainment, Arts, Culture, are the progressive shopping centers the LAB and the CAMP.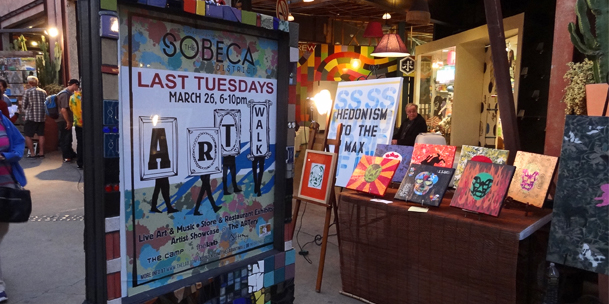 Comments Off on March SoBeCa District ARTwalk in Costa Mesa
Posted in Events, Misc, Music & Art, Play, Shopping
The recent weather has had us bundled up a little more than usual because it's not too often that the thermometer dips below 40 in Orange County.  Because of the chill in the air, we've been drinking more coffee, tea and hot chocolate.  Our hunt for hot beverages was the inspiration for our list of the best places in Costa Mesa to help you combat the cold with a steaming cup or warmth.
1.  Portola Coffee Lab is a playground for the most skilled baristas in Orange County.  To try an espresso, coffee or any creative offering available is to try the best handcrafted beverage available.   The Lab is the dream, or rather, the physical manifestation of owner Jeff Duggan's passion/obsession with coffee.  Each staff member is an expert on everything coffee.  From the type of bean, roasting process, brewing process or presentation, they will have an answer for any question you may have.  The décor is not sleepy like most coffee houses, but a vibrant green.  Everything is upbeat and friendly.  And, being that it is a lab, baristas creating drinks wear lab coats.
Comments Off on Top 10 Places for a Hot Beverage in Costa Mesa
The LAB anti-mall in Costa Mesa is a local favorite for many reasons.  You can buy and trade contemporary and vintage clothes, thumb through vinyl records, peruse fashion forward boutiques specializing in hats, glasses and accessories or just browse local art.  In addition to the cool stores are some great places to eat and drink.  With an abundance of innovative and unique restaurants, it's easy to see why the LAB is such a popular hangout spot. Read More
Comments Off on Costa Mesa Culinary Destinations: the LAB Anti-Mall