Travel Costa Mesa Blog
Posts Tagged 'Thanksgiving'
What if you could skip the cooking and enjoy a Thanksgiving dinner at one of our celebrated restaurants, take the family to a holiday event AND get your shopping done Black Friday or Small Business Saturday? Enjoy your break with these 5 ways to spend Thanksgiving in Costa Mesa. Visit during the holidays and get one of our holiday hotel deals starting as low as $99.
Thanksgiving Dinner
Several Costa Mesa restaurants are serving up some delicious Thanksgiving dinners. Silver Trumpet Restaurant & Bar, in Avenue of the Arts, a Tribute Portfolio Hotel, is serving a family-style, prix fixe menu. Choose between butternut squash fritters or corn chowder for a starter, market greens or baby arugula salad, turkey and ham or prime rib for the entree and, for dessert, pumpkin creme brulee or carrot cake. All meals come with stuffing, mashed potatoes and green beans.
Le Chateau Garden Bistro, at Ayres Hotel Costa Mesa / Newport Beach, has a 3-course Thanksgiving menu, plus complimentary glass of house wine with fresh baked sourdough bread and olive tapenade. Choose between butternut squash soup or winter green salad to start. The entree is an oven roasted sliced turkey breast with port gravy, creamy mashed potatoes, fresh roasted winter vegetables and homemade stuffing with Italian sausage and herbs. For dessert, choose pumpkin pie with whipped cream and caramel sauce or apple crisp with vanilla bean ice cream.
Cafe Sevilla, in Triangle Square, has a three-course menu (two-course for kids) that includes choices of starter, entree and dessert. The full dinner menu is also available.
The Capital Grille dine-in option comes with slow-roasted turkey with brioche stuffing, French green beans, cranberry-pear chutney, Sam's mashed potatoes and pumpkin cheesecake. There's also a take home option with all of the sides that serves 4.
If you're eating Thanksgiving Dinner at home, Mastro's, named best steakhouse byThe Orange County Register, has you covered with their family dinner kits for 4. The cook-at-home kits come with Caesar salad, three-bone prime rib with au jus and creamy horseradish, garlic mashed potatoes, mashed sweet potatoes, creamed corn, creamed spinach and cinnamon pecan butter cake.
Vaca is also offering a Thanksgiving to-go package that serves 4 to 6. The dinner includes a whole roasted Mary's Farm all-natural turkey with gravy, roasted squash and banana soup, buttermilk chives mashed potatoes, orange scented cranberry sauce, Santana famous Italian sausage corn bread stuffing, bourbon and maple glazed yams with candied pistachios, charred broccolini with toasted garlic and preserved lemons. Plus, four desserts to choose from: pecan pie, pumpkin pie, apple pie or cheesecake.
For South Coast Plaza restaurants offering Thanksgiving dinner options, click here.
Night of Lights OC
Get in the holiday spirit with Night of Lights OC at OC Fair & Event Center! Opening the day after Thanksgiving, the drive-thru experience is a perfect family-friendly event. Enjoy the mile-long winter wonderland filled with characters, snow and over a million lights. You might just spot Santa too! Pre-order holiday treats to eat during the drive. If you go opening weekend, you can receive 40% off with the code BLACKFRIDAY.
A Christmas Carol at South Coast Repertory
A Christmas Carol returns live to the stage at South Coast Repertory! The Orange County family tradition will feature SCR founding member Richard Doyle taking on the role of Ebenezer Scrooge. Bring the whole family to see the classic story from Charles Dickens. A Christmas Carol opens November 27.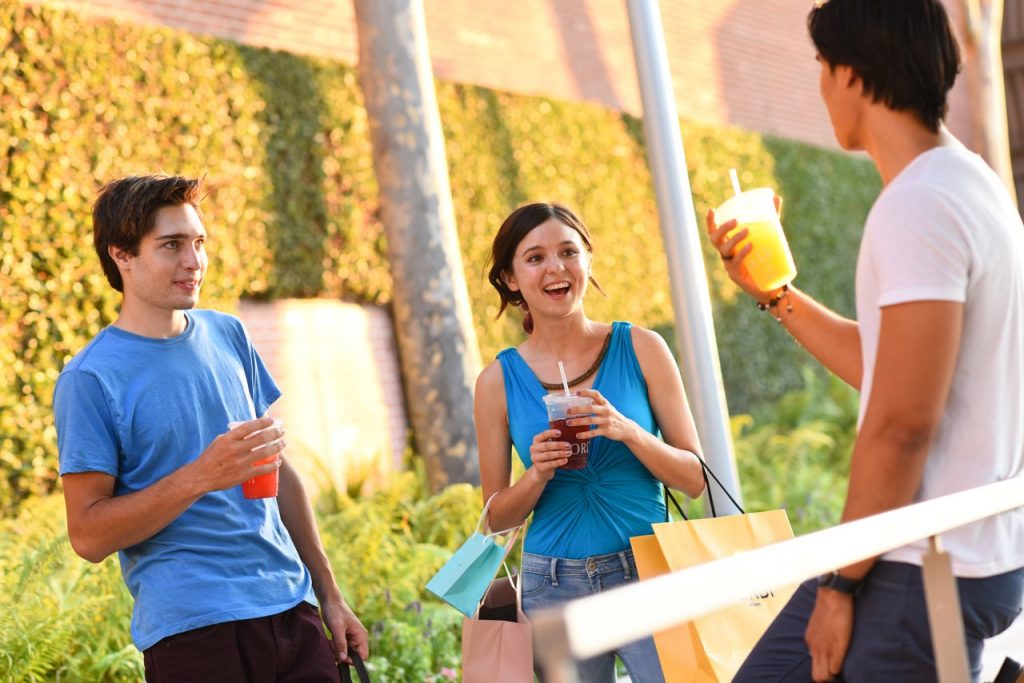 Black Friday
Where else should you spend Black Friday except the largest shopping destination on the West Coast? Shop what they call "Fabulous Friday" at South Coast Plaza, which has 250 boutiques and 30 restaurants to choose from. Check the South Coast Plaza calendar for the Black Friday specials you just can't miss.
Small Business Saturday
Support Small Business Saturday in Costa Mesa at The LAB Anti-Mall, The CAMP, SOCO and The OC Mix and more. The LAB has celebrated the "Little American Business" for over 25 years. The indoor/outdoor space hosts an eclectic array of small businesses including a zero waste refill shop, record store, boutiques in Airstream trailers and more. Across the street at The CAMP, you'll find another collection of unique shops such as SEED Peoples Market which carries ethical and eco-friendly clothes, accessories and home goods. There's even a shop within Blackmarket Bakery with fun gift ideas.
The variety of boutiques at SOCO and The OC Mix continues to grow. Within The OC Mix, you can find Savory Spice Shop with great gift collections for home cooks, The Mixing Glass for the mixologist of the family, clothing boutiques and a recently opened luxury pet store. SOCO and The OC Mix hosts an annual Small Business Saturday event with tenants offering special discounts at shops and restaurants. There's even a special event for kids from 11:00am to 12:00pm with hot cocoa, treats and a sing-a-long with Mrs. Claus!
Comments Off on 5 ways to spend Thanksgiving in Costa Mesa
Not sure what to cook for Thanksgiving? Treat yourself, and your family, with Thanksgiving dinner from one of Costa Mesa's great restaurants. Several favorites are open for dine in service, while others are offering amazing family-style menus for you to take home. If you're coming to Costa Mesa, take advantage of our holiday gift by staying 2 nights and getting a $100 South Coast Plaza gift card!

Update: Orange County has been moved to the Purple Tier. Indoor dining is no longer permitted. Please check with restaurants about their updated Thanksgiving dining options.
Café Sevilla
Celebrate Thanksgiving with a Spanish flair at Café Sevilla. Enjoy 3 courses for adults ($49.50) or 2 courses for kids 10 and under ($24.50). Choices include butternut squash soup or baby mixed winter greens, roasted turkey breast and Blackforest ham or duet of salmon and shrimp and, for dessert, pumpkin pie or chocolate and Licor 43 ganache tart. The full dinner menu is also available.

Water Grill
For the first time, Water Grill will be open Thanksgiving Day from 11:00am-8:00pm. The 3-course Thanksgiving menu begins with signature clam chowder or mixed greens, followed by Diestel Farms roasted turkey, cranberry relish, sourdough-apple stuffing, Yukon Gold mashed potatoes and gravy. Dessert is your choice of pumpkin cheesecake or caramel bread pudding. The Thanksgiving menu is $68 for adults and $25 for children 12 and under. The a la carte menu is also available. For reservations, call 949.208.7060.


Vaca and The Hall: Global Eatery
It's a Top Chef Thanksgiving with Amar Santana. Take home a whole roasted turkey, Yukon gold mashed potatoes and gravy, sausage cornbread stuffing stuffing, maple glazed yams with pomegranate, green beans with toasted almonds, cream of mushroom soup and a pecan pie tart. The Thanksgiving family feast serves 8-10 ($495) and can be preordered at Vaca or The Hall: Global Eatery by November 23.

The Capital Grille
Dine on slow-roasted turkey, French green beans, cranberry-pear chutney and Brioche stuffing, along with Sam's mashed potatoes to share ($45 for adults; $15 for children 12 and under) at The Capital Grille. The Thanksgiving menu, along with the full dinner menu, is available 11:30am-9:30pm on November 26. A family-style take home dinner ($125) for 4-6 people is also available for preorder, with pickup November 24-25.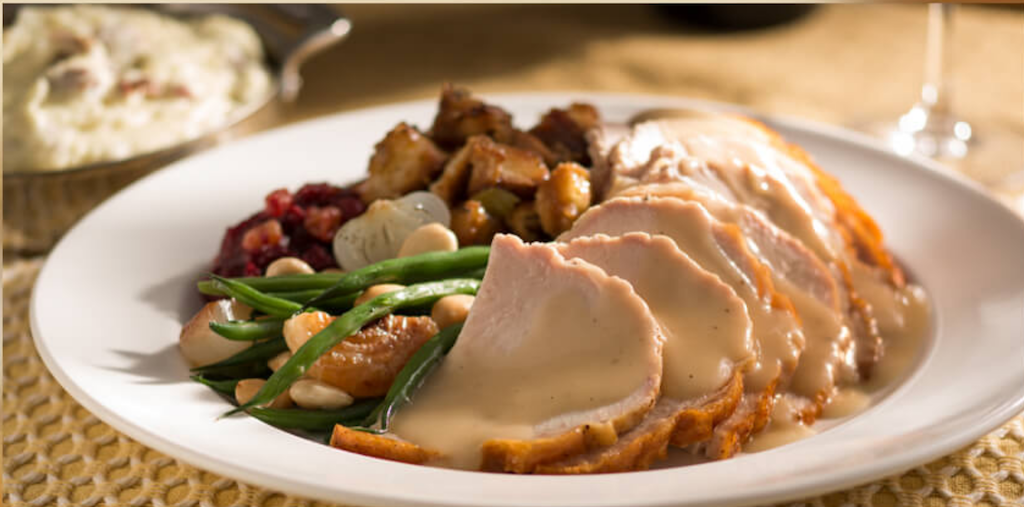 Silver Trumpet
Silver Trumpet Restaurant at Avenue of the Arts hotel is offering a sumptuous Thanksgiving buffet spread!
Seating available every 2 hours. Gourmet carving station, a la carte menu, sides, dessert and more. $45 per adult, $21 per child (12 & under). Tax and gratuity not included. For reservations, please call (714) 442-8593.
Seasons 52
The Thanksgiving plate at Seasons 52 ($25 for adults; $15 for children 12 and under) includes antibiotic-free roasted turkey and gravy, Yukon mashed potatoes, mashed butternut squash, French green beans, herb stuffing and cranberry relish. For dessert, enjoy a mini pumpkin pie. Seasons 52 is open from 10:00am-9:00pm on Thanksgiving. A family meal for 4-6 is available too, with a choice between field greens or Caesar salad and six mini indulgences ($150). The take home meal must be preordered by November 25.

Greenleaf Gourmet Chopshop
Don't want to deal with a whole turkey? Greenleaf Gourmet Chopshop is the way to go. The Thanksgiving Feast features slow roasted turkey breast with garlic and rosemary. Sides include whole grain stuffing, mashed potatoes, their popular roast "garlicky" broccolini, roasted cauliflower and arugula salad, biscuits with apple butter and pumpkin pie. It serves 6-8 people ($175). Greenleaf also offers individual Thanksgiving meals ($21). Preorder from now until November 24.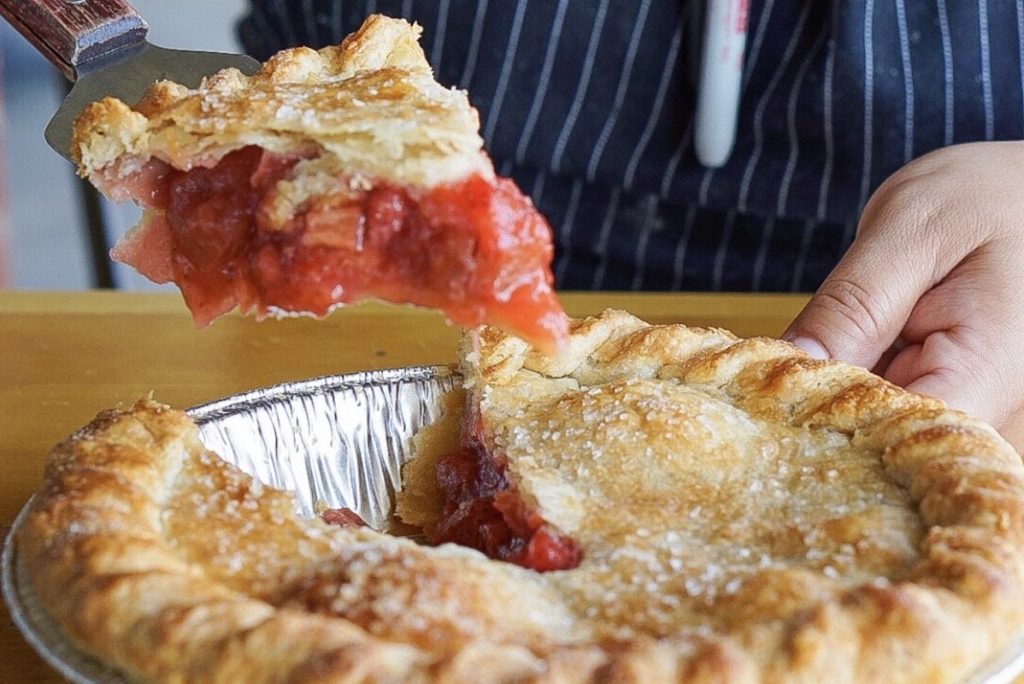 Toast Kitchen & Bakery
Make Thanksgiving dessert extra special with the Toast Kitchen & Bakery annual Pie and Pint Sale. From now until November 22, you can preorder a nine-inch pie and a pint of ice cream. The homemade pairs ($39) include taro blueberry pie with blueberry pie ice cream, chocolate banana cream pie with Thai tea ice cream, POG pie with strawberry shortcake ice cream, strawberry rhubarb pie with Sakura ice cream or apple pie with mulled wine ice cream. Orders are available for pickup on Wednesday, November 25 from 8:00am – 7:00pm.

Whether you want to stay home or get away, Costa Mesa restaurants have you covered this Thanksgiving. If you're planning on visiting, make sure to check out our holiday hotel deals. Be sure to ask about our QR code, located at the front desk, for the latest events.

Comments Off on Thanksgiving Dinner Ideas to Dine in Costa Mesa (or Take Home)
Whether you're spending the holiday in Costa Mesa, or just avoiding those post-dinner dishes, there are plenty of alternative options for Thanksgiving dinner. From traditional to unexpected, here are five great options for Thanksgiving dinner in Costa Mesa.
Comments Off on 5 Alternatives to Thanksgiving Dinner at Home
Posted in Food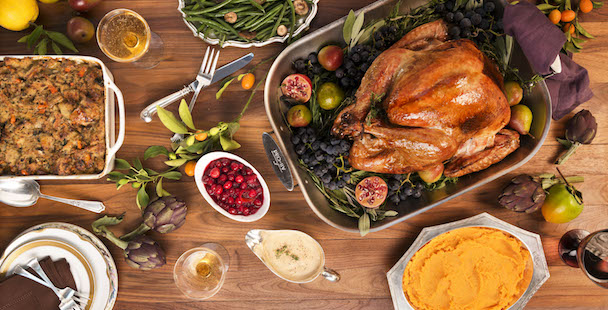 The holidays are here, and it's the most wonderful time of the year to get together with family and loved ones. But aren't you tired of chopping veggies and mashing potatoes? Let someone else do the cooking for Thanksgiving this year –  like a gourmet chef – while you relax and enjoy the holiday! Here are 4 great spots in Costa Mesa to try for Thanksgiving, plus a very special offer for a quick holiday shopping getaway before Christmas.
Comments Off on 4 Places for Thanksgiving Dining – and a Black Friday Deal!
Can you believe the holidays are here? They always sneak up so fast on us. Though you might be visiting Costa Mesa for a quick getaway, holiday shopping (Black Friday at South Coast Plaza, anyone?) or a business trip, you can still get the full Thanksgiving experience at a few different Costa Mesa hotels and restaurants. Here's some places to get your turkey fix: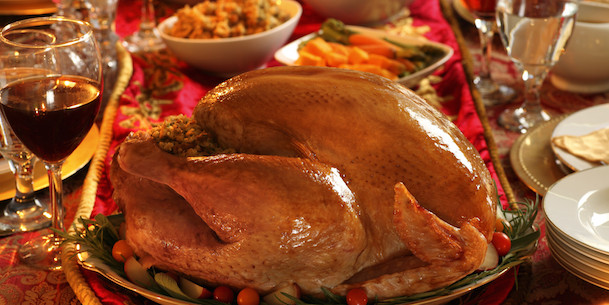 Comments Off on Here's Where to Get Thanksgiving Dinner in Costa Mesa