The 2016 OC Fair, themed "Get Your Fair Face On!", and while we love the rides, carnival games, exhibits and concerts, we all know that we're really just there for the deep-fried food and food on a stick. Well, maybe that's a stretch, but food is definitely one of the top draws of the OC Fair. Let's get a preview of what's cooking this year!

French Toast Bacon Bombs: Bacon A-Fair's new breakfast-inspired offering will make French toast desirable any time of the day as sweet dough stuffed with cream cheese and wrapped in bacon is deep-fried and rolled in cinnamon sugar.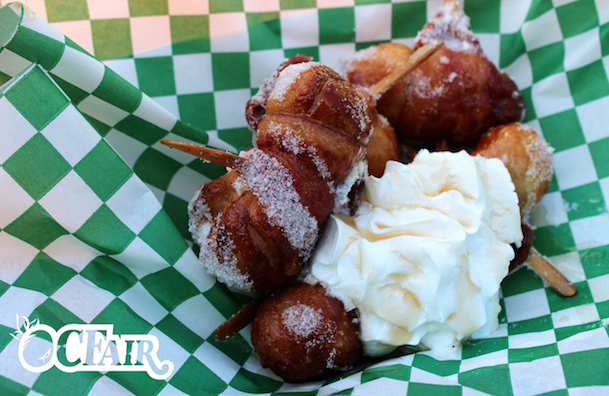 Kool-Aid Hot Wings: Chicken Charlie's taking his breaded wings and tossing them up with his new, slightly-spicy Kool-Aid sauce. He will serve the orange flavor exclusively at the OC Fair.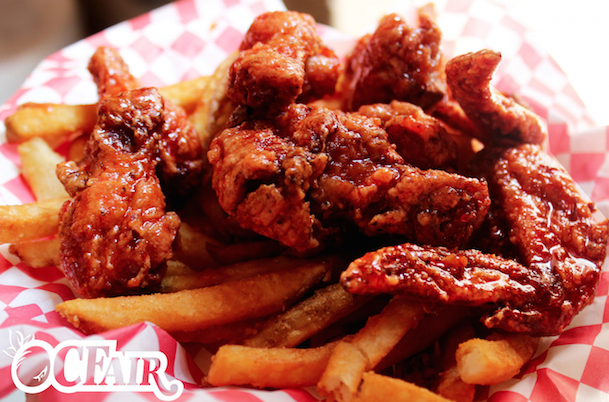 Bacon-Wrapped Baked Potato: At Bacon A-Fair, a giant one-pound potato is wrapped in a half pound of bacon and slow cooked in a wood-fired smoker oven. Served with butter, the Bacon A-Fair signature bacon-infused sour cream, grilled veggies, blue cheese and choice of hot buffalo sauce (pictured) or nacho cheese and jalapenos.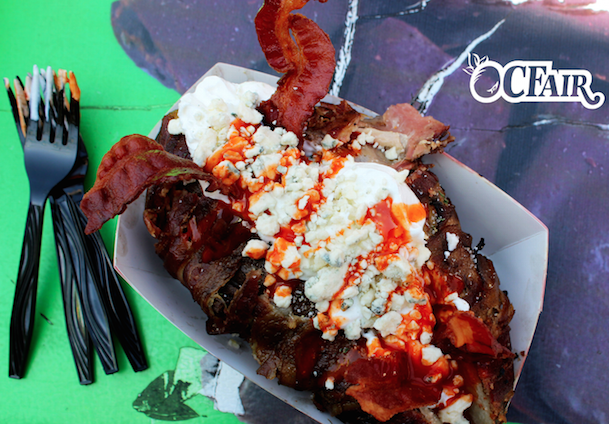 Pink's Hollywood-Inspired Dogs: The Daenerys Mother of Doggies pays homage to the Game of Thrones' queen of the dragons with a spicy Polish dog topped with sour cream, sauerkraut, onions, radish sprouts and Sriracha sauce.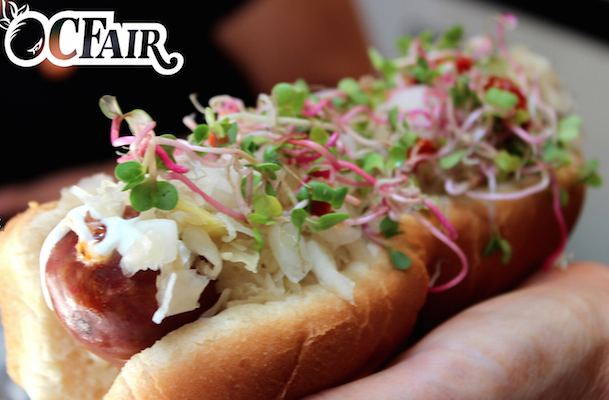 More offerings this year include the All American Reuben Burger (Grant's Tasti Burger), Pickle Fries and Pickled Cheese on a Stick (Pickle O' Pete's), Shrimp Fried Rice on a Stick (Chicken Charlie's), Som-Mor-Bacon (Fruit Caboose), Bison Burger (Juicy's), Lasagna Sandwich (Pignotti's Pasta), Oreo Churro (Dutchmen's Funnel Cake).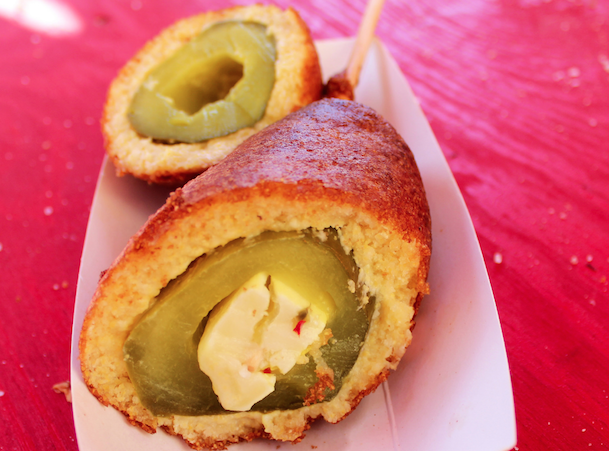 On a new weekday this year, foodies can sample their way through the 2016 OC Fair on Thursdays from Noon-4 p.m. with $2 samples during the Taste of Fair Food promotion. Fair admission is required and samples vary per vendor per week.
The OC Fair wants you to "Get Your Fair Face On!" July 15-August 14, 2016 with 23 days and nights of food, rides, shopping, exhibits, animals and headline performances in the Pacific Amphitheater, nightly music in The Hangar and adrenaline-inducing events in the Action Sports Arena. The Fair is open Wednesday-Sunday. Tickets are available for purchase at ocfair.com or from the on-site Box Office (limited hours.)
Thank you to OC Fair for these images!