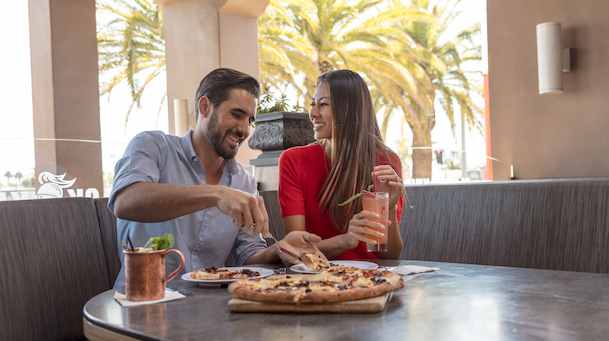 Costa Mesa is brimming with "Top Chef" talent and innovative restaurateurs, but we know you're sometimes in the mood for something a little off the beaten path. While no one would argue with the merits of restaurants like the LA Times Best Restaurant of the Year Taco Maria or "Top Chef" alum Amar Santana's Vaca, here are six local favorites to add to your eatcation itinerary on your next Costa Mesa weekend getaway!
Breakfast
Rooster Café
750 St. Clair St.
 This small diner situated on a side street in the city's SoBeCa neighborhood is something of a local institution. Rooster Café is open all day, but breakfast is especially worth the wait you're likely to find upon arrival! We suggest the breakfast burrito or huevos rancheros. The restaurant has an ample mix of indoor and outdoor seating.
View this post on Instagram
Eat Chow
1802 Newport Blvd. 
It's easy to drive right past this small bistro, but make sure you don't! Eat Chow has been a local favorite for more than a decade thanks to a killer menu and laid back vibe. You'll find something to please both sweet tooth and savory breakfasters. Crowd pleasers include The "Fried Egg" (two fried eggs over prosciutto, fresh mozzarella, grilled baguette, tomato essence, truffle oil and arugula), The "a.m." burger, lemon marscarpone French toast, chilaquiles and breakfast enchiladas.
View this post on Instagram
Lunch
Super Pollo
1731 Superior Ave
Don't be fooled by appearances, this tiny Mexican joint is a local go-to. As you may have guessed by the name, chicken is their specialty. While you can get chicken, carne asada or fish in your tacos, burritos and nachos, we suggest you try out a quarter or half chicken combo, too. Seating is limited, but this Westside restaurant is perfect for a casual lunch.
View this post on Instagram
Outpost Kitchen
1792 Monrovia Ave.
Located in an industrial block of Costa Mesa's Westside, Outpost Kitchen offers fresh sandwiches and salads, bowls and baked goods in a relaxed, community-minded environment. You'll feel both healthy and satisfied taking on a lunch like the Hail Kale Bowl with baby kale, quinoa, pickled chili, confit oranges, watermelon radish and vegan parmesan. Or, try the Chicken Pesto Sandwich or the Slam City, with chicken aioli, prosciutto, avocado and greens on a cranberry orange walnut bread.
View this post on Instagram
Dinner
Westend
814 W 19th St,
Another Westside gem, Westend offers an eclectic menu combining American, Latin and French cuisines, with a bit of southern flair, in its bar and restaurant. The underlying theme to all the restaurant does can be summed up with "good food, good music, good times," which is likely what led to its Open Table Diners' Choice Award in 2018. For dinner, choose from dishes like the Westend Burger, a bowl of Louisiana Jambalaya or lobster mac & cheese matched with a selection of tasty cocktails.
View this post on Instagram
Memphis Cafe
2920 Bristol Street
For 20 years, Memphis Cafe has been a local favorite for its home-style menu and laid back vibe. Chef Diego Velasco's menu is rooted in his classical culinary training with a soulful twist. You'll find everything from gumbo to fried chicken and pecan wood smokes barbecue. The restaurant is located just next door to The LAB so you'll have the perfect location to walk off those extra calories.
View this post on Instagram