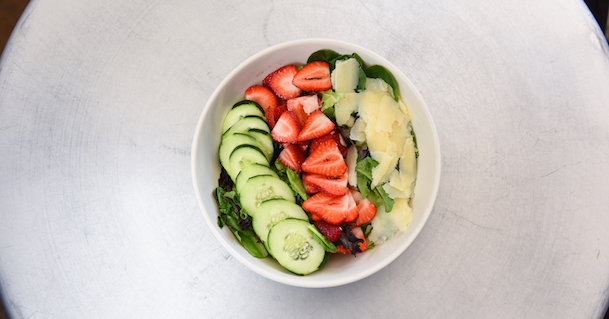 Staying healthy doesn't mean you have to sacrifice quality or flavor. The City of the Arts® is known for its killer culinary scene and the health conscious dining is no exception. Next time you're craving something healthy, check out these Costa Mesa restaurants.
Seabirds Kitchen
This vegan spot that grew from food truck roots is a favorite for meat eaters and true vegans alike. Seabirds Kitchen located in The LAB focuses on pushing the boundaries of typical vegan cuisine with seasonal dishes and unique flavor combinations. Try the cauliflower ceviche, grilled mushroom taco or bibimbap bowl for proof.
Native Foods Cafe
Located in The CAMP, Native Foods Café offers an exclusively vegan menu of dishes like the Bistro Burger, Crazy Good Grilled Chicken Sandwich, curry and Buddha bowls, chicken wings, tacos and burritos, all made with plant based alternatives. Even the carnivores in the group won't miss the meat.
Greenleaf Chop Shop
Get your greens in at Greenleaf Chop Shop. It's the perfect spot to grab farm-fresh salads, sandwiches, flatbreads and more. Costa Mesa is home to two locations, both with ample outdoor patio seating to enjoy your meal. The restaurant naturally also offers plenty of vegetarian and vegan options for strict diets.
Birdie Bowl & Juicery
Or, drink your greens at Birdie Bowl & Juicery. Pick up a green veggie pitaya bowl, chia seed pudding, classic acai bowl or freshly pressed juice when you're looking for something light and refreshing. Located in SOCO and The OC Mix, it's ideal for a quick bite and maybe some R&R shopping.
Mendocino Farms
While there are definitely opportunities to indulge at this Eastside Costa Mesa sandwich shop, Mendocino Farms brings fresh seasonal ingredients to elevate your typical lunch. Each season brings the best ingredients available so you can "eat happy."
Jan's Health Bar
Jan's Health Bar has been an Orange County favorite for more than 20 years, and for good reason. Choose from a menu of sandwiches, wraps and salads using fresh ingredients or pick up an acai bowl. Make sure you grab one of their fresh smoothies or juices, too!
Outpost Kitchen
Outpost Kitchen is hidden gem of Westside Costa Mesa and everything you could wish for – cozy, friendly and brimming with delicious and healthy breakfast and lunch options. For breakfast, try dishes like house-roasted granola, gluten free Intergalactic pancakes and breakfast sandwiches. For lunch, grab an Ultimate Veggie Sandwich or the sautéed Outpost Salmon.
Want to find more restaurants in Costa Mesa? Check here!