Travel Costa Mesa Blog
Posts Tagged 'Shopping'
Memorial Day is a federal holiday dedicated to remembering the men and women who died during their service in the United States Armed Forces.  The holiday was formerly known as Decoration Day and started after the Civil War to commemorate Union and Confederate soldiers.
While Memorial Day's origins are somber, the long weekend has also come to represent something joyous – the unofficial beginning of summer.  Many people use the three day weekend to enjoy the warm weather at the beach, barbecues in the park or watching fireworks.  While all three of those activities are well worth it during the holiday weekend, there are some great events this Memorial Day Weekend in Costa Mesa that don't require charcoal. Read More
Comments Off on Memorial Day Weekend in Costa Mesa
Posted in Events, Food, Locals, Misc, Music & Art, Play, Shopping
With over 250 world-class boutiques and the highest concentration of luxury retailers in the United States, South Coast Plaza certainly lives up to its moniker of an "international shopping destination."  People may flock to South Coast Plaza for designer names and an unparalleled shopping experience, but an equally impressive dining experience awaits too.
The culinary destinations range as greatly as the shops with restaurants specializing in cuisine from Italian to Asian and new American to fusion.  Although there are dozens of great restaurants to choose from, we've narrowed the list down to five must-go eateries. Read More
Comments Off on Costa Mesa Culinary Destinations: South Coast Plaza
February is going to be an exciting month at South Coast Plaza with Lunar New Year events, specials and giveaways.  The Year of the Snake will kick-off on February 5, with a towering snake exhibit and floral arrangement.  The exhibit will be on display in Jewel Court until February 17.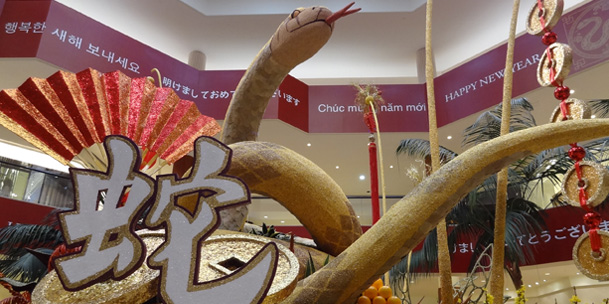 Between February 7 and 17, shoppers have a chance to win prizes and a South Coast Plaza shopping spree.  There will be an enter-to-win promotion at the four concierge desks with special red envelopes concealing prizes.  Thousands of envelopes will be distributed, but only 50 contain a prize. Read More
Comments Off on Chinese Lunar New Year at South Coast Plaza
The LAB anti-mall in Costa Mesa is a local favorite for many reasons.  You can buy and trade contemporary and vintage clothes, thumb through vinyl records, peruse fashion forward boutiques specializing in hats, glasses and accessories or just browse local art.  In addition to the cool stores are some great places to eat and drink.  With an abundance of innovative and unique restaurants, it's easy to see why the LAB is such a popular hangout spot. Read More
Comments Off on Costa Mesa Culinary Destinations: the LAB Anti-Mall
There is no rest for the weary during the holidays.  Between family gatherings, home-cooked meals and holiday parties, there isn't much free time for shopping.  Holiday decor hangs in stores earlier each year.  While the scent of your Thanksgiving meal still lingers in the kitchen, it's already time to focus on holiday shopping.  Whether your list is for one or one-hundred, there is a good chance shopping is on the agenda for the long Thanksgiving weekend.  With many big-brands offering large discounts on Black Friday, fighting through the crowds may be worth the savings.  If leaving the house seems like too much to ask, there is Cyber Monday, where online retailers and e-commerce sites offer savings on products and shipping with one-day-only deals.  In between the Black Friday swarm and the Cyber Monday searches is Shop Small Saturday, a national movement that promotes shopping at locally owned businesses. Read More
Comments Off on Orange County's Best Black Friday and Small Business Saturday Shopping in Costa Mesa