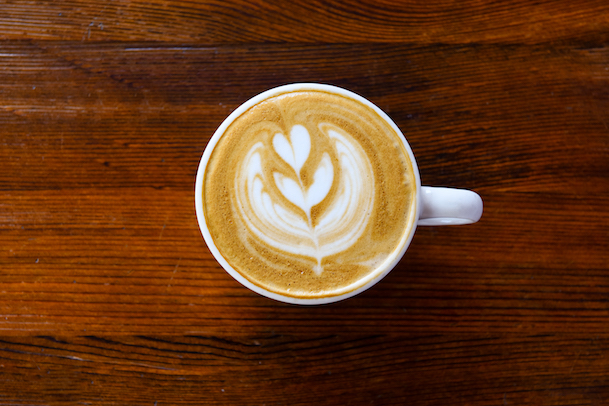 One of the most important stops a traveler can make on the first morning in a new place is undoubtedly the local coffee shop. From discovering a new favorite brew or area of town to chatting up locals for recommendations on the best things to see and do, they can be wellspring of information. Whether you're visiting for a weekend getaway or just the day, these Costa Mesa coffee shops won't guide you wrong.
Thunderking Coffee Bar
Nitro cold brew is Thunderking Coffee Bar's specialty, but you're not just locked into a cup of black coffee. If you're feeling adventurous, try the Richard Persimmon (cold brew, persimmon syrup, orange juice and soda) or the Chocolate Encourage-Mint (cold brew, chocolate, peppermint and simple syrup).
If you're up for brunch, they even have boozy coffee cocktails and, of course, drip coffee and lattes, loose leaf teas and kombucha on tap. Wander just next door to their Second Home Workspace for a place to kick back and relax.
Portola Coffee Roasters
Portola Coffee Roasters quickly became a Southern California favorite thanks to its focus on pour-over coffees and artful lattes. Although Portola has expanded to several locations since launching, its flagship remains in Costa Mesa's SOCO and The OC Mix and its owner was recently named as one of the 75 people to watch for 2018 by "Imbibe" magazine.
Nook Coffee
Located in The LAB Anti-Mall, Nook Coffee is a perfect sanctuary for a cup of coffee and relaxation. Choose from a straightforward menu of lattes, cold brew and drip coffees along with a selection of pastries and bites.
View this post on Instagram
Black Market Bakery
You're likely to walk out of Black Market Bakery with more than just a coffee. The bakery brews Orange County's Kean Coffee and offers a range of espresso drinks, but you won't want to miss their freshly baked pastries, cookies and sweets! The café itself, located in The CAMP, is the perfect cozy setting to meet up with friends or enjoy a few moments to yourself.
Bad Coffee
The name may be deceiving for this small coffee shop in Costa Mesa's Mesa Verde neighborhood. Bad Coffee serves up a simple menu of coffees and espresso drinks in a modern, quiet space with both indoor and outdoor seating.
View this post on Instagram
Milk & Honey
Located in The CAMP, Milk & Honey is part coffee shop, part backyard hangout spot with its small interior seating and Instagrammable communal covered patio. The menu includes organic coffee and drinks like the Spanish latte and lavender Americano, but also a variety of tea lattes and iced teas, lemonades and fruit smoothies. You'll also be able to pick up bagels, breakfast sandwiches and acai bowls, so you're sure to find something for everyone!
View this post on Instagram
Dough & Arrow
Of the list of Costa Mesa coffee shops, this one is perhaps not for the traditionalist. Dough & Arrow, known for its cookie creations, brings a bit of whimsy to your morning brew with drinks like the iced cookie cream Latte (topped with cookie crumbs, naturally) and rose or lavender cold brews. You'll still be able to choose from a range of hot drinks like a latte, cortado or Americano if you're not feeling adventurous, though…and don't forget to pick up one (or two) of their unique cookies.
Sidecar Coffee & Doughnuts
You'll likely have to wait in line, but there's a reason why. Since opening, Sidecar Coffee & Doughnuts has made a name for itself as one Southern California's best donut and coffee shops. Stop by for a cup of Sidecar coffee, cold brew or espresso drink and freshly made gourmet donuts like butter & salt, huckleberry, Saigon cinnamon crumb, maple bacon and a rotating seasonal menu.
Coffee Dose
Since popping up earlier this year on Costa Mesa's Eastside, Coffee Dose has become as much an Instagrammable hotspot as a place to get your caffeine fix thanks to clever décor and cheeky latte art. Stop by for a standard coffee or latte, or step outside the box with lattes like the The Goldie (made with organic turmeric, cinnamon, vanilla bean and oat milk) or The Burner (made with mct oil, grass fed butter and coffee).
Vitaly
With a tagline like "Your Italian Home," you can't go wrong. Vitaly at The CAMP offers a perfect Italian coffee shop to relax, enjoy a book or get some work done on their outdoor patio. The café also offers a full breakfast, lunch and dinner menu, so you'll never go hungry!