Travel Costa Mesa Blog
Archives for Misc
The joy of summer is back, and Costa Mesa is ready to welcome you for a summer full of fun in Orange County. From exciting new dining to Broadway shows to one of the biggest fairs on the West Coast, there's just so much to see in Costa Mesa.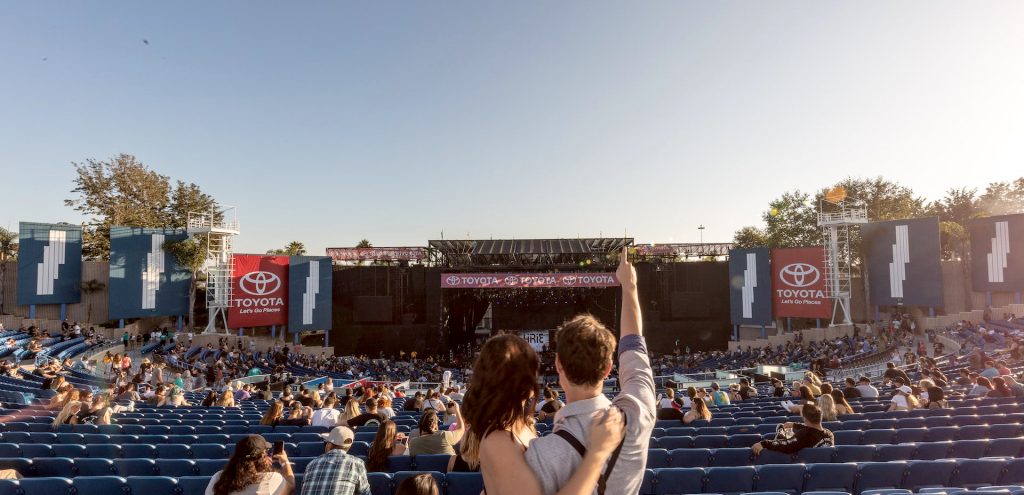 Great New Dining
Costa Mesa offers Orange County's only Michelin-starred restaurants – three of them, to be
exact. A slate of new dining destinations are popping up around the city, adding to its already
robust varieties of cuisine. But that's not all! A host of exciting new restaurant concepts have opened or are opening this summer, and the new dining continues to raise the bar as a perfect spot for an Eatcation®.
Read more about the hot new restaurants in Costa Mesa in our latest press release, including Blossoms and Brass pictured below – a European, cocktail-forward restaurant with surprising Japanese influences.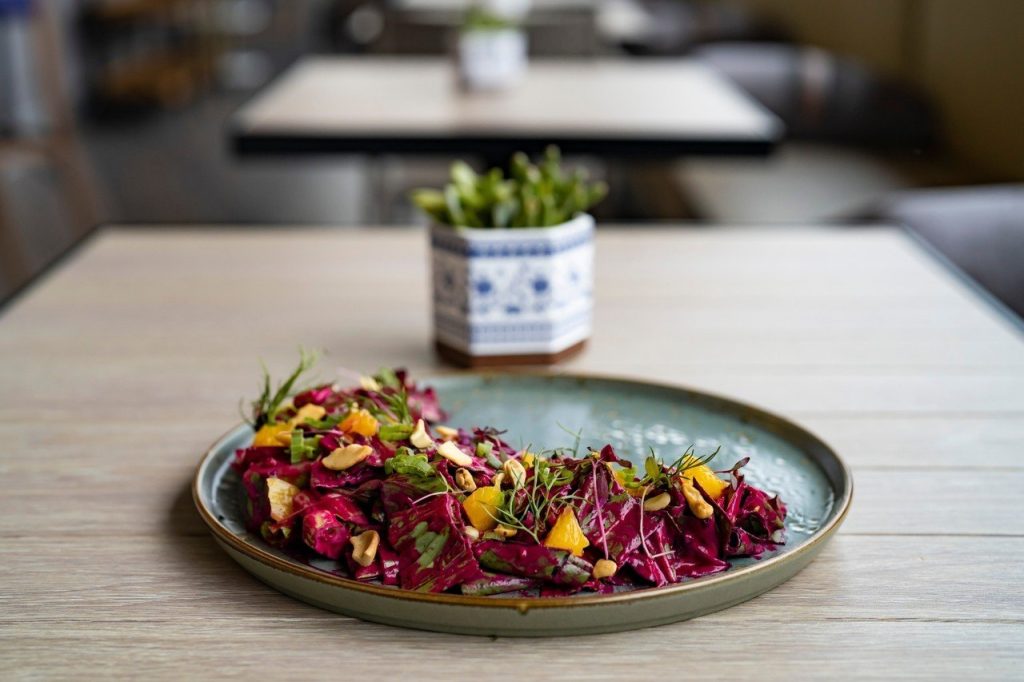 Tickets to a Show
Segerstrom Center for the Arts (SCFTA) offers not only Broadway plays and musicals, but lots of other great outdoor summer events as well. The hottest ticket of the summer will be Tina: The Tina Turner Musical, playing July 11-23, 2023. With the world's recent loss of legendary singer Tina Turner, watching this show will be bittersweet, but an absolute must to appreciate the life and music of this phenomenal artist.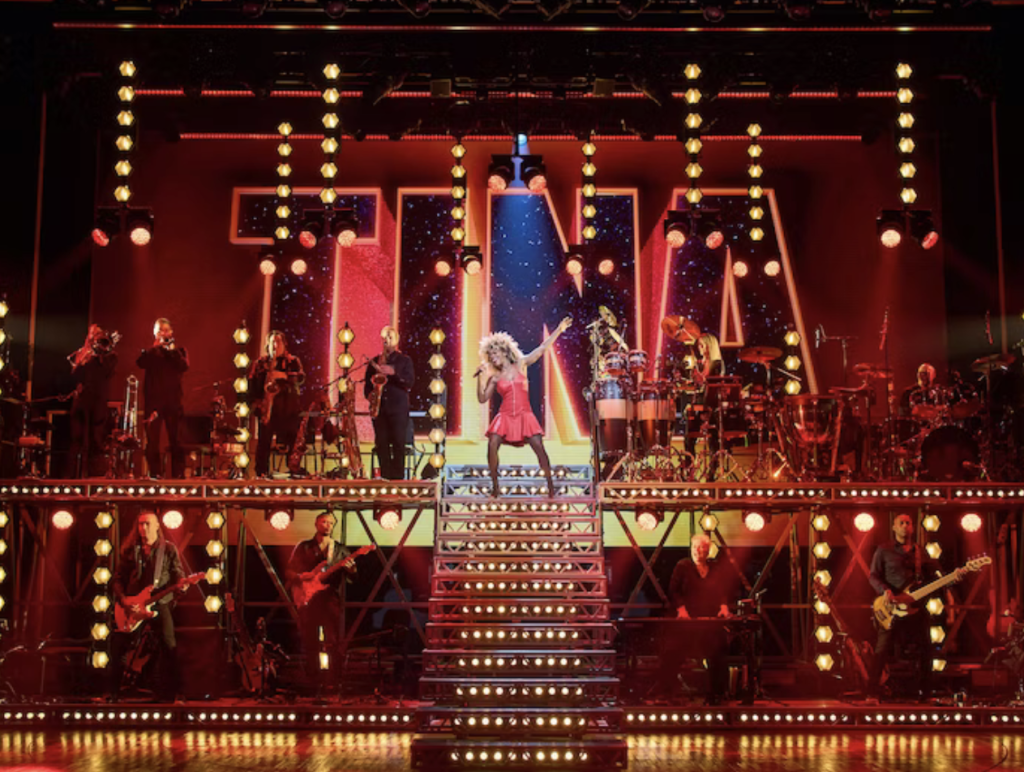 Another show coming this summer is Six, June 13-25. From Tudor Queens to Pop Icons, the SIX wives of Henry VIII take the microphone to remix 500 years of historical heartbreak into a celebration of 21st century girl power. For outdoor fun, be sure to check SCFTA's calendar, including free dance events and their famous Movie Mondays free on the Plaza starting with The Lion King on July 10. Don't forget to take a stroll through Costa Mesa's Art Walk.
OC Fair
Costa Mesa's biggest event of the year, the OC Fair returns July 14 – August 13 with the theme "Happy Together." The Orange County Fair is the 9th-largest fair in the United States and dazzles visitors every year with its wide array of events, rides, carnival, fantastic food, and the biggest Ferris wheel on the West Coast. Tickets are on sale now – choose dates carefully as there are no refunds or exchanges. Fairgoers must choose a specific date due to a certain number of guests allowed per day.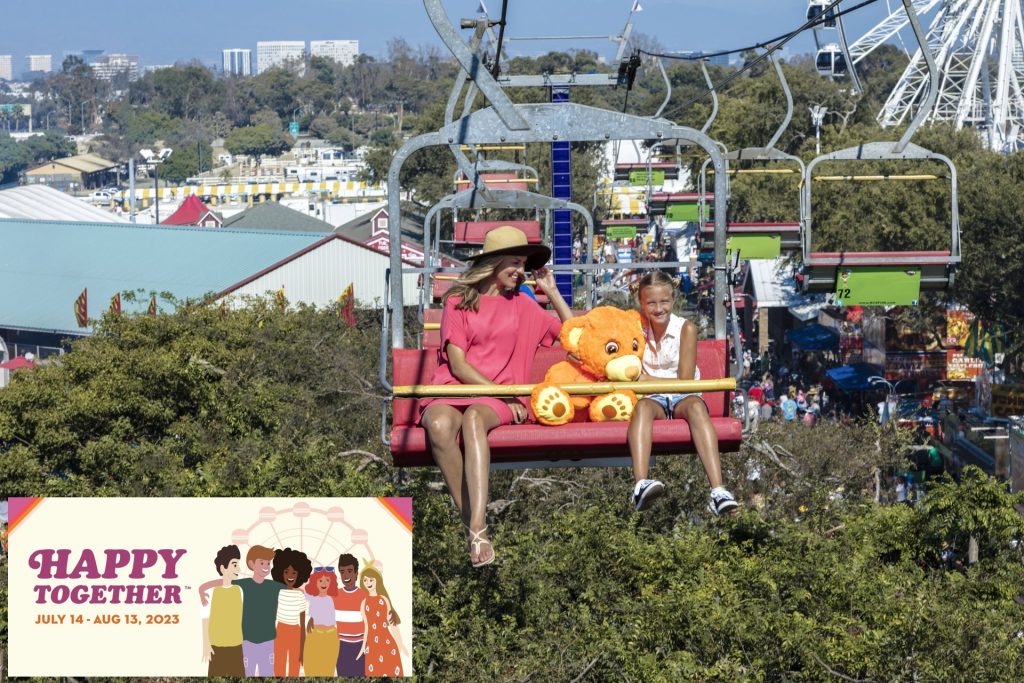 Pacific Amphitheater
PacAmp concerts are one of the highlights of Costa Mesa's summer roster, and this year's slate of artists is an exciting one. Pacific Amphitheatre is the 3,000-seat outdoor stadium located on the OC Fair grounds, and offers months of summer concerts for music lovers of every genre. Enjoy artists like Robin Thicke, Neyo and Mario, Dwight Yoakam, Smokey Robinson and more. See PacAmp's concert lineup here – and remember, your concert ticket purchase gets your free admission to the OC Fair as well!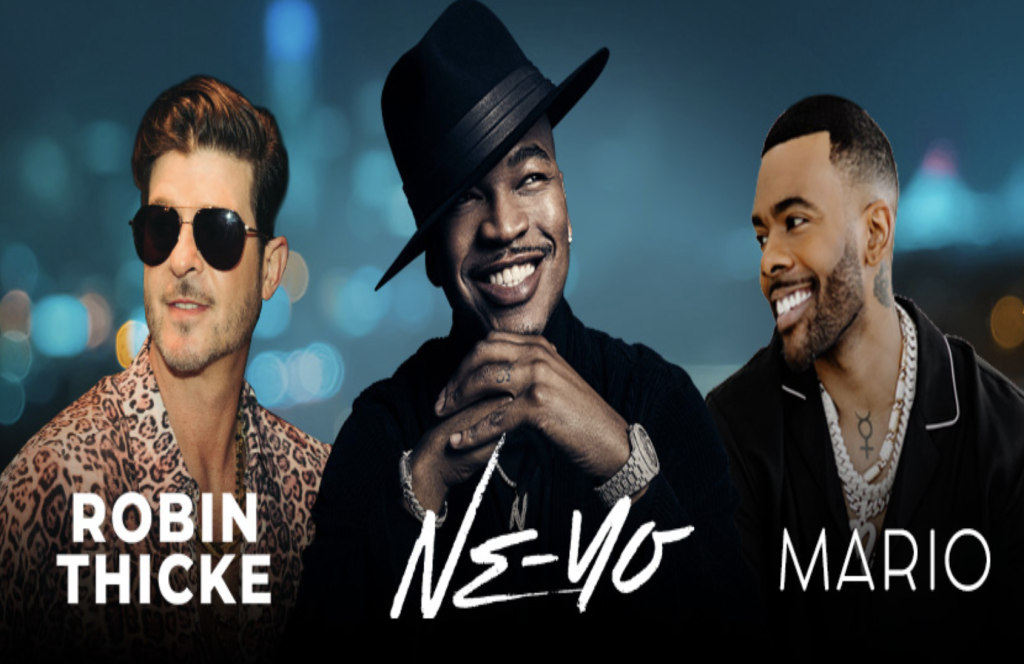 Centennial Farm
Centennial Farm is a 3-acre working farm at Costa Mesa's OC Fair & Event Center. Created to educate youth about agriculture and its importance to daily life. Centennial Farm is home to fruit and vegetable gardens, livestock, and the Millennium Barn. Two youth educational tour programs are offered, Discovery Days and Junior Farmer Tours – as well as year-round daily hours so the public can visit the farm. The Farm is well known for its Pig Cam, a live feed of the adorable Centennial Farm pigs. Check the Centennial Farm calendar for hours, and find out more about the farm's programs here.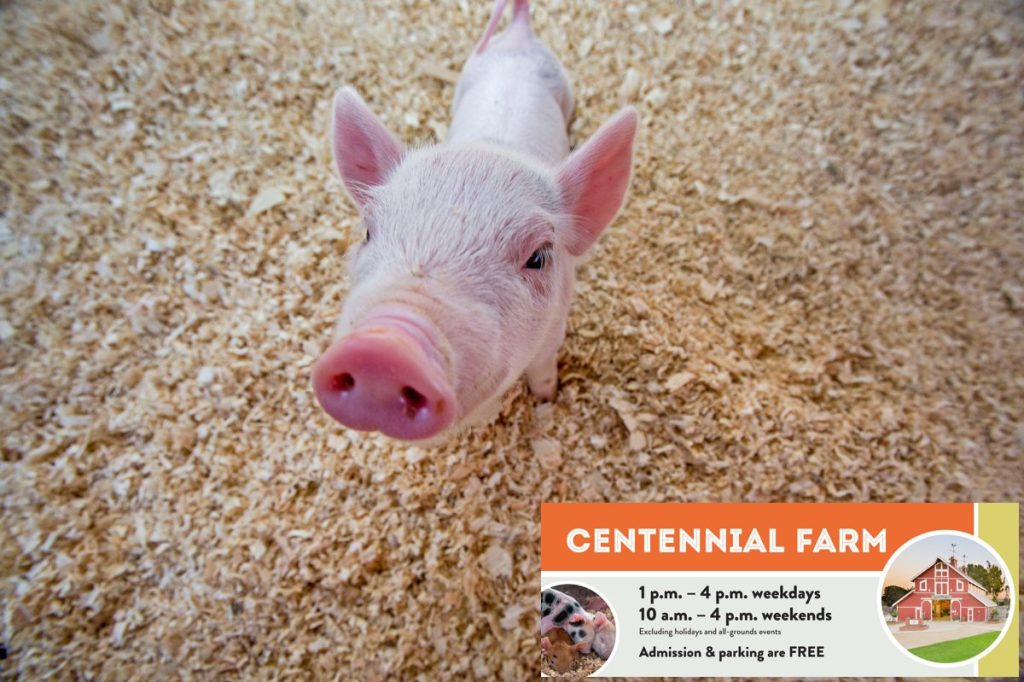 OCMA
With free admission to all visitors, there's no reason to not make a visit to Orange County's newest museum. On the Segerstrom Center for the Arts campus, the Orange County Museum of Art houses a collection of Check the OCMA calendar to see current exhibits and events happening this summer, including their monthly happy hour and pop-up talks!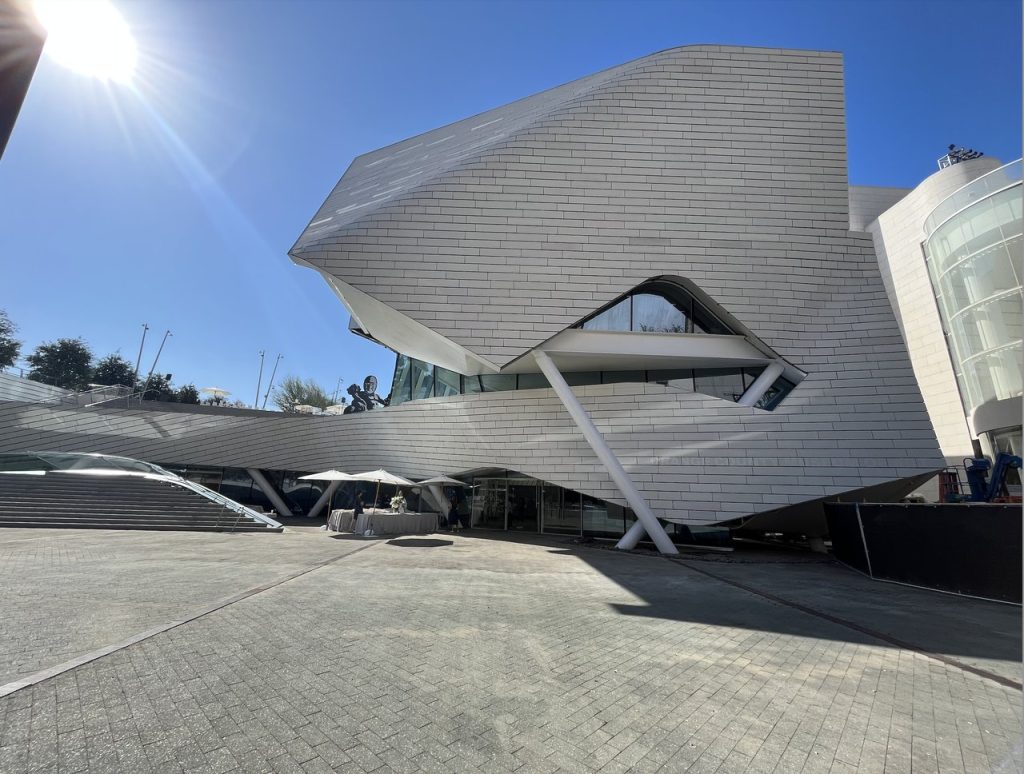 Outdoor Shopping
Summer means being outside, but it doesn't mean you have to give up your favorite pasttime of shopping the day away! Costa Mesa has multiple outdoor shopping, dining and retail environments including The LAB, pictured here. Its sister facility The CAMP is directly across Bristol Street with a crosswalk connecting the two. Both of these shopping and dining centers offer relaxing and kitschy outdoor space (even hammocks!) along with a great collection of restaurants – in fact, The LAB even has a Michelin Star restaurant, Hana re sushi. Find a brewery, sustainable shopping, wine tasting, a tattoo shop, eclectic bars and so much more – and spend the majority of your day strolling outside in the California sunshine.
Don't miss SoCo and The OC Mix – you'll find one of Costa Mesa's Michelin Star restaurants here, Taco Maria – plus unique local boutique shopping. Triangle Square houses a movie theater plus wonderful outdoor dining and OC's only nightclub, Time.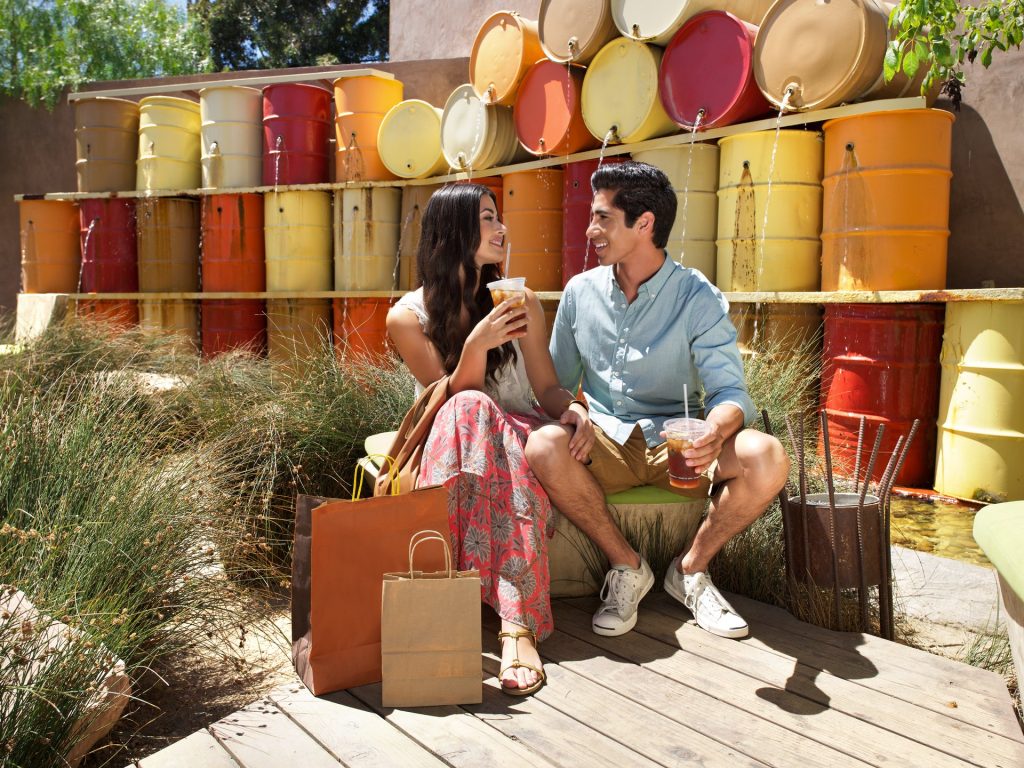 Orange County Beaches
Costa Mesa's just minutes from some of the country's most sought-after Orange County beaches. A short ride away from the Newport Beach and Huntington Beach crowds, Costa Mesa offers reasonable hotel rates plus incredible shopping and dining, frequently within walking distance of your hotel. Here's some secret OC beach spots you may not know about.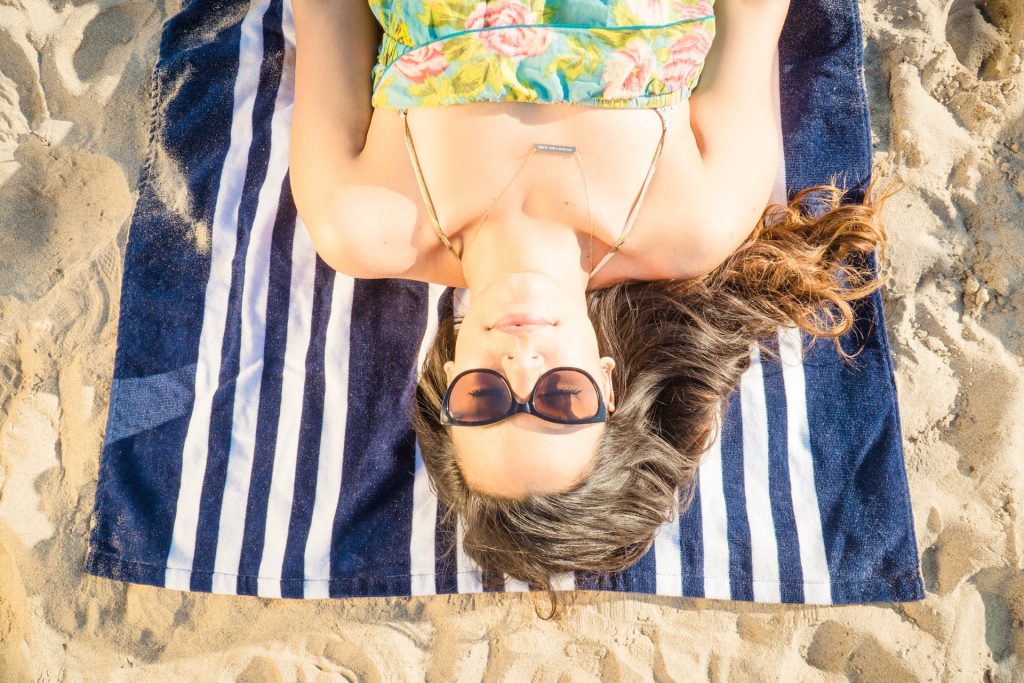 Lions Park Fish Fry
A cherished favorite local event, summer brings Costa Mesa's 76th Fish Fry & Carnival in Lions Park, 570 18th Street, Costa Mesa. This year the number of carnival rides will triple in size, as the carnival will expand onto Davis Baseball field. The Fish Fry is run by the Costa Mesa/Newport Harbor Lions Club, which has been serving the community for over 100 years.
Join in for three days of family fun June 23-25! Fish fry dinners, carnival rides, games, booths, listen to headliner bands, additional food stations, wine/beer garden, free giveaways, opportunity drawings, and more! All the money raised goes to support youth activities, sight and hearing conservation and other community needs.
Admission is FREE! Fish Dinners $15 – Food & Entertainment – Fish Dinners – Beer and Wine Garden – Carnival Rides – Games – Blues and Rock Bands – Booths – Opportunity Drawing –
Date & Time
Friday, June 23 · 5:00 PM – 10:00 PM
Saturday, June 24 · 11:00 AM – 10:00 PM
Sunday, June 25 · 11:00 AM – 9:00 PM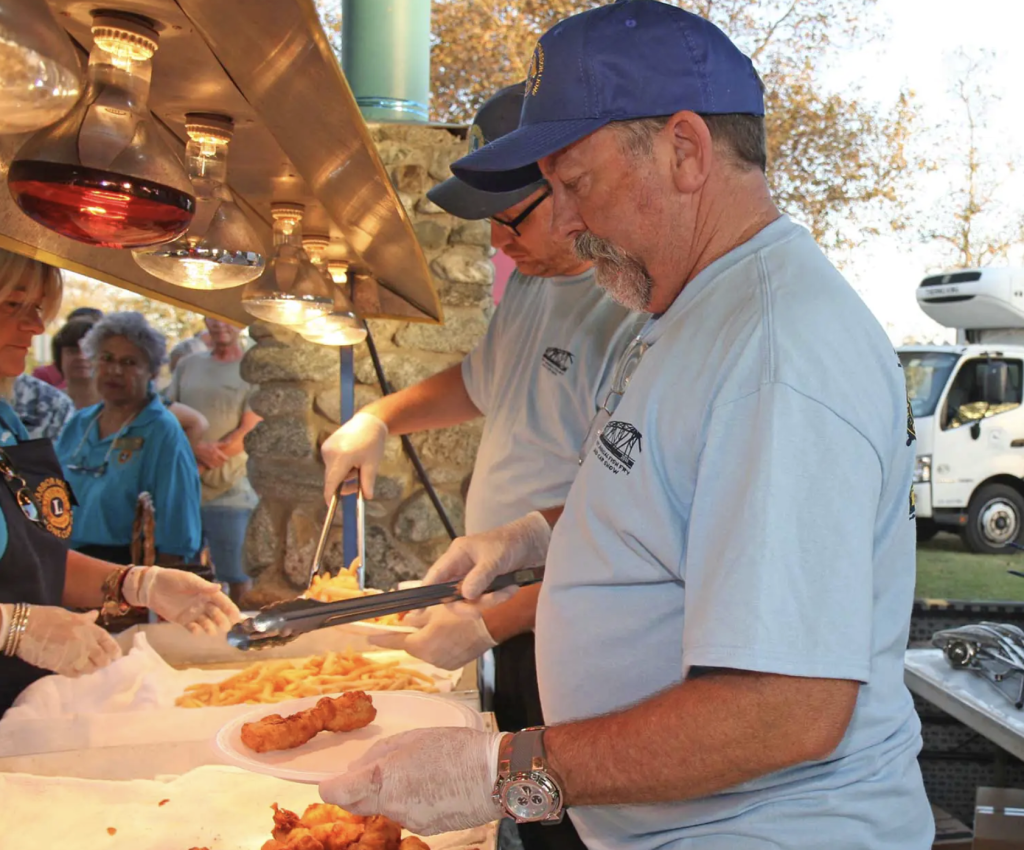 Goat Hill Junction Railroad
All aboard! A great family activity for locals and visitors, ride the model train for a 15-minute loop around Fairview Park on over 5 miles of track! Did you know Goat Hill Junction has one of the largest miniature train layouts on the West Coast? Managed by Orange County Model Engineers, club members operate over 40 gas and steam-powered model locomotives on the miniature railway. Riding Goat Hill Junction trains is great fun for both adults and kids. Free train rides every 3rd weekend of the month from 10am-3:30pm, weather permitting. Goathill Junction Railroad is located in Costa Mesa's Fairview Park. It's at 2520 Placentia Avenue between Adams Avenue and Victoria Street.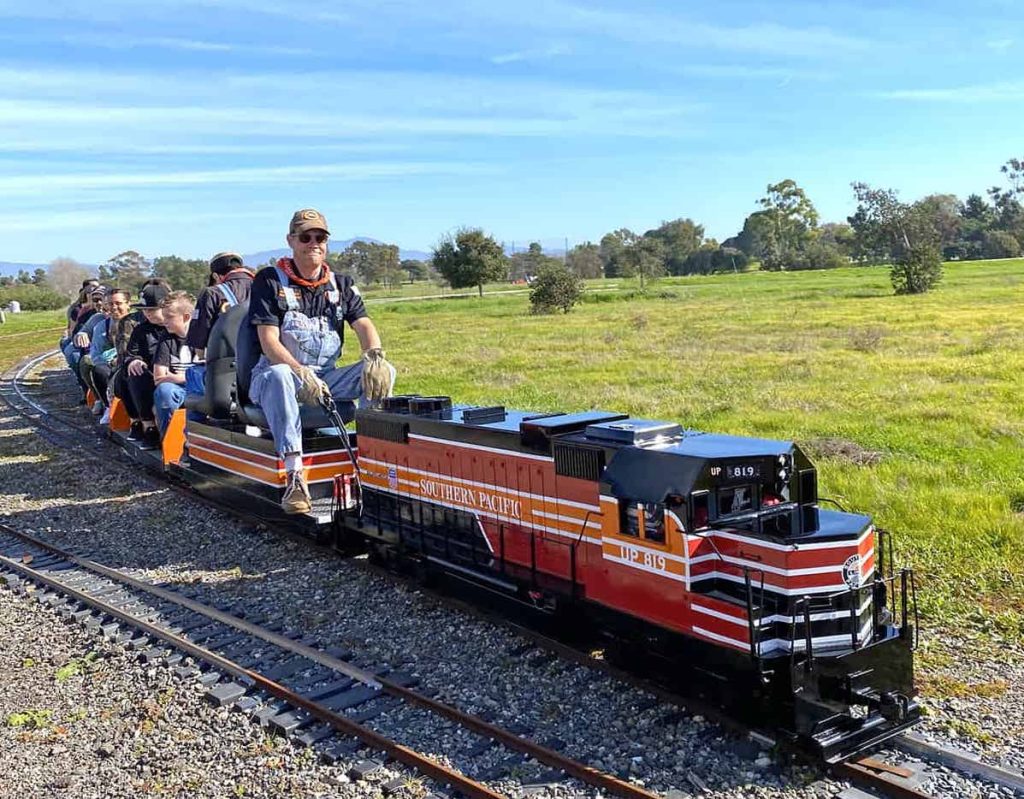 We know you'll enjoy the summer in Costa Mesa! With its proximity to the beach and great OC hotel rates, Costa Mesa is your perfect home base to visit Orange County this summer.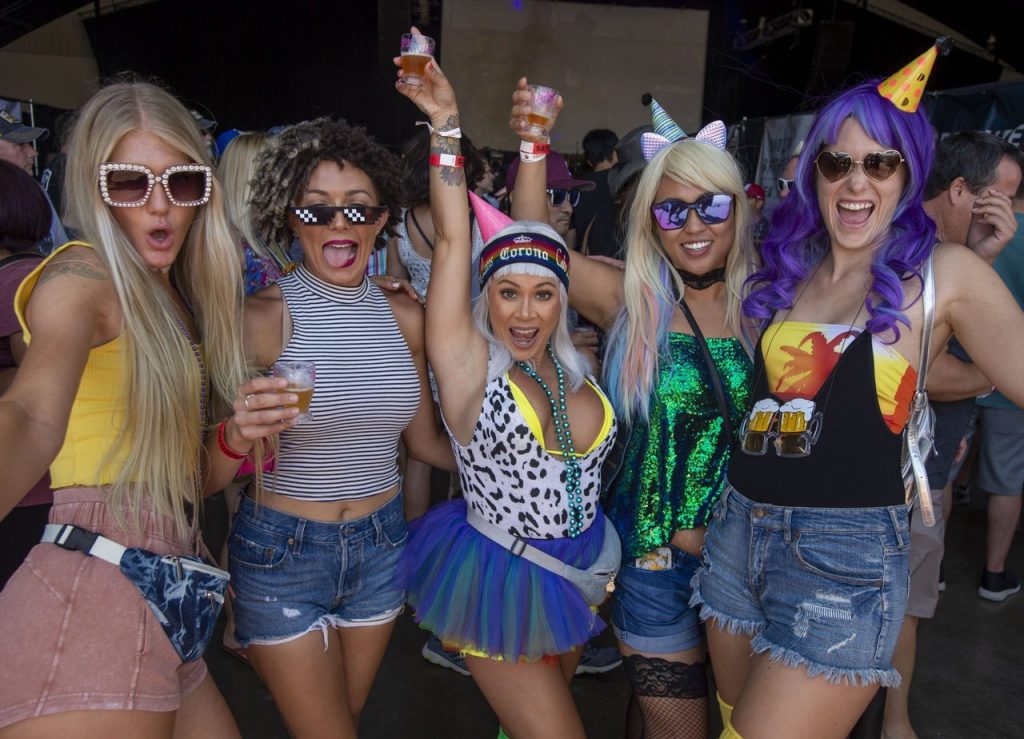 Comments Off on Ten Ways to Heat Up Your Summer in Costa Mesa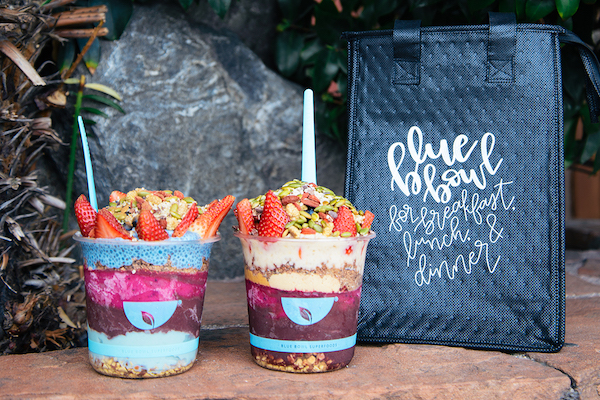 Blue Bowl – Stay energized during your beach day by creating your own superfood bowls and drinks.

Mendocino Farms – This gourmet sandwich shop offers fresh, healthy options with locally sourced ingredients.

The Crack Shack – Known for its delicious fried chicken sandwiches and creative sides. Convenient outdoor order and pick-up window. HINT: The dipping sauces are the secret ingredient to every dish.

Seabirds Kitchen – A vegetarian and vegan restaurant serving up creative and flavorful dishes using fresh, organic ingredients. Located at The LAB.


Milligram Coffee – More than a coffee shop! This independently owned shop has great bites. Features locally sourced and seasonal produce combined with modern and clean cooking techniques.


Greenleaf Chopshop – A healthy restaurant offering salads, bowls, and sandwiches made with fresh, organic ingredients.

Jan's Health Bar – A place always full of fresh food! Locally sourced ingredients and a casual atmosphere. HINT: Try the date shake for a perfect after-beach treat.

For more tasty food options in Costa Mesa, start exploring (and making reservations) now!
Comments Off on Grab-and-Go Options Perfect for a Beach Day
Posted in Misc
Sustainability is quickly becoming an important consideration with those planning to travel. If you're thinking about sustainable travel, Costa Mesa should definitely be on your destinations list. The City of Costa Mesa has been named a LEED Gold City, recognized for sustainability achievement and a Tree City USA community in California by the Arbor Day Foundation. Not only is the city committed to sustainability, but so are many Costa Mesa businesses. We've put together a list of our most sustainable places to shop – and eat – while you're visiting. 
Shopping
The CAMP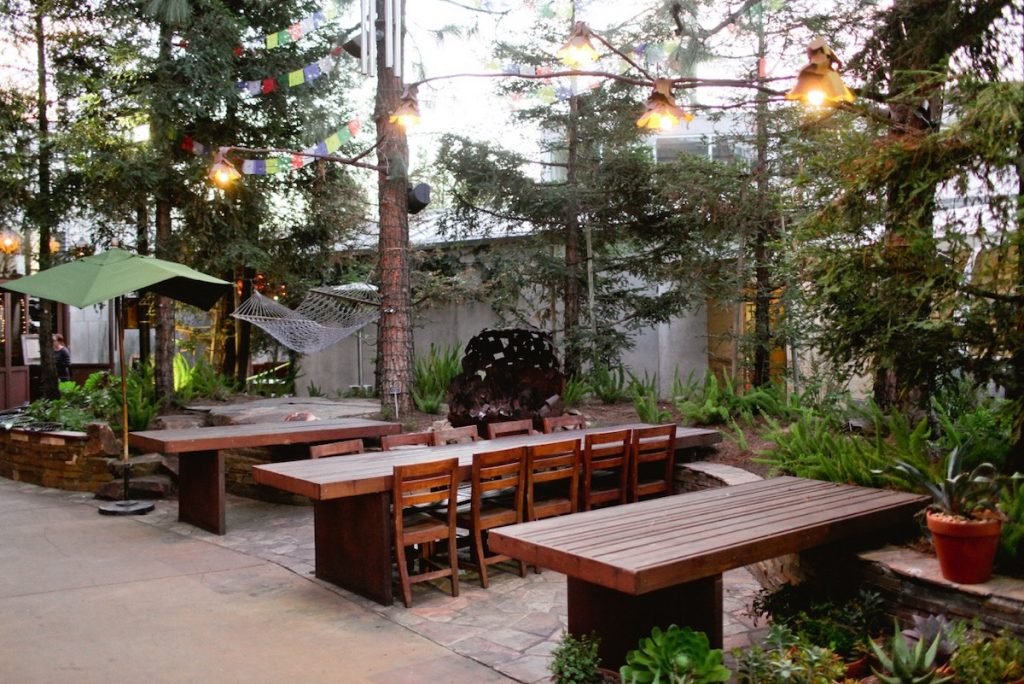 Visitors may recognize The CAMP as one of Costa Mesa's most Instagrammable spots, but The CAMP is also one of the first eco-friendly retail and dining campuses in the country. It's designed with tanks, filters and percolation wells underneath the parking lot that treats stormwater before it's absorbed into the soil and underground water storage. Around the property, there are 12 gardens growing herbs, fruit and vegetables so the restaurants can source locally grown ingredients for their dishes. 
This Earth Day, The CAMP is hosting a special Earth Day "Mother Earth Market." It includes focus on eco-conscious vendors, a clothing swap, workshops on sustainability and more. RSVP here.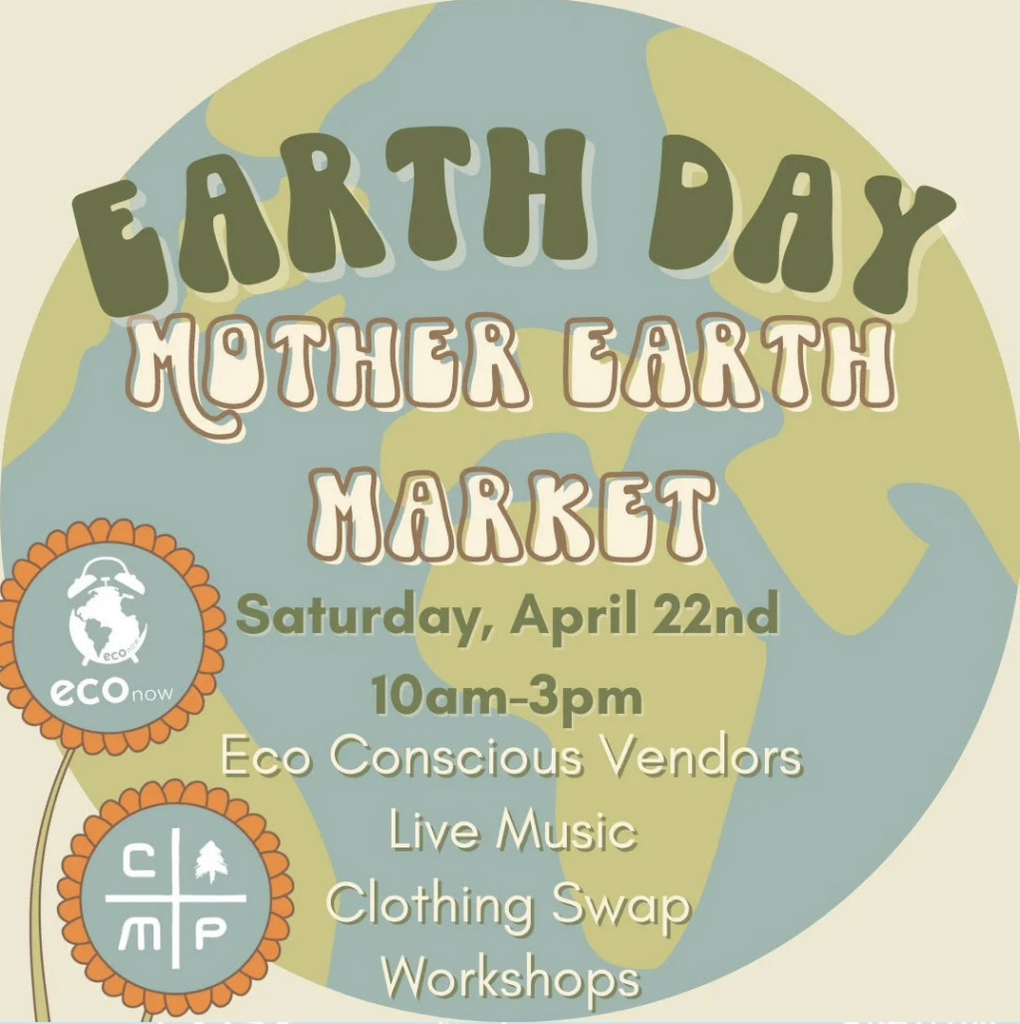 SEED Peoples Market
At SEED Peoples Market, you'll find a curated collection of eco-friendly and ethical brands. They inspire sustainable living and highlight one-of-a-kind items from local and global artisans. SEED Peoples Market is one of our favorites and we recommend checking out their unique goods for a true Costa Mesa locals' experience. It's in The CAMP, too.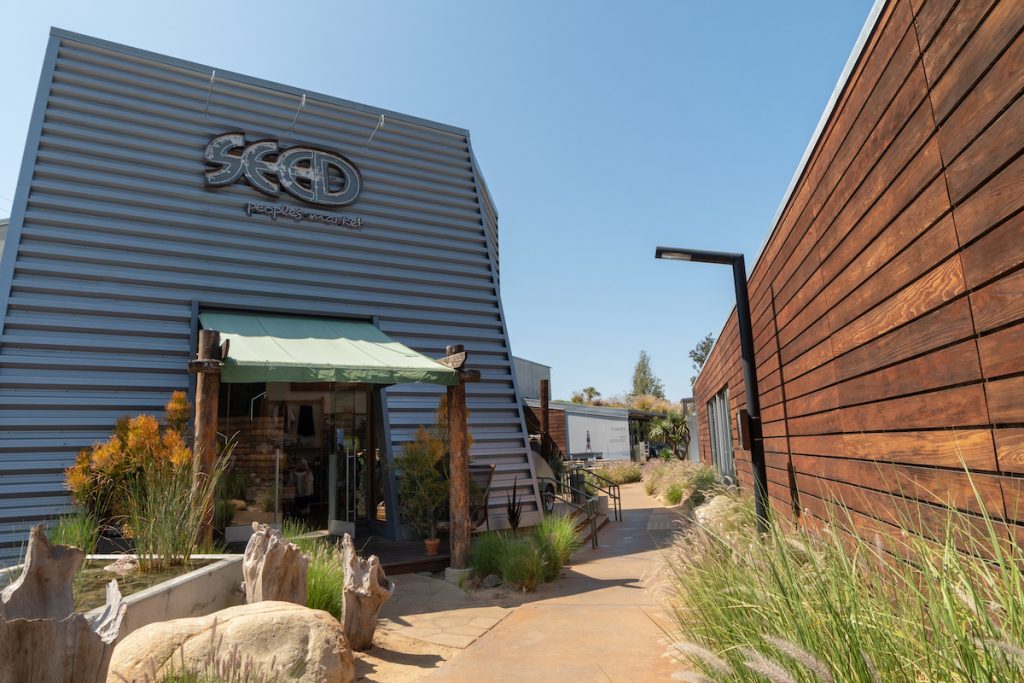 Bulk & Refilling Shops
Fill Up Buttercup
Fill Up Buttercup tells us that only 9% of recyclables are actually recycled, so the best thing we can do is reduce or reuse what we consume. Fill Up Buttercup is dedicated to keeping toxins and plastics out of your body, home & planet! The adorable shop is a one-stop shop for all your nontoxic household essentials in bulk to be refilled in your own container, as well as utilizing products that are easily composted or biodegradable. Its 3 female founders are hoping their store is a place to be fulfilled and inspired.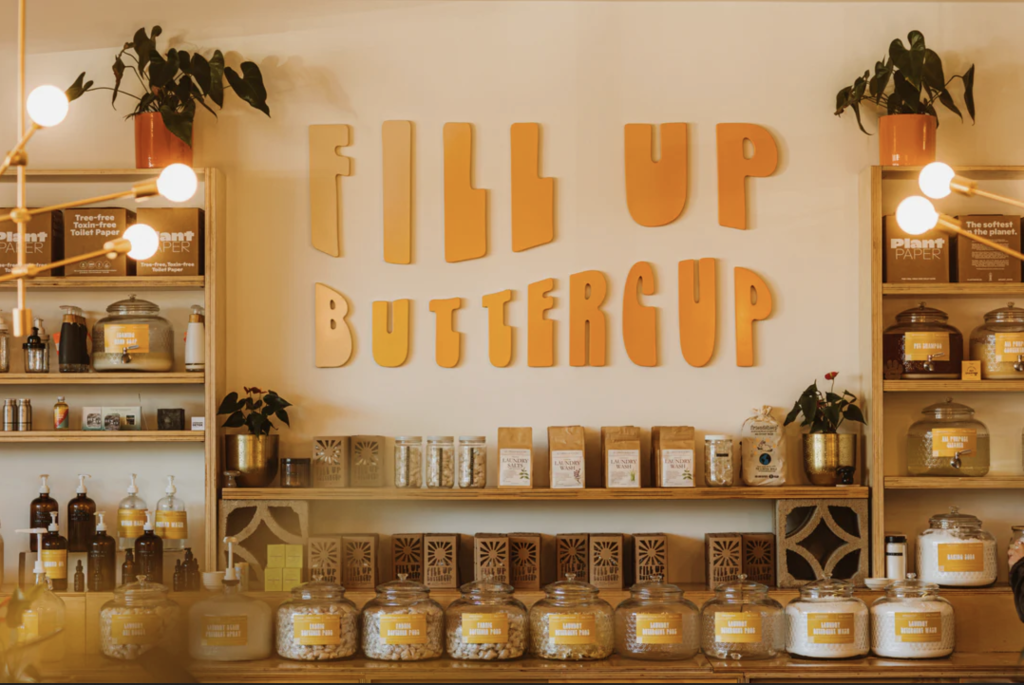 Eco Now
Orange County's first zero waste and refill shop, Eco Now has plenty of plastic-free options as well as refills for everything from laundry detergent to shampoo. It's located just across the street from The CAMP at The LAB Anti-Mall. The friendly staff are happy to answer questions for those who aren't familiar with zero waste or plastic free living. 
Amis de la Terre Market
Amis de la Terre is born from years of research on the ocean. Owners and PhD grad students Chris and Jessica have spent countless hours looking at water samples from our local beaches and finding micro plastics in everything. Visit Orange County's first zero-waste grocer and find delicious treats like plantain chips, organic cashews,fruits, grains, flour, vinegar, honey and even fair-trade chocolate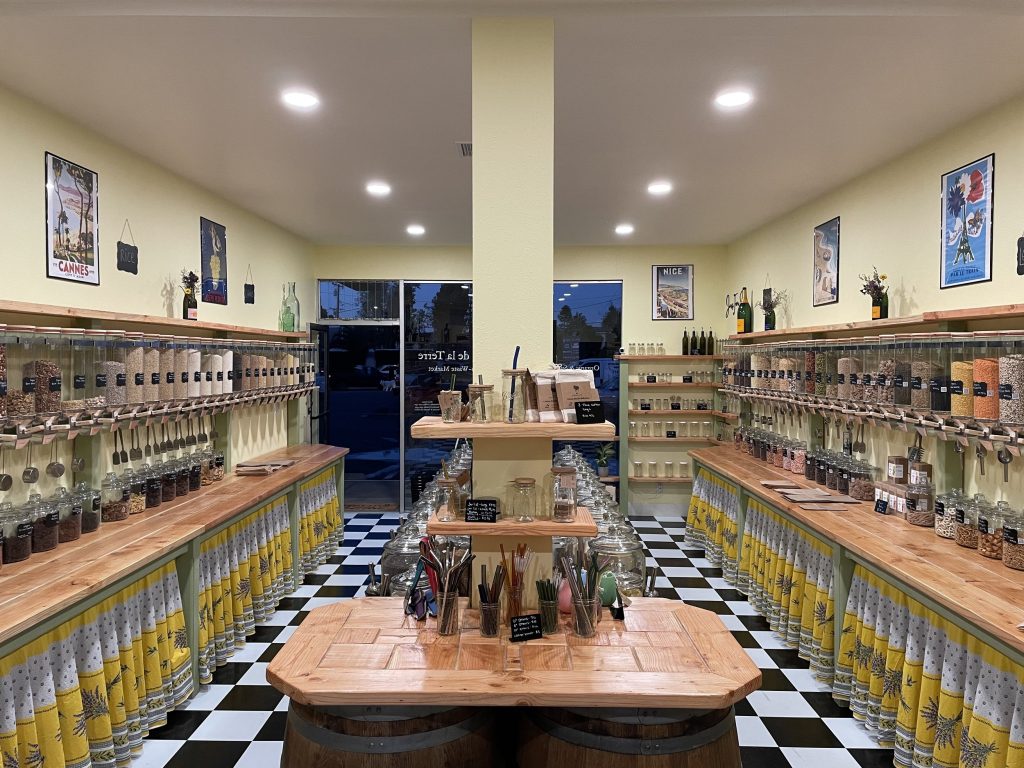 Cooking/Dining
We Olive & Wine Bar
We Olive & Wine Bar at SOCO & The OC Mix offers refillable bottles of olive oil and vinegar. You can sample before you buy to find your favorite. Bring back your clean, empty bottle to refill and enjoy a discount. We Olive specializes in small-production, boutique West Coast wines, highlighting local vintners.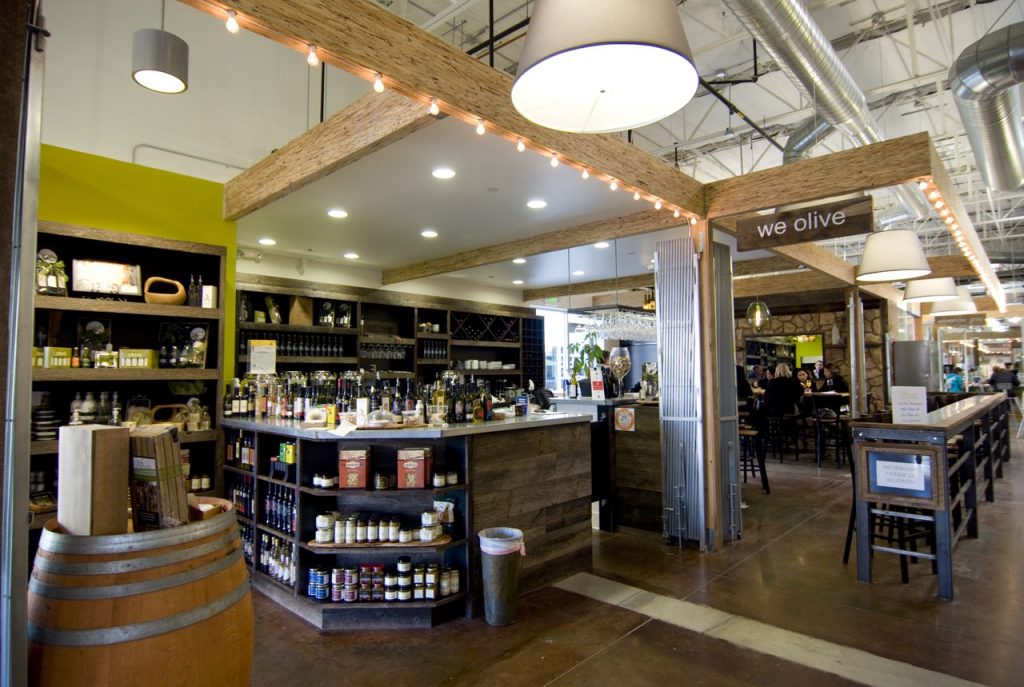 Wine Lab
Located in the bustling CAMP shopping center, the 1,270-square-foot space serves wine from a MicroMatic wine dispenser; Wine Lab's offering of 8 wines on tap was a first in Orange County. Small wineries love the keg-delivery option because it maintains the temperature and quality of the wines, but with a smaller carbon footprint. Wine Lab also features a beer dispenser with 6 taps offering local microbrews. There's also a small shop where customers can buy wine or the local artisan cheese, goat butter or other items they've tasted while sipping.
Fermentation Farm
Fermentation Farm is what might be called a fermentation hub providing OC with all things fermented, from kombucha to kimchi. Ferm Farm, as it is fondly called by locals, hosts things like Sustainability Boot Camps to teach visitors ways to be eco-friendly and sustainable in a variety of cooking or preservation methods. They focus on how to raise animals and plants organically, without the use of antibiotics or pesticides and sell products to promote organic living and gut health.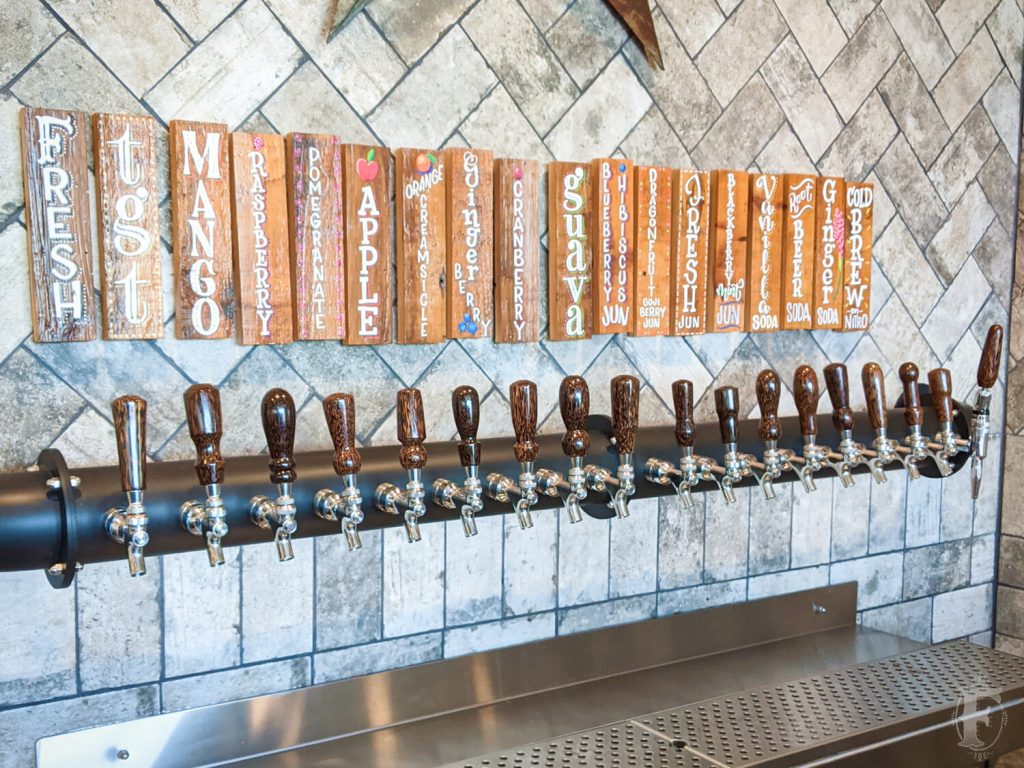 Veg'd
Veg'd offers a 100% plant-based menu uses nourishing, whole foods. It's a vegan fast-food restaurant that used to be a Del Taco, if you can believe that. They have burgers and fries but also serve kung pao veggie bowls and other great items. Everything is provided in 100% packaging that's biodegradable and compostable. The restaurant also composts or donates all unused food.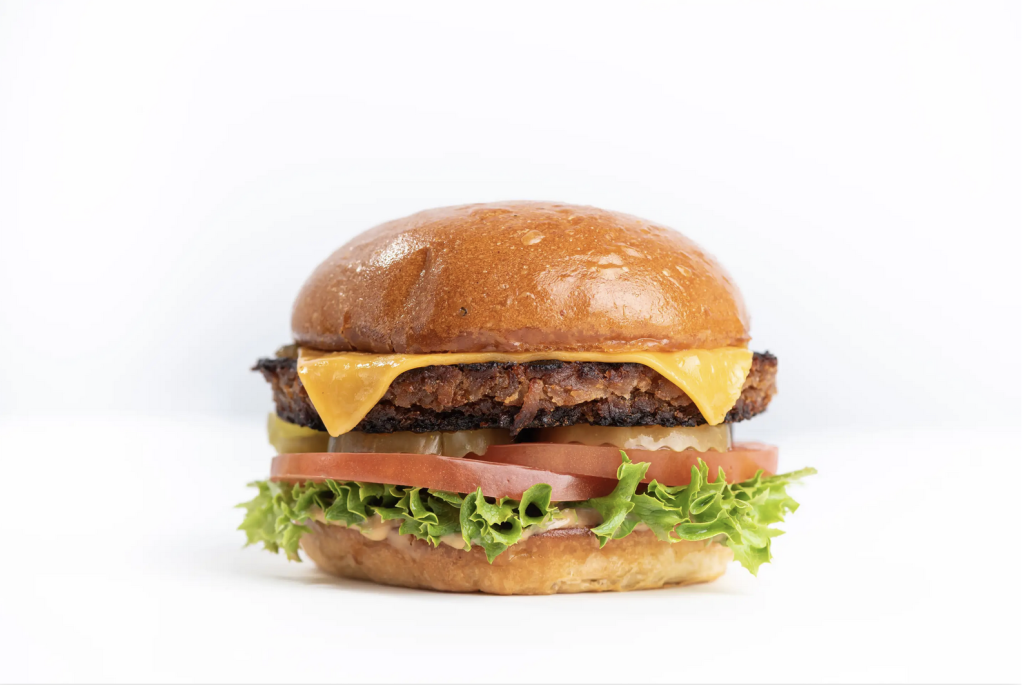 Comments Off on 10 Ways to Support Sustainability in Costa Mesa
Posted in Misc
Whether or not you celebrate the Easter holiday, Americans around the country often take that special Sunday with family and friends to enjoy a decadent brunch. While brunch is a perfect weekend activity all year round, there's just something about Easter Sunday that takes brunch to the next level. We rounded up some of the top Easter brunch spots in Costa Mesa to make your Eatcation® plans for the coming holiday.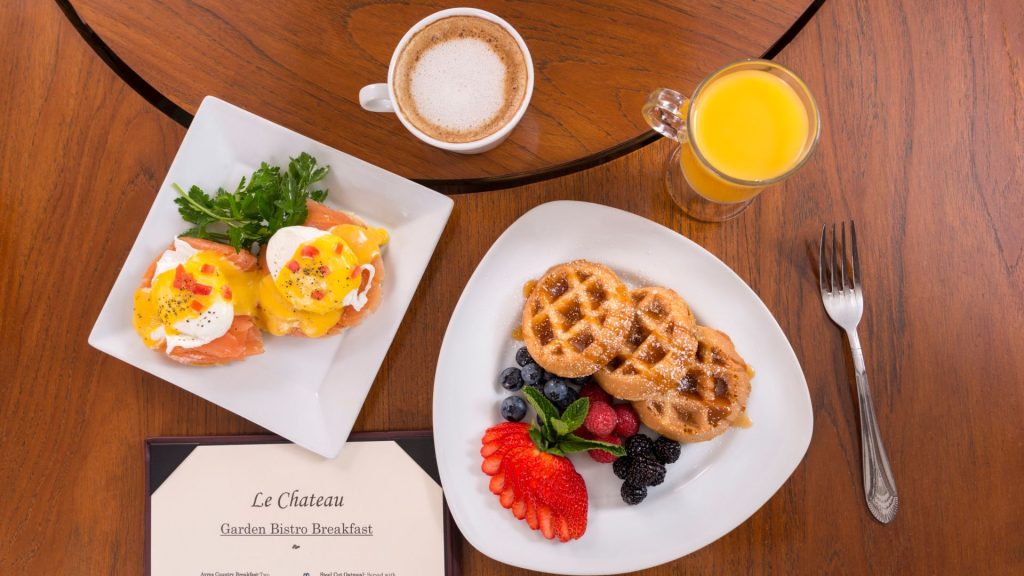 Le Chateau at Ayres Hotel
Le Chateau is offering not just a luxurious brunch experience, but bottomless mimosas as well. Visit Le Chateau inside the Ayres Hotel in Costa Mesa for an omelette station, carving station with prime rib, ham and salmon, plus salads and even a seafood station with ahi tuna, ceviche, smoked salmon and jumbo shrimp. You'll find breakfast favorites like eggs, bacon and sausage too, among a number of hot dishes…and don't forget those never-ending mimosas. $84 for adults and $29 for kids under 10. Call (714) 549-0300 for reservations.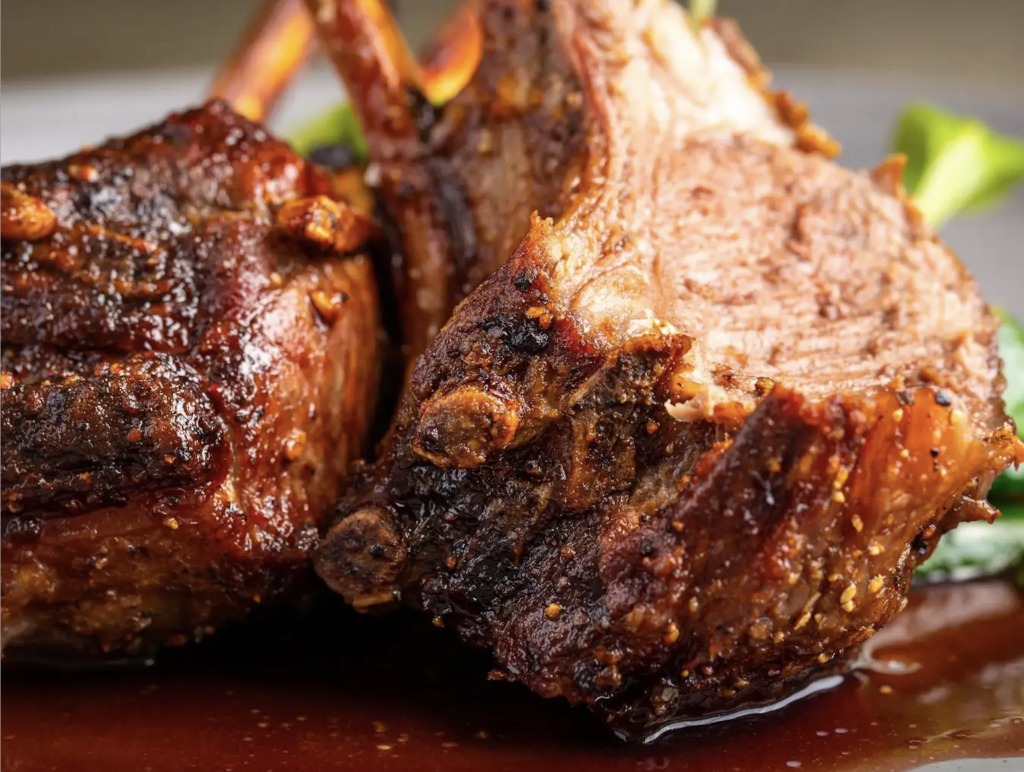 Silver Trumpet Restaurant & Bar
Experience a gorgeous lakeside Easter brunch at Silver Trumpet, inside the Avenue of the Arts Hotel in Costa Mesa. On Sunday from 10-2, indulge in a gourmet buffet featuring multiple stations for appetizers, pastries, soups, salads, hot dishes, carving station, desserts and more. It's $92 per adult and $28 per child (ages under 12); tax and gratuity are not included. Make your reservations online. Details of what's on the menu below. A cheese table? Count us in.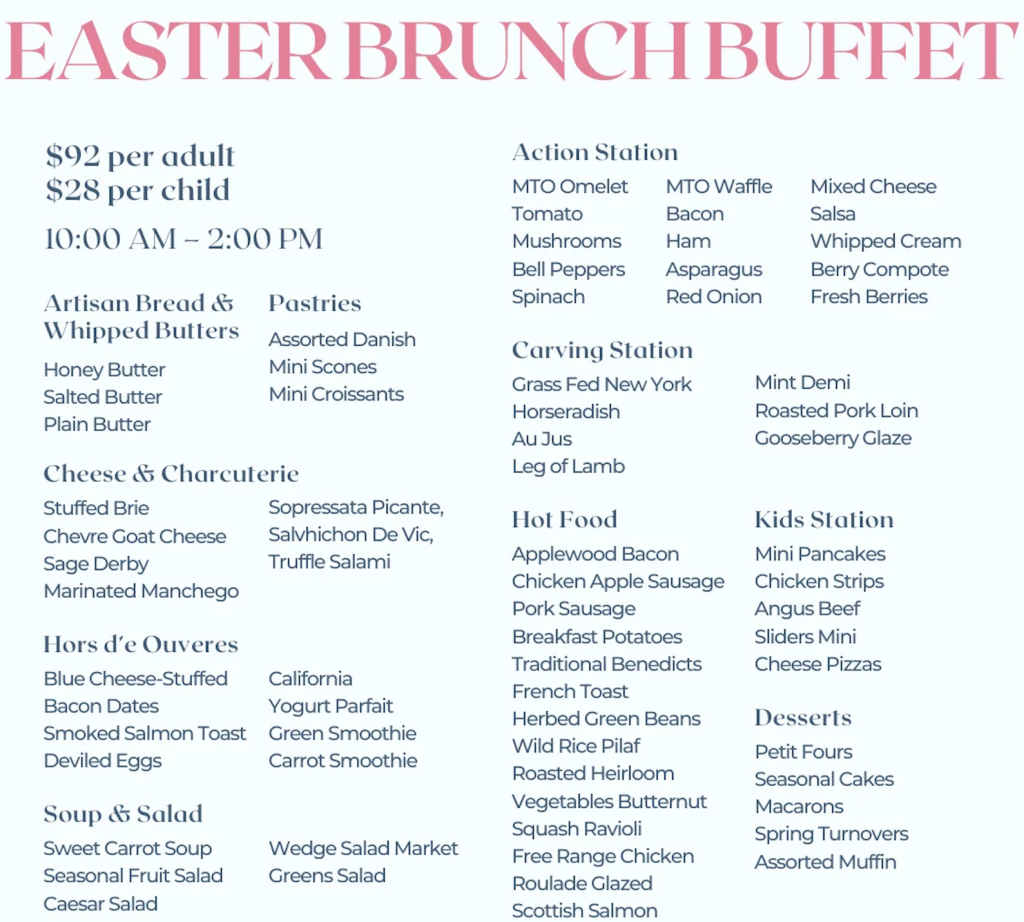 South Coast Plaza
The international shopping destination has multiple great restaurants offering Easter dining celebrations; nothing wrong with combining your delicious Easter meal with a little shopping at the West Coast's largest shopping center. See the list here.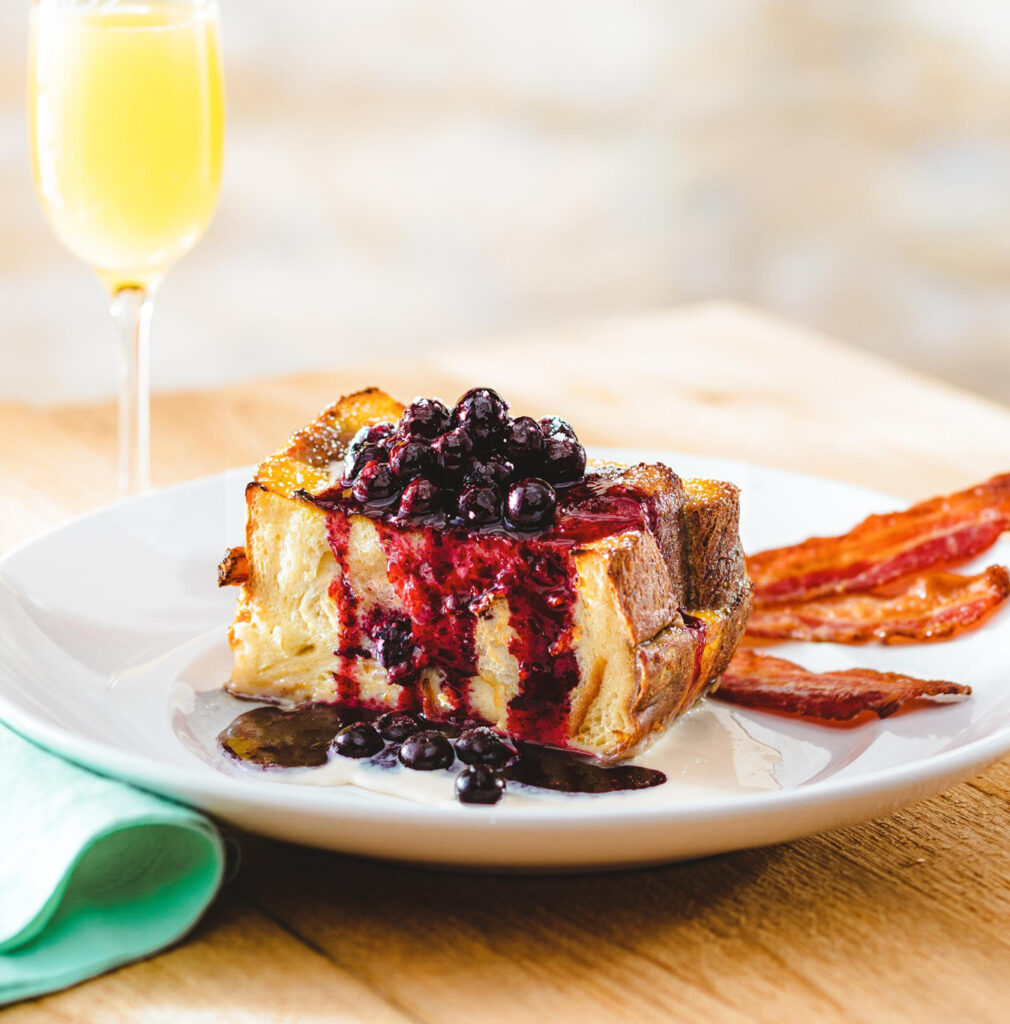 We like Seasons 52's offering, an à la carte brunch menu as well as an Easter Green Box available for takeout. Easter brunch service is from 10-2. Entrées include crab and cheddar quiche, upright French toast with fresh blueberry compote and apricot-glazed ham with French green beans and sweet potato mash, maple-pecan streusel. For reservations, call 714.437.5252 or visit OpenTable.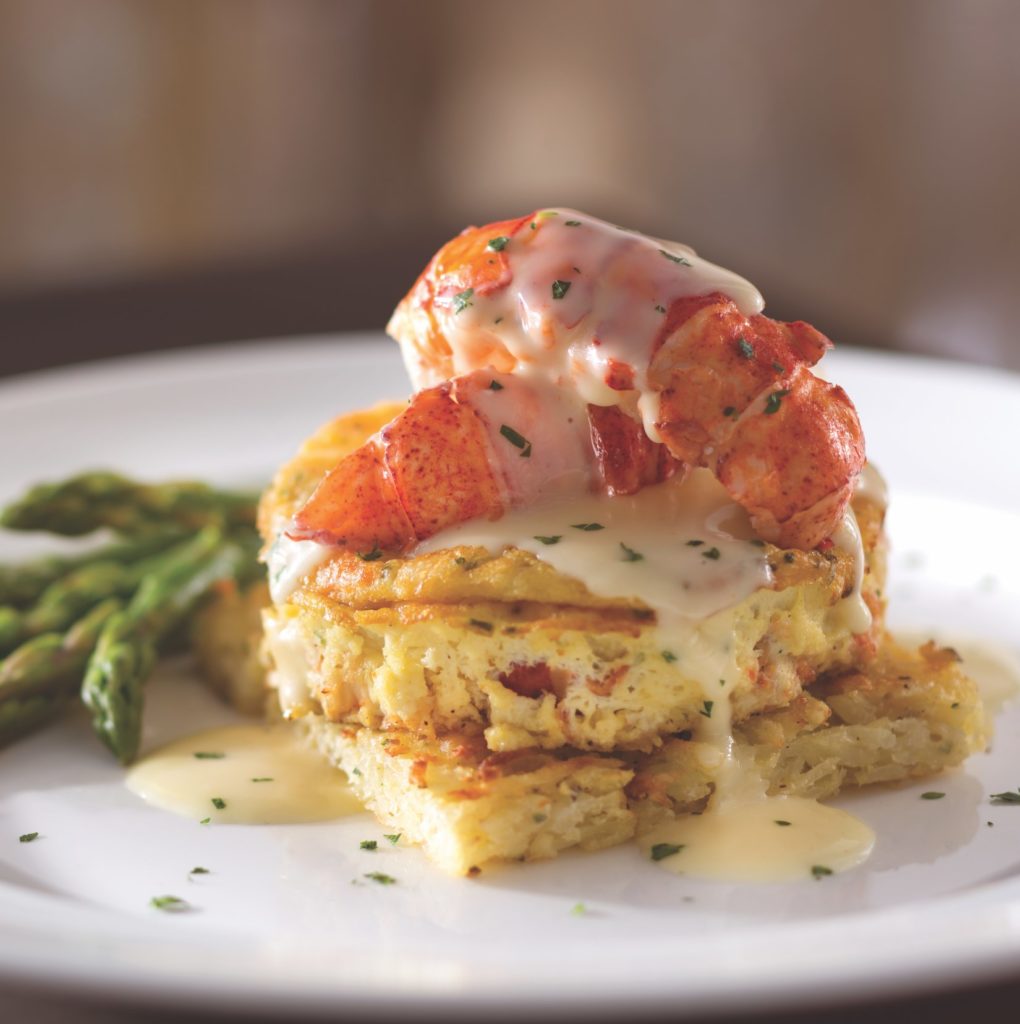 The Capital Grille might be offering South Coast Plaza's most decadent brunch. Entrées include lobster frittata with butter poached lobster tails and asparagus, bone-in dry-aged NY strip and eggs, and a center-cut filet mignon, all served with white cheddar hash browns. New on the menu is smoked salmon and caviar with blini and a white cheddar potato cake. Brunch dishes are offered 10-2 à la carte; for reservations call 714.432.1140 or visit OpenTable.
Be sure to check South Coast Plaza's entire list for the 13 participating restaurants.
Outpost Kitchen
The Bristol Street location is offering 2 seatings for Easter brunch.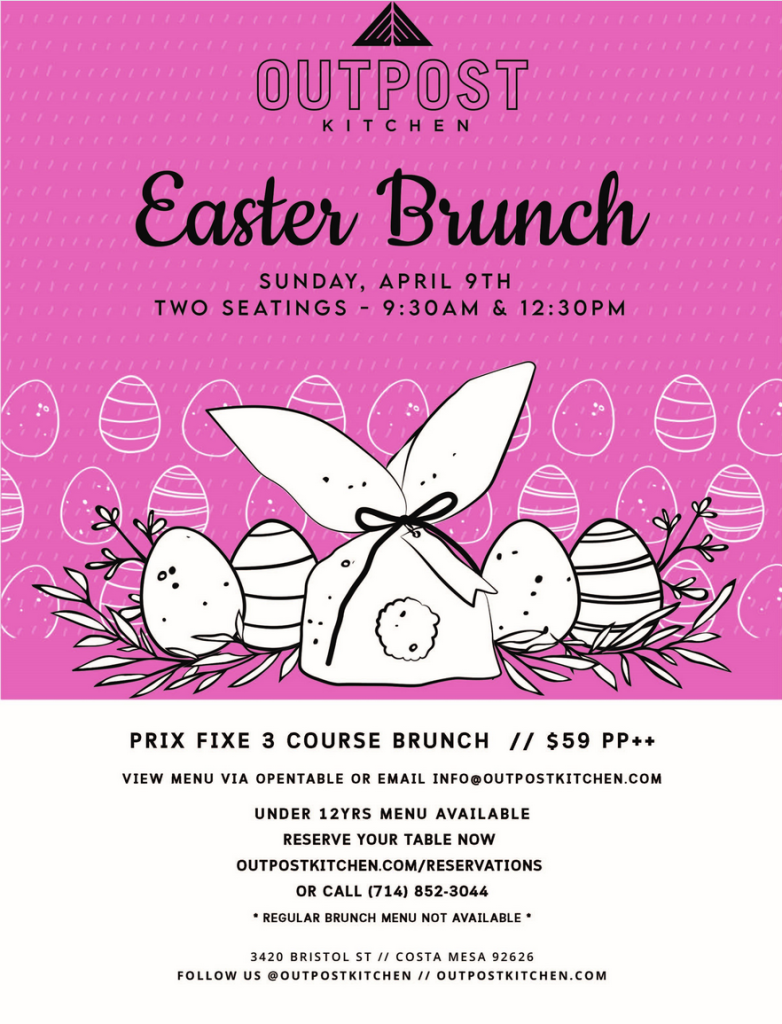 They're offering an exclusive brunch menu and Outpost's organic, sustainable, local cuisine is some of the best in the city. Just take a look at some of their dishes to get your mouth watering.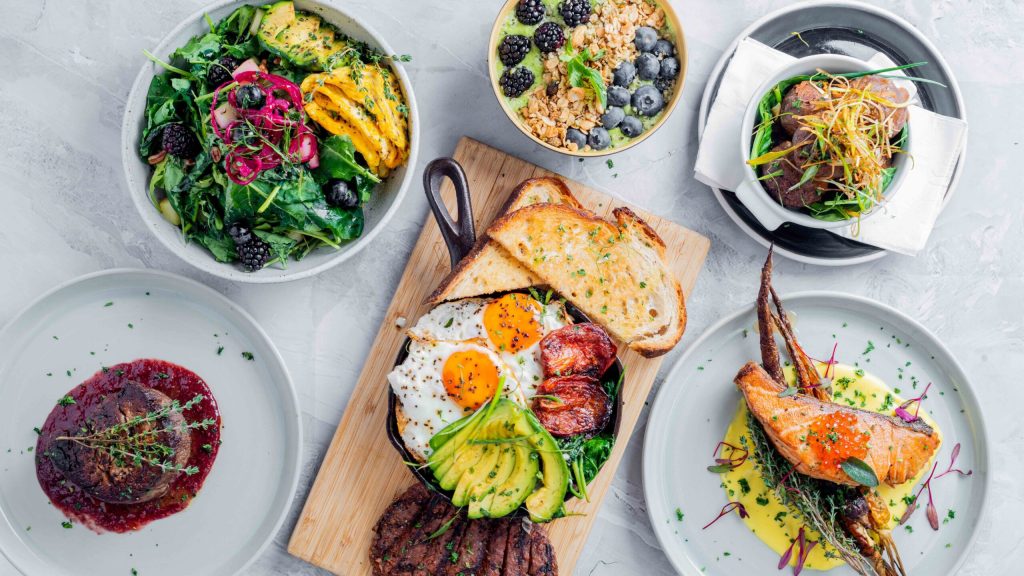 Blackmarket Bakery
Staying in or visiting friends or family for Easter? Blackmarket offers a wide range of special breads, pastries and desserts for everyone this weekend. Order your treats here.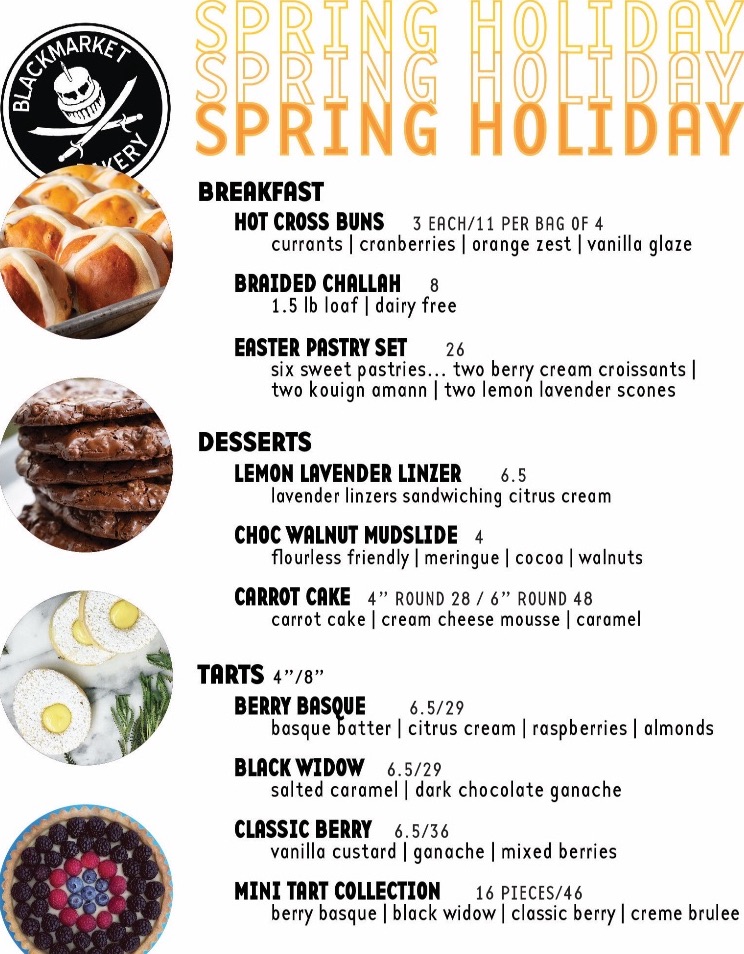 Playa Mesa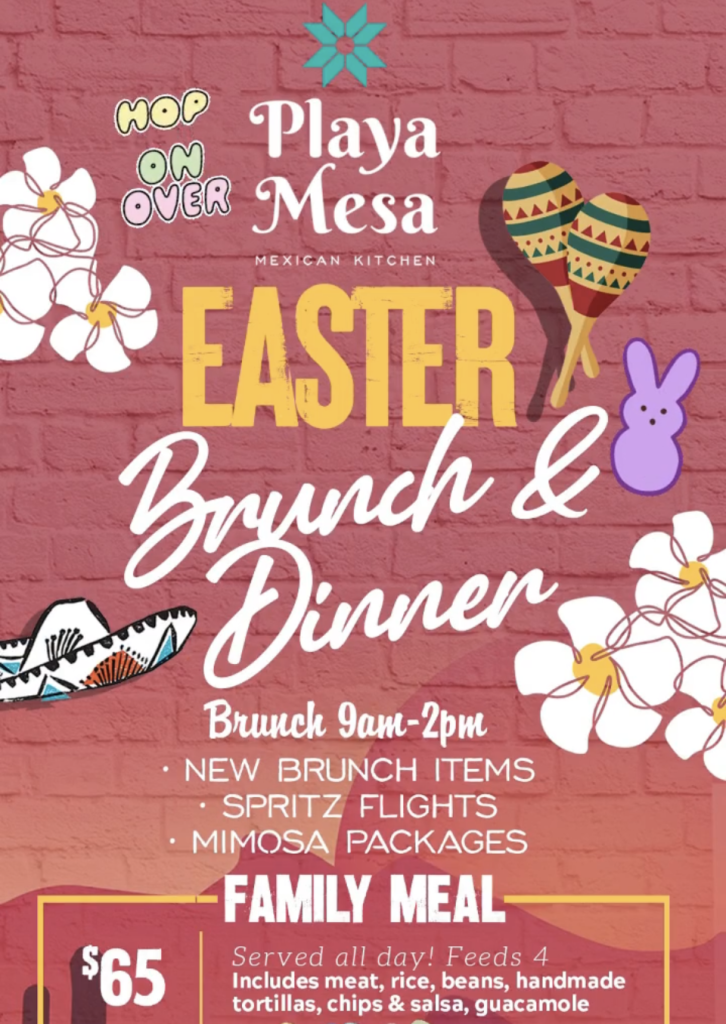 Playa Mesa is offering brunch and dinner Easter specials. Enjoy some of Costa Mesa's most delicious Mexican food and famous margaritas, including a variety of delicious roasted meats, fresh made tortillas and all the fixings. Brunch served from 9-2; reservations online.
Old Vine Kitchen & Bar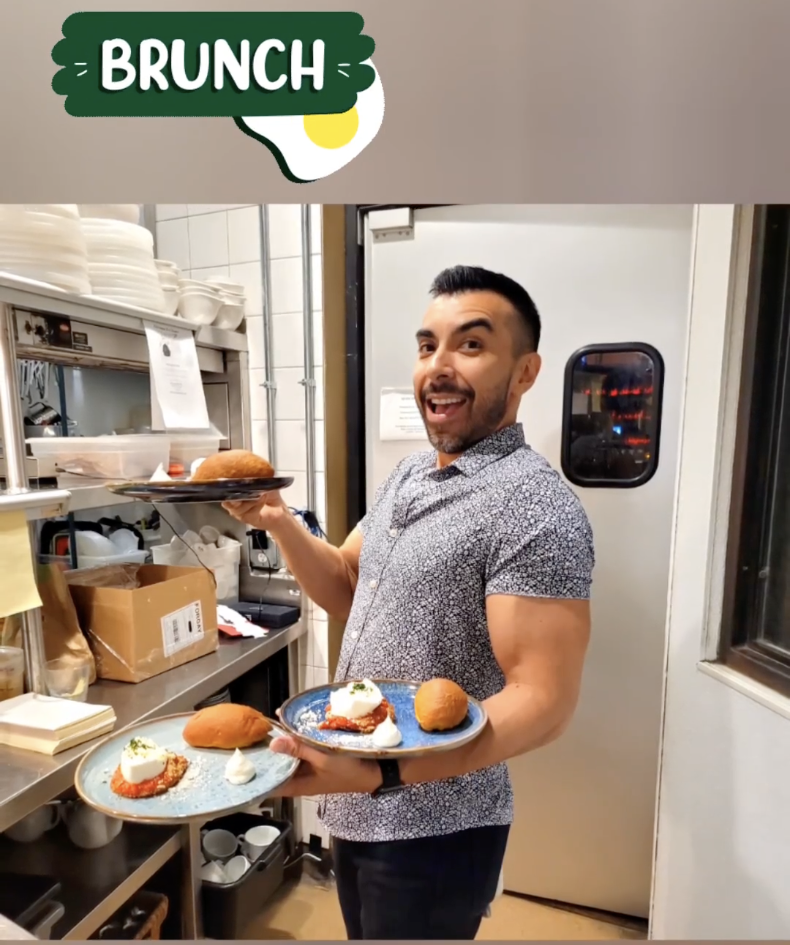 Old Vine Kitchen & Bar at The CAMP is offering an Easter brunch priced at $40 per adult and $12 per child ages 10 & under. The menu includes a housemade cheese apple danish, a spinach, artichoke and manchego cheese quiche, and a decadent blueberry croissant French toast. There's a vegan option, too. Visit their site to make reservations.
Be sure to follow @travelcostamesa on Instagram to see more great spots to visit in our stories. Where will you be eating Easter brunch? Let us know in the comments!
Comments Off on Brunch is For Everyone! Top Easter Brunches in Costa Mesa
Posted in Misc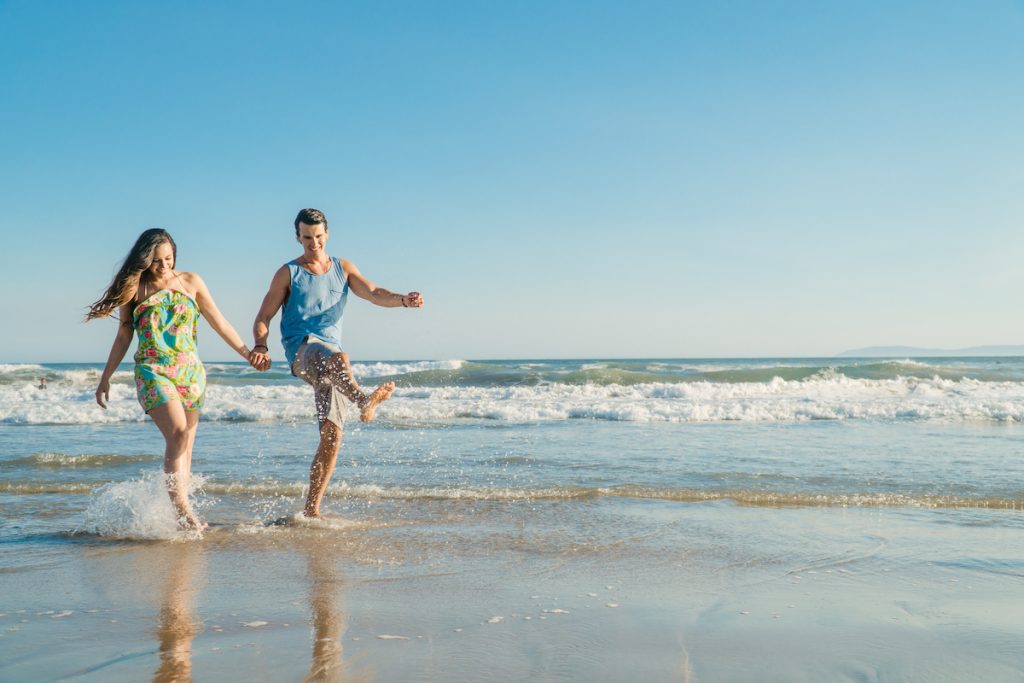 Finding yourself going a little stir crazy as we head into the second half of the winter season? We have good news: spring break is coming, and the perfect spring break getaway is just a hop, skip and jump away! If you're itching for a spring break getaway, Costa Mesa is the best hidden gem ripe for discovery in sunny Orange County, California.
Read More
Comments Off on The Key to a Perfect Spring Break in Orange County
Posted in Misc