The holiday season has a tendency to quickly lighten your wallet.  Between gift shopping and traveling to see friends and family, holidays can be expensive.  Fortunately, there are some free winter events in the City of the Arts.
Each Thursday until December 20, the LAB in Costa Mesa hosts "Frosty Flicks," a free holiday movie screening at 6:30 pm.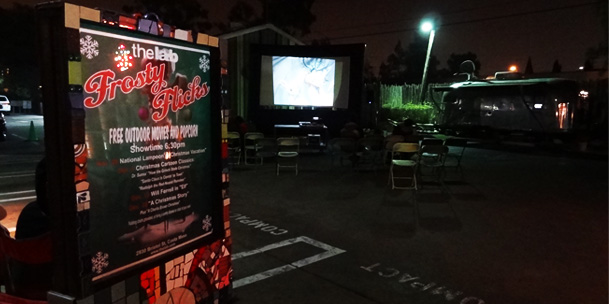 Popcorn is also free for moviegoers.  Last night, the theme was Christmas Cartoon Classics with animated favorites like Dr. Suess' "How the Grinch Stole Christmas," "Santa Claus is Comin' to Town" and "Rudolph the Red-Nosed Reindeer."
The remaining film schedule includes "Elf" starring Will Ferrell on December 13, and "A Christmas Story" and "A Charlie Brown Christmas" on December 20.  Folding chairs are always provided, but it's always a good decision to bring a comfy blanket or wear warm clothes.
The LAB will also play host to the Sweet Relief Musicians Fund Holiday Series.  Proceeds will be used to provide financial assistance to career musicians of all ages.  The remaining performances will be Friday, December 21 from 4-6 pm, Saturday December 22 from 2-4 pm and Sunday, December 23 from 2-4 pm.
There will be live performances at the CAMP too.  On Friday, December 14 Bisignani & Devore, Saturday, December 15 The Wind Chasers Club, Friday, December 21 Eli Balmer and Saturday December 22 Caitlin Jemma.  All performances will be from 12-2 pm.  Visit the LAB's website for other performances.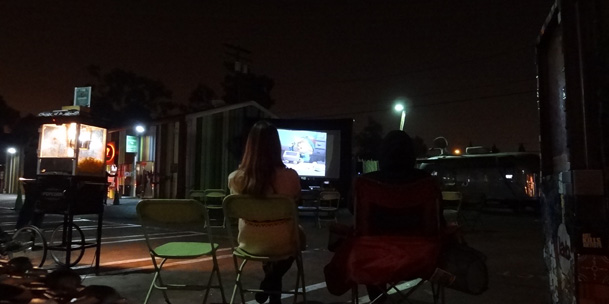 Another free event that is fun and family friendly is the grand opening of the Snoopy House at city hall.  The Snoopy House is a Costa Mesa tradition.  This year's event includes real snow, photos with Santa Claus and a spectacular light show.  Snoopy will also make an appearance.  The grand Marshall of the ceremony will be Jill Schulz, daughter of Peanuts creator Charles Schulz.  The ceremony is Friday, December 14 at 5 p.m.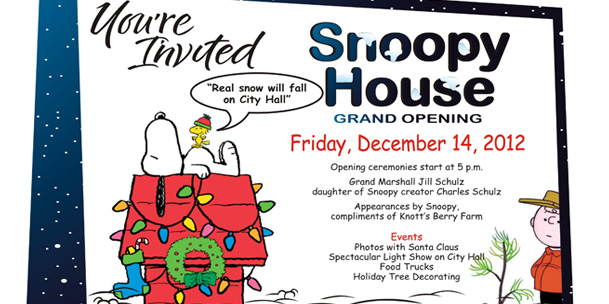 For other great holiday events, be sure to check out Travel Costa Mesa's events calendar.