January is national soup month.  To celebrate, you can dust off the slow cooker and create your own, or you can indulge in a steamy bowl of soup from some the best culinary offerings in the City of the Arts, Costa Mesa.
Because Costa Mesa is home to the best collection of restaurants in Orange County, there is a wide variety of cuisine and something to satisfy everybody's tastes.  Whether you prefer vegetarian or seafood, or something warm and comforting, there is a perfect soup on our list to celebrate national soup month in Costa Mesa.
1.  Lobster Bisque from Mastro's Steakhouse
Mastro's is recognized as one of the premier dining destinations in the U.S. and the lobster bisque certainly adds to its prestige.  The lobster bisque is rich, creamy and silky smooth with large chunks of sweet lobster.  It's one of the most popular items on the menu.  It serves as the perfect starter, but hearty enough to be enjoyed as its own meal.  After you've eaten the lobster bisque, your mouth will water with just the thought of indulging in its creamy deliciousness.
2.  Sausage and Clam Soup from Shuck Oyster Bar
Shuck Oyster Bar is quickly gaining a reputation as the go-to place in Costa Mesa for the freshest oysters and seafood.  Chef Noah Blom has partnered with other top chefs in Costa Mesa to become a known name amongst OC foodies.  His imaginative style and passion for great food led him to create flavorful fare like his sausage and clam soup.  The briny flavor of the clams combined with the mild spice of the sausage gives the soup warmth that is perfect for winter.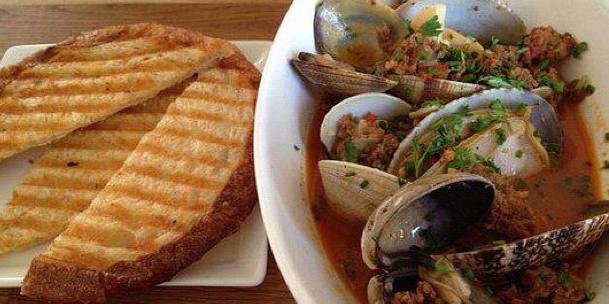 3.  Albondigas from Mi Casa Mexican Restaurant and Bar
Albondigas, the traditional spicy tomato, herb and meatball soup, originated in Spain in the sixth century and was brought to Latin America during the colonial era.  Albondigas is widely known as "Mexican soul food," and for many, it is the ultimate comfort food.  With big, hearty meatballs, vegetables and a little spice, Albondigas is a favorite at Mi Casa Mexican Restaurant and Bar.  Mi Casa uses handmade meatballs from a family recipe with a carrot, bell pepper, onion and light broth combination to make an authentic Albondigas soup.
4.  Spicy Miso Pork Ramen from Santouka Ramen
With over 1,110 Yelp! reviews and widely regarded as the best ramen in Orange County, Santouka Ramen serves authentic ramen from the food court inside of Mitsuwa Market.   The secret to Santouka Ramen's great taste is the 20-hour simmer method that brings out the best flavors and creates a perfect broth texture.  Noodles, pickled plums, bamboo shoots and jelly ear are all added to the ramen with cha-shu, a portion of pork back ribs, to create a delectable dish.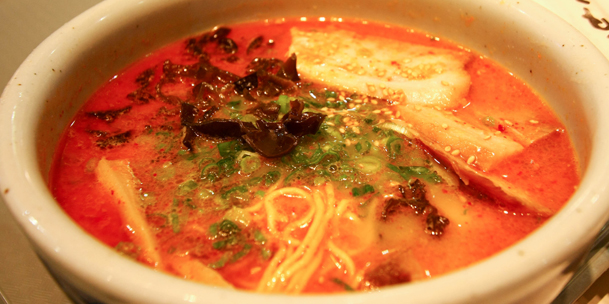 5.  Tomato Basil Soup from Greenleaf Gourmet Chopshop
The tomato basil soup from Greenleaf Gourmet Chopshop will turn anyone into a tomato soup lover.   Far from your standard canned tomato soup, Greenleaf uses fresh, organic and healthy ingredients to create a rich and velvety tomato basil soup.  The grilled cheese panini perfectly complements the soup for a tasty and healthy version of the classic combo.
6.  Tofu Stew from Hashigo Korean Kitchen
Hashigo Korean Kitchen's tofu stew can be prepared with pork, beef, chicken, kimchi, curry, mushroom, seafood or vegetable options.  It is always served in a bubbling cauldron with an egg on the side.  Crack the egg, stir and enjoy.  Hashigo also allows guests to order their individual level of spice with options of white, mild, medium and spicy.  The stew packs a punch, so consider your level of burn-tolerance when ordering.  The tofu stew tastes so good that the broth is also used as a sauce on other dishes.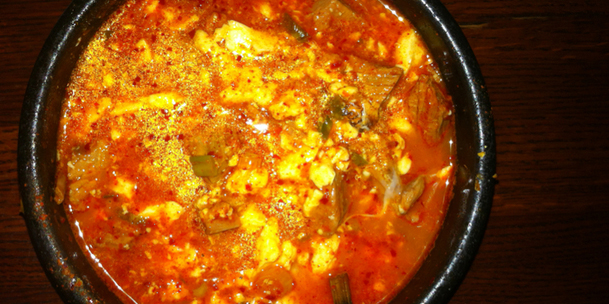 7.  Porcini Mushroom Bisque from Old Vine Café
The porcini mushroom bisque is creamy, warm and comforting – it's pretty much everything you would want in a soup on a cold day.  The bisque is served with a crostino, small and thin slices of toasted bread that are brushed with olive oil.  The crostino adds a crunch to the porcini mushroom bisque.   Lunch and dinner are mainly served as set menus at Old Vine Café.  The bisque comes as an option for the first course as part of a three-course set lunch, or as an à la carte item.