The recent weather has had us bundled up a little more than usual because it's not too often that the thermometer dips below 40 in Orange County.  Because of the chill in the air, we've been drinking more coffee, tea and hot chocolate.  Our hunt for hot beverages was the inspiration for our list of the best places in Costa Mesa to help you combat the cold with a steaming cup or warmth.
1.  Portola Coffee Lab is a playground for the most skilled baristas in Orange County.  To try an espresso, coffee or any creative offering available is to try the best handcrafted beverage available.   The Lab is the dream, or rather, the physical manifestation of owner Jeff Duggan's passion/obsession with coffee.  Each staff member is an expert on everything coffee.  From the type of bean, roasting process, brewing process or presentation, they will have an answer for any question you may have.  The décor is not sleepy like most coffee houses, but a vibrant green.  Everything is upbeat and friendly.  And, being that it is a lab, baristas creating drinks wear lab coats.
2.  Theorem is unique and the most inventive coffee and espresso concept in Orange County.  Of course, it could only be brought to you by the brains behind Portola Coffee Lab.  Located in the OC Mix, Theorem  serves one-of-a-kind drinks through reservations.  Guests who make reservations are treated to a presentation style service, like eating "omakase" style as a sushi restaurant, where the barista serves a selection of drinks from his or her choosing.  The reservation service lasts about 45-minutes.  There is also a walk-up service guests can choose from an offering of creative daily a la carte specialties.  Many of the creations are inspired by cocktails, but no alcohol is served at the bar.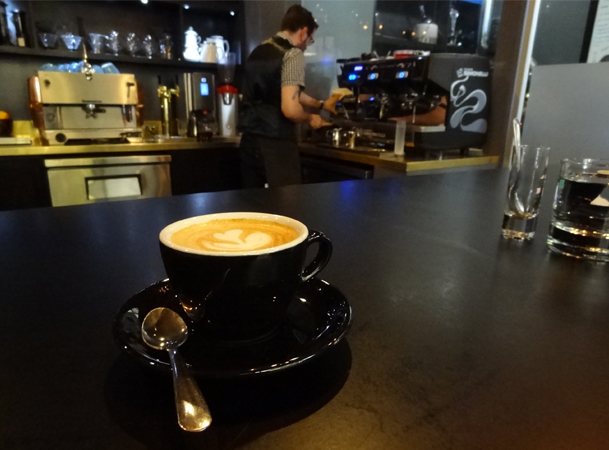 3.  Another spin-off of Portola Coffee Lab comes Seventh Tea Bar.  Seventh Tea Bar bills itself as a place where one the world's oldest and most popular beverages is given a new voice in Orange County.  Seventh Tea Bar is located at the OC Mix at the SoCo Collection.  There is a selection of over 50 teas to choose from with an experience, quality and level of service steeped from its Portola roots.  Teas from all over the world are available ranging from loose leaf, cured, fruit and herb infused, tea on tap, hot, iced and more.  Sandwiches, scones and pastries are also available.  The name comes from the Chinese belief that tea is one of the seven necessities of life.
4.  The Los Angeles based Cafecito Organico brings its passion for coffee to Costa Mesa with its only Orange County location at the LAB anti-mall.  Cafecito Organico prides itself on working with producers of sustainable working methods.  All of the beans are sourced from chemical-free crops with farmers who maintain humane working conditions.  To ensure the highest quality, the coffee is roasted in small batches.  Cafecito Organico is also passionate about sharing their love of coffee with monthly workshops.  Cafecito Organico is "committed to serving great coffees, grown on Earth by humans."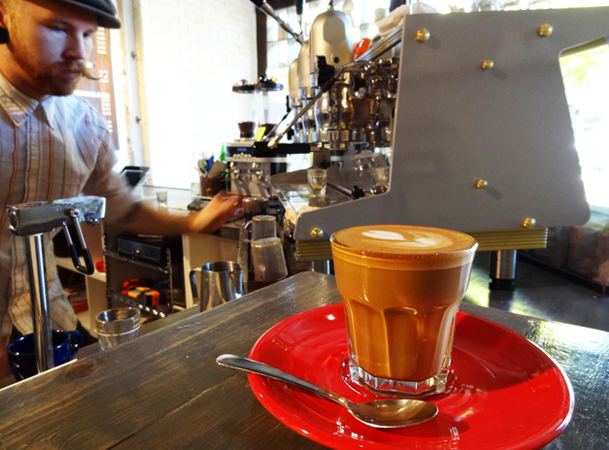 5.  Many frequent Gypsy Den for its food, however, it is also a great place for coffee.  Gypsy Den is a hybrid coffeehouse, restaurant and bakery.  The eclectic décor and clientele makes Gypsy Den a fun and unique establishment in Orange County.  There are also nightly events like open mic night, poetry readings and musical performances that add to Gypsy Den's identity.
6.  Guests at Milk + Honey converse in the peaceful respite of the covered patio.  Located at the CAMP, Milk + Honey is a cozy coffee shop that serves coffee, tea and small bites.  One of the most popular menu items in the lavender tea latte.  For those looking for an extra jolt, the "dirty" lavender tea latte comes with a shot of espresso.  Milk + Honey is an ideal coffee shop to read, catch up with friends or just to lounge and enjoy a warm beverage.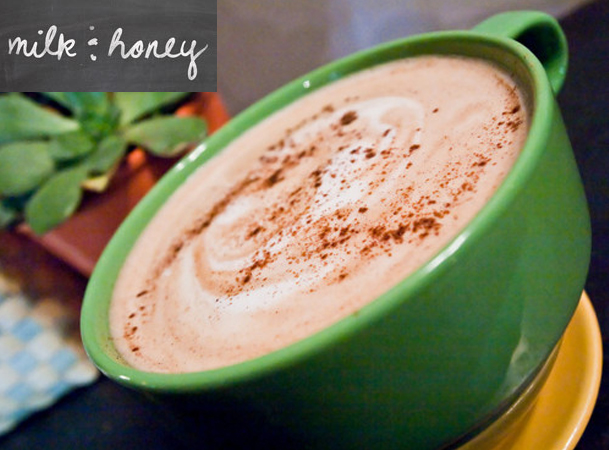 7.  Browsing through the best shopping center in Orange County, South Coast Plaza, can be tiring.  With hundreds of the world's top boutiques, shoppers come from all over to indulge in an unparalleled shopping experience.   Shoppers looking for a boost, or just a moment's peace, can pull up a stool or grab a table at Antonello's Espresso Bar.  With one sip of your espresso, you'll be whisked from South Coast Plaza to a small café in the plaza of a small Italian village.
8.  Boba tea is usually associated with iced-beverages, but That Boba Place has hot drinks that will make you change the way you think about boba.   That Boba Place offers unique warm drinks like strawberry hot chocolate, hot almond milk tea and hot jasmine milk tea.  With the assortment of great hot drinks, That Boba Place is great whether its cold or hot.
9.  The hard to find, but worth the search Queen's Bakery serves a selection of teas, coffee and specialty drinks.  The Queen's Bakery has all of the common hot drinks like hot chocolate, coffee, espresso and tea, but they also have unique drinks like the chipotle mocha and mint mocha.  A visit to the Queen's Bakery wouldn't be complete without a pastry, cupcake or cookie to accompany your beverage.
10.  Sidecar Doughnuts on 17th Street in Costa Mesa serves incredible gourmet doughnuts and sumptuous dark roast coffee.  Sidecar features the heralded Stumptown Coffee of Portland, because, no good doughnut should be eaten without a great cup of coffee.  All of the Stumptown Coffee is brewed using the press pot method and all of the espresso drinks are created on their La Marzocco machine.  A visit to Sidecar is not complete without a cup of coffe to go with a delicious doughnut.