Travel Costa Mesa Blog
Posts Tagged 'eatcation'
Chances are good that you've been waiting all year to see what deliciously eyebrow-raising foods the creative vendors of the OC Fair have cooked up for us this year. Of all the fun the OC Fair brings to Costa Mesa each year, the free pass to indulge in new and curious foods is hard to beat. That's why we're showing you some of the newest additions to this year's menu, along with our old favorites.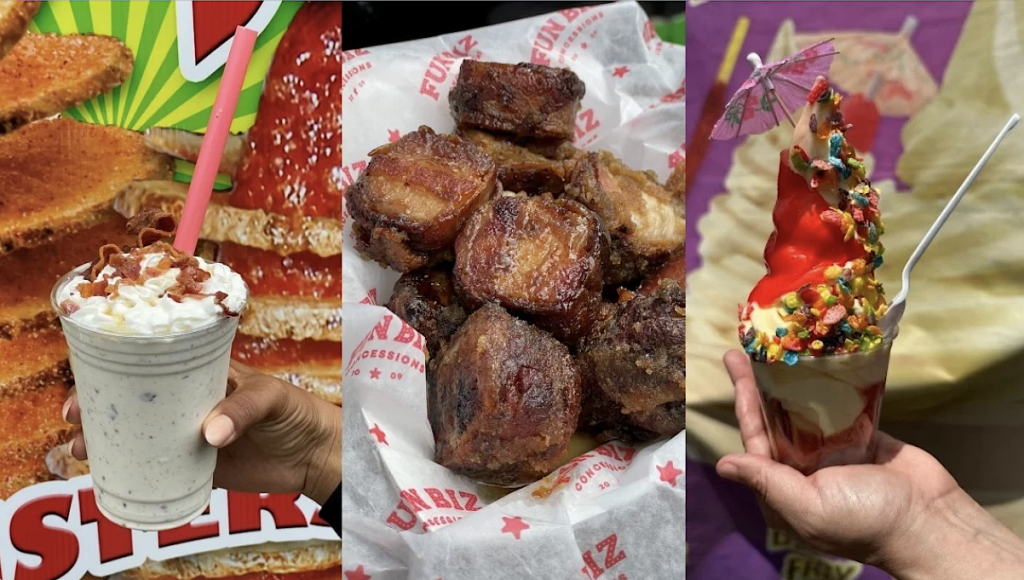 If you want to fit the most into your your OC Fair food tour, stop by on Thursdays between noon and 4 p.m. when vendors will be offering a sampling of treats for $4 each! And be sure to buy your OC Fair tickets ahead of time, because advance tickets are required.
Read More
Comments Off on Over-The-Top Food For This Year's OC Fair
Whether or not you celebrate the Easter holiday, Americans around the country often take that special Sunday with family and friends to enjoy a decadent brunch. While brunch is a perfect weekend activity all year round, there's just something about Easter Sunday that takes brunch to the next level. We rounded up some of the top Easter brunch spots in Costa Mesa to make your Eatcation® plans for the coming holiday.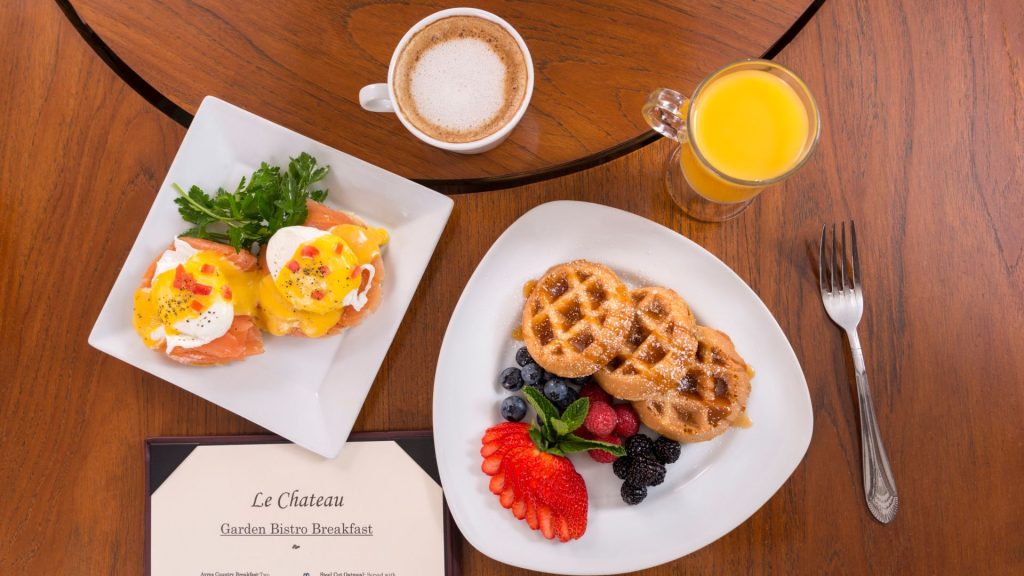 Le Chateau at Ayres Hotel
Le Chateau is offering not just a luxurious brunch experience, but bottomless mimosas as well. Visit Le Chateau inside the Ayres Hotel in Costa Mesa for an omelette station, carving station with prime rib, ham and salmon, plus salads and even a seafood station with ahi tuna, ceviche, smoked salmon and jumbo shrimp. You'll find breakfast favorites like eggs, bacon and sausage too, among a number of hot dishes…and don't forget those never-ending mimosas. $84 for adults and $29 for kids under 10. Call (714) 549-0300 for reservations.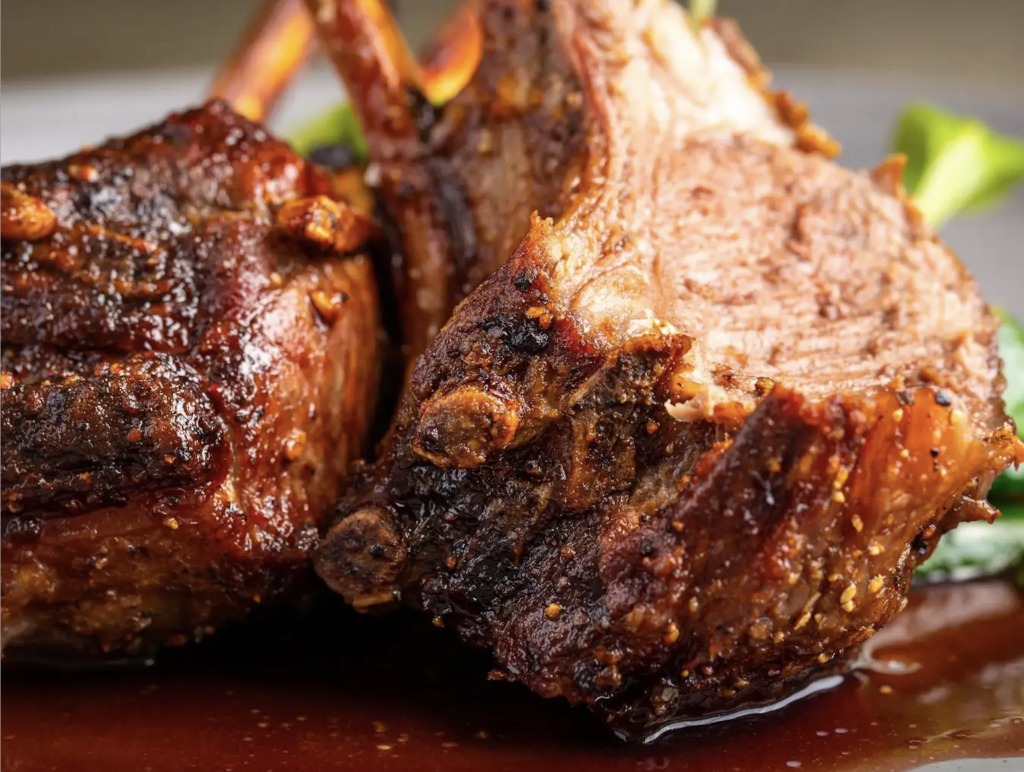 Silver Trumpet Restaurant & Bar
Experience a gorgeous lakeside Easter brunch at Silver Trumpet, inside the Avenue of the Arts Hotel in Costa Mesa. On Sunday from 10-2, indulge in a gourmet buffet featuring multiple stations for appetizers, pastries, soups, salads, hot dishes, carving station, desserts and more. It's $92 per adult and $28 per child (ages under 12); tax and gratuity are not included. Make your reservations online. Details of what's on the menu below. A cheese table? Count us in.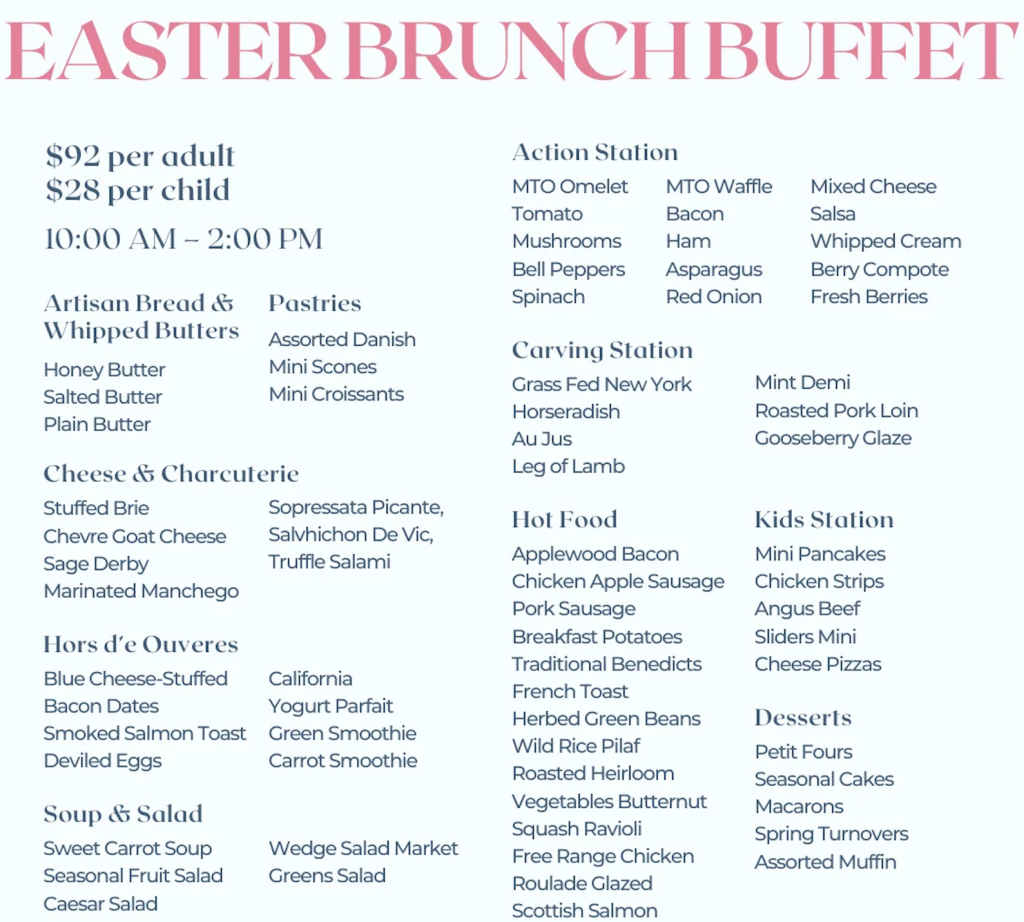 South Coast Plaza
The international shopping destination has multiple great restaurants offering Easter dining celebrations; nothing wrong with combining your delicious Easter meal with a little shopping at the West Coast's largest shopping center. See the list here.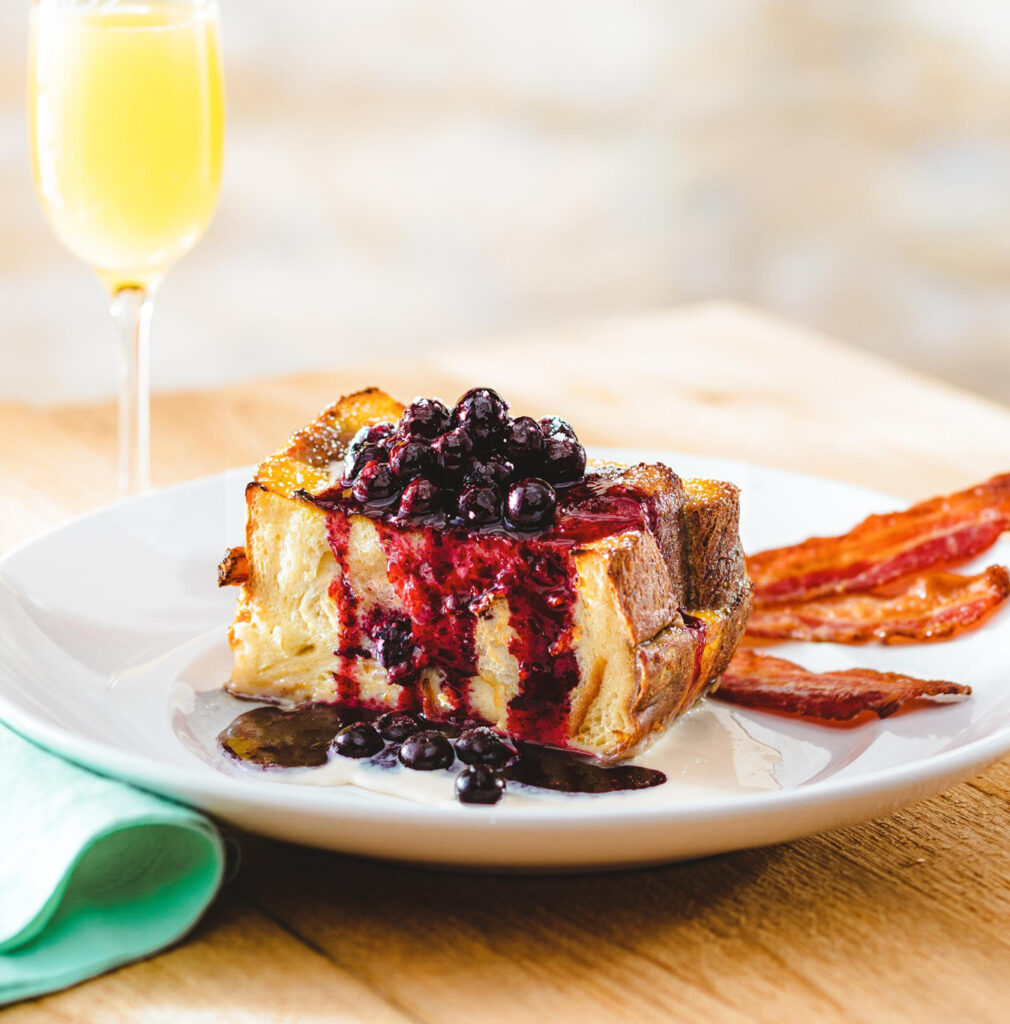 We like Seasons 52's offering, an à la carte brunch menu as well as an Easter Green Box available for takeout. Easter brunch service is from 10-2. Entrées include crab and cheddar quiche, upright French toast with fresh blueberry compote and apricot-glazed ham with French green beans and sweet potato mash, maple-pecan streusel. For reservations, call 714.437.5252 or visit OpenTable.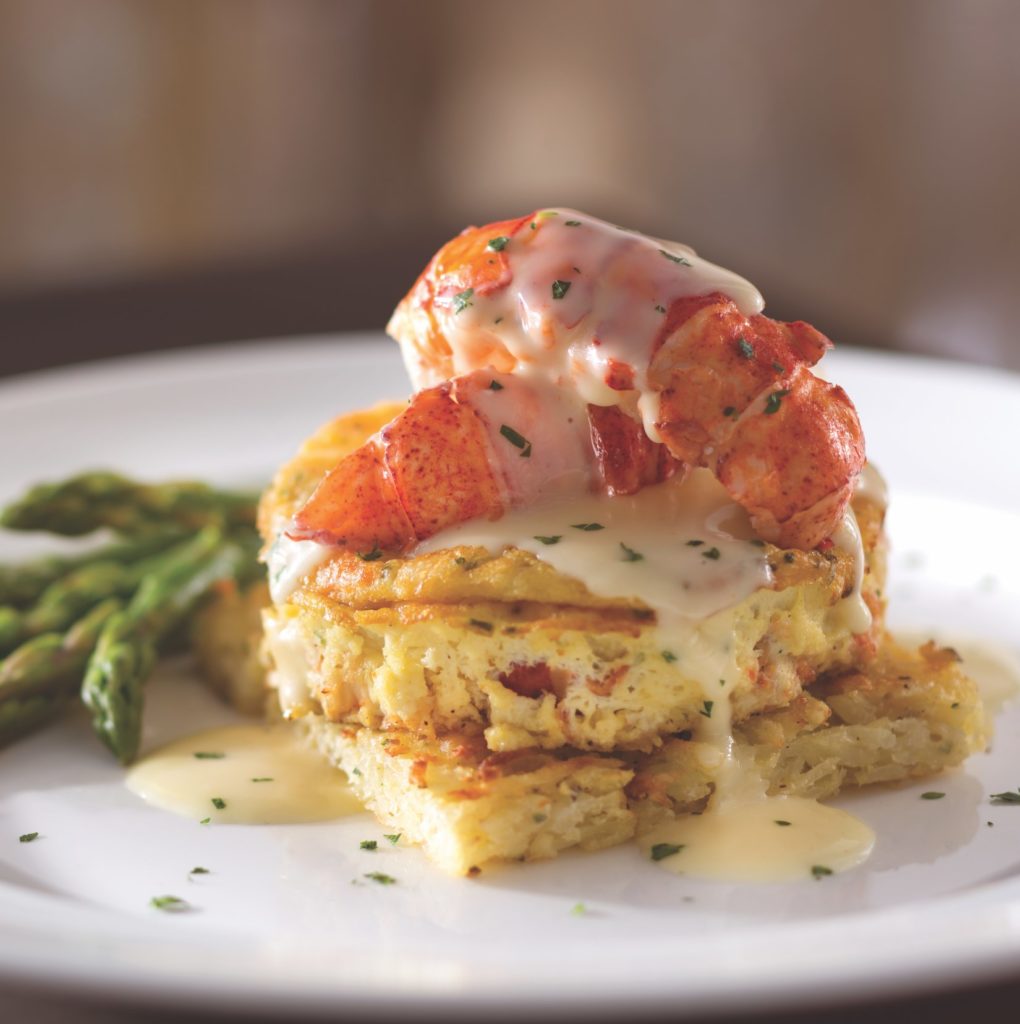 The Capital Grille might be offering South Coast Plaza's most decadent brunch. Entrées include lobster frittata with butter poached lobster tails and asparagus, bone-in dry-aged NY strip and eggs, and a center-cut filet mignon, all served with white cheddar hash browns. New on the menu is smoked salmon and caviar with blini and a white cheddar potato cake. Brunch dishes are offered 10-2 à la carte; for reservations call 714.432.1140 or visit OpenTable.
Be sure to check South Coast Plaza's entire list for the 13 participating restaurants.
Outpost Kitchen
The Bristol Street location is offering 2 seatings for Easter brunch.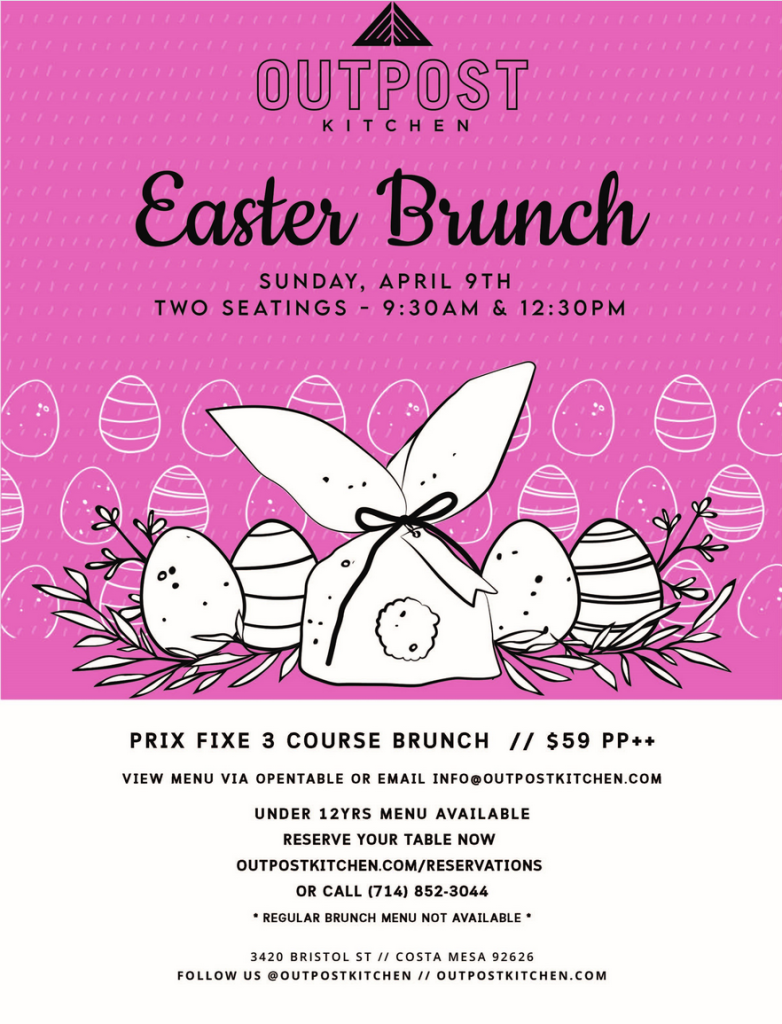 They're offering an exclusive brunch menu and Outpost's organic, sustainable, local cuisine is some of the best in the city. Just take a look at some of their dishes to get your mouth watering.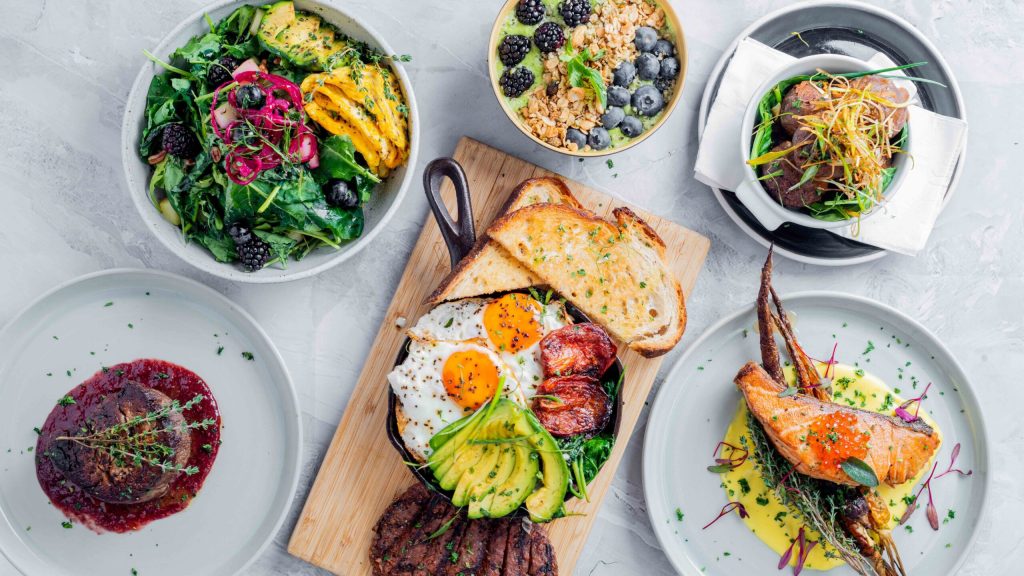 Blackmarket Bakery
Staying in or visiting friends or family for Easter? Blackmarket offers a wide range of special breads, pastries and desserts for everyone this weekend. Order your treats here.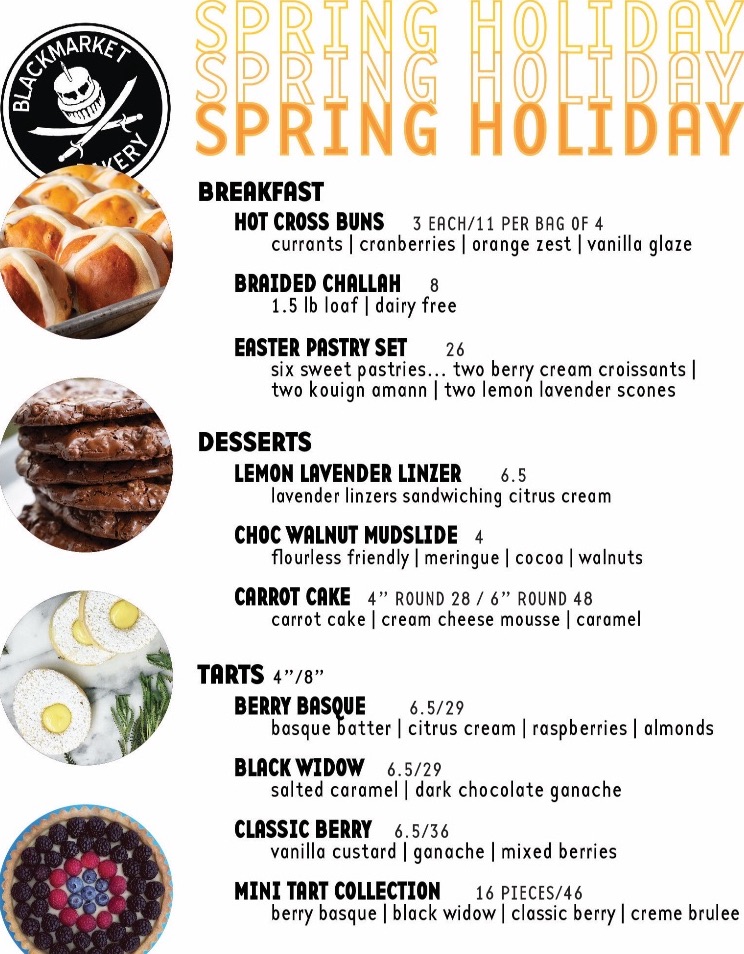 Playa Mesa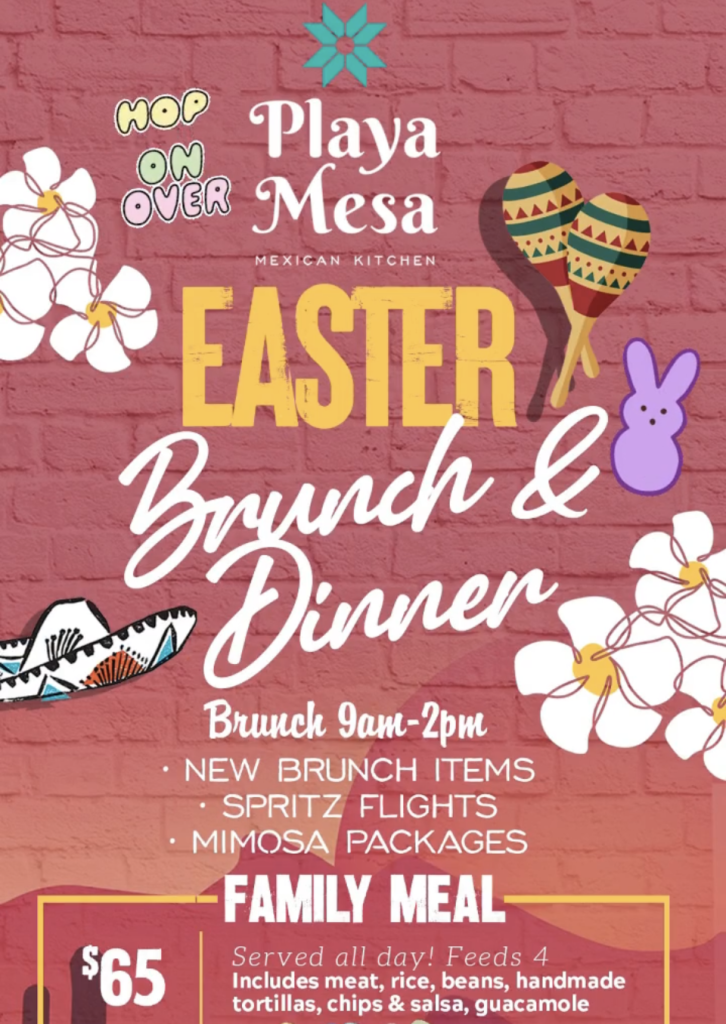 Playa Mesa is offering brunch and dinner Easter specials. Enjoy some of Costa Mesa's most delicious Mexican food and famous margaritas, including a variety of delicious roasted meats, fresh made tortillas and all the fixings. Brunch served from 9-2; reservations online.
Old Vine Kitchen & Bar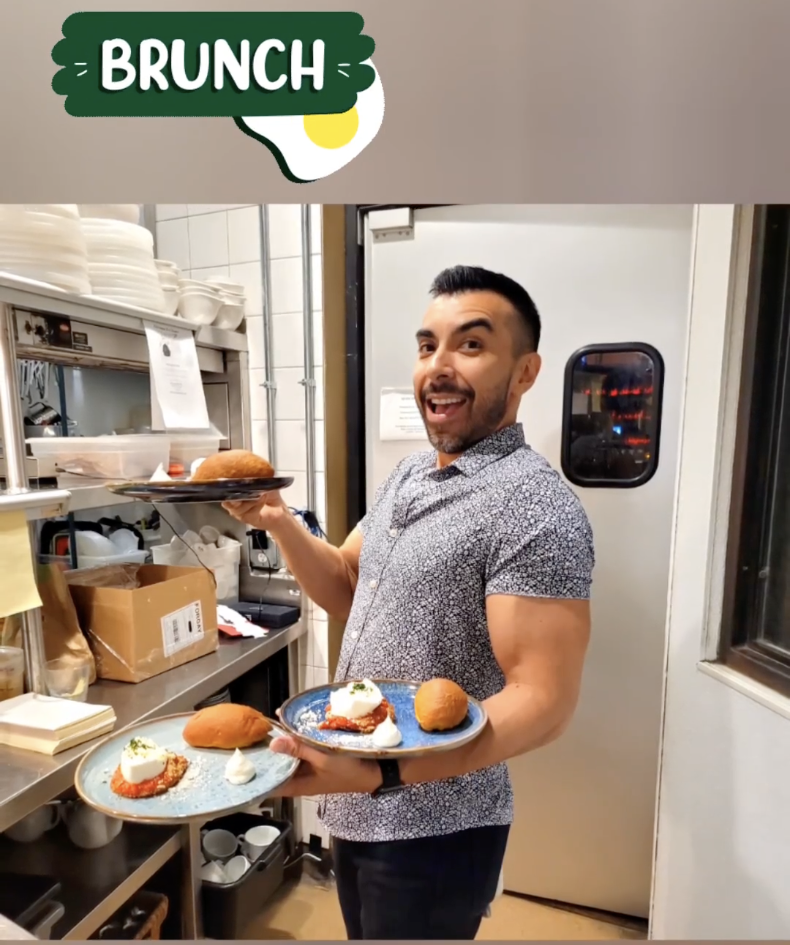 Old Vine Kitchen & Bar at The CAMP is offering an Easter brunch priced at $40 per adult and $12 per child ages 10 & under. The menu includes a housemade cheese apple danish, a spinach, artichoke and manchego cheese quiche, and a decadent blueberry croissant French toast. There's a vegan option, too. Visit their site to make reservations.
Be sure to follow @travelcostamesa on Instagram to see more great spots to visit in our stories. Where will you be eating Easter brunch? Let us know in the comments!
Comments Off on Brunch is For Everyone! Top Easter Brunches in Costa Mesa
Posted in Misc
Costa Mesa's place is secured as the hottest culinary city in Orange County. With 3 Michelin Star restaurants, two Bravo TV "Top Chefs" and James Beard Award nominees, Costa Mesa boasts an incredible array of restaurants that make it the perfect place to plan your next Eatcation®.
Check out these 5 new hotspots to dine in Costa Mesa!
Palenque Kitchen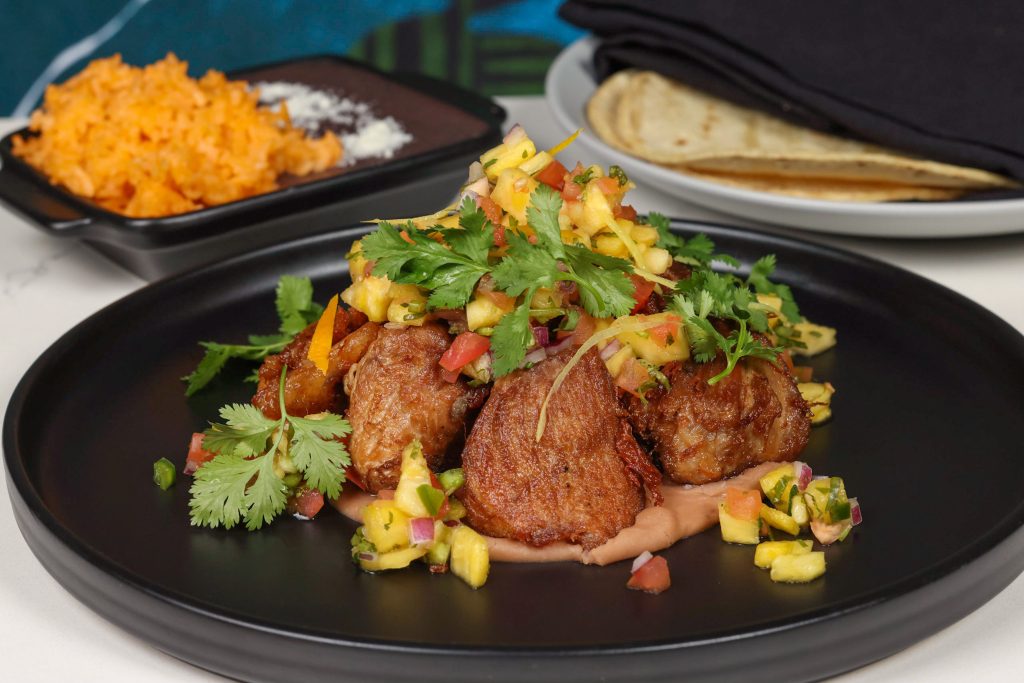 Palenque Kitchen opened in Costa Mesa's Westside neighborhood in late 2022 and has already been getting rave reviews. Palenque focuses on regional Mexican cuisine from Oaxaca with a modern twist by Executive Chef Gabriela Gomez. They also have a full bar with emphasis on cocktails deriving from agave, with one of the largest Mezcal and Tequila selections in Orange County. Palenque is open late Fridays and Saturdays with a nightclub vibe…plus, find happy hour every day from 5-6:30 p.m. Monday through Friday with single tacos as low as $5. 1749 Newport Blvd., Costa Mesa. https://www.palenquekitchen.com/location/orange-county/
Hong Sushi & Ramen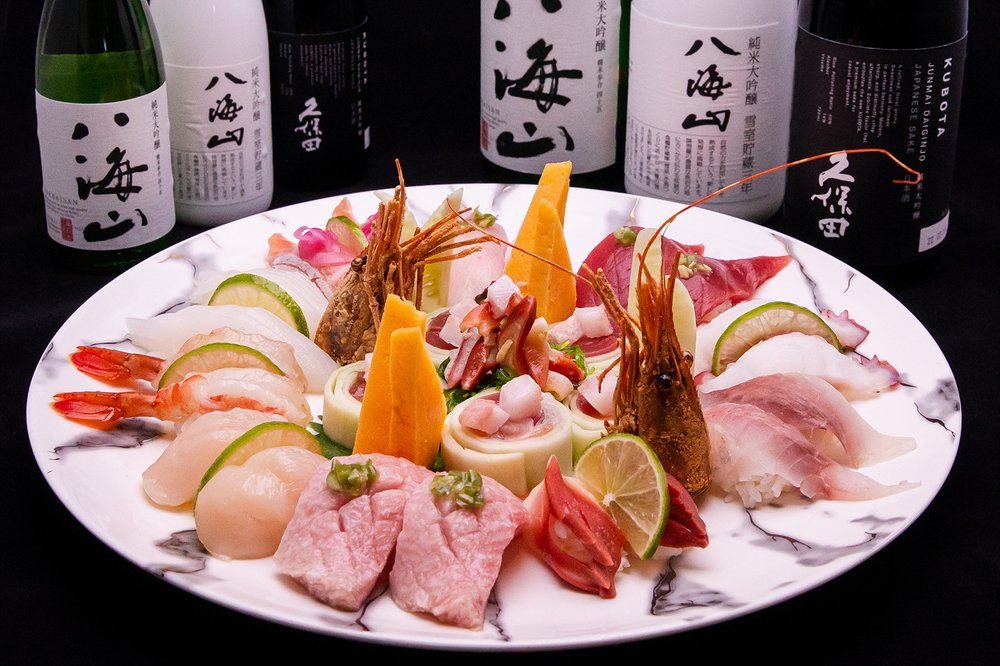 Hong Sushi and Ramen is a new spot in Costa Mesa's Westside neighborhood offering the freshest sushi including hamachi, toro, tako, unagi, ebi and much more. Try happy hour every day from 2-5 p.m. Monday through Friday with $5-7 appetizers and $5 sake. 2075 Newport Blvd. Ste 108, Costa Mesa. https://sushiwaveinc.com/
Simply Fish Seafood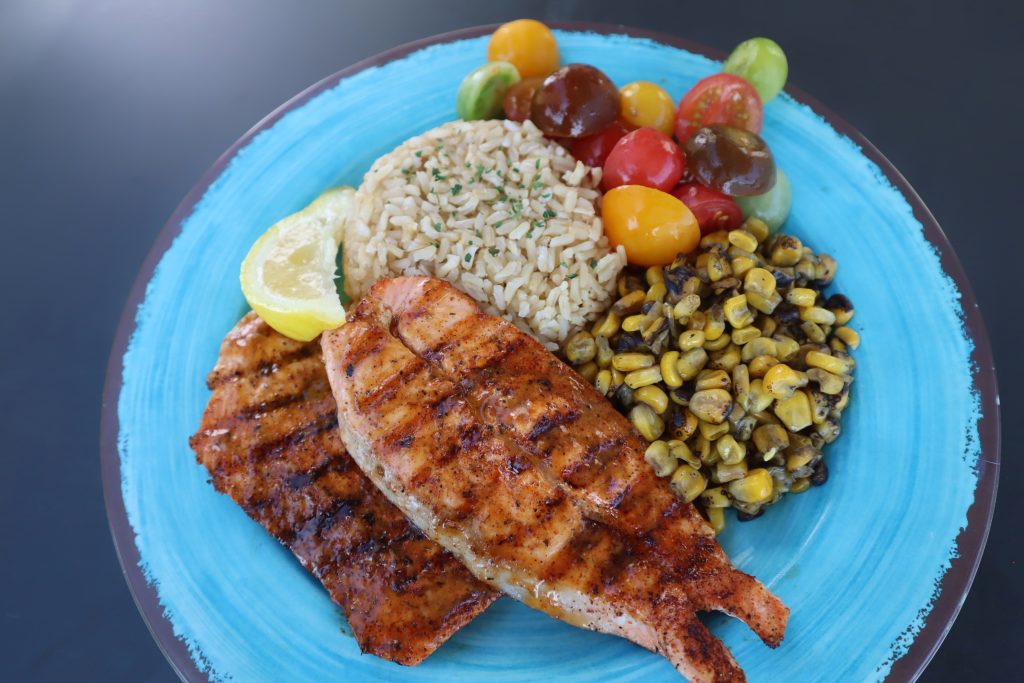 Simply Fish Seafood Restaurant was created by Derek Taguchi, a native Southern Californian, third-generation Japanese American with a passion for fishing and seafood. He's trying to offer seafood usually only found at high-end dining establishments to the everday seafood lover. Select from daily catches of Pacific halibut, ahi, mahi mahi, salmon, whitefish or scallops cooked in your choice of lemon garlic butter, blackened Cajun, or teriyaki. They have Taco Tuesday specials, sandwiches, bowls and even Keto-friendly dishes. 1534 Adams Ave. Ste. D, Costa Mesa. https://www.simplyfishseafood.com/
Mezzo Calzone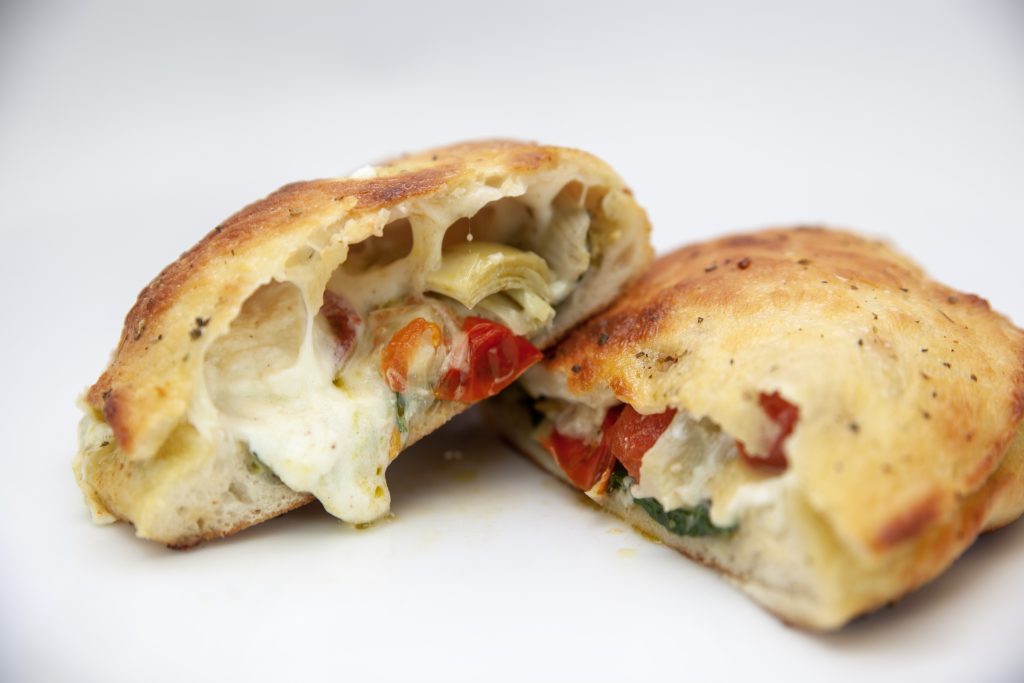 Mezzo is making high quality traditional Italian calzones in a variety of flavors. The calzone's outer crust is baked to crispy perfection while the doughy inside filling contains a blend of ricotta and mozzarella cheeses along side an assortment of hearty meats and vegetables. We love the pesto calzone pictured. 440 Fair Dr. #106, Costa Mesa. https://www.mezzocalzones.com/
MIAN South Coast Plaza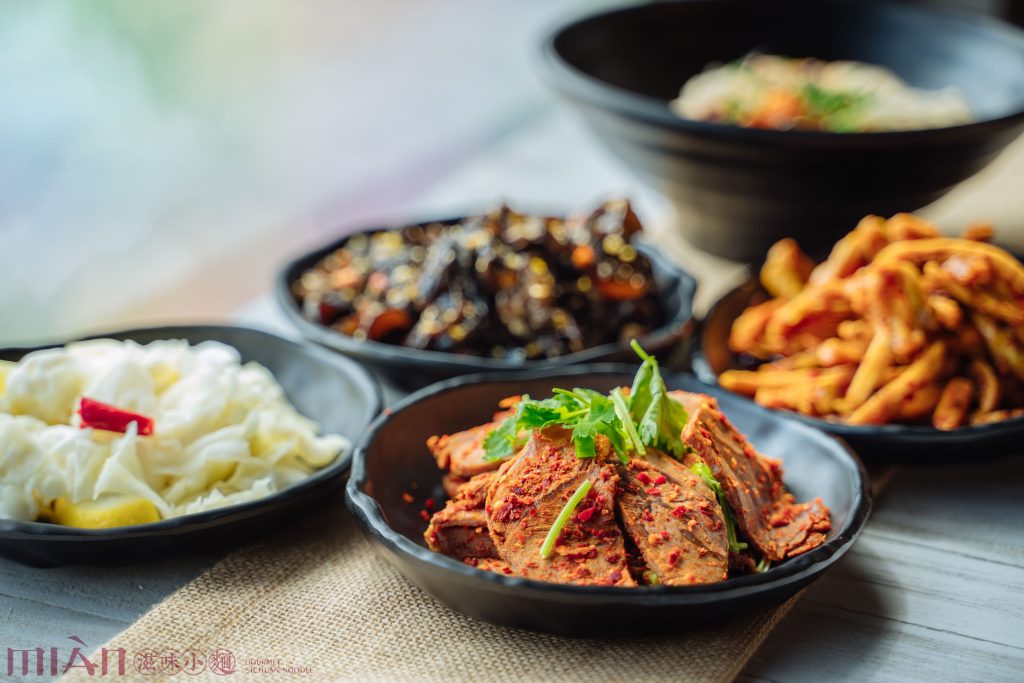 The Michelin Bib Gourmand-award-winning MIÀN Gourmet Sichuan Noodle opened at South Coast Plaza in October 2022. MIÀN is the brainchild of James Beard Award-nominated Chef Tony Xu from Los Angeles. Find a variety of noodle soups with bold, spicy flavors, plus a variety of other traditional Sichuan dishes on the menu. 3333 Bristol St., Costa Mesa. https://www.southcoastplaza.com/directory/mian/
Honorable Mention: FOLKS Pizzeria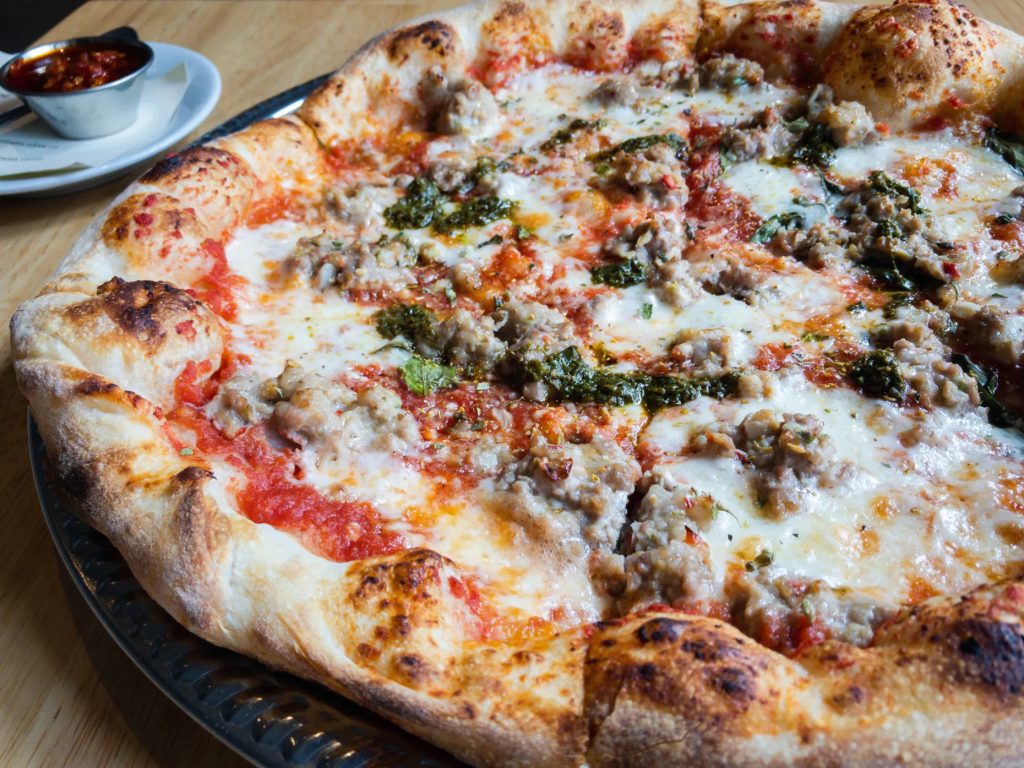 We know, it's not new – but people are calling it the best little pizzeria in OC. Eater LA featured it this week and the OC Register exalted its amazing crust. Folks Pizzeria is a full-service, dine-in experience with limited seats and pizza oven capacity so you may wait a minute for the deliciousness. Walk-ins & reservations for dine-in are welcomed. The CAMP, 2937 Bristol St., Costa Mesa. folkshospitality.com
Comments Off on Time to Try These 5 Hot New Restaurants in Costa Mesa
Posted in Food
One of the best ways to get to know a new city is by checking out the local food scene. Travel based around food, including food tours and food trails, is a tasty way to learn about a region's history and culture. Thinking about taking a foodie vacation in Orange County? The culinary diversity, award-winning restaurants and popular chefs make Costa Mesa the place for your next foodie vacation. We call it an Eatcation®.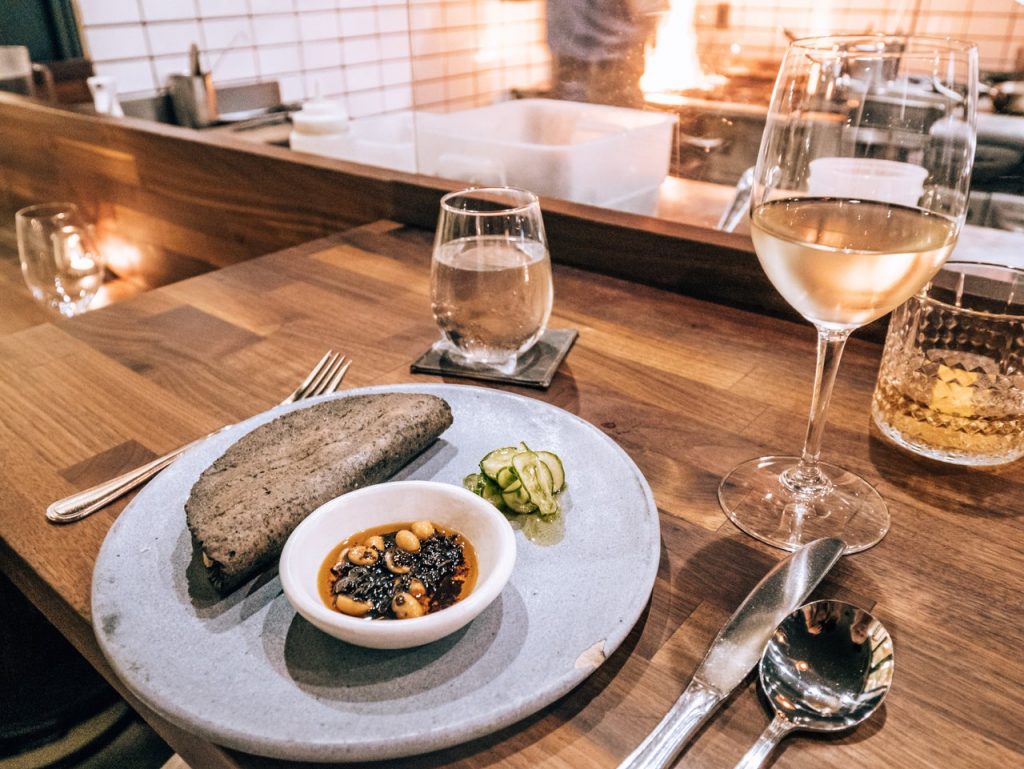 The only Michelin star restaurants in OC
Costa Mesa's Taco Maria, Hana re and Knife Pleat are the only restaurants in Orange County awarded the prestigious Michelin star. Both Taco Maria and Hana re received their honors in 2019. Knife Pleat received a Michelin star in 2021. Taco Maria, located at SOCO and the OC Mix, honors both chef Carlos Salgado's family traditions and the blend of Mexican and American cultures, in what he calls Alta California cuisine. The menu changes seasonally and, currently, only serves dinner Tuesday through Saturday from 5-9pm. The summer menu features his popular aguachile appetizer, a scallop crudo with Persian cucumber, serrano, lime and watermelon jam. Entrees include new dishes such as mole de pato, a Muscovy duck leg confit with fig mole, and arrachera, a hanger steak with grilled bone marrow vinaigrette. There are also a selection of vegetable sides and desserts.
Hana re brings the chef's table to the sushi bar. Guests dine omakase, leaving chef Atsushi Yokoyama to create a unique menu for them. Whether watching chef Yokoyama from the 10-seat counter or enjoying the meal from one of the tables, Hane re is an unforgettable experience. Courses can include sushi, sashimi, Japanese A5 Miyazaki beef or matsutake soup. Reservations at Hana re, at The LAB Anti-Mall, are a must and often book well in advance. 
Chef Tony Esnault and restaurateur Yassmin Sarmadi bring delicious French cuisine to Orange County. Knife Pleat serves lunch, dinner and Saturday afternoon tea. Chef Esnault also offers a Friday night tasting menu.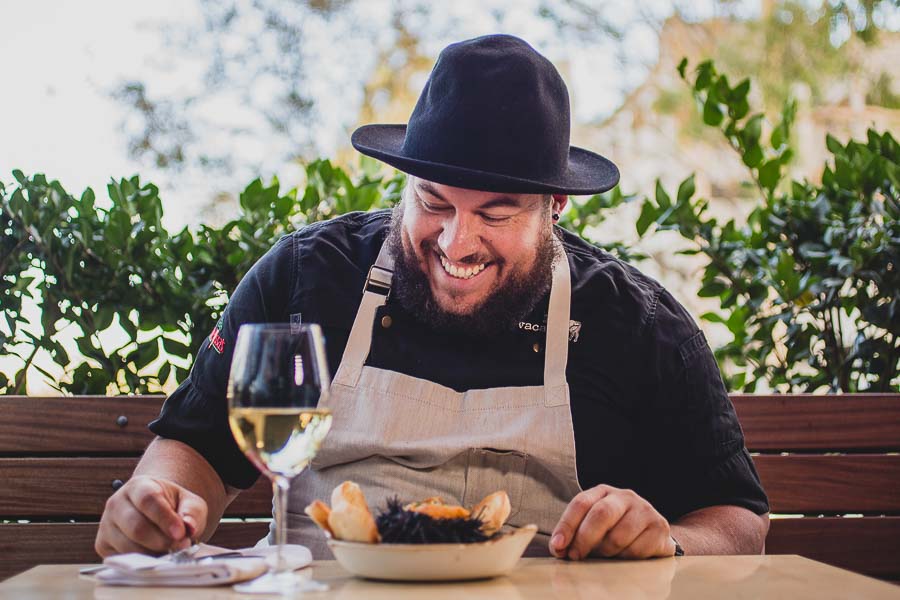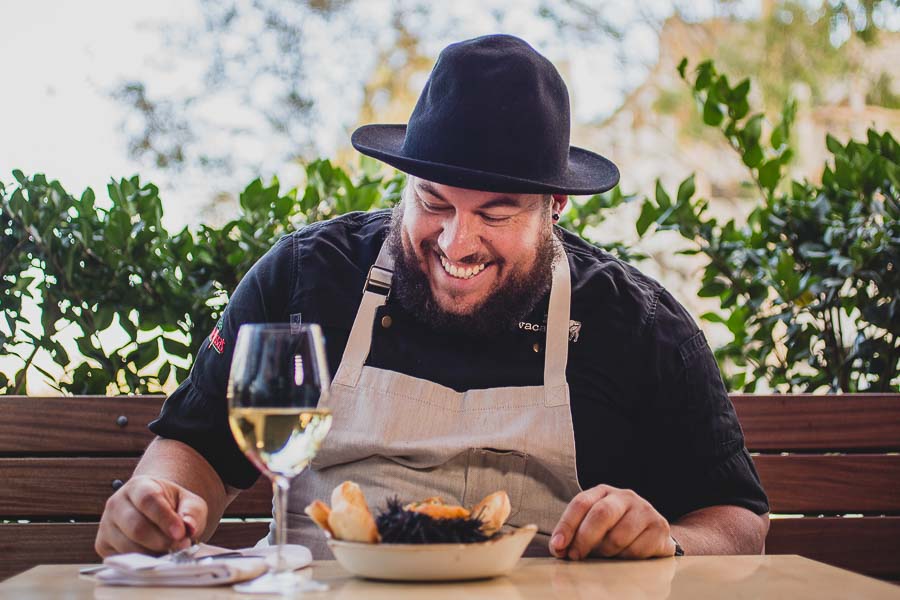 TV Chefs
Top Chef and Food Network fans will, no doubt, want to check out some of Costa Mesa's restaurants owned by chef-competitors. Top Chef winner/judge Richard Blais owns The Crack Shack, on the Eastside, a fast casual spot specializing in chicken dishes. The menu features fried chicken, salads, sandwiches and sides. Like Nashville hot chicken sandwiches? Try the Firebird with spicy fried Jidori thigh, cool ranch, crispy onions and pickles on a potato roll. The Mexican Poutine comes with schmaltz fries, pollo asado and jalapeño cheese wiz. For groups or families, flock" meals are a great option with fried chicken, biscuits, fries, coleslaw and cookies. There are also vegan and vegetarian options. We love the Baja Chop with guac, radish, cotija cheese and charred poblano dressing.
Top Chef runner-up/judge Amar Santana's Vaca, near Segerstrom Center for the Arts and South Coast Repertory, serves authentic Spanish cuisine and boasts an impressive bar menu. The tapas menu includes the bikini sandwich with Iberica ham, manchego and truffles and the canelon de pollo ahumado, smoked chicken cannelloni with foie gras sauce and a sherry reduction. Entrees include paella and an impressive selection of beef that is grilled over a wood fire.
For something on the sweeter side, visit Chopped champion Rachel Klemek's Blackmarket Bakery at The CAMP. Blackmarket Bakery offers a variety of delicious treats including cakes, tarts, cookies and other sweets, including vegan and flourless options. There's also a breakfast menu with pastries and sandwiches. The coffee is delicious too!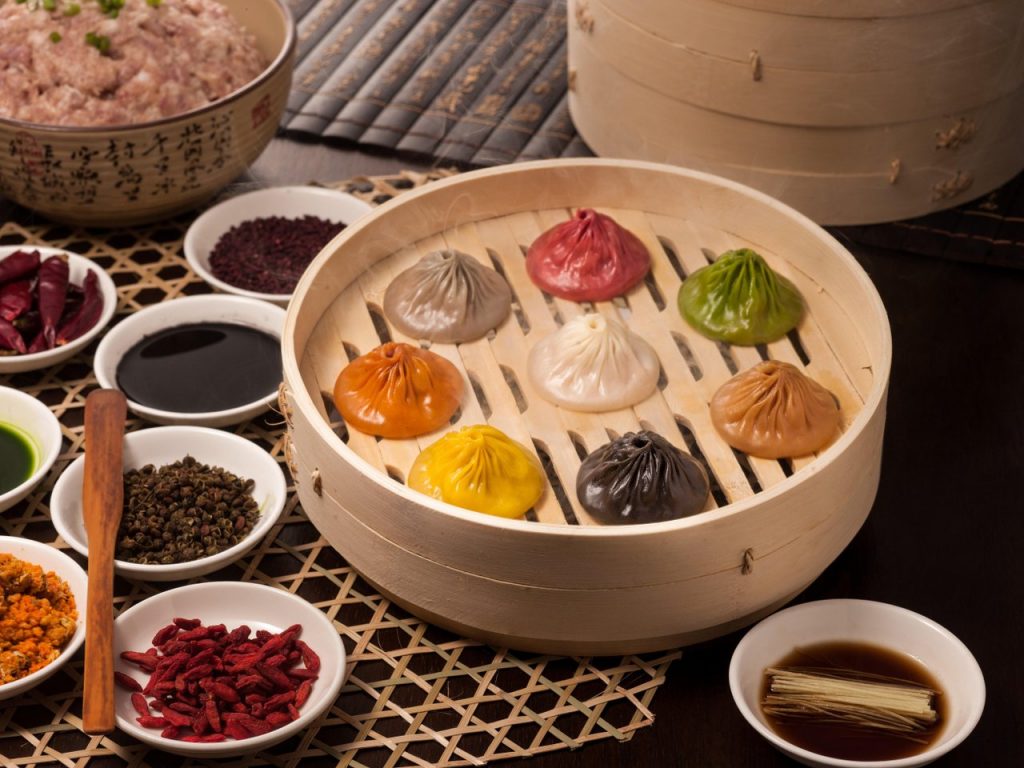 Food Halls
Costa Mesa now has two exciting food halls at South Coast Plaza that are worth a foodie vacation. The Hall: Global Eatery and Collage Culinary Experience, set to open in October. Top Chef alum Amar Santana's The Hall: Global Eatery is inspired by European food halls. Named one of the best new restaurants by the OC Register in 2020, The Hall features a Mediterranean grill, a patisserie, a poke bar and lounge.
Collage Culinary Experience features sit-down restaurants serving world-inspired plates, next-level fast casual establishments, and full service bars pouring carefully crafted cocktails. Collage Culinary Experience includes Paradise Dynasty, Le Shrimp Ramen and Mah Jongs by Chef Mike. Bruxie, PhoHolic, Egg LXIII, Mochinut, Cha Redefine and Churrino coming soon.
Want to know more about a foodie vacation, or Eatcation®, in Costa Mesa? Visit our Eatcation® page here. You can also view our list of Costa Mesa restaurants, Costa Mesa happy hours and Costa Mesa Beer Trail.
Comments Off on 3 reasons to make Costa Mesa your next foodie vacation
Posted in Food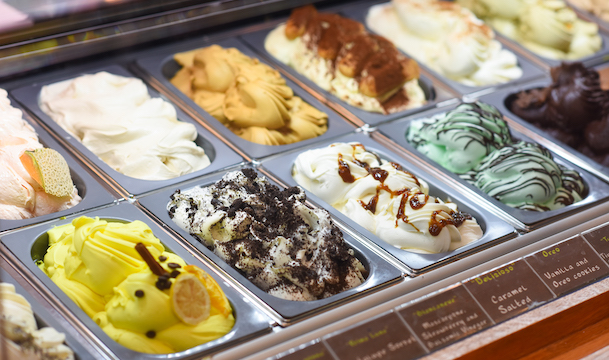 By now it's common knowledge that Costa Mesa is a haven for foodies, but what about those with a major sweet tooth? From some of the best baked goods in Orange County to the best milkshakes in the country, Costa Mesa has it all. Next time you're craving something sweet, try out one of these five spots to satisfy your sweet tooth in Costa Mesa.
Read More
Comments Off on Satisfy Your Sweet Tooth with These 5 Desserts in Costa Mesa
Posted in Food